Paul Quesnel's latest column deals with meeting your hero and how sometimes, it's not always good.

Paul Quesnel's latest column deals with meeting your hero and how sometimes, it's not always good.
By Paul Quesnel
Do you remember the first professional event you ever went to? Did your favorite team win? Did you get to meet your favorite athlete? Was he everything you thought he would be? Or did he turn out to be something you never imagined?
The first AMA supercross race I ever attended was San Diego, 2006. At the time, I was just a fifteen year old kid from the northeast vacationing in California with my family. Before then, the Quesnel (pronounced Ca-nel, its French) family excursion usually consisted of myself, my parents, my sister, and her boyfriend, traveling down to Florida to bask in everything great the sunshine state has to offer. By '06 though and after numerous trips, Orlando and all its amusements were beginning to get stale for everyone and we began looking for another area of the country to take our sabbatical. My father, a life-long dairy farmer and all around motorsport enthusiast, was the first to plant the seed concerning California when he found out that the World dairy expo in Tulare, CA, was taking place right around the same time as the Pomona round of the NHRA drag racing series. In regards to my mom and sister, they were more than willing to sit through a couple hours of guy stuff for a chance to see the movie stars of Hollywood along with the famous Los Angeles landmarks such as the walk of fame and the Santa Monica pier. For myself, I just looked at California as a chance to get out of school for a couple weeks and the fact that SoCal is known for having hot chicks was just an added benefit.
When we finally landed in Burbank, we quickly found out that instead of being the land of the stars, L.A. was more like the land of traffic and smog. Despite all that, the first few days of our trip were really exciting and enjoyable. We saw a couple famous people, we went to the Pacific ocean for the first time, and we took pleasure in just driving around seeing things that people driving back and forth to work probably see every day and take for granted. Nevertheless, it didn't take long for us to become bored with the site seeing and we promptly started looking for something to occupy our first weekend there with nothing to do. Luckily, while talking on the phone with one of my friends from back home I was informed that there was a dirt bike race scheduled for that weekend in San Diego.
At the age of fifteen, I was not yet the motocross fanatic that I am today. Although I started riding around the vast trails of New England at a young age, my racing career and general interest in the sport did not materialize until about year or so after this race. Other than knowing that the number four was Ricky Carmichael and he was really fast, my moto knowledge in those days was very limited. Most of my lack of understanding back then was just straight up ignorance but I still blame a good part of it on the fact that we didn't have cable in our house until I was over sixteen. So with nothing better to do that weekend I figured that this race would be fun to watch and a good reason to get out of the hotel room. I suggested the idea to the rest of my family and if it wasn't for my father, the proposal would have most likely been rejected. The genuine intrigue he has towards everything with a motor persuaded him to convince my mother and sister to say yes to this suggestion, much to their displeasure.
Using the computer at the hotel, we got directions to the race and found out that it didn't start until later at night. We left L.A. early that Saturday morning so we could buy our tickets at the track and still have some time to check out San Diego during the day. None of us really knew what to expect when we got there. But if we did expect something, it was completely wrong. Even though I had a small bit of knowledge about supercross, I still didn't realize how much of a grand show it was rather than just some race. When we got to the huge venue that is the Qualcomm stadium, we all kind of looked at each other as if we were at the wrong place. Looking at the computer none of us had realized that this was the home of the chargers and when we pulled in at ten o'clock there were already thousands of people of there. It was definitely a lot more popular than we expected. Originally the plan was to just get our tickets and come back later that night but after we got the tickets and found are seats, we realized that there was about a hundred different things going on during the day that could occupy our time.
After watching some of the qualifying sessions, we all found our way down to the pits and although it was kind of pricy for five people to get in, we decided to check them out. From there we all just went our separate ways. While I was running around like a chicken with my head cut off trying to get someone to sign some something for me, the rest of the family kind of ventured off and eventually made their way back to their seats with some Mexican food. Meanwhile, I had finally found what I was looking for, and it was the line to get Ricky Carmichael's autograph. How convenient I thought. Here I was running around trying to get Joe Nobody's signature and now all I have to do is wait in this line and I'll get the top guy's autograph instead. I really didn't know anything about Carmichael at the time except for he was pretty much the guy to beat so therefore he was my favorite and his autograph would be the best to have. It's always easy to look back and realize how stupid you were when you were younger but it's often hard to fully understand why you acted like that at the time.
Anyways so here I was waiting in line for Carmichaels autograph and to my frustration, this line was much bigger and slower moving then I previously thought. Thinking about it now I can't even imagine how long it was. The race was in '06 so it was pretty much right at the height of Ricky's popularity and it's not like today where there are four or five top guys to divide the fans up so between Ricky and James together they most likely had the entire pits in their autograph lines. I must have been waiting for well over a half hour before I could even see the semi-truck. I passed the time by paying attention to the other people standing in line and from listening to their conversation's I concluded that for one, there are a lot of weird people in southern California and for two, a lot of people were betting on James beating Ricky that night because of the weekend before. I really had no idea what they were talking about but looking back now I know they were alluding to Anaheim III where Stewart and McGrath rubbed a little paint.
So I'm about ten feet away from the riders and by this time I'm getting really excited. I started thinking about what I was going to have Carmichael sign and I remember that I ended up choosing my hat instead of my shirt for the simple fact that I wore that hat everyday so I could show everyone. Five feet away now, my hat in hand ready to meet my new favorite rider. Four feet away. Now thinking about what I was going to say to him. Three feet away. Should I try to shake his hand? Two feet away. Should I tell him to kick ass tonight? One foot away, here it was.
"Can I see your ticket?" Says the security guy standing between me and the riders. "What ticket?" I ask politely. "Your ticket to stand in line," he responds. "You mean my pit pass?" I say with a confused look on my face. "No, you need a ticket to be in line. No ticket, no meeting the riders," he adds while trying to shuffle me out of the way in order to let other people in.
Have you ever gone to a professional event and you just put that overwhelming pressure on yourself to get that autograph from your favorite athlete because you feel like you might not ever get another chance. That's what I felt like. I felt like the only thing that was going to make this a special day was getting Carmichaels autograph. And now I had just waited in line for about an hour and had nothing to show for it. I was a fifteen year old that had just been reduced to a seven year old.
While the security guy was kind of guiding me out of the way I tried to look over at Carmichael in hopes that the champ would surely be able to overthrow this guy's decision. I remember looking at Ricky in despair while he was watching me getting pushed off to the side. Sadly though, he just put his head back down and continued signing his posters. It was over. If the champ wasn't going to overrule the security guard then nobody was. All hope was lost. My world was ruined.
Just as I was about to turn my back in defeat, I heard a "hey kid, come here!" But it wasn't coming from Carmichael. It was coming from his teammate sitting just five feet to Ricky's right. I didn't know his name but I guessed that he probably saw my feeble attempt to get RC's signature and took pity on me. I walked over to him, not really caring about what the security guy was going to say because I now had the approval from the rider. He handed me a signed poster and gave me a wink as if he was saying that he didn't really care about the stupid ticket. I probably could have tried to sneak over and get Carmichael's autograph now that I was inside the chain links but I quickly decided that I didn't want it anymore, I now had a new favorite.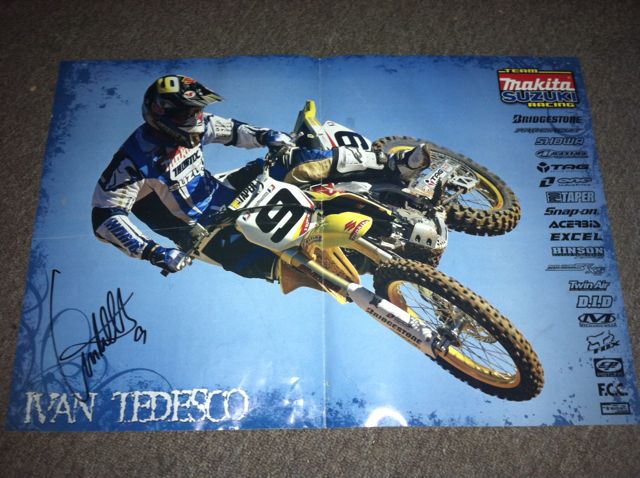 Here is the poster that Ivan signed for Paul that day.
Ivan Tedesco. I had never seen the name before reading it on that poster. It didn't matter though. He was now my guy all the way. When I finally found the rest of my family, I told them all about how I got Ivan's signature and totally acted like that's who I was going for the whole time. When my dad asked why I didn't try to get someone like Carmichael, I simply said, "because I don't like him." How quickly things change.
The main event that night was another classic battle between James and Ricky. Carmichael got the holeshot, James followed him for about eighteen laps and then finally pulled the trigger. Though I did want James to beat Ricky, I really didn't care about that race. I just wanted Tedesco to get on the podium. And even though he was only able to get up to sixth place by the time the checkered flag waved, I still thought he rode a damn good race.
Today, I'm not at all bitter towards Ricky Carmichael. When it happened I was pretty bummed on him and I really didn't like him for awhile afterwards but I got over it soon enough. As I've grown older I've learned that you can't expect guys like RC , Stewart, Reed, Villopoto, or any riders to make everyone happy all the time. They are at the track to do their job and doing stuff for the enthusiasts of the sport is just a small part of it. You just can't expect them to sign autographs for hours upon hours every day. You can't blame riders like Carmichael for not stopping and signing something for every person at every event. What you can do though is praise people like Ivan Tedesco that go out of their way to make the fans happy. When riders do things for their followers by their own will and are not forced into it by their team is how they gain true supporters. I still have the signed poster that Ivan gave me that day and hot sauce will always be one of my favorite riders of all time. He made this stupid kid happy and he turned my first supercross race into a great experience.