"Discovered by the Germans in 1904, they named it San Diego, which of course in German means a whale's vagina"
"Discovered by the Germans in 1904, they named it San Diego, which of course in German means a whale's vagina"
By: Moser
Photos by: Lissimore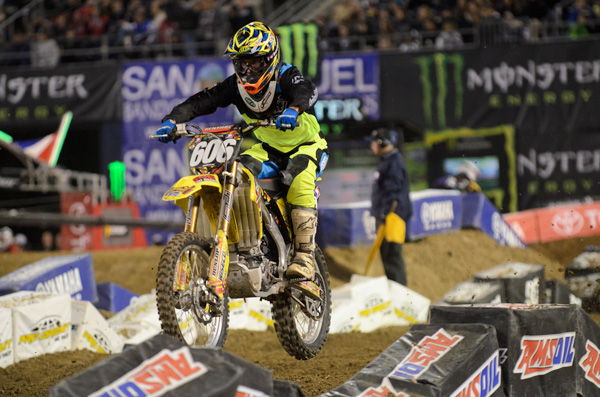 The whoops required every riders complete attention this weekend.
#606 Ronnie Stewart – GardnerRaceServices/Ocean County Powersports/Full Travel Innovation
I'm not familiar with Ronnie Stewart and my buddy Matthes that I hung out with over the weekend didn't know much about him either so I had to go to plan B aka Google. Ronnie has made every night show of this season but hasn't made a main event yet, so by coming up Just Short in San Diego this was his best finish thus far. R. Stewarts qualifying times average in the 30th – 40th range so unless he's the type of rider that rides faster in a race format then he rides during timed qualifying he's going to need to pick up the pace a bit to sneak into the main event. I found a blog for R. Stewart but it doesn't appear to have been updated recently. Looks like R. Stewart does some riding schools and wrote some Student Spotlights which is a cool idea and probably made some amateur riders super pumped. http://www.ronniestewartracing.com/blog/
After extensive investigative journalism (reading his blog) R. Stewart made his way into the professional ranks via the Arenacross series accumulating the necessary points for his pro license. I recall a few years back the AMA was really pushing this route of riding the Arenacross series first before racing the Supercross series in an attempt to make it a feeder series, which was flawed in my opinion, but I think AMA has since become more lax on those requirements. R. Stewart raced some of the 450 nationals last summer and qualified at five nationals, a solid first go of it for a privateer. Congratulations to Ronnie for his best Supercross finish yet.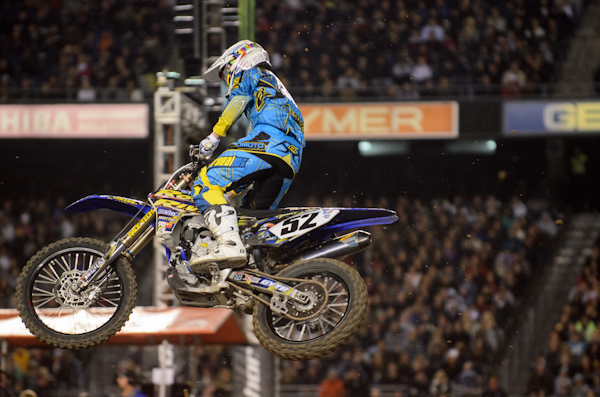 Lamay shows a little butt whip / scrub action.
#52 Ben Lamay – Rock River Yamaha/O'Neal/Race Tech/TMR/Bell/Rip N Roll/Vans
Lamay is the first and last great hope for the great white north to produce a real contender in the SX/MX series. Lamay was a highly toted amateur rider and although he is technically from Alaska he spent most of his childhood on the road in the lower 49 hitting the amateur circuits and staying thawed out. I'm going to date myself here but I remember watching Lamay practice at a track here in the beautiful Pacific Northwest probably 10 years ago and I couldn't figure out why he was wearing a fanny pack. It turns out his dad had wired up a radio system into his helmet so he could provide positive words of encouragement to Ben while he was riding, it's the first in helmet radio system that I remember "hearing" about.
When Lamay turned pro a couple years ago it was unfortunately concurrently with the economy crashing resulting in a huge loss of support rides available. Ben was forced to go the privateer route, and he's bounced around a bit on different teams and fill in rides. For 2012 Lamay got picked up by the Rock River team which has been on the scene for awhile now and is definitely a step up from going it alone. So far this season Lamay has only qualified for one main event in Oakland with a 19th place finish. Lamay has had some solid qualifying times in the first 6 rounds, on average qualifying inside the top 20. As you can imagine Eskimos through-out Alaska are big fans of Lamay. I contacted one of them via twitter (who knew you could get cell service in an igloo) and he had this to say about the Lamay family. "@osriding his dad used to weld stud for our ice bikes, the mans an artist with a TIG gun." Thanks for the insider info Ollie. Good luck to Ben hopefully he can turn some of those fast qualifying times in the main events.
Thanks for reading this Short recognition of the guys that almost made it. See you next week. Moser
Please send complaints about this column to jasonw@racerxill.com