If this pro racing career thing doesn't work out for Weston Peick he has a plan B.
If this pro racing career thing doesn't work out for Weston Peick he has a plan B.
By: Moser
Photos by: Carl Stone (courtesy of Racer X)
We have a Just Short first this week, Mr. Peick the human wrecking ball has the prestigious honor of being showcased in this column for the second time this season.  Ironically Gavin Faith took the last transfer spot yet again just in front of the human wrecking ball only this time the transponder and JT$ mom both agreed on who took the last transfer position.  We also have another brother racing duo represented this week, well ½ of the duo rather.  Alright let's get to it this column is supposed as it's supposed to be Short.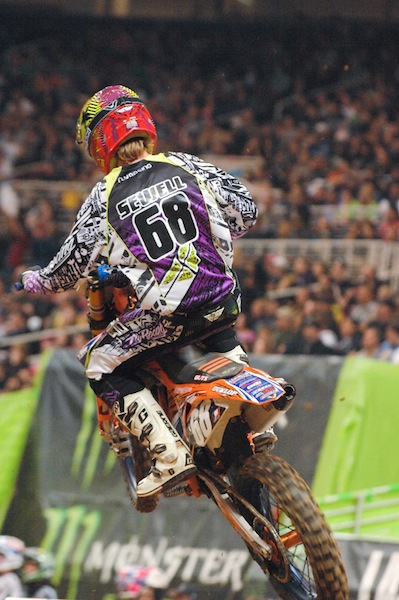 Shane is riding that bike dirtier than a Get Dirty MX Girl.
#68 Shane Sewell – Violation1.com/Shea Racing/SMS Racing/KTM/National Switchgear
The name Sewell should sound familiar and for me it does but I still couldn't put a face to the name.  Shane is riding one of the approximately 15 KTM 250F in the East coast Lites series.  If the 250F Lites East coast class is a pie it's predominantly pumpkin pie which is really only good during the holidays with lots of whip cream and after a few whiskeys on the rocks otherwise nobody eats pumpkin pie.  Shane didn't qualify at Texas but then finished a career best 10th place in Atlanta (I can't say for certain if this is Shane's career best finish but it sounds good and he's raced pro for like 4 years so I'm not going back through all his results to fact check that stat and Weege never emailed me back).  Putting it in the top 10 is admirable, nothing to shake a stick at and based on readying the Violation1.com team press release after Atlanta they seemed rightfully pretty pumped on it. 
I'm a betting man and I have a pretty good track record of losing when I bet and so far this season Shane is 1 for 3 on making the main events but in that main event he finished 10th.  So if you were to write out some type of equation on a chalkboard at a college to calculate his odds on qualifying and finishing position and if you patiently waited around long enough hopefully a janitor would wander by and solve that equation enlightening me on the chancibility of him finishing in the top 10 of my fantasy league again (how do you like them apples).  The Sewells are another racing brother power couple and in case you were curious Shanes brother's name is Travis. 
After doing a bit of googling to familiarize myself with Shane I found a "Brothers need a ride" ad that was posted on Vitalmx prior to the season, it doesn't appear it was posted by the either of the brothers but posting a "ride needed" add on Vital is one step above a casual encounters ad on Craigslist in my humble opinion.(Matthes note: Shout out to the Sewell's for racing up in Canada where the real fast riders are last summer.)  With that being said I've said it once and I'll say it another 29 times if necessary that I tip my hat to all the privateers out there on the circuit making a go of it.  The Violation1.com team that Shane rides for is also sponsored by Get Dirty MX Girls http://www.getdirtymx.com/girls.phpand if ever there was an excuse to check out a website about Dirty MX Girls here it is, your welcome.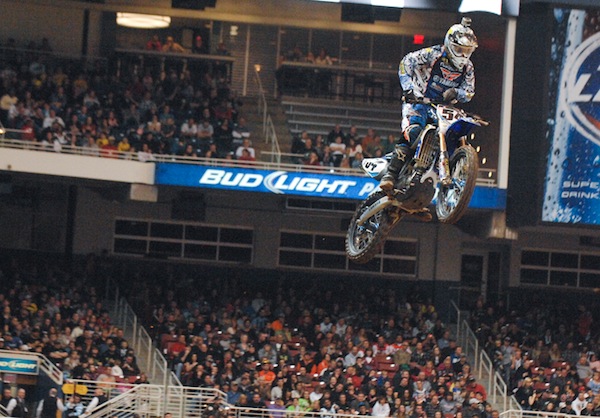 Weston doing some mid-air "adjusting" to his new Yamaha.
#54 Weston Peick – Star Valli Yamaha/Rockstar Energy Drink/MetalMullisha/ProCircuit
He's back the man that lets nothing stand of fall in his way without running over it.  At last count he still hasn't smiled which comes as no surprise.  To be honest I haven't watched the human wrecking ball ride much since the day the world stopped turning in the Whales Vagina 50 yards into Heat #2, I still wake up in a cold sweat on some nights.  Anytime I hear or read the name Peick it not only re-opens the wound but it pours salt into it then it kicks me in the nuts.  So anytime the human wrecking balls name is mentioned I do what anyone with any open wound does and find the nearest alcohol and pour it all over the wound which in this case is my heart delivered via my throat.  
Some things in life we will never get answers to, why is there brail keys on the drive thru ATM, why does poop float, how is Andrew Short both a gentlemen and a scholar?  We will never know why the human wrecking ball didn't stop or swerve just a little bit to avoid Andrew Short who was laying helplessly on the ground in the Whales Vagina, and even if he tried to explain his reasoning for attempting to wheelie over Short and then roost off of him his answer couldn't be trusted.  The only option would be to somehow trick him into taking a lie detector test to try and get to the truth and nothing but the truth (I'm not sure we can handle to truth) but still that's not going to change that Shorty has an injured shoulder.  The only logical thing to do is to build a time machine and go back to the Whales Vagina and sacrifice myself by standing between Shorty and the human wrecking ball. I've watched a few YouTube videos on how to make a time machine and the one titled "Make a Time Machine for your kids" seems easy enough to build I already found a large enough cardboard box. 
Joking aside I don't have any ill will towards the human wrecking ball, I do think he should lend his shoulder to Shorty for a while, that only seems fair but that's just me.  Joking aside good for the human wrecking ball to pick up a fill in ride with the Star/Valli team.  It seems like a good fit, they have similar images, the Star/Valli riders appear "hard" or "core" the only rider on the team that smiled was Mo and he literally can't smile right now and the human wrecking ball doesn't smile.  Riding over people also sounds like something a Rockstar would do so I think this fill in ride may not be a Short fill in but turn into something more.
Thanks for reading this Short recognition of the guys that almost made it. See you next week, Moser
Please continue to send your complaints about this column to jasonw@racerxill.comhe enjoys reading them.