Muddy conditions proved to make clearing the doubles difficult in Daytona.
Muddy conditions proved to make clearing the doubles difficult in Daytona.
By: Moser
Photos by: Cox
One of my favorite things about writing Just Short each and every week (which is also turned it in on time each and every week) is carefully deciding which headline photo will get showcased for 3.2 seconds on the pulpmx.com carousel. Some weeks I've spent more time searching out the perfect photo to compliment my words then I've spent actually writing my column. Finding the perfect picture while searching Google images requires a delicate touch with the ideal search words to find the picture I'm envisioning that has to be somewhere out there floating around in the world wide web.
With the muddy track conditions the carousel photo theme was obvious in my mind, female mud wrestling. Women equipped with large "doubles" covered in mud. Finding a rated R girl mud wrestling photo proved to be much more difficult than I ever imagined, I'm not familiar with the female mud wrestling rules handbook but apparently being topless and or in a see through shirt is a rule in there somewhere. After browsing through hundreds of photos I couldn't find one both carousel worthy and pulpmx.com appropriate without having @titslegendary trying to slap me with a sexual harassment lawsuit. So I went with Plan B the contestants covered in mud coming up Just Short on big balls from the show Wipe Out. Now onto the muddy riders that also came up Just Short in Daytona.
While watching the live TV coverage I was yet again disappointed in the amount of coverage the riders outside of the top 10 or the guy just outside of a qualifying position get, it's ridiculous. All of the riders are covered in mud you can't tell who any of the riders are anyways so why not read of the scoring sheet who's trailing in the Just Short position in the LCQ would that kill you. After the LCQ finish they don't even run the scoring sheet showing the top ten or even the top five, zero coverage for these guys it's almost like they're going out of their way to avoid mentioning these riders names let alone their sponsors. On the plus side the coverage and press for the privateers and working men of the sport can't get any worse.
I don't recall Lemoine or Howell getting their name mentioned even once during the LCQ. Gavin Faith has quietly become the most consistent rider to quality out of the last transfer position in the LCQ, he passed Jeff Alessi around the OUTSIDE to take the last transfer spot it was LOL pass to say the least. On the last lap Ralph says "The 3rd place rider is pretty close to Gavin Faith he only has about a 10 second lead" pretty close? A 10 second lead? Ralph did use the 3rd place riders actual name Austin Howell and he was so far behind you couldn't even see him in the same frame as Faith. Again it's amazing they can show every lap of the LCQ and not mention the riders that came up Just Short but maybe Ralph isn't a regular reader of this column. The riders that came up Just Short this week are #60 and #61 which is kind of weird, what are chancibilities.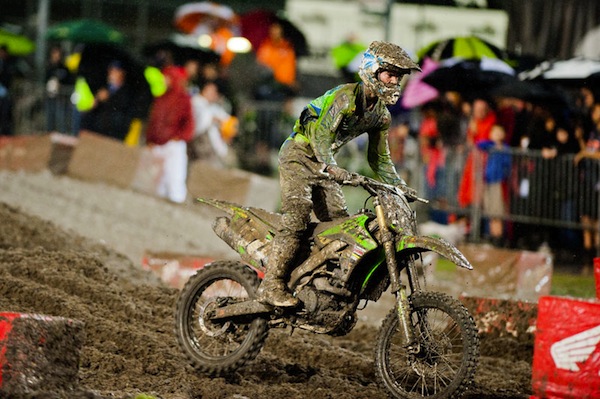 Clear vision, less the sand, mud, rain, tears, and sweat in his corneas.
#60 Matt Lemoine – TiLube/J&M Racing/Rekluse/Red River Motorsports/FMF/Oneal/Shoe
What can be said about Matt Lemoine that hasn't already been said? He likes to play with 3" pieces of wood, he's had Jenga on the back of his pants, he OJ'd and flat landed so hard in an episode of Nitro Circus he blew out most of the spokes in his front wheel yet rode/walked away unscathed. Perhaps you've heard of a man that wears mascara to rock concerts by the name of Swizzle or @swizcore he writes a little article every week in a corner here on pulpmx.com Swizzle is an acquaintance of Matt some may even say a buddy so I asked him to describe Matt in 140 characters or less, this was his response "Two words: Smart ass". Well Swizzle it would seem Matt isn't the only smart ass.
Both Matt and Swizzle are in a league all their own (not professional female baseball) in the Mad Skills MX game on iPhone. I'm not sure how they've gotten so good at Mad Skills MX maybe it came naturally because they are quick with their hands or perhaps they play more than anyone else because they have dysentery. Matt rode on the Star Racing Yamaha team a couple years back and he's pretty honest in interviews that in hindsight he wishes he had made more of the opportunity it's true what they say you don't know what you got till it's gone. Matt seems like a down to earth guy he's funny in interviews and I've enjoyed listening to his stories from last year hitting the road (literally) as a privateer and driving to the races.
Matt has proven he has the speed to be a top ten guy and should be challenging for top fives but he has rooned my fantasy league with his inconsistency. When I see Lemoine in the rider list I have a hard time not picking him for my top ten. It's just another example that having the speed of a top five guy is only one of appx. 29 pieces to a complex puzzle that all has to come together perfectly at the same time for a solid finish on race day. Swizzle's latest venture has been some podcasting for promototalk.com check in out in the itunes store (Swiz you have my address please drop a check in the mail for all the press your receiving) Swizzle has done a podcast with favorite riders and buddies Lemoine and Tickle among others but thus far it's proven to be bad luck maybe along the lines of the RacerX cover curse, I'm joking but just as a precaution Swizzle please don't do a podcast with Shorty he doesn't need any more bad luck.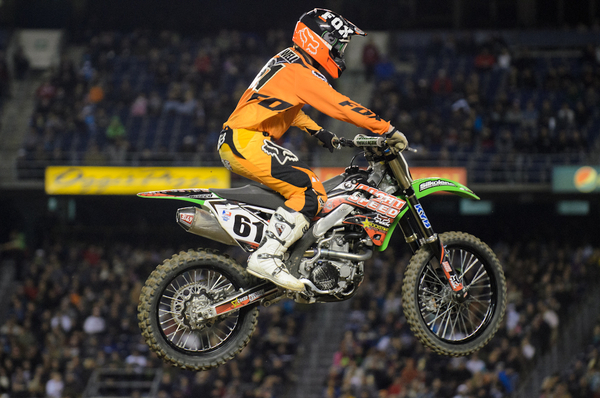 How did Howell happen to stay so clean?
#61 Austin Howell – Fox Racing/Wiseco/Race Teck/Lightspeed
I don't know much about Howell I've heard his name on occasion the last couple years so I checked out his website to learn a bit more about him. www.austinhowell.us/ The music on his website reminds me of something out of Gladiator (upon further investigation the song appears to be called Thunderdome) kind of suspenseful but inspirational I'm sure JT$ would approve and maybe they could trade playlists sometime. The last time Howells website was updated was 04:11:47 PM Tue, November 22nd 2011 but there is still quite a bit of information on there and some videos as well.
Howell turned pro at the end of 2010 after Lorrettas and has qualified for quite a few Nationals finishing in the 15th – 25th range. FYI in 2000 at A1 Howell finished in 2nd place in the KTM Supercross challenge. Howell weighs 170 pounds which is the ideal weight for any pro rider because that's what Shorty weighs. Yet again Weege didn't' get back to me with an answer on if Howell has qualified for a Supercross main event, maybe if I emailed him a complaint about this column he would respond. I'm not the type of guy who enjoys watching crash videos but if that's what gets your motor running here's a link to an awkward wreck Howell had at A2 last year where he ott a weird seat bounce or slid out off the jump face either way it looks like it hurt.
www.youtube.com/watch?v=dT7ydC1pgtI
Thanks for reading this Short recognition of the guys that almost made it. See you next week, Moser
Please continue to send your complaints about this column to jasonw@racerxill.com he enjoys reading them.