In honor of Toronto SX eh a candid Canadian childhood photo of Matthes

In honor of Toronto SX eh a candid Canadian childhood photo of Matthes
By: Moser
Photos by: Thee James Lissy-more

Ahhh Toronto- Americas top hat, the land of free healthcare, sponge hockey, cheese curds, bacon, Tim Hortons and Pamela Anderson (pre boob job). I watched the race live this weekend and the LCQ's were rather uneventful other than JT$ getting a good jump on the gate a good run into the first corner and then doing a good job of stalling his bike. There was a collective sigh of agony heard through the TV by JT$ fans everywhere, hope his luck turns around soon because there is not a raw egg or set of concrete steps safe from the pounding of his Rocky inspired training during the week until he gets back into the main events. Alright let's keep this Short, this week we've got Les Smith and Ryan Clark, yes that Ryan Clark the same guy you watched race when you attended your very first Supercross at the age of 8 years old.
We also have a follow up on the pending Top Jimmy interview from last week.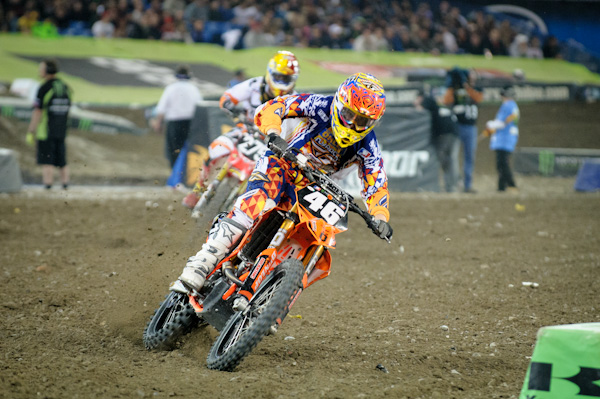 I'm no riding coach but good body positioning and nice photo by Lissimore btw
#46 Les Smith- Ohlins/Langston Motorsports/KTM/Fly/Stellar/Spy/Cycra/Moto Tassina
I felt Lester was having a pretty respectable season so far, solid and consistent results on the new Langston Motorsports KTM team. I was so confident in Les finishes I retained his services in our DreamTeam fantasy league, it's an elite invitation only SX/MX fantasy league that Peter the producer aka @titslegendary has devised a complex and confusing system of picking order and available riders from week to week. Peter inputs all the picked riders into a fancy color coordinated excel spreadsheet with bar graphs and pie charts, rotating picking order etc. the checklist to launch the now retired space shuttle was Shorter than this spreadsheet. The last two seasons Peter has remained undefeated and it's probably because of some excel "if" function he's developed to play the best odds week in and week out but I digress.
Lester was the smart and obvious choice of the available riders having just come off a 9th in Indy, I was pretty happy with my choice and was feeling very confident going into the race I didn't pre order a Lambo but I did pick out what color I wanted. Well Lester you rooned my fantasy league so thanks a lot, it wasn't bad enough you didn't' qualify but you also came up Just Short so now I have to write about you, just twist the dagger, kick a guy while he is down and pour salt in the wound. I was tempted to simply right Les Smith didn't qualify and screwed me, but I'm a professional. Lester didn't qualify in St. Louis and obviously not in Americas top hat but he's still sitting in 14th place overall in the 250F Lites East points.
The bikes on the new Langston Motorsports team look super trick under the tent which is good because it seems one rider doesn't make the main event every weekend, that's not a slam it's the truth but they have been making some improvements, I think (Weege never got back to me with the exact qualifying stats of the team riders). Recently I've seen more than one tweet come across my timeline eluding to Grant Langston holding down the pre and post-race celebrations at the local watering holes. I have a feeling Grant and I would get along just fine, he likes to buy people drinks at the bar and I like to drink for free at the bar there is some real potential for a friendship blossoming between us.
Lester has been passed around the pits for his fill in ride services more than a few times much like a Monster Energy girl. He was called upon by the JGR team quite a few times last season, he became their "sure thing" you know what I mean your fall back plan, you test the waters with a few other riders buy them a few drinks but things don't look like they're going to make it past 2nd base, you glance at the clock and closing time is in about an hour then you adjust for the bar being open in Canada until 3:00am but still decide to cut your losses and call up your "sure thing" not someone you bring home to meet mom but you can count on them to answer the phone at all hours and then go the distance. By all accounts Lester did good by JGR and I think they returned the favor they had a mutual understanding, it never turned into going steady and a full time ride but that doesn't mean what they had wasn't special in its own way. I look forward to seeing what Lester will do outdoors, the KTM is a fast bike and he had some strong rides in the nationals last year.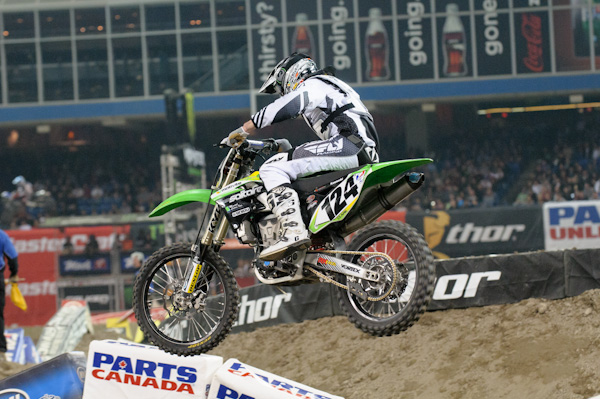 AAARP sponsored rider
#124 Ryan Clark – Motivite / Mastel Linens / Fly / M2R / HoyFox / Leovince / Enjoy / Dunlop/North
Oh the enigma that is Ryan Clark, this guy has been around and around and around the circus ride that is professional motorcycle racing for more than a tokens worth. The evolution of Clark and his race team or teams would probably be a two part Steve Matthes podcast. I don't know this guy personally (let's be honest I don't really know any of these riders personally although I do know Shorty's pants and shoe size) but just the mention of the name Ryan Clark results in a deep breath and sigh from just about anyone in the industry, is it just because the guy has been doing it for so long? I recall team Solitare as appearing fairly legit from the outside looking in, semi-truck, a couple riders, and Clark always managed to get press coverage. But last I heard Clark was giving it another go out of an SUV and a small trailer.
Clark has a blog called "Deep thoughts with Ryan" which is the perfect name, as you read through some of the posts there is a lot of personal reflection, it has a bit of a Stuart Smalleyvibe to it "because I'm good enough, I'm smart enough, and, doggonit, people like me". He's been posting his deep thoughts since 2007 so you can take a glimpse into 5 years of Clark's life right here. http://teamsolitaire.blogspot.com/ after someone reads all of it please let me know "what happened?" How did he go from semi-truck back to a suv and trailer, was it a personal choice, financial, is he still out there for the love of the game I'm sure the answers lie somewhere in a blog post.
I did skim the blog and a name caught my eye Seiji the personal trainer and fitness guru to the stars (currently Seiji is Shorty's trainer). As you can imagine this instantly peaked my interest as Seiji's magic hands rub down Shorty on a regular basis. Back in 2008 Seiji worked with Clark in some type of capacity so I dropped him a line to see what insight he had on Clark he said "yeah man no problem" and that was the last I heard from him. I can assure you it's not a lack of effort on my part to try and get you the reader's cool insider information but much like JT$ my results do not reflect my effort.
I don't take the delayed and/or no responses personally so get used to quotes like "sure man send me a text" "drop me an email" "I'll get that to you tomorrow" and "I'm wearing gym shorts and a bass pro tee" because that's about as far as my interviews seem to be going. Anyways Seiji seems like a great guy per his twitter posts, interviews, and Shorty has nothing but nice things to say about him. Seiji is also an animal lover his vet bills for wayward animal care must be right there in the running with Matthes vet bills. Give him a follow @coachseiji on twitter for inner thigh deep tissue massage therapy tips and other cool information and most important some insider Shorty info from time to time.
#48 Jimmy "Top" Albertson – BTO Sports.com, Palmetto Suzuki, Fly Racing, MMI
Pending interview with Top Jimmy:
STATUS STILL PENDING
There was some progress with my Top Jimmy interview, and I'm not going to stop until I get answers, I'll make up the answers if need be. I forwarded the questions to Mrs. Top Jimmy the lovely Georgia Lindsey Albertson and don't let her sexy accent fool you because it doesn't get you a response to your interview any faster. Our last correspondence was Monday 6:37pm via twitter "I will I will!!!! Tomo, promise!!" The overuse of exclamation points should have been my first sign that she was just leading me on. Make sure to come back next week to see if I make any further progress, maybe I'll email Top Jimmy's mom.
Thanks for reading this Short recognition of the guys that almost made it. See you next week, Moser

Please continue to send your complaints about this column to jasonw@racerxill.com he enjoys reading them.