Former supercross winner and factory rider David Vuillemin gives us his take on New Orleans

Former supercross winner and factory rider David Vuillemin gives us his take on New Orleans
By David Vuillemin
Photos by James Lissimore
The SX season is in its last stretch and the interest, with injuries and early clinched titles, isn't where we all wish it would be a this point of the competition. But there are still races to go to, to win, championship podiums to get and big bonus money to make…
The SX tour hasn't stopped in New Orleans since 2002, 10 years ago. (Ed note: It was actually just a few years ago when we went there last but maybe DV was in Europe or something and forgot.) I remember it really well. I was already hurt from my infamous crash doing a photo shoot and was trying to salvage what I could in the championship. RC had momentum and I wasn't 100% so getting 2nd in the championship was the best I could do.
The dirt was the same this year, black, hard and filled with seashells. The track, itself, wasn't super interesting. I thought it was tight and not so much flow. You could see that the riders weren't having much fun on it. Everyone was pretty much doing the same thing, which isn't really "news" and it came down to speed once again.
At that, Ken Roczen was the best at it in practice. He was the fastest in both timed practices which would make us think of a Barcia-Roczen battle later on. The battle happened but, unfortunately it wasn't for the win.
If you go with the stats before the main, you (and I) wouldn't have bet on Darryn Durham (9th fastest in practice, 4th in the Heat, 5th fastest in the Main) to win this thing… But, he got 4th place start in the main and took advantage of Barcia blockpassing Stewart to pass both of them. By the way, Alex holeshot the main from the second to last gate on the outside! He won the LCQ so he had a bad pick. That was really impressive! Darryn spent just over a lap behind Alex and made a text book blockpass in turn 1 for the lead. That was a great move and helped him with the win for sure to get in front early. DD wasn't super fast but was consistent while the guys behind were dicing and losing a bunch of times. I really thought Malcolm Stewart (6th in practice, 2nd in the Heat, 6th fastest in the Main) would have a good race in NOLA. I tweeted about it because I thought he looked the best so far this season.
Malcolm was running a close second when he had a huge get-off in the 5th lap. His feet came off the pegs in the whoops, then whiskey throttled off the track. It was a really hard crash and I am glad he is ok. Back to Durham, he made one mistake which I didn't see but I asked Mitch Payton what happened when Baggett closed a few second on DD in one lap. After re-watching the race on TV, DD hit a tuff block before the triple and couldn't jump it. He was jumping over the tuff blocks which was a cool and sneaky line but lost the front one time and landed right on them. It was a close call.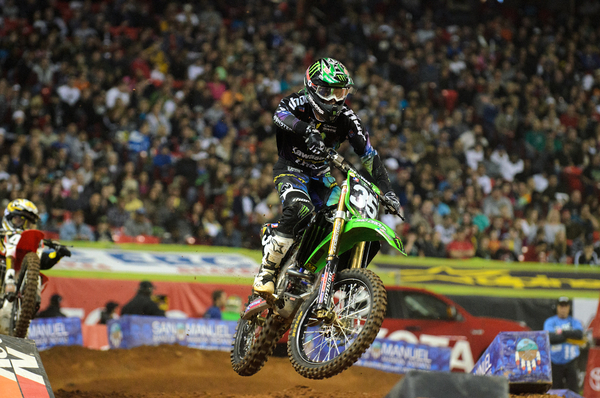 Durham won his first race this season and first of his career. Good for him.
Blake Baggett (5th in practice, 3rd in the heat, 2nd fastest in the main) was on DD's back wheel on lap 10 and I really thought he would have been more of a threat for the win in the last 5 laps. Blake lost some time at the beginning of the race battling in the chaos with Barcia and Roczen. They passed each other a few times and lost some time on Durham. BB had to deal with lapping Wharton who stayed in the main line and made him lose some precious time with a few laps to go. Baggett couldn't jump the following section because of it. Blake was faster than Durham all day and had a good shot at winning his first race of the year on Saturday. He was close to make the pass on the last lap but was a little too far and a little to shy to make it stick. That was, with Daytona, his best ride of the year for sure.
In third, it was a awesome ride by Justin Boggle (4th in practice, 5th in the Heat, 3rd fastest in the main). He passed Barcia and Roczen in the same turn going inside after an on/off section. "Only" 7th on the first lap, I appreciated the fact he passed the back to back champion and the fastest rider of the day, Roczen.
It was the championship race for Barcia (2nd in practice, 1st in the Heat, 4th fastest in the Main) and it's difficult to judge his performance in New Orleans. I am sure his first goal was to clinch the title even if he wanted to win the race too. Justin made some aggressive moves in the opening laps of the main that cost him some positions and time. It wasn't the "real" Barcia on Saturday but he did what he had to do, clinch the title… Now, I would love to see him on Canard/Hahn 450 for the next 2 races to put a little spice in the 450 class which is getting pretty boring to tell you the truth.
What about Ken Roczen (Fastest in practice, 1st in the Heat, Fastest in the main)? The practices were promising for Ken where he topped both timed practice sessions and went on to win his heat race. His start wasn't the greatest, 6th on lap 1, but he was in the hunt for the win when he got to 3rd halfway thru the main event. I watched him after the main and he was shaking his hands and was stretching his hands on the bars while talking to his mechanic. I am guessing he got tight and got some arm pump. It's understandable, the track was hard, rutted and he had to battle with a few guys early in the race. Still, at this point of the championship, it's surprising to get arm pump. Ken will have one more shot at winning a race straight up. His Houston win was an early Easter gift from Bunnies Justin and Lance. And from what I've heard, Ken will race Seattle and Salt Lake on the KTM350 which is a great thing for us fans.
In sixth, Kyle Cunningham (7th in practice, 5th in the Heat, 7th fastest in the Main) had his best finish of the year. Kyle has been riding hurt in his crash in Indy and it has been a tough season for the Texas native. A lot of us were expecting to see him battle for some podiums and wins this year. Kyle can be super fast but it's also difficult to race injured and not at 100%. His ride and his 6th place finish in NOLA was pretty good after being in 12th on the first lap. Look for him to be doing better in Las Vegas for the last east race and the shootout. He might be more healed by then and he's fast on hard packed tracks. His lap times at the Yamaha track are the proof of it.
Jake Canada (15th in practice, 7 in the Heat, 9 fastest in the Main) had a quiet day. Jake has been super consistent this year, a 4th, a 5th, two 6th, three 7th and a 9th. He was a little off the pace compared to what we're used to seeing from him lately.
Arenacross Champion Tyler Bowers (12th in practice, 4th in the Heat, 11th fastest in the Main) matched his best finish of the year with the 8th place finish. Tyler has been riding well coming off his Arenacross series. I don't think Tyler is a 250cc rider and his equipment might not be as good as the guys he's racing with in his class. His physique isn't made for this class but he's doing some good things. He was super fast again in the whoops. He's another guy that will race the 450 in the next two races. He doesn't have a lot of experience and time on the 450 but it could do good on it.
Austin Politelli (10th in practice, 6th in the Heat, 13th fastest in the Main) scored his best finish of the year (his career?) in 9th. Austin has been under the radar but the kid is riding well. He has a good technique and actually did good in Houston with a 12th. Not bad for a rookie season and a privateer.
As far as the Championship goes, Barcia is Champion but the race for 2nd is intense, Durham and Roczen are tied for 2nd with 143 points and Wharton is 4th with 142. I never had a second place bonus but some of those guys might. There isn't much marketability in a runner up position and a championship bonus might be the only thing left for those 3 before the last race of the season in Las Vegas.
You know what guys? Ryan Villopoto won the 450 class… What a shocker… RV did the grand slam fastest in practice, won his heat, was the fastest in the main and led 20 laps to win the main. The only asterisk that we could put next to his name is that he wasn't the fastest in the first practice, IceIzzi was… I really like the way Ryan is dealing with those races without "interest" for him anymore. He's doing his job like any other day plus it doesn't hurt to make $100k+ every saturday.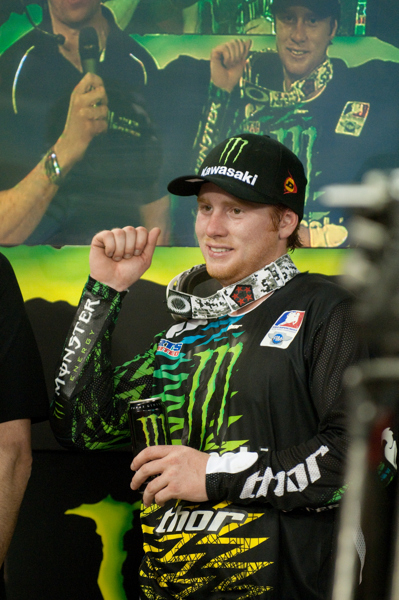 Is this guy going to win out?
The biggest surprise of the day was the 2nd place finish of Josh Grant (11th in practice, 5th in the Heat, 4th fastest in the Main). Josh's best finish before going to Louisiana was a 10th place in Houston before Easter. Even after the heat, I don't think any bookmakers would have had him on the podium. Josh got a great start in 2nd behind RV and never looked back. Ryan didn't get away that much from Josh in the first 5 laps and his first 10 laps were pretty consistent. Having Alessi in 3rd and riding well helped him too. I don't think Mike was willing to battle with Josh for some reason even if he was faster. Maybe their history from the amateur days had something to do with it. Brayton, Short and Metcalfe were dicing a little farther and losing a bunch of time. The three of them actually collided before whoops which gave Grant and Alessi some breathing room in the beginning of the race. Josh rode a great race, he was by himself the whole race and got the job done. It's good to see him up there and it's great for the JWR team to get on the box.
It wasn't Justin Brayton's (5th in practice, 3rd in the Heat, 3rd fastest in the Main) best ride in New Orleans. On paper and with all the injuries, he is the number 2 guy now. He was 7th after the start and he lost a few positions when he blockpassed Metcalfe. They almost crashed. He got to 4th after 5 laps after passing Tickle, Faith and Metcalfe. Like he said after the race, he wasn't feeling great on the track. Alessi was riding well but Justin should have got by him way earlier. It took him almost 10 laps to gain 6 seconds and make contact with Mike. A lot of people were saying that Alessi had 3rd in the bag before he collided with Justin Sipes getting lapped. Mike had a good shot at it but there were 5 more laps to go and Brayton was right there. Justin not riding like we used to see him ride lately, yes, Mike had a chance but it would have been tough though. Still, JB10 salvaged a podium on a bad day which is a good accomplishment. As far as the Sipes/Alessi incident, those things happen all the time. Ask Barcia about his Houston last lap.
Bret Metcalfe (10th in practice, 3rd in the Heat, 8th fastest in the Main) matched his best finish of the year. I thought Bret was aggressive and fought hard, especially with Short. Bret is one of those guys that can get on the podium nowadays. He still misses a little speed to do so. He had a good shot at it this weekend being 4th in the 4th lap with Alessi and Grant in front of him. I don't know if he will get a podium in the last 3 races though. He will need a start and a few tenths a lap to do so…
Andrew Short (6th in practice, 2nd in the Heat, 5th fastest in the Heat) marked his return after missing 8 races by a top 5. That's a great performance, he matched his best finish from Oakland. For me, he almost looked better than he did before he got hurt. He was fast, comfortable and aggressive. He did 11 good laps in the main and got a little slower after that. It's pretty normal after 2 months away from racing and the lack of racing. I think it was a great race by Andrew and he will improve all the way to Vegas.
Davi Millsaps (3rd in practice, 1st in LCQ, 6th fastest in the Main) had to go to the LCQ to get in the main after losing the front and going over the bars in the heat. Obviously, he had a terrible pick on the gate for the main. You'll tell me, Alex Martin holeshoted from there, but Davi isn't known to be a great starter. Plus, he was in the first turn pile up on the start. Even if he was 15th on the first lap, he was way behind. Davi actually rode good to get 6th on a pretty tight and one lined track. Look for him to be on the box again soon.
Weston Peick (18th in practice, 5th in the Heat, 15th fastest in the Main) got a SX career high 7th. If you look at his New Orleans stats, you would wonder how he got 7th. It's easy, Weston is a fighter. He fought the whole main event. For example, his 18th lap was only .9 sec off his fastest lap time. Nobody else in the main was that close to his best lap time at this stage of the race. Yes, his speed can be better but his fitness and drive are up to par. Good job to him and with that ride, he well deserves his factory supported replacement ride.
Kyle Chisholm (7th in practice, 8th in the Heat, 9th fastest in the Main) recorded his 2nd best finish of the year with his 8th in The Big Easy. This one might have more value to it because Kyle was also in the first turn pile up. I still think KC needs to be more aggressive in his riding especially in the heat race last weekend. A lot of guys would do so much if they were going out of their comfort zone, Kyle is one of them along with Brayton, Metcalfe, Tickle and Wey for example. If Josh Grant can pull a podium finish, Kyle is well capable of doing the same with a little "tebasco" in his riding and in his starts. Still, his performance Saturday was good with the circumstances.
Will Hahn (12th in practice, 2nd in LCQ, 13th fastest in the Main) got a huge get off in the heat race. He endoed sit-bouncing a small triple. Good thing he jumped off. I saw the whole thing and it could have been ugly. Add to this, going to the LCQ, having the last pick on the gate, being in the first turn pile up in the main, Will didn't start the race in the best circumstances. I know Honda needed someone to fill Canard's spot in the factory semi but I don't think Will was 100% ready for the challenge. He came out of injury, jumped on the 450, a class he has only a small experience in and with a limited time on the bike. It's good for Honda to fill a spot but I don't think we should expect a lot from Will yet. He isn't in his A1 2011 (before he got hurt) form just yet and will need time. He was flying in practice then!
Rounded out the top 10, was Broc Tickle (15th in practice, 4th in the Heat, 10th fastest in the Main). The 2011 West Coast Lites Champion is having a difficult year in the premier class. Broc's first laps in the main were promising until he crashed from an Andrew Short blockpass. BT restarted far behind, in 15th and manage to get a top 10. We all expected more from BT and he will have to turn it around rapidly or he will be remembered of the "Jimmy Gaddis" of the 21st century…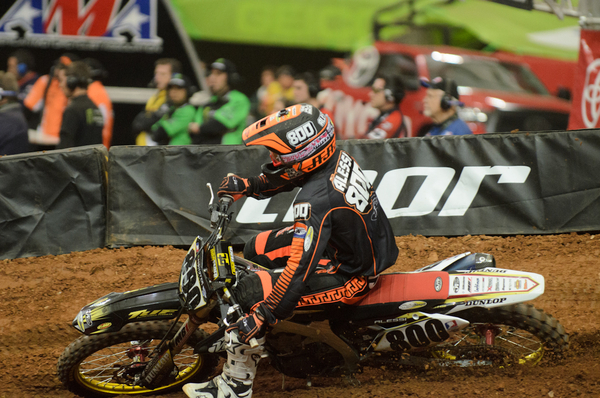 Mike was five laps away from his first podium of the year. Maybe.
I've talked about Alessi (13th in practice, 2nd in the Heat, 2nd fastest in the Main) already but wanted to add a couple more things even if he got 13th. His practice times were pretty much where he has been all year but he turned it around for the night program. I thought his heat race was good and obviously, his main was promising until the 15th lap. His start was actually "Larocco-like" but made some smart moves in the first few turns to come out in 3rd. His fastest lap time was great in the Main, only 4 tenths from RV's. Colliding with a lapper is always a bummer but it happens a lot (ask Barcia) and will happen again. Brayton was catching him, 2 lappers were in front of him, Mike went inside, Justin Sipes squared off the turn and hit Mike and he crashed. It's a bummer for Mike for sure but it's tough to blame anyone on this. His main event was great, he was fast, consistent and he was 5 laps to his 2nd podium ever but one thing bothered me… Mike is always strong in the first laps. Why didn't he try to pass Josh Grant at the beginning of the race? His first 2 laps were faster than Josh. Josh didn't go faster after that. I usually have more bad things to say about Mike, but this weekend, that's the only thing that bothered me, the rest was great.