Our cub reporter Moser once again shines the light on the guys who came up Just Short

Our cub reporter Moser once again shines the light on the guys who came up Just Short
Just Short Vol. 15
Shorty WON!!!!!
By: Moser
Photos by: Jamie Lissimore
Did I mention Andrew Short won? Nothing else really matters I contemplated not even writing about anything else except how awesome it is I was there to witness history when Shorty took the checkered flag for his first career 450F Supercross win. If I had not been so dehydrated at the time of said victory tears would have been shed. After telling everyone all weekend I was a freelance journalist for pulpmx I figured i should probably do my "job" and talk about the guys that didn't make the main on this history making evening. Having attended the race I'm sure your thinking I should have lots of inside racing action that the live television coverage didn't show, well you would be incorrect because I was resting my eyes during the LCQ's in anticipation of Shorty going for the win in the main event.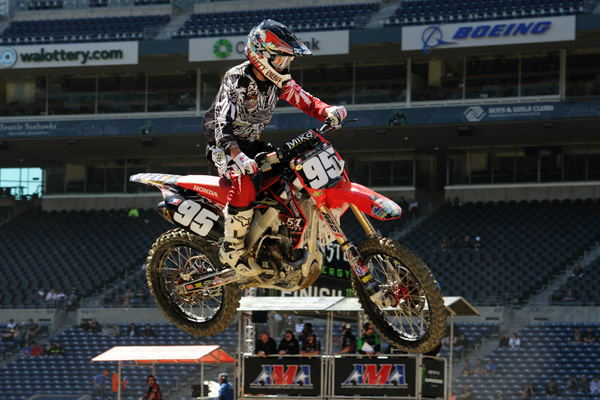 Did you know Chris Plouffe is #95 and rides a Honda? Now you do
#95 Chris Plouffe – 51FiftyEnergyDrink
I've never heard of Mr. Plouffe, is the ff silent and is ou pronounced ew? I'd really like to know how to pronounce that and as Ping would say he probably got his ass kicked in elementary school a lot. I just did a bit of creeping on his twitter account @CPlouffe95 and it looks like he checked out a Mariners baseball game on Friday night before the race, good to see him supporting my hometeam and some salty nuts. Plouffee is only 19 years old which is to bad for him because the only way to really tolerate baseball is with some ice cold beer, the games take forever. Plouffe appears to be sponsored by 51Fifty Energy Drink because he Retweets a lot of their stuff, so I'm just going out on a limb there. I also saw Plouffe on the Rooster Fish MX website which is the team Scott Champion rides for, Champion and his girlfriend Erin were strolling the pits Saturday morning Erin's ankle must still be jacked up because she still rolling around on a scooter things still, a scooter is a hard accessory to pull off and still look attractive but Erin pulls it off nicely. I looked through all the pictures I took at the race and couldn't find any of a #95 Honda but if anyone wants some close up pictures of a #29 I have A LOT of those.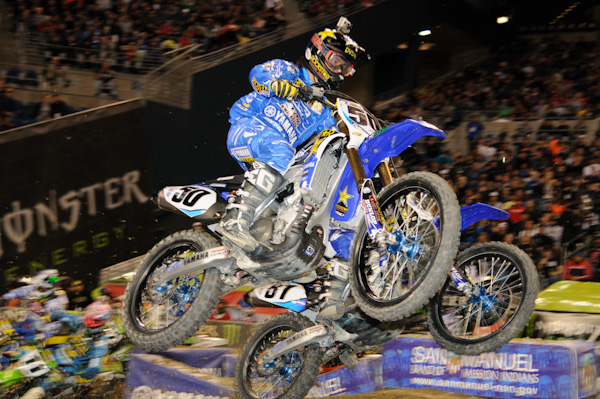 Nico Izzi, Weege usually inserts an Izzi racing joke in here somewhere
#50 Nico Izzi – Star Valli Yamaha
The current bad boy of Supercross, he has long hair and doesn't care. When I think of the image the Rockstar Star Valli Yamaha team is looking for Nico Izzi is that guy. I don't know to many Rockstars personally but that's what I picture and the attidue I perceive of not really caring. Maybe he's the nicest guy in the world and that's just his image I can't say for sure I haven't meet the guy. Nico's carreer has not gone accorindly to plan, as he was one of the next big up and coming amateurs stars that was going to beat everyone, proving time and time again how many pieces to the puzzle have to be in place to have success in this sport. I believe that Nico was the very first Volcom sponsored athlete in the moto world and I still remember him rocking some really sick helmet designs, to bad Volcom sold out which goes against everything they stood for and marketed but that's another rant for another time, none the less it was cool to see them get into moto.
One thing Nico has never lacked in was speed well I guess both speed and injuries. I can't recall the last time he wasn't coming off an injury and trying to race himself back into shape. He really showed some impressive speed last weekend in NOLA when he jumped onto the 450. When I wandered by the Valli pits this weekend I looked and looked but couldn't see the wheel they must spin to decided what riders are on the team that weekend and what bike they are going to ride, I assume a Rockstar energy girl spins the wheel so I was bummed I didn't see it. I'm sure this is subject to change yet again but riding the 450 outdoors is I good idea the 250F class is always stacked and if your bike isn't fast enough to pull a start it's going to be a miserable 30 + 2 laps trying to make your way through the pack. Rock on Nico and giddy your ride on.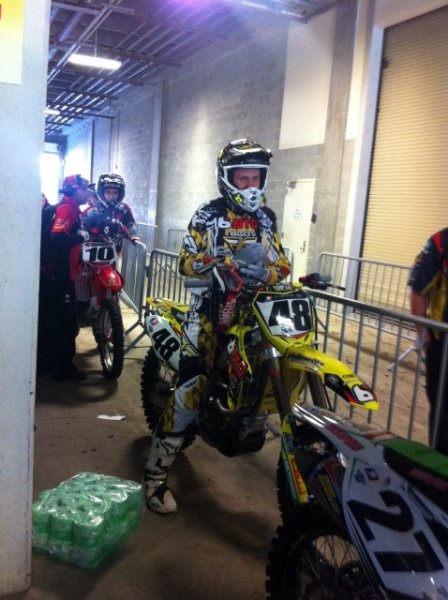 Top Jimmy and I make eye contact prior to practice he knows I mean busines & I don't know why he brought all the toilet paper with him
#48 Jimmy "Top" Albertson – BTO Sports.com, Palmetto Suzuki, Fly Racing, MMI
I told you guys I would make the happen and I literally chased down Top Jimmy to get this follow up interview from 2 months ago. While I was broing down JT$ in the team semi, our eyes meet and poor Jimmy knew he had nowhere to go. He faced the music was a real gentleman about it answered all my questions had some great and funny answers. I really appreciate him taking the time out of his day to chat with me. By the way the audio file didn't save correctly on my fancy recording device and the interview was lost forever, sorry about that part.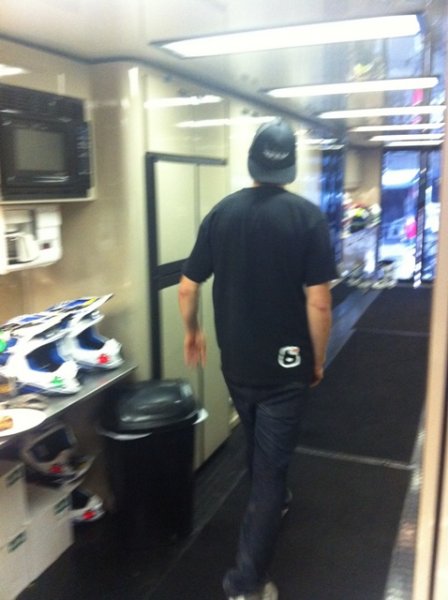 Top Jimmy trying to run away but I've got him cornered
Thanks for reading this Short recognition of the guys that almost made it. See you next week, Moser

Please feel free to contact my complaint department about anything really jasonw@racerxill.com