Moser's epically long story on his weekend at Washougal.
Moser's epically long story on his weekend at Washougal.
Words and pictures by Moser
A lot of work went into piecing together the events throughout the day of Seattle Supercross. Several phone calls took place, I compiled any photos I could get my hands on all in an attempt to put together some type of timeline and when I couldn't fill in the blanks I made it up or skipped over them. The goal going into Washougal was to make writing Moservations much easier by remembering what happened throughout the weekend or at a minimum on race day. Armed with a notebook and highly scientific plan on how best to hydrate properly for the national I had made all the necessary preparations it was just a matter of putting the plan into action on race day.
This year the woody was at full capacity with a record number of passengers as six men made the approximately six hour road trip from Spokane, Washington to Washougal. My woody legally holds eight people, I don't like to brag as my woody is large but that's still a really tight fit and if you're going to ride the woody for six hours a snug fit is fine but you don't want to be uncomfortably tight. The next challenge was with six guys, where do you put the luggage? Enter the shuttlecock luggage rack for the top of the woody. The Cryers father in law happened to have one laying around and was kind enough to give it to me because he felt it would fit the woody perfectly and add a little girth. I was pretty excited about this woody enhancement and tipped him with a six pack.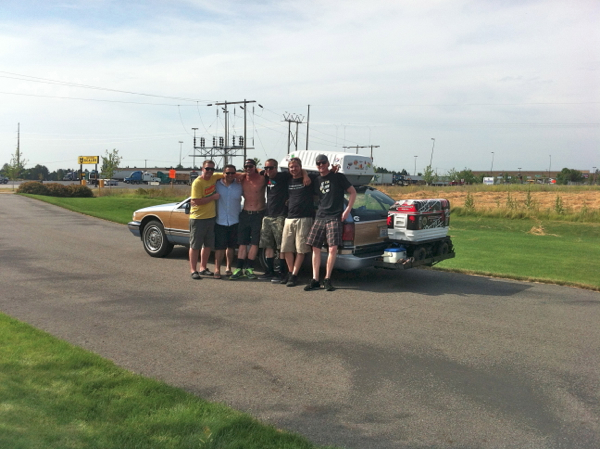 The Washougal 2012 crew left-right Cryer, Benny, Buell, Kevin, Moser, BigRed
The next traveling hurdle was deciding whether to bring the Pulpmx cooler. Pictures don't do this thing justice you have to see it in person to grasp how big it really is. Again didn't have room for it in the car and there was no way I was going to carry it all race day. A wagon seemed like the most practical way to get the cooler around the track so I asked for a wagon for my birthday. With a little help we fabricated some handlebars for a wagon handle with a #29 numberplate and spray painted it flat black to compliment the cooler. With no more room available in the woody or on top of the woody my only choices were to kick someone out of the car or tow the cooler somehow. Luckily my woody has a towing package and we borrowed a towing hitch thingy that the wagon and cooler fit in perfectly, the Griswolds had nothing on us.
The crew this year was the Cryer @chris__holliday, @bigred140, @benny_tacp, @buell957 and @kuestinfection. Honorable mention to Benny who flew from Arizona into Spokane so that he could partake in not just the national but also the 6+ hour road trip each way.
Friday:
4:00pm We start loading the car and immediately question if everything is going to fit. Buell a guy that we barely know at this point but is catching a ride with us assures me that two tie down straps is adequate to hold the cooler, wagon and bags to the tow hitch thing, apparently he "moves million dollar equipment" for a living. The line "I move million dollar equipment" is repeated hundreds of times throughout the weekend and we decide it's the answer to everything.
4:05pm Buell removes his tee shirt and he would remains topless for the majority of the trip.
4:28pm We hit the road
4:29pm The woody bottoms out and drags hard while entering the gas station. We maybe have 4″ of clearance under the towing package, I'm not sure we are going to make it but Million dollar equipment man says he can keep my Woody running and get us there no problem. If the Woody even looked at a small incline it would drag and we left grooves in the pavement of every parking lot we entered all weekend but once on the freeway it was smooth sailing.
5:08pm I realize the air conditioning I thought I had fixed is not working, luckily it's a cool 100 degrees outside, literally. Six dudes in a woody without air conditioning, two words, ball sweat.
5:44pm Somebody thinks they saw something fall off the car, so we pull over to ensure we haven't lost anything of importance. Not even two hours into the trip and this is also the second pee stop.
6:08pm Buell asks what's the rule on pissing while inside the car and to the best of my recollection nobody bottled any piss but we stopped so many times to piss I stopped counting after nine.
6:14pm While debating the important topic of what makes a good clubbing shirt BigRed declares "The shinier the better"
6:29pm It's kind of become a tradition now to stop at Little Ceasers pizza for dinner, an entire large pizza for $5.00 it just blows my wig back they can sell it for so cheap.
7:14pm The car is making a funny noise that we're all very concerned about so we stop at the next exit. By chance the building we stop at has an event that helps fund tuition for girls that are aspiring to attend community college so we all donated a little cash. After checking under the hood everything seemed to be in the right place we hit the road again.
9:56pm We stop to fill up the Woody and empty our bladders. Buell ignores the "no shoes, no shirt, no service sign" and makes his purchases topless. The Cryer buys the most ridiculous straw hat that is without a doubt meant for a women.
12:01am Everyone passes out except our sober driver Benny who said "I turned off the music and everyone was out in less than 5 minutes"
1:05am Benny finds a campground near the track and we set up the tent in a slight drizzle of rain, but no worries we have the rain fly.
3:00am It starts pouring down rain, and I mean POURING. It's not long and we are all soaked and a river is running through our tent.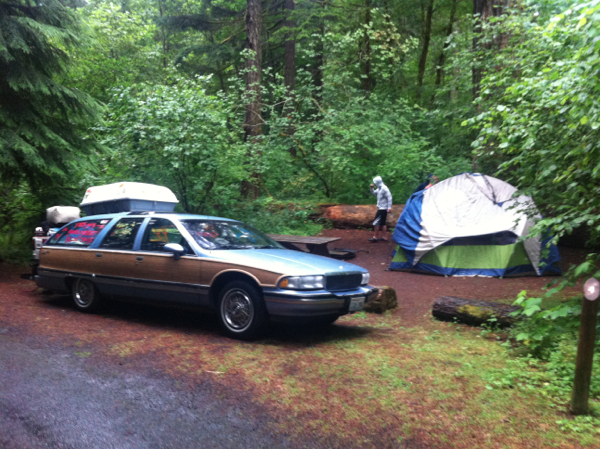 I guess this is what soaking looks like.
7:56am Everyone and everything is soaking wet, we pack up and pile into the Woody. If ever the word musk was needed to describe a scent it's for the inside of my Woody filled with six guys and all our wet stuff.
9:19am We head to the Will Call tent to get our passes, after a little sweet talking, calling in a couple favors and batting my eyebrows I'm able to get all the passes I need, thanks to Shannon, Shorty, Matthes, Weege and Konnrad. Alright I had to call in more than a couple favors by the time we got all the passes we needed both my hands and mouth were sore. I try to get my picture with JT$ mom but was disappointed to hear she didn't make the trip to Washougal.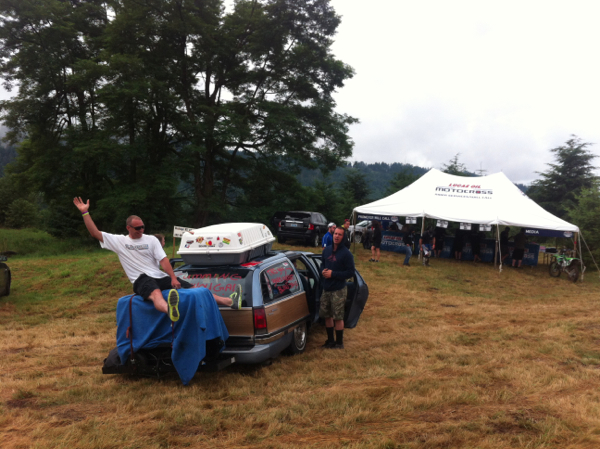 Keeping a low profile at the will call tent.
9:19am They inspect my entire Woody and touch it everywhere. After being told my Woody is clean and clear to enter we head to our typical camp spot in an undisclosed location. While driving through the grass fields Buell says "you don't have a hair on your ass if you don't Dale Earnhardt this shit".
9:45am We set up all of our soaked camping gear all over the muddy ground. Some people camped nearby warn us that the night before our primo campsite was in a floodplain but we decided to chance it. With everyone tired, wet, and hungry we sounded like a bunch of women bickering about anything and everything so we headed into town for breakfast.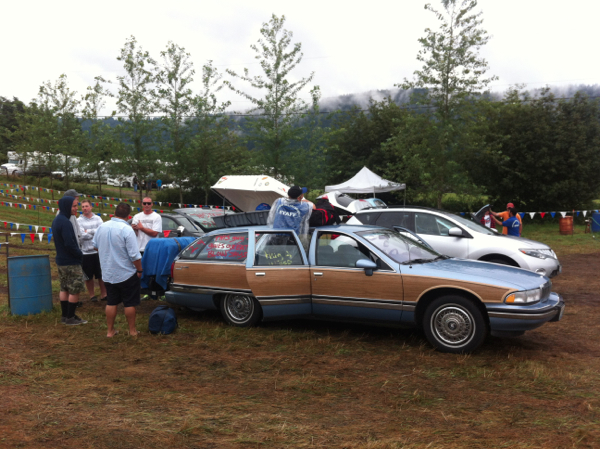 Woody inspection, they were gentle.
9:50am I remember that my lovely wife made homemade cookies for the L&MC team. I'm amazed the cookies made it through the night without getting eaten. I briefly meet Shorty's mechanic @nasty_nine. I hand him the cookies and back away slowly before I make the situation too awkward it's a long weekend and I want to ease into our mechanic/superfan relationship.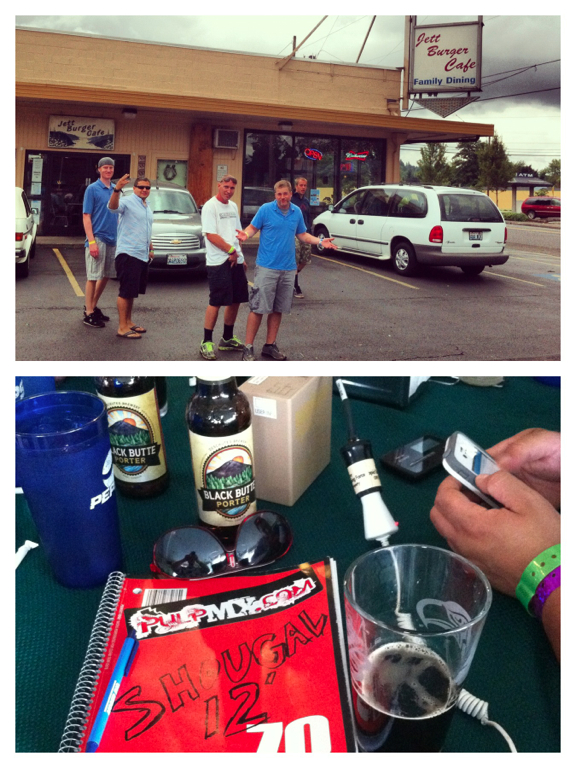 The Jett Burger Cafe where everyone knows your name.
11:04am Breakfast at Jett Burger Cafe the best breakfast joint in Washougal. We only eat here one time a year but we make such a good impression they always remember us and are awaiting our arrival. It doesn't hurt that they have a fridge stocked with beer. After filling our appetite and thrust we did the next most logical thing we headed to another bar to meet up with a friend who lives in Portland.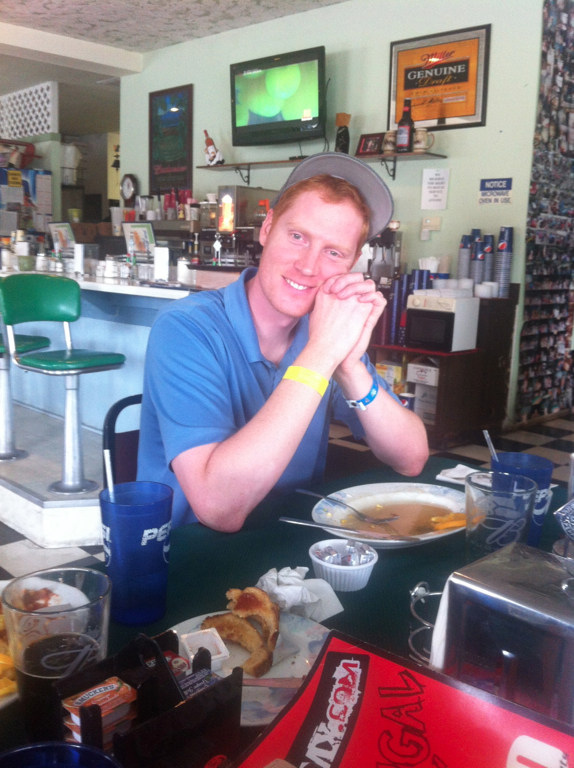 That is one happy ginger, BigRed loves his breakfast.
2:00pm Good times and good beer at a place called Laurelwood. We are running late and have to push back our tee time. Buell is asked to put his shirt back on while we are in the outdoor patio seating area.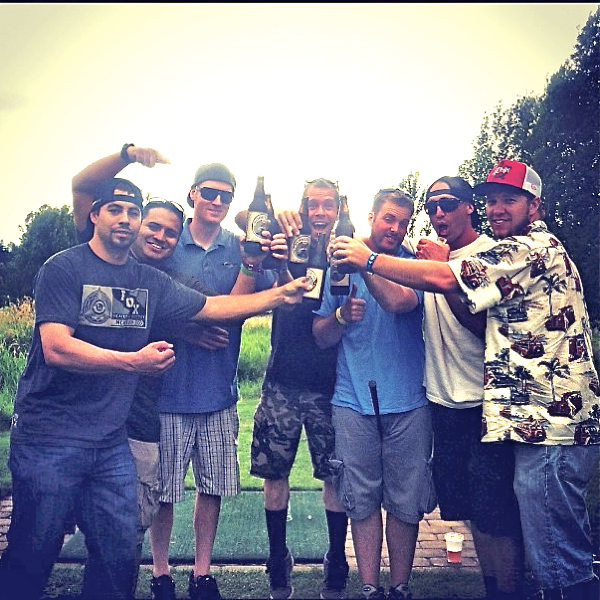 A blurry photo is fitting at about this time.
3:15pm Tee time at McMenamins Edgefield it's not just a par 3 golf course, it's more of a compound of awesomeness. They have something for everyone I recommend you check it out next time you're in the greater Portland area. They had really good screwdrivers but they call them something else and use fresh squeezed grapefruit juice.
3:45pm The beverage cart drives by and we probably set a record for most beers purchased at once. Buell asks if shirts are required on the course and the beverage cart lady says "Yes and if you violate the policy the course master will not be happy but she is cute" Buell subsequently removes his shirt immediately.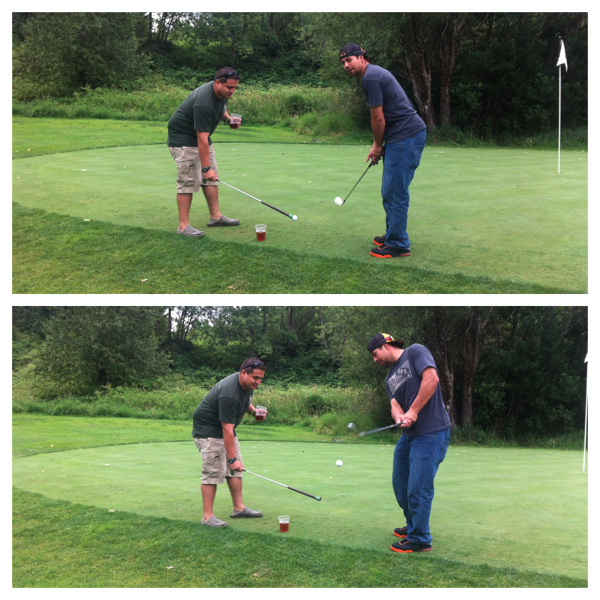 We take golf very seriously, Benny and Konnrad demonstrate.
4:02pm The course master tracks us down and tells Buell to put his shirt back on. The race is on between Buell and Benny to get her phone number.
4:10pm I'm not golfing well and I throw my club into the thick blackberry bushes only to realize it wasn't my club so I have to go retrieve it, shortly thereafter I'm bleeding.
6:00pm We run out of balls before we finish the round of golf, and I don't think either Benny or Buell got her number but I could be wrong.
7:00pm The Cryer wants to check out some bar downtown Portland called Ground Kontrol Classic Arcade. Classic arcade games and beer sound cool but it's a very dungeons and dragons type of crowd so we don't hang out very long everyone is kind of creepy.
8:00pm Before it gets any later we try to find a liquor store that is open but are unsuccessful.
8:30pm Grab dinner at a place that has cheap steak, cheap beer and expensive entertainment. Someone finds Kevin sleeping outside under a bush next to the car.
1:30am Find a Walmart, gotta love that they are open 24/7. It's our lucky day as who knew they also sold alcohol?
3:00am Finally get back to the track where we are informed we've missed curfew and will not be allowed to drive to our campsite but will have to park my Woody and walk approximately 1 mile with all our groceries. Benny gets stuck carrying 5 bags of ice and drops them approximately 29 times on the hike to the campsite.
3:30am The campsite isn't dry but it isn't as wet as we left it, at this point nobody cares we all crawl into bed and fall asleep.
Saturday
7:59am The sound of dirt bikes wake us up, MOTOCROSS! MOTOCROSS! MOTOCROSS! I slip into my daisy dukes and I crack open a gallon of water that I'm determined to drink before noon, then we head up to the track to watch practice.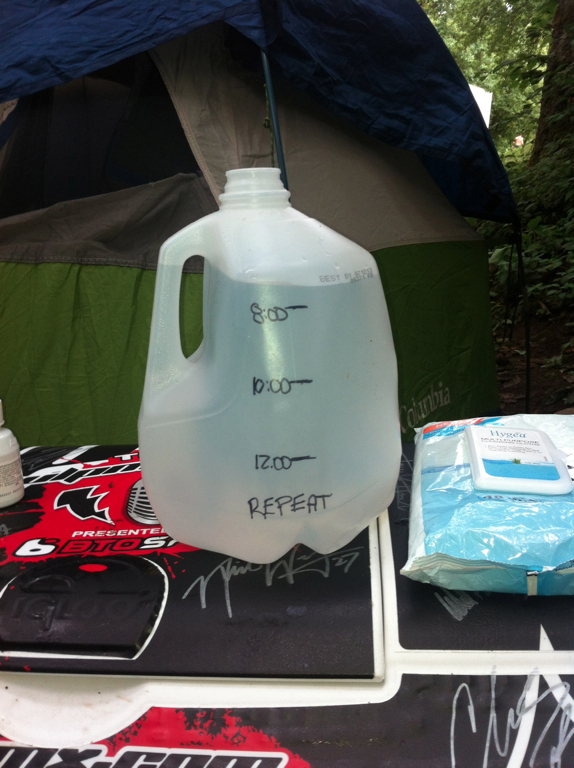 Best idea I've had in awhile.
8:30am We meet up with thee Dr. Pee @elemenopee near the announcers tower and find Tony Alessi in the tower looking at his cell phone deep in thought. We entertain ourselves by guessing what he may be texting.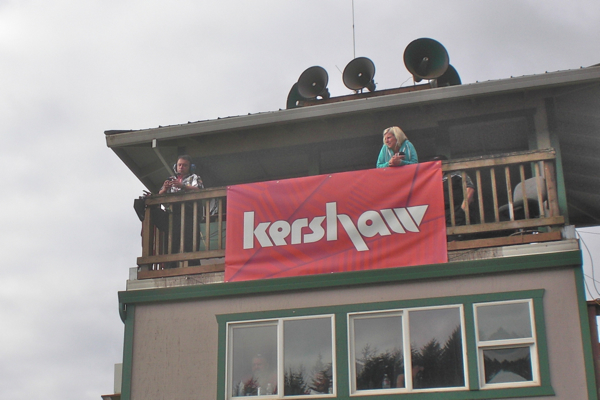 Tony Alessi making his promotofan fantasy league picks.
9:01am I miss the smell of two strokes.
9:05am We stage a photo to get me cheering on Andrew Short, I lean against the fence and it gives away I almost fall onto the track.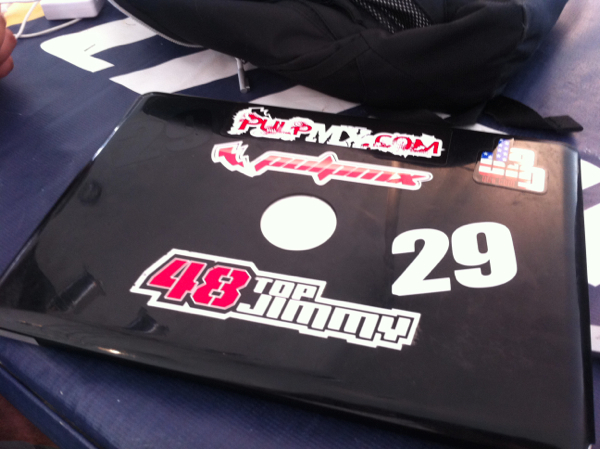 Found Matthes' laptop unattended in the press tent so tagged it with a 29 sticker.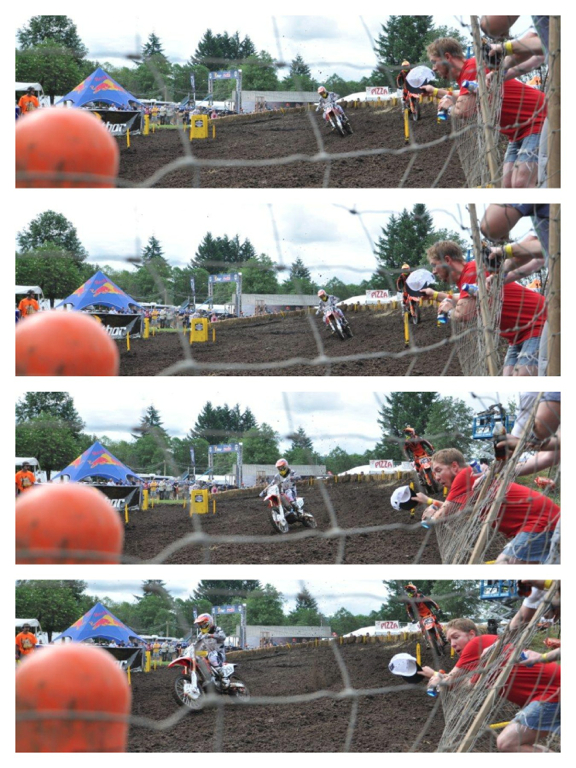 Go Short gooooo whoa, whoa, whoaaaaaa.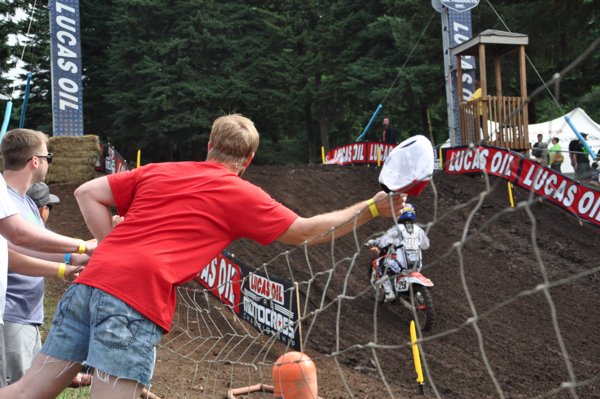 Cheering for Short in short shorts.
9:30am Benny and I drag the Pulpmx cooler into the pits, it's really heavy with all our ice and groceries in it. It's all uphill to the pits and I'm not just saying that, my shoulder hurt for a week after pulling that thing. I stop by Shorty's pits to say hi and see if he needs anything like a light massage. I try to convince Max from Fly to let me help clean off Shorts gear, he tells me I'm crazy. Because I grew up racing at Washougal I offer to help Short and Larry with line selection, for some reason they don't take me seriously but they do let me watch the practice film.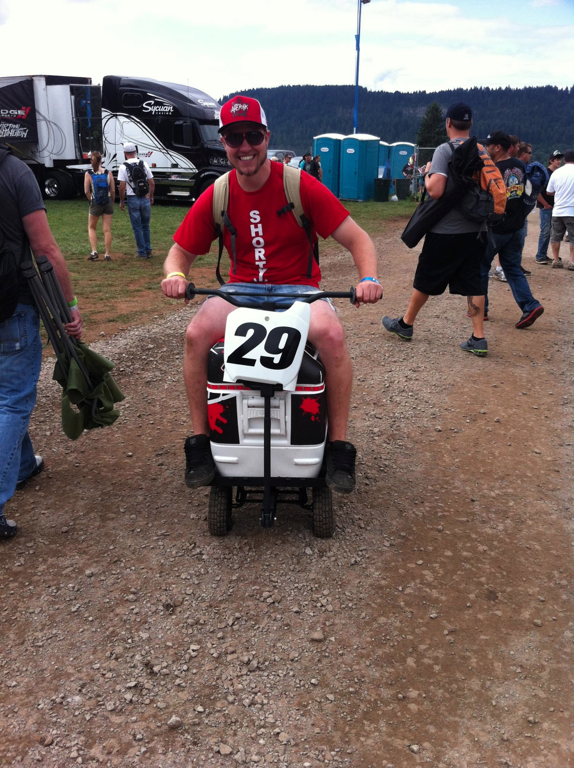 Slow rolling the pits on the Pulpmx cooler.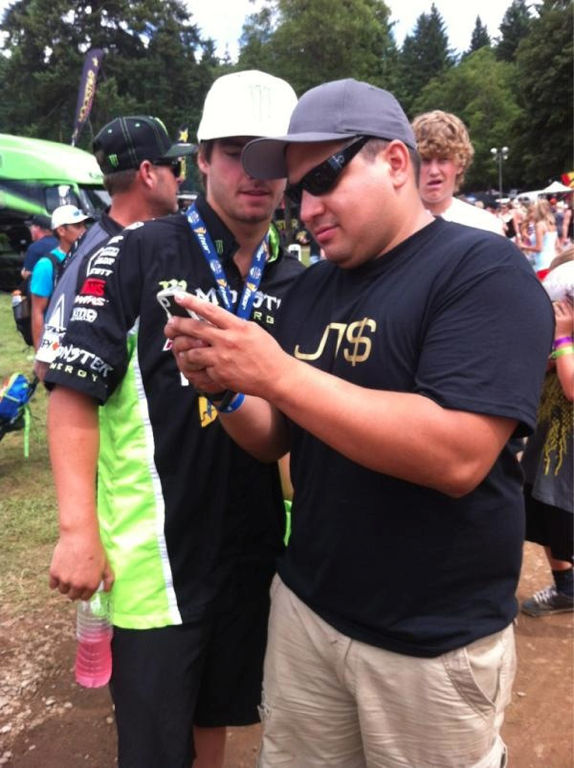 Benny gets a little help from Tickle on his fantasy picks.
10:00am Bro down with Matthes and bench race, meet a bunch of Pulpmx fans in the pits. Benny and I have yet again forgotten to input our MX fantasy league picks and Benny is asking anyone and everyone to help make his picks, most notably Broc Tickle. When assistant manager of H&H Kyle Bentley walks by I ask him if he will strategically place a couple of signs that Benny made for me that are meant to be an apology of sorts for my actions in Seattle. They say "No Moser beyond this point" and "Meeting in progress no BJ's" Kyle is kind enough to do me this favor.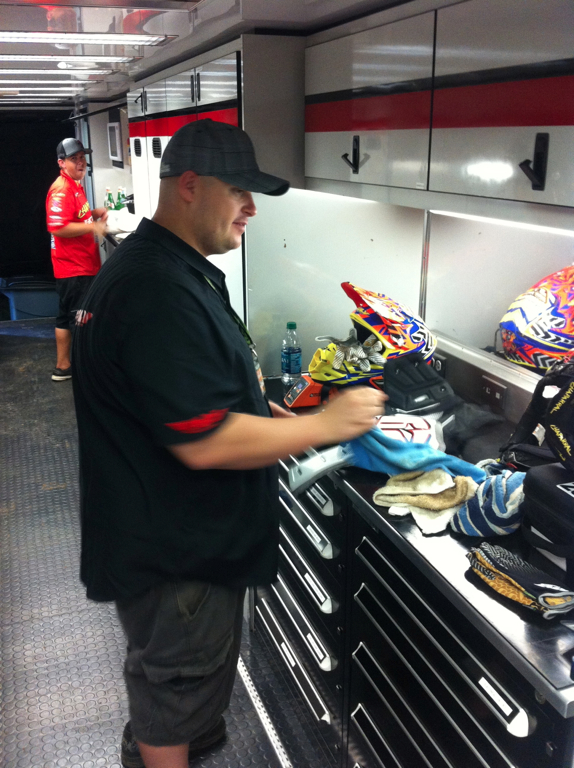 Max Fly guy rubbing down Shorty's gear.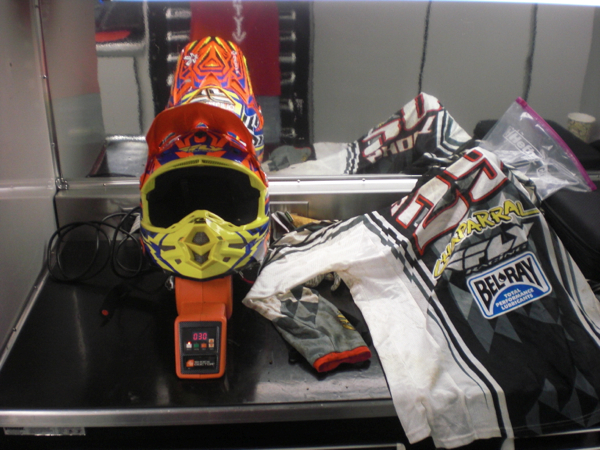 I told Max the helmet dryer should be on speed 29.
11:00am Short finishes up second practice and Max lets me wipe down his boots, try on his chest protector and wipe down his neck brace, I can't wipe the smile off my face. Max gives me the 411 on gear prep, what to do what not to do and that Washougal dirt is a pain in the ass because it stains everything. Short autograph line is stacking up so I hold his water for him while he signs babies and kisses babes. Larry is working on some project but won't tell anybody what it is, tinfoil is involved and he's deep in concentration. Davin hands me a camera and tells me to walk around and shoot some stuff for the video they do every week, I have no idea how I'm supposed to be holding it and I'm pretty sure none of my footage was usable.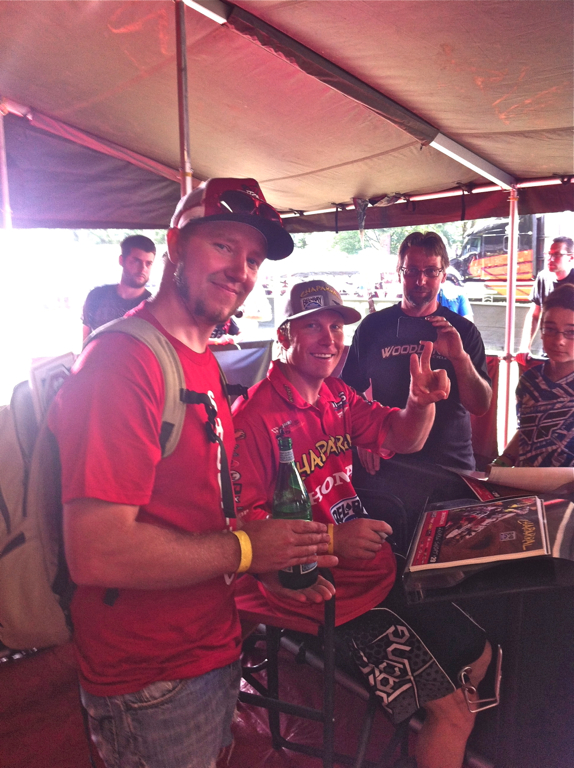 Man-friend in training.
11:10am I sit down in the lounge and chat with Larry and his son Davin for a bit. Weege was supposed to bring a spare recorder for me to borrow but he forgot so although my casual interview with Larry went well I couldn't write down all the answers or stories fast enough.
Moser: What did the multi time championship winning team manager have for breakfast this morning?
Larry: Pauses, ummm nothing.
Moser: Do you ever eat breakfast.
Larry: Not usually.
Moser: How did you and MC get the rails cleaned in the semi (this is in reference to a tweet from a couple months back when Larry and MC had been up late scrubbing the rails in the semi trying to get them clean)
Larry: What was that stuff we used? (Looks at Davin, he shrugs) I don't remember the name of it but it was some type of stripper to cut through the wax build up, the stuff worked good.
Moser: Did you really wear those goggles with the prescription lenses built into them? (Anyone else remember those ads in the magazine?)
Larry: I wore them for awhile but they didn't work that great so I just went back to wearing my glasses under my goggles, but he ran that ad for a long time.
Moser: That had to suck.
Larry: Yeah it did, I had to wait until the very last minute to put my goggles on when I was on the gate or they just fogged up like crazy. The mud races were the worst because I couldn't throw my goggles or I wouldn't be able to see at all so I always had to keep them on it was brutal.
Moser: You must have got lasik.
Larry: Yeah it's been a while now I've had it done.
Moser: How much sleep do you get a night on average.
Larry: Probably only 4 hours.
Moser: That's crazy, I need at least 7 hours to function. Davin how much do you sleep.
Davin: It just depends.
Larry: He keeps up with me he doesn't sleep that much, about like I do.
Moser: How many kids do you have Larry?
Larry: Identical sons and a daughter. Davin and his brother looks so much alike I have a hard time telling them apart sometimes.
Moser: On a scale of 1-29 how would you rate Shorts season so far.
Larry: (Thinks about it for a minute) Probably a 6.
Moser: You've got to be kidding me right?
Davin: (Laughs) a 6?
Larry: What that's pretty good.
Moser: Not on a scale of 1-29.
Larry: Oh I was thinking 1 was the best.
Moser: No Larry 29 would obviously be the best you can do.
Larry: Ok, ok then a 21.
Moser: How many orange helmets do you own?
Larry: I have one at home.
Moser: That is awesome
You can all thank Weege for not getting to hear all the questions, stories and details that I've missed because I was trying to write notes while reading questions and carrying on a conversation. You can find Weeges contact information at the bottom of the page feel free to drop him a note.
I'm sorry Watson.
11:40am I go check on Benny, he seems very content leaning on the cooler which is drawing attention and chatting up anyone that stops to check it out, it also doesn't hurt that the cooler is stocked with appropriate beverages. I feel a little guilty for leaving him on cooler duty but he's had a few chardonnays that this point and doesn't seem to mind. We run into our friend Andy who has partaken in the Washougal and Seattle shenanigans with us in the past but he's on his best behavior this trip and brought his son Dylan to the race.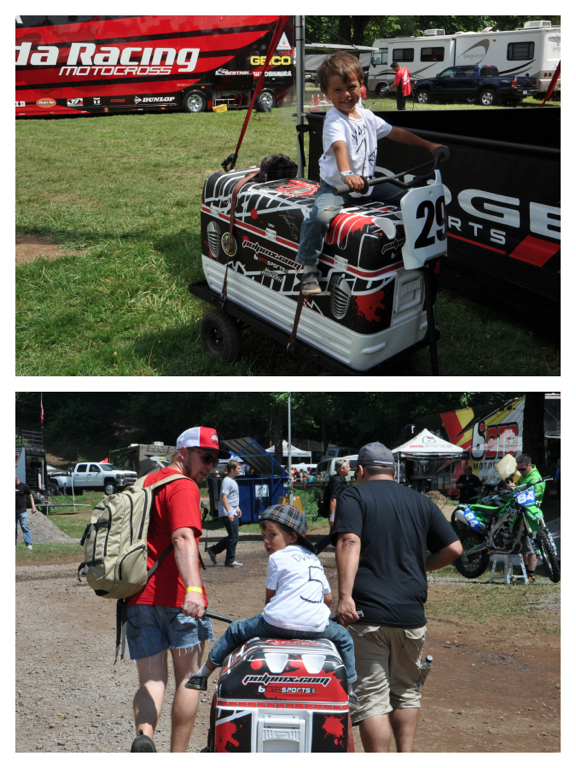 Dylan getting the VIP treatment.
11:52 Benny and I decide it's time to visit Watson and find out how the signs went over, there is a high chancibilty he will tell us to go hang ourselves. Watson is nowhere to be seen outside the semi and I don't dare step under the tent again so I ask one of the mechanics to go inside and hand him a small key chain I bought him that says "these colors don't run" with an American flag on it. A few minutes later a middle finger appears from behind the chrome reflective semi doors.
Watson comes out and I apologize again, he said he's over it and we make small talk. He lets us get a picture of Dylan up on Hills bike, everything is going great, my shoulders feel a little lighter and I don't feel quite as guilty about the Seattle incident. Benny asks Watson about getting a cooler wrapped for his tactical Air Force unit and before I know it the conversation turns into an argument and I'm looking left and looking right for an escape route. I manage to shut Benny up long enough to apologize to Watson for my friends behavior and I can't steer the conversation in a different direction fast enough. Everything had been going great, and then Benny cock blocked me, but these things happen especially to me it seems.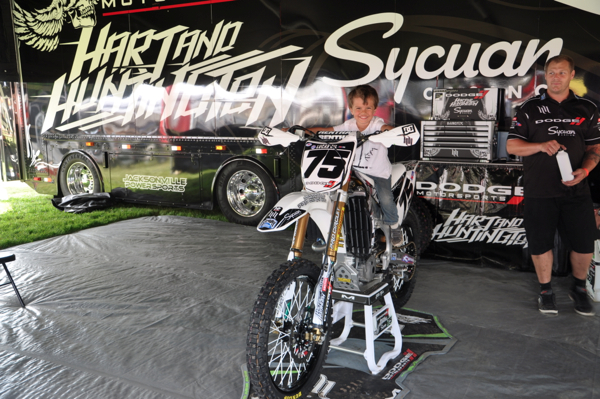 The white H&H bikes were sicker than sick bro.
12:12pm We've lost Benny
12:15pm We head over to JGR semi to see if the man that is an expert in all types of lube is around @jonnyomoto. I highly recommend you follow this guy on twitter he's a kick in the shims. We meet JonnyO and he's even prettier in person. With the added weight in the cooler the handling was a bit off so I asked JonnyO if he could check the sag which he's said is best done with a leather belt. He gets me dialed and it corners notably better at speed.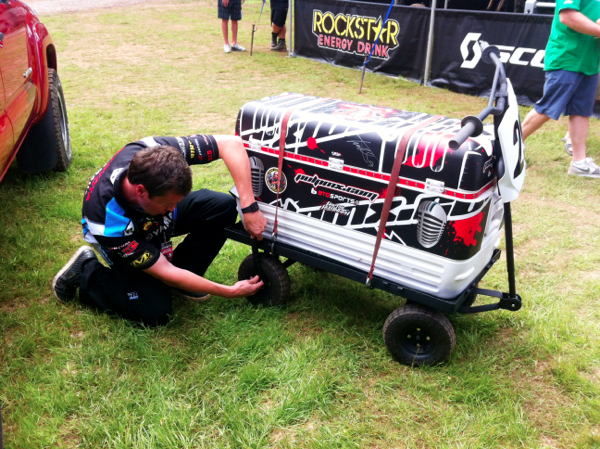 JohnnyO dialing in the Pulpmx cooler sag, with belt, that's old school.
12:26pm Stop at the Rockstar semi to ask Ryan Morais to sign the cooler he's happy to oblige and take a few pictures. It's obvious he's pretty busy stepping into the management role so I don't take up too much of his time.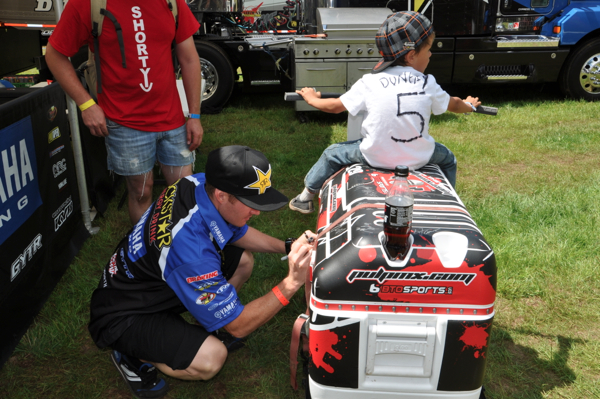 Was pumped to have Mo sign the cooler.
12:30pm Benny calls and says he's at the Motoconcepts semi. I find him in the hospitality area just hanging out, I ask how he got in there he said "When they asked who I was with I just told them I was with Hurricane Heath Robertson". We head back to camp to drop the cooler off and get ready for the moto's. Benny falls down a steep incline into some blackberry bushes at our campsite he decides he's going to stay back at camp for a little while and try to regroup.
12:55pm You can't see all of the track at Washougal from one spot but standing in the uphill downhill section gives you the best overall view. We usually walk around and try to check out all the sections of the track. We decide to start at the very top upper corner of the track. We didn't see Dungey go down but he was all over Alessi the entire moto it was a good race, I would have bet the Cryers left nut that Dungey was going to pass him.
2:15pm Meet up with Dr. Pee again and head to the Fox tent for lunch during the Lites moto. Thanks to @konnradkuest453 and Fox for lunch, the homemade burgers and ice cold beverage hit the spot. I witness Dr. Pee eat a brownie bite, he's not as strict on his Paleo diet as I thought, I immediately call him out on it and like him more for being a bit of a rebel. Musquin looked the best I'd ever seen from him the first ½ of the race good to see him getting back up to speed after the injuries. Someone sees Bagget go down into the banners I'm looking everywhere and can't see it, watching the races live is a lot of work.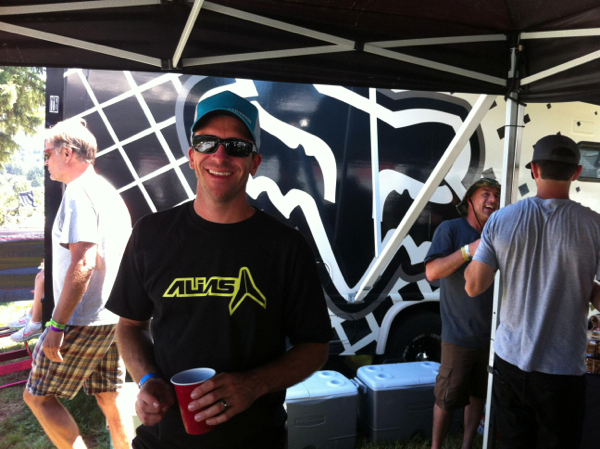 Dr. Pee repping Alias while eating and drinking for free at the Fox tent.
3:00pm I head back to camp and find Benny napping in the grass next to the side of a road about 50 yards from camp, security had just woken him up and told him to get up. We all hang out at camp for awhile and relax.
4:00pm Benny is actually looking pretty coherent the nap must have really helped, he comes with everyone to watch the second moto's. Buell says he's over the races and hitchhikes into town to meet up with a friend and go boating on the Columbia river, no joke. We walk up the hill and down the hill all day but it's worth it to see all of the track.
5:00pm The MX2 class is great to watch they are all so evenly matched and so fast it's awesome.
5:45pm The JT$ fan club heads to his pits to bro him down, when we get there they tell us he wasn't racing and hasn't been there all day, who knew. JT$ bike is in a garbage can, literally in pieces in a garbage can so we take our picture with it.
Pic25 Go JT$ small man big heart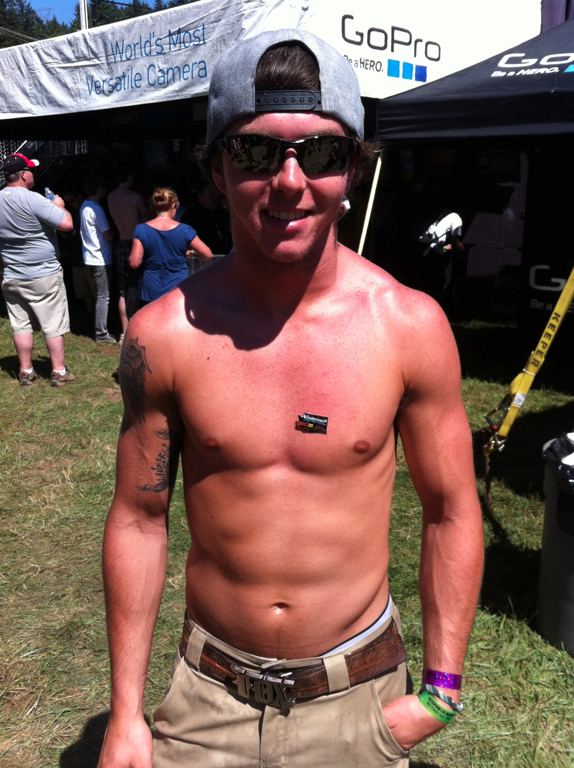 That's a Washougal push pin that this dude has sticking in his chest, I was feeling pretty good about myself after witnessing this go down.
5:50pm We lose Benny again and later find he's put himself to bed for the night.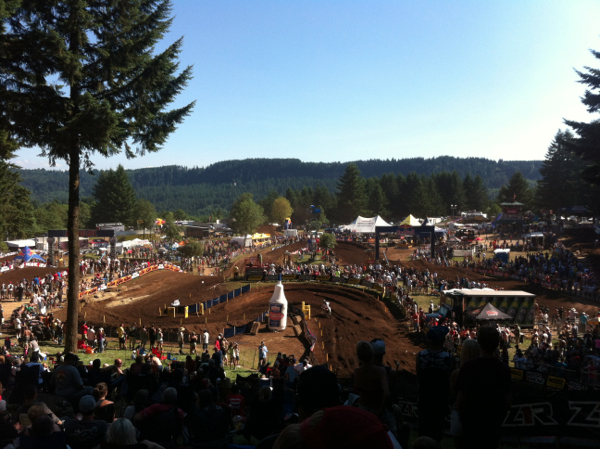 This is why it's called the Evergreen state.
6:00pm After the races is primo bro down time in the pits so I B-line to the L&MC tent. Everyone is in good spirits just hanging out and cleaning up. I get to chat with Short for a bit about his day and just hang out with our wants out. Matthes stops by to interview Shorty and I help out the best I can. Matthes hands me one of his recorders to interview Short later on if I want, I'm pumped I'd been waiving my notebook of questions at Short all day and he just kept laughing and shaking his head at me playing hard to get.
6:10pm When Short heads to the press conference I follow along like I'm his shadow. Short, The Cryer, BigRed and I sit down at a table and naturally other riders want to join us at the cool table, so Barcia, Tomac and Alessi also sit down. Barcia has The Cryer, BigRed and I cracking up during the press conference.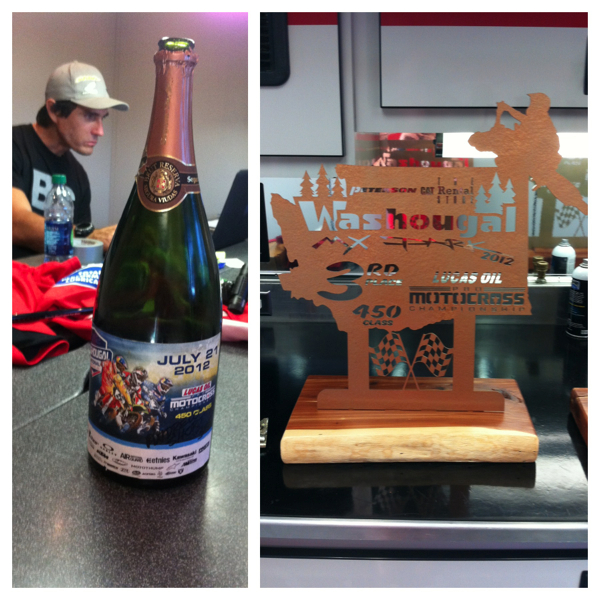 The hardware for the day, 3rd overall.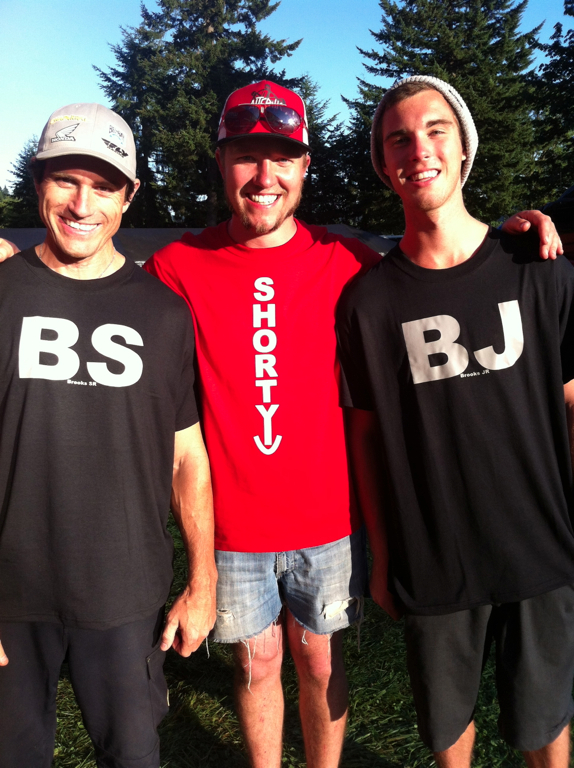 Brooks Senior and Brooks Junior (get it?).
7:00pm Short is strolling through the pits making small talk and I'm just tagging along we end up back at the L&MC tent eventually. Short cleans out his bunk area and tosses me a set of gear I'm as giddy as a schoolgirl but I try not to show it to much. The team is loading up the bikes and the other odds and ends. Dr. Pee and Konnrad are hanging out with us and Shorts bike stand is just sitting there so Dr. Pee comes up with the great idea to plank it.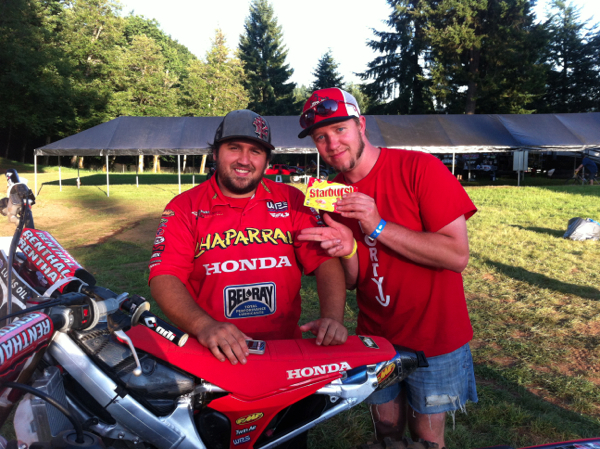 Nate played hard to get but we're buddies now, I bribed him with Starburst.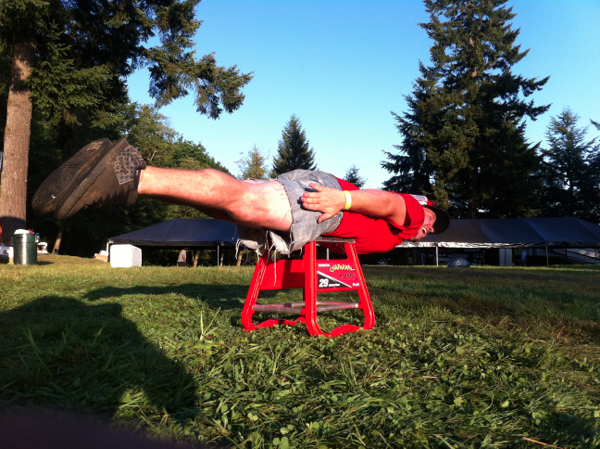 Planking a Shorty Stand.
7:30pm Short sits down on the end of the semi next to his mechanic Nate and asks if we're really going to do this interview thing and I say of course we are. He answers all my questions and the interview was funny and fun, he was a good sport about it and I learned some stuff about him that I didn't know.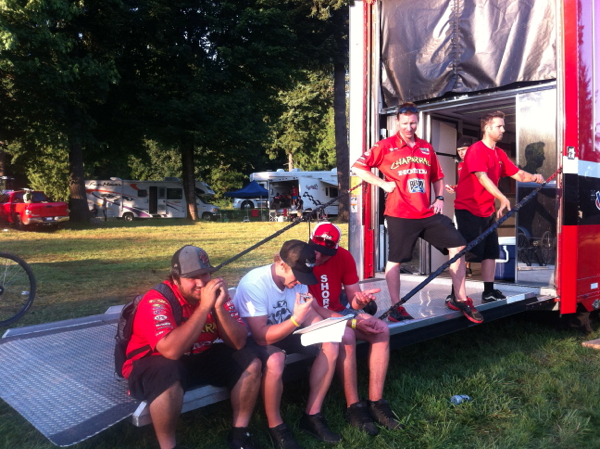 My best interview to date.
8:00pm The team was packed up and taking off we said our goodbyes and I thanked everyone again for all the hospitality. Matthes and his chauffeur for the day Dr. Pee were also taking off. Everyone was headed to dinner in town but we were to beat and didn't need to be driving at this point. We wander over to the press tent to see who's still slaving away, it's no surprise to see Weege still doing voice overs for the RacerX highlights and what not. GuyB and LeBig are still hanging out so I chatted with them for a bit. Aaron Hansel of RacerX fame was busy pounding out race reports, did you know he wears earplugs so it's easier to concentrate, well now you do. After Weege was done we caught up on politics, investments and such. The pits were dying down so we called it a day.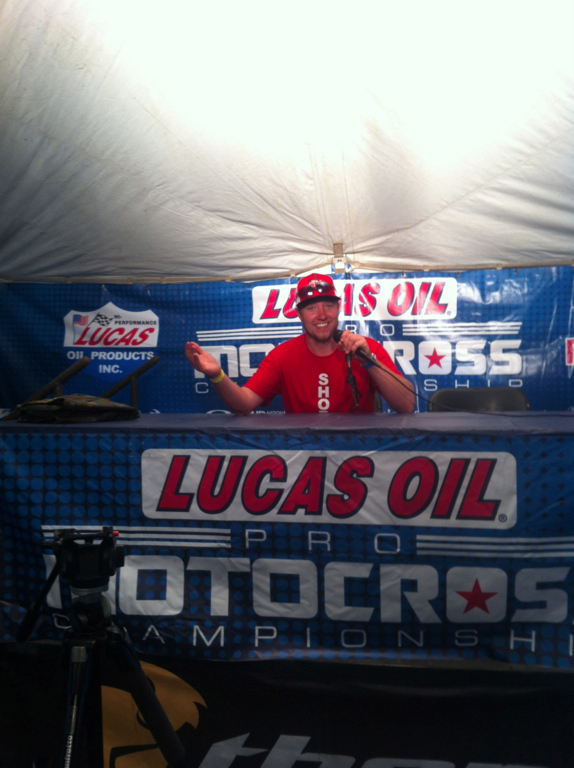 Any more questions?
8:30pm We grilled up some wieners back at camp. Benny was still passed out. After sitting around and bench racing for a while we roamed the campgrounds a bit and found some other pulpmx fans that were big fans of the Cryer and hung with them for the evening.
Sunday:
11:00pm or 1:00am I finally made it back to bed, apparently Benny had crawled into my bed though so I ended up in Cryers bed, what's a little bed swapping amongst friends.
8:30am Buell shows back up I'm not sure how he got back to the track but he wakes everyone up, some of us are feeling much better than others but were all moving slowly.
9:30am We finally have gotten packed up and are on the road. The Cryer is definitely winning the most hungover award so far.
9:45am The Cryer says "I hate everyone in this car"
10:30am The rear window falls out of the track and won't stay up, so BigRed attempts to hold it up with several ProCircuit stickers, with moderate success.
11:00am We stop at Full Sail Brewery for lunch. The Cryer never leaves the car, this has also become a bit of a Washougal tradition.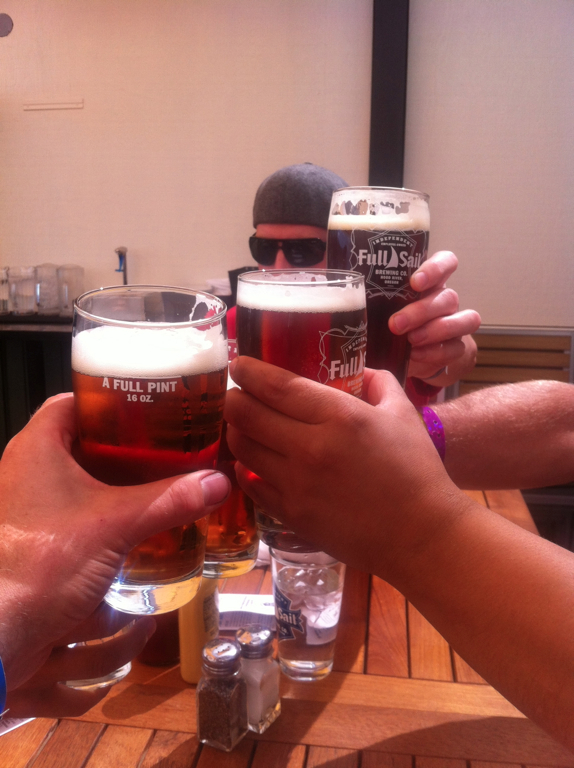 Cheers to a great weekend, nobody died it was considered a success.
3:00pm We download and listen to the Pulpmx post race podcast and try to piece together the entire weekend.
4:30pm We get home
5:00pm The Cryer texts all of us and says he just puked.
Thanks for reading this Short recollection of our trip to Washougal, Moser
Please send any comments or complaints to jasonw@racerxill.com