Our man McCready gives us his recap of the Czech GP. Go Osborne!
Our man McCready gives us his recap of the Czech GP. Go Osborne!
Czech Mate for Cairoli and Herlings
Words by Jonathan McCready
Photos courtesy of Youthstream
MX2
This was maybe the greatest win of Jeffrey Herlings young career. Just two weeks after being involved in a serious car accident going back to his hotel after winning the Russian GP, the seventeen year old was nursing a broken rib, a concussion and another head injury that required him to wear a plaster on his forehead.
He tried to ride the bike for the first time on Thursday but was in too much pain. He then arrived at one of the slickest and most hard pack tracks on the calendar…supposedly his weakest terrain, and was just hoping to two top tens. Instead he came away winning both motos and extended his championship lead to over fifty points!
In the first moto Herlings got away behind his team mate Van Horebeek, the Belgian pulled away initially before Herlings reeled him back in at the half way point.
Searle meanwhile had a bad start and came through the field to third but he wasn't catching the flying KTM duo. Van Horebeek in second would have cut the deficit to second place Searle in the championship to just ten points… but then disaster struck when his KTM ground to a halt. Searle inherited second and extended his lead over Van Horebeek in the points… but he wanted Herlings.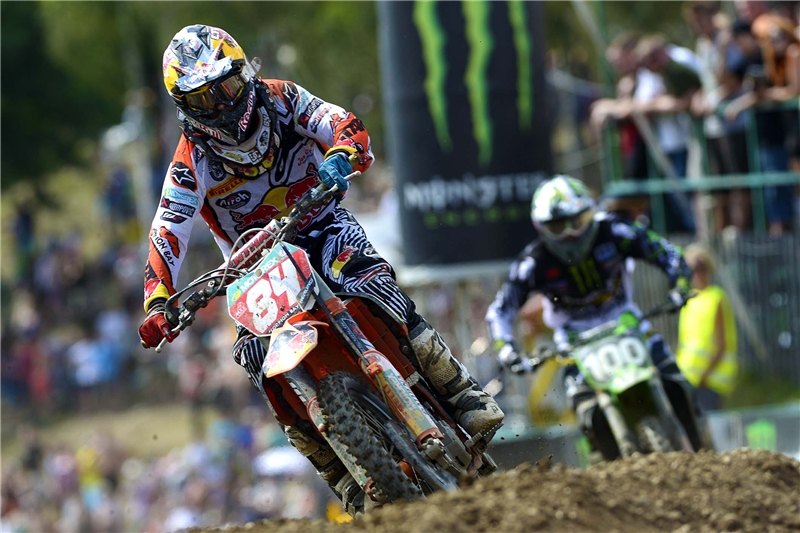 Herlings and Searle continued their battle with Jeffrey coming out on top.
Zach Osborne continued his comeback with a fourth place while Brit Jake Nicholls had the ride of his life to take third place and his best GP moto ever.
Race two was a classic.
Van Horebeek got the early lead again but Herlings was in second and Searle quickly got himself into third. Herlings went for the inside on his teammate but Van Horebeek shut the door and Herlings slid out on the brakes. He remounted just ahead of Searle but Tommy wanted to beat Herlings badly.
Inside and outside, Searle searched for a line on the slippy and off cambered circuit. He couldn't find a way through so he literally pushed his way past Herlings, leaving the championship leader on the deck. It was a hard move and left Herlings seven seconds back on his bitter championship rival.
Herlings though wasn't done, he was fired up and started clicking off some incredible lap times. He caught Searle again, and brake checked him twice in one corner. Searle managed to stay up but he couldn't do anything about the flying Dutchman. Jeffrey was on his way to the front and with a couple of laps to go he passed leader Van Horebeek to take an inspired victory.
Herlings proved then and there that he was the strongest man in the class, riding injured with two crashes including being taken out by his title rival, he still powered through to victory on one of his least favourite tracks. It was an impressive statement.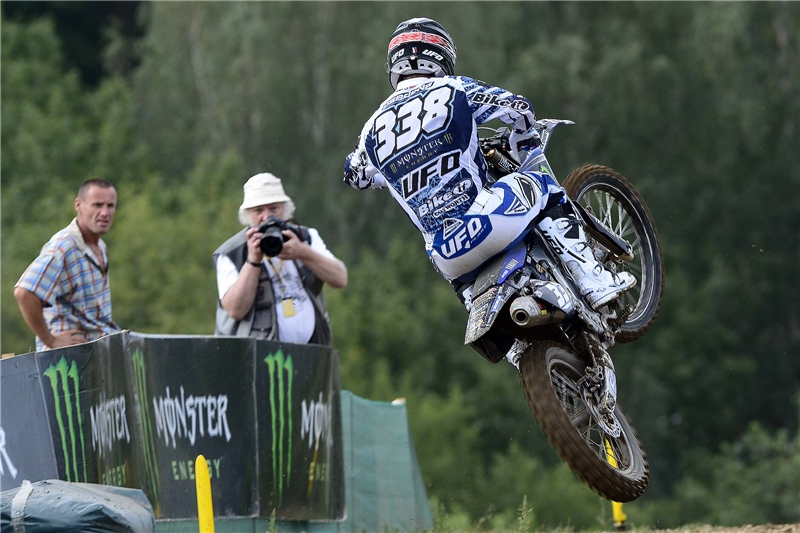 Zach Osborne got his first podium since his return from injury.
Searle had to concede defeat admitting Herlings beat him fair and square, but those two do not like each other one bit and with the next round in Great Britain Searle will be looking to get some revenge on the KTM leader.
American Zach Osborne got his first podium of the season after a brace of fourths just nudged out the unlucky Jake Nicholls who tied on points but lost out on his maiden podium because Osborne had the better second moto.
MX1
Antonio Cairoli won both motos again to increase his lead at the front of the series. It was expected that Christophe Pourcel would go well on the hard pack track, and he did, shadowing Cairoli for the entire first moto, but surprisingly he wasn't able to make a pass. Cairoli held strong and to beat Pourcel on a track the Italian admits doesn't suit him showed just how strong Cairoli is this season.
The story of the day however was Max Nagl. The German raced all last season with incredible pain in his back, it eventually became unbearable and got an operation on it in the winter. Unfortunately wasn't healed enough so he had to go back in for more surgery and as a consequence missed most of the season. This was only his first GP back and he was a revelation.
Third place in the first moto was an incredible achievement but in the final moto Nagl even lead the race for over twenty minutes. He held off the top three in the championship for a long time and even when they eventually got through he stuck with Pourcel and Desalle. Nagl looks like a different rider, much more aggressive and mentally stronger. He explained that racing in so much pain last year means that now everything is so much easier when it is pain free, and that he is only at 80%. When he is at 100% he could be Cairoli's biggest rival at the end of the season. It is also good news for Germany as a fully fit Roczen and Nagl could do some damage at the Des Nations! Nagl of course has lost his Factory ride with KTM for 2013, but you can bet the offers will come flooding in now!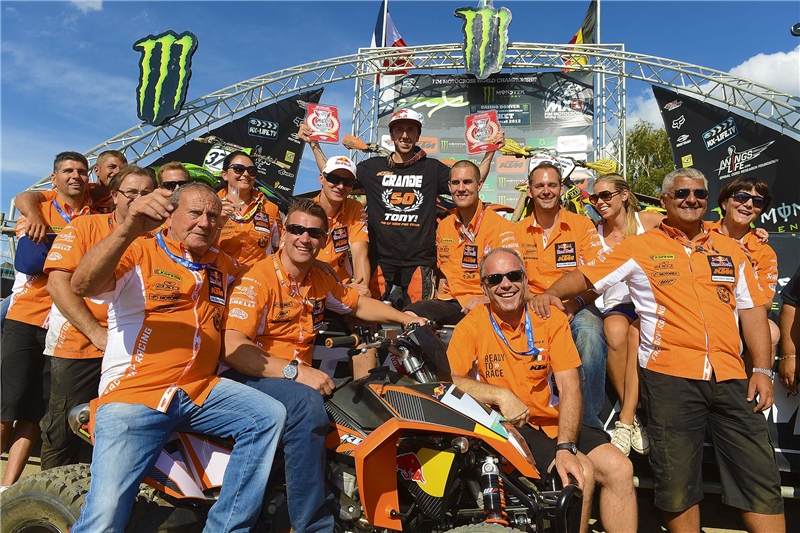 Antonio Cairoli got his 50th GP win of his career…still a ways to go to Everts.
Cairoli though is still confounding his rivals, he passed, Pourcel, Desalle and Nagl and once in the lead just pulled away to another extremely impressive victory. Pourcel had finally got himself into second but fell immediately and was relegated back to fourth. He re-passed Nagl with a lap and a half to go to retake third but he couldn't catch Desalle for second.
The last couple of laps saw a train of five riders battling for second as Rui Goncalves and Tanel Leok showed their best form of the season to catch Desalle, Pourcel and Nagl.
Like Herlings, Cairoli prefers the sand but he showed again in the Czech Republic that he is the complete rider by beating the hard pack specialists at their own game. Tony is the total rider, he can ride any surface, and he can manage the championship like no other. Everyone should appreciate just how good this guy is because riders like that just do not come around too often. He equalled Joel Robert's 50 GP victories at the weekend and looks likely to equal the legendary Belgian's record of six world title at the end of the year.
The Championship now heads to Great Britain and the impressive Matterly Basin facility in Winchester. This is the best track of the season and with a four day event including MX3, the women's GP, 85cc and 65cc racing as well as 125 European and EMX2 racing it will be a four day festival of motocross that has never been seen before… we just hope the weather co-operates!
MX2 O/A: 1. Herlings 50pts, 2. Searle 42pts, 3. Osborne 36pts, 4. Nicholls 36pts, 5. Febvre 28pts, 6. Tiellet 26pts, 7. Anstie 25pts, 8. Roelants 23pts, 9. Butron 23pts, 10. Van Horebeek 22pts
FIM World MX2 Championship points: 1. Herlings 528, 2. Searle 471, 3. Van Horebeek 439, 4. Roelants 367, 5. Nicholls 325, 6. Tixier 319, 7. Anstie 263, 8. Butron 241, 9. Ferrandis 233, 10. Lupino 214
MX1 O/A: 1. Cairoi 50pts, 2. Pourcel 42pts, 3. Desalle 40pts, 4. Nagl 38pts, 5. Boog 29pts, 6. De Dycker 27pts, 7. Goncalves 26pts, 8. Paulin 26pts, 9. Leok 24pts, 10. Aranda 23pts
FIM World MX1 Championship points: 1. Cairoi 492, 2. Desalle 462, 3. Pourcel 435, 4. Paulin 402, 5. De Dycker 368, 6. Strijbos 319, 7. Boog 306, 8. Leok 277, 9. Goncalves 273, 10. Simpson 223.