Our man Moser talks about a couple of riders that came up Just Short or had Shortcomings at Southwick. Something like that.
Our man Moser talks about a couple of riders that came up Just Short or had Shortcomings at Southwick. Something like that.
Shortcomings Vol. 9
A Short look at some Shortcomings from The Wick
By Corey Moser
Photos by LIssimore
Ahhhh Southwick the sandbox of American motocross tracks. I couldn't have been less impressed when I saw some footage from Southwick for the first time, it was with Robbie Reynard and John Dowd in Terraferma II, sure it's cool to drag a handle bar in a corner but there wasn't any jumps, I was 12yrs old and wanted to see some big air like at Castillo ranch. Southwick provides lots of excitement every year from the random standout ride by a sand specialist like Georke, a mechanical DNF or two from one of the most reliable bikes made like Honda, running out of gas on the last lap, or not having your bike at the starting line and starting nearly a lap down to finish 7th. This year had plenty of excitement with crashes and close racing. The stand out ride by a privateer goes to #85 Robert Marshall for finishing 4th in the first moto.
The one missing entertainment factor was a high profile mechanical that caused a DNF. Sure Dungey knocking off his gas cap was entertaining and weird but that's been beaten to death and he still won the overall. This article for this race should have written itself I was supposed to just cash this one in, the insert team name here __________ bike couldn't go the distance. That wasn't the case this year, all the big names must have detuned just enough so I guess I'll have to be more creative. My first thought was to write about the highest placing rider to have a DNF but that became more difficult to determine than I thought because as long as you complete a lap your scored and the results don't show DNF's but laps completed. Without knowing how far through the field the leaders lapped I couldn't determine who DNF'd or who just got lapped 4 times, this has become far too difficult to come up with a rider who had a Shortcoming, I'll go with the lowest placing riders overall to start each moto.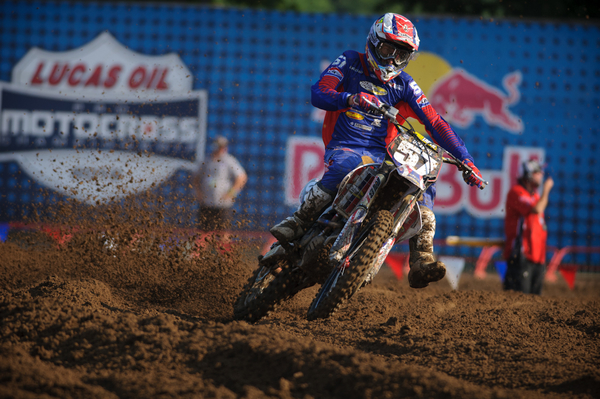 Anyone know the words to the Canadian national anthem? Yeah me neither
#57 Jake Canada | Motoconcepts | FMF | Hot tub jet powered
It looks like Mr. Canada finished 4 laps of moto one and 3 laps of moto two, a pretty consistent day overall. Jake had a very solid supercross season and also had some good outdoor finishes at the beginning of outdoors, but it seems like he's fallen off a bit since then, or I'm just not paying attention to the results enough. Canada didn't finish either moto due to electrical problems, why does it seem like I've heard of electrical problems before at the Wick? The first moto was wet but it wasn't a mud race per say so to have an electrical problem two races in a row just adds insult to injury and has to be really frustrating as a mechanic and a team. With all the electrical components on the bikes these days it's surprising we don't see more electrical problems, I dropped an iPhone from waist high and months of my life were lost forever these bikes are basically jumping over houses in rain, mud, sand etc and the impact and jarring that takes place makes my back hurt just thinking about it and considering all that you don't see too many electrical problems.
Jake has already signed with Motoconcepts for another year they locked him down around the end of the Supercross season which can be a positive and a negative in my opinion. Positive the rider is mentally more relaxed and can concentrate on racing without contracts for the next year weighing on him every lap of every race. Negative mentally the rider is relaxed and knows he doesn't have to hang it out or dig too deep to get that next rider because he already has a contract for next year. I don't know Jake and am not saying he's one way or another but it's just the nature of multi year contracts and/or getting signed early. The stories of Larry Ward being able to put in a much bigger effort and better results during a contract year always make me chuckle. Jake had a rough day but still beat the rookie Zach Bell overall which is good because it's important to show the kids where they belong in the pro ranks.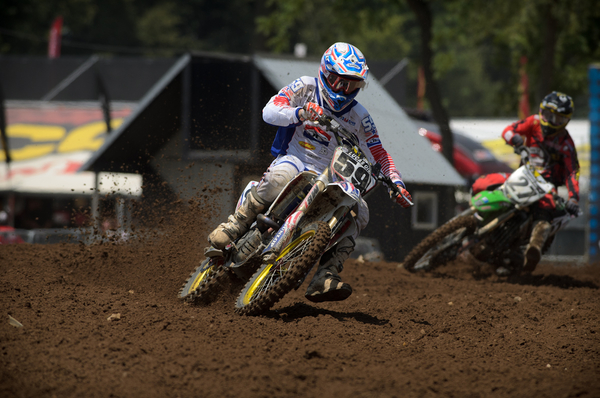 He may be pretty but he's dangerous, his nickname should be Maverick
#59 Vince Friese | Motoconcepts | Hot tub jet powered
Had I not written this Shortcoming article I would never have realized what a rough day the Motoconcepts team had. Friese was also very consistent with 38th and 37th place finishes. Vince Vince Vince, the more things change the more they stay the same. I'll give credit where credit is due and Friese is one of the most consistent riders in the series he consistently takes out somebody every weekend. It's not possible for one guy to have so many "accidental" racing incidences, I don't care how unlucky you are at some point it's not coincidence it's just the facts. Friese likes to bang bars he's said as much on DMXS he didn't hide the fact that he things rubbing is racing and he wants people to race him the same, but at some point you need to look in the mirror adjust your eyeliner and then have a real conversation with yourself.
The take outs were cool at first but like anything else after the 129th time it starts to grow old. His style of racing with his head on a swivel and go for the jugular style is way past the point of hurting his career. Did you ever have to race one of these types of riders? I remember distinctly riding with guys that were more worried about blocking you in the next corner then racing the guy in front of him and meanwhile the leaders are getting away, but try as you might to pass the guy he's pretty fast if only he would turn his damn head around and race in front of him. I'm having flashbacks of riders taking me high in corners for no reason right now and am getting pissed just thinking about it. My sources (twitter) say that in the second moto at the Wick Josh Hill got together with Friese trying to pass him around the outside and he got "Friese'd". Hill ended up packing it up for the day and going to the hospital to get his leg checked out.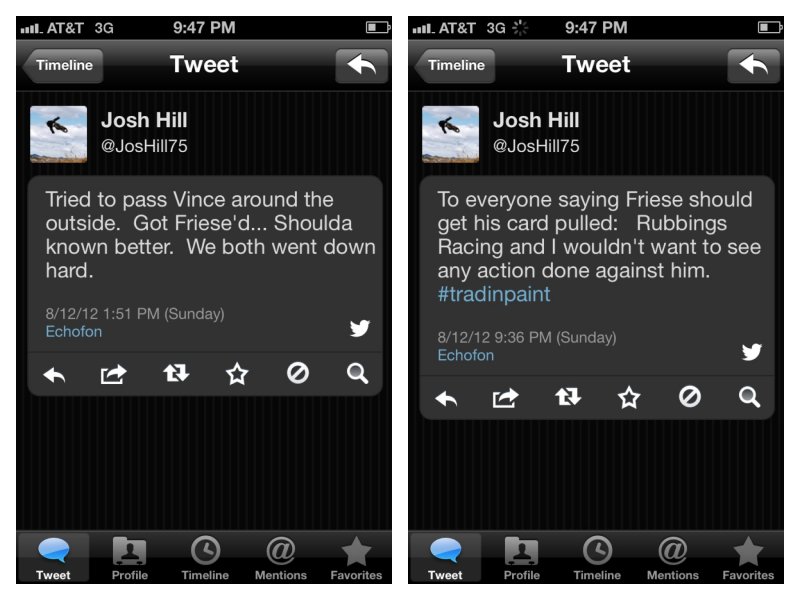 Hill got "Friese'd" it's catchy I like it
I briefly meet Friese in the tunnel at Seattle SX, I don't know if he wears eyeliner or not or if he just has long eyelashes but I'm comfortable saying he's a good looking man. Why doesn't he just race everyone clean and avoid putting people on the ground? Seriously it just creates drama every weekend, he has very few friends on the track at this point but oddly anyone that knows him says he's a good guy just a little misunderstood, a rebel without a cause is the best analogy I guess? Maybe at this point he's made so many enemies he can't race clean because everyone is out to get him. It's a broken record at this point he's not going to change. When your racing Dungey you know he isn't going to hit you and when you're racing Friese you know he's going to T-bone you. It's surprising he continues to get decent rides, this is his second stint with Motoconcepts and I read somewhere that there is a tie in with his brother working there or something along those lines, it really is all about who you know. Motoconcepts has had their best year to date which is cool to see a company based in my hometown of Spokane, WA have so much success, a tip of my hat to those guys and to Mike Genova for staying to course this long when the industry has given him the cold shoulder.
Thanks for reading this Short recognition of the guys that had Shortcoming this weekend, see you in two weeks Moser
Please send any comments to jasonw@racerxill.comhe has two weeks off and lots of time on his hands.