Ace reporter Moser's look at those riders that had short comings or came up just short or something like that at Steel City.
Ace reporter Moser's look at those riders that had short comings or came up just short or something like that at Steel City.
Shortcomings Vol. 11
A Short look at some Shortcomings from Steel City
Words: Moser
Pictures: Lissimore
Only one round left and it seems like only yesterday Shortcomings was just becoming a staple of the Pulpmx website. When I first started kicking around ideas for this article for the outdoors my biggest fear was the chancibilty of Short having some type of Shortcoming. Unfortunately that day has come and to maintain the highly regarded fairness and credibility of this column it's only fair that I document a bad second moto for Shorty. It's with a heavy heart and tear drops falling on my keyboard that I write this weeks Shortcoming. With one round left thee @swizcore and I are separated by only 24 points in a gentleman's bet of Shorts. With Broc Tickle catching some momentum late in the season @swizcore was getting a little cocky about who was going to finish higher in the points Short or Broc so we bet whomever loses has to run the profile picture or avatar (who calls it an avatar really that sounds very Star Trek-ie) of the winners choice for a month. Anything can happen in racing and may the best man win Mr. @swizcore.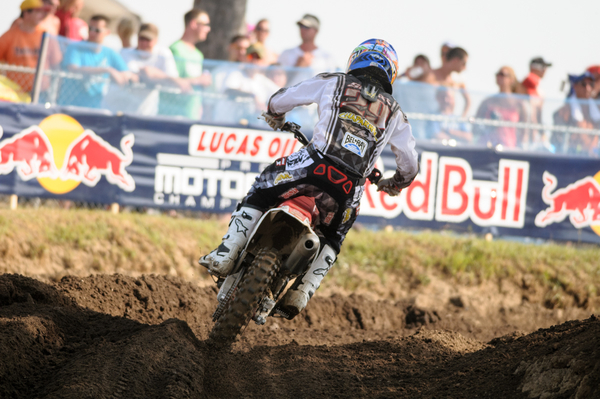 One good moto, one bad moto for Short at Steel City
#29 Andrew Short | L&MC Honda Racing
I think by anyone's standard that Shorty has had a solid year. Reuniting with his Honda is a lot like sleeping with an ex girlfriend you already know what she likes and doesn't like, you don't have to put any thought into it you just throw your leg over her and ride. Shorty and Honda go together like beer and nachos, Roczen and Chipolte, JT$ and cutting tracks, Frieze and fistfights, it's a match made in heaven. The ride with KTM last season probably took a year off Shorty's life with the mechanical DNF's the "big one" that broke both his elbows and the mental anguish of trying to make the 350 work, and he did a hell of a job trying which is what you get with Shorty, all the drinking I did that was necessary because of the list of problems above probably took a year off my life too.
The 1st moto at Steel City is arguably one of Shortys best rides of the outdoors and I think he's going for "it" a little bit more this year than in the past. It's a fine line though because trying to force it when it's not there can also slow you down, the old "you have to go slower to go faster" mantra which I think accounts for a couple of his none Shorty esk motos. But what do I know I'm just a fan in the stands although I did attend a couple Donnie Hanson motocross schools. Shorty has mentioned on several occasions one of the main reasons he wanted to work with Larry Brooks was to have someone crack the whip on him, (so to speak this isn't a 50 shades of gray novel), and to be more critical and light a fire under him and I think Larry has done all those things. Larry is gnarly that's for sure but I think they have a good relationship and the team works good together. I could go on and on about Shorty it's one of my favorite subjects but long story Short he looks sexy riding red again, it's great to see his starts come back, he got his 1st SX win and he had a solid outdoor season, now I just need him to beat Broc in the points standings.
#25 Broc Tickle | Monster Pro Circuit | Kawaski
I don't believe in bad luck or voodoo and things of that nature but poor Broc pissed off the mechanical DNF gods somehow. I featured Broc when he had his last mechanical DNF not too long ago but with this head to head battle Swiz and I have it's only fitting to feature him again. Broc has gained momentum throughout the season it started more than shaky and even Swiz started to get a little critical of his favorite rider during the SX season, but he never lost faith in Broc, in Broc he trusted. It's amazing these teams don't have shrinks on retainers with how mental this sport is. I just made myself laugh with the mental image of a rider still in his gear after practice or a moto upstairs in the semi lying down on a chaise lounge a Dr. in glasses with a notebook asking him how that moto made him feel. Confidence, if only there was a way to bottle it and sell it on the starting line.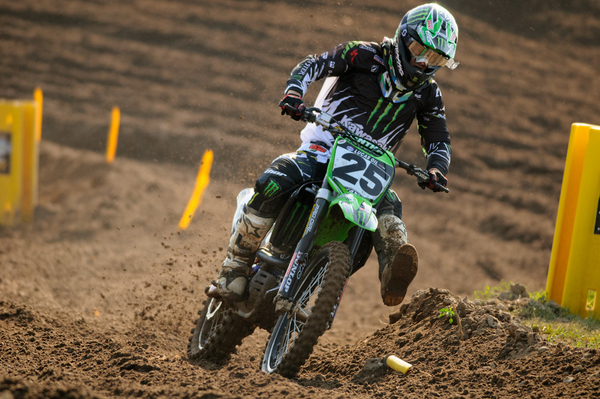 Look at those air shocks so light and airy
Let's speculate how Broc will do if he does ride a Suzuki next year. I'm not sure there is a rider that has said a bad thing about the bike, nobody comes to mind at least. Broc has only been on the Kawi two years I think and Yamaha before that. The Kawi 450 actually is a fairly finicky bike now that I think about it sure, RV rides it well but many people have said it complements his riding style of steering with the back tire a lot like RC use to ride. Reed never looked that comfortable on the bike, Chiz this year has had a hard time adapting to it, same as Josh Grant who doesn't seem to have that spark were used to seeing. Does the Suzuki have air shocks? I suppose you could always slap a pair on there if you really wanted. I was about to speculate that if Broc ends up on an H&H Suzuki that at least he will be familiar with the Pro Circuit guys doing the engine and suspension setup for the team but Matthes did say there was a rumor that the team may go to Yoshimura (the source of this rumor was not disclosed and no PR has been released). With the factory Suzuki team being ran by Yoshimura this would be a natural fit and probably a good choice. Yoshimura has done a swell job with the Geico Honda bikes this year. You gotta love silly season.
Thanks for reading this Short recognition of the guys that had Shortcoming this weekend, see you at the final round in Elsinore Moser