Blazier, DanDunes and I reminisce about some ultra-trick bikes of yesteryear
Blazier, DanDunes and I reminisce about some ultra-trick bikes of yesteryear
There's no doubt about it, we're living right now in the technological glory years when it comes to dirt bikes right now. Fuel-injection, aluminum frames, titanium everywhere, variable ignition mapping, name brand aftermarket parts coming on production bikes- you name it and the bikes have never been better. And add in the factories still hard at work trying to make their race bikes better than ever so that they can win on a Saturday and we have a special time happening right now.
But there was an era where what the superstars of the sport rode was something vastly different than what you had in your garage. The OEM's have always used racing to make the bikes they sell better but back in the day, man, those machines were something special. The era of when works bikes, true works bikes- not warmed over production bikes that we have now, roamed the earth. These machines were something else, something radical and things were different back then.
So with that in mind, myself, Tony Blazier and DanDunes of Promototalk.com got together to make a list of our five favorite works bikes from the golden ago of motocross.
By Steve Matthes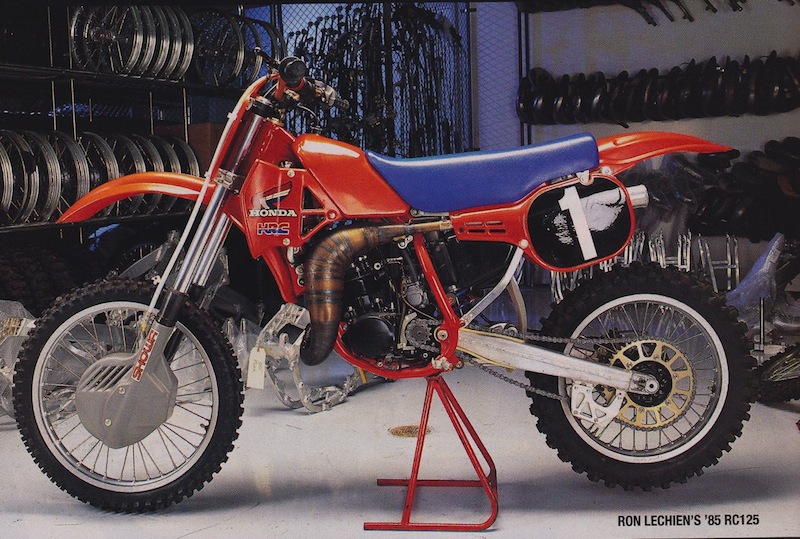 1- 1985 Works Honda
In no particular order I'll kick this off with maybe the best 125 to ever grace this planet. The works Honda CR125 that Ron Lechien rode to a shellacking of the entire field and the national championship. This was the last year of works bikes in America before the rules were changed so this is the pinnacle of unobtianium for American Honda. A power-valved, fuel pumped, shorty radiator on one side and a bike that was right on the weight limit all added up to massive coolness. In fact all the '85 bikes were incredible looking but in speaking to Lechien and David Bailey, they both expressed belief that the '84 HRC bikes were a bit better bike than the '85. I know, amazing right?
In case what I've written wasn't enough, I asked Bailey himself for his thoughts on the '85 bikes and here's what he wrote back;
"The 1985 RC250's were so bad ass from the first time I saw a drawing of it to seeing it in person I'd say it was my favorite and the best one. The front of the seat was a little bit big, but other than that it was really sleek, really fast, had incredible bottom end (we had been wanting that Yamaha low end and Honda delivered that and more, hence the wire terminal on the headtube) and they handled so good we actually had to learn how to ride 'em. The actor Paul Rudd in the movie Forgetting Sarah Marshall was teaching a guy to surf and in that hilarious scene he tells the guy, "Do less. You doing too much." Those '85 bikes damn near went around the track by themselves! When we finally figured them out, we all loved the bike and it made our job so easy I personally felt like I was doing less. Ask Lechien. His '85 RC125 was great also. My 500 handled good and they tucked the pipe in, but it was slower than my '84 RC500 so I never quite liked it as much. I won the Carlsbad GP on it partially because the power was mellow so I wasn't sliding everywhere, but when I got to a good loamy tacky track I had to ride it like a 250 to be fast and I crashed a few times too many. The 250 was great though. I remember the last time I rode it in Japan. They couldn't get me off of it. It was getting dark and they were all waving at me like, c'mon man, time to go. I felt like kissing that bike goodbye because I knew I'd never see it or ride it again- DB"
Thanks David!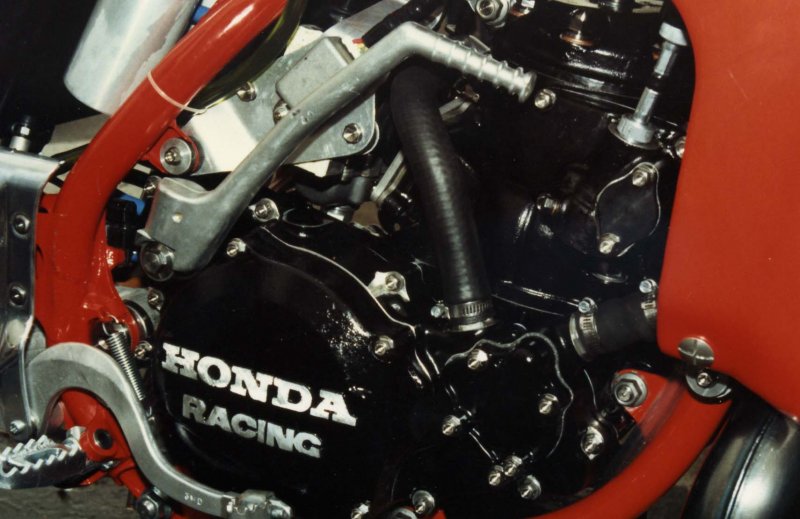 The electronic powervalve control located on the headstay as per Bailey's story above. Photo courtesy of David Bailey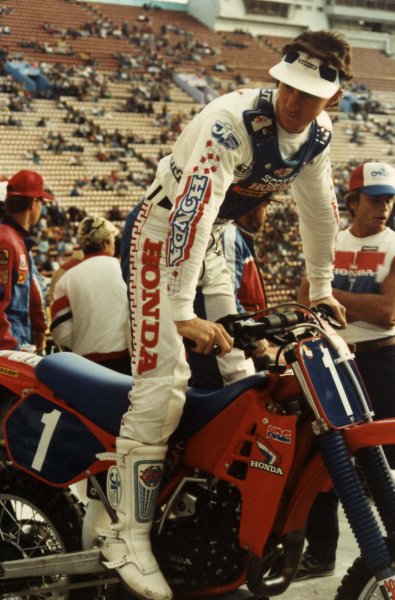 Nothing cooler than Bailey, JT gear and a works Honda right?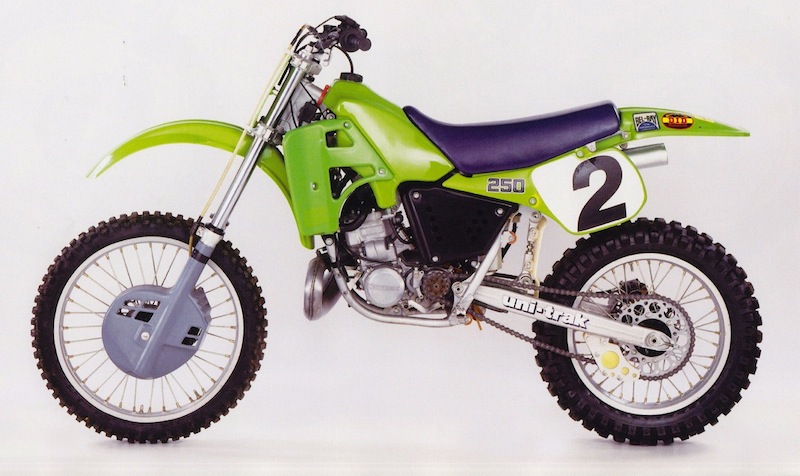 2- 1985 Kawasaki SR250
Jeff Ward raced for Kawasaki for 14 years or something like that and I recently polled him at the races asking what his thoughts were on all the works bikes he rode. And you know what? Wardy said the '85 250 was the best one he'd ever ridden. He said that the '84 125 he rode was amazingly fast but all in all, the 250 that next year was better. And he obviously gelled with it in winning both the sx and mx titles. I believe the '85 was the first bike to have the KIPS exhaust and side power valve system on it and aluminum tank. Also Wardy went on to say that the cartridge fork system was first on these KYB forks before they went to the public. But strangely both Ward and Lechien say that the '86 KX production bikes weren't very good when they should have been based on this model.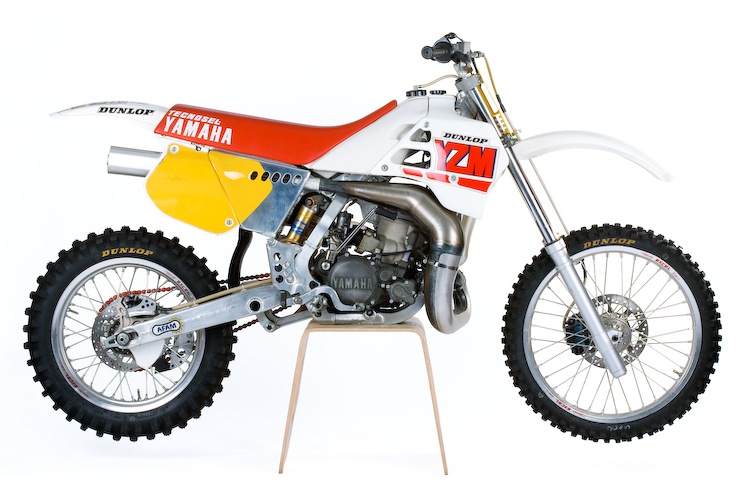 3- 1987 YZM 500
Maybe the most radically different from the production bike there is, the 1987 Yamaha YZM 500 was a huge leap from the antiquated YZ 490 production bike. Built for Europe-only, it showed that Yamaha was on the level with Honda and Kawasaki with its way-ahead-of-its-time aluminum frame and modern-for-the-time-but-not-for-Yamaha water-cooling. Again though, like the '85 Honda's, this bike wasn't an out of the body experience to ride. It seems in talking to some people who worked on the bike and was around that time, it wasn't the world beater either. Check out what one Jacky Vimond had to say about the bike here http://pulpmx.com/stories/tell-us-story-jacky-vimond and it seems it was really custom made for each guy. This thing was major cool and it would've been great to see Yamaha make this into some sort of production bike but before we knew it- poof- it was gone. I believe it was two years and done for Yamaha and I also know there are a few of these bikes left out there as well. How incredible would it be to have one?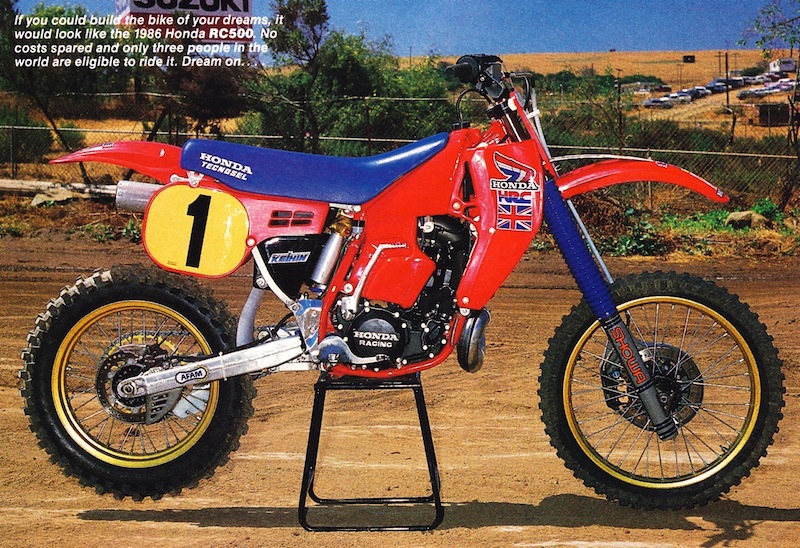 4- 1986 RC500
If works bikes were allowed in AMA racing in '86, chances are this is what the 500 would have looked like. Only in Europe and only used by three riders, this was the evolution of the '85 bike and one that, still is pretty amazing. The gold wheels and always-awesome Honda works swingarm just add to the coolness. This is David Thorpe's hence the taller seat that sort of looks weird. This was pretty much the last model of works bikes, by '88 Honda had seen how good the USA guys were doing on warmed-over production bikes and were like "Why are we building these one-off works bikes just to see our guys get worked at the MXDN by Americans on bikes that look like you could buy them?" So Europe went the American route and this bad-boy was the last "Holy shit" bike other than Kawasaki coming out with a perimeter-framed KX500 that, according to Kurt Nicoll, wasn't very good.
Folks, THIS is perhaps the epitimy of a works bike. Soak it in man, soak it all in.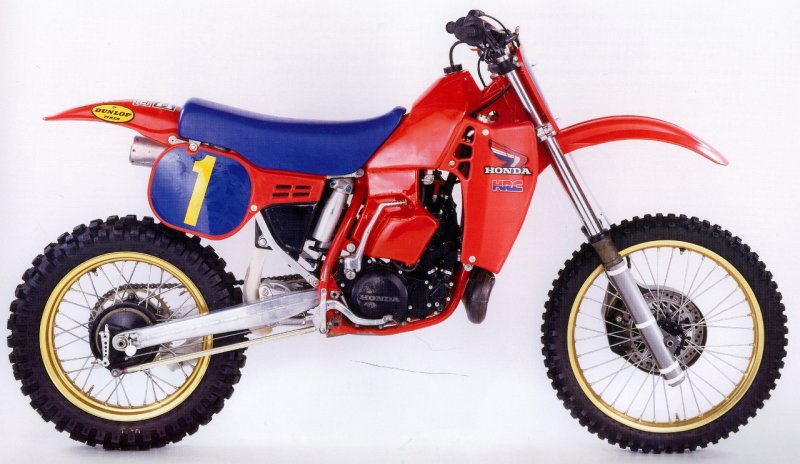 5- 1984 Honda HRC 500
The '84 HRC 250 was yet another one of those "What else can Honda do?" moments and it is a bit weird that some guys had a rear disc on their bikes and others did not. Rider preference I suppose. Anyways, pictured here is the 500 and again, we defer to David Bailey on hie memories of the machine:
"My works 84 RC250 was a little bit of a letdown at first. Reason being, the 1982 bike was mind blowing. Loved it immediately from the looks, to the sound to the innovation to the handling. The 1983 bike although difficult to get comfortable on at first was also mind blowing in handling and raw power, plus they swapped the tank, the chain and pipe to the other side so there was a lot of progression. The '84 RC250 was pretty much a dialed in '83 model best I can remember so I wasn't all that excited about it at first, but it was a solid bike. My 84 RC500 was much better and is still the fastest motocross bike I've ever ridden! I loved that bike. I loved the comfort, the styling and it had a radically unique and unequalled sound that made it fun to play with the throttle, but the pipe burt my leg every week. That was the only bummer in '84. The rest was great and they were easy to get used to."