Here's a breakdown of the 2012 450MX class as I see it.
Here's a breakdown of the 2012 450MX class as I see it.
PHOTOS BY JAMES LISSMORE
ADDITONAL COMMENTARY BY SWIZCORE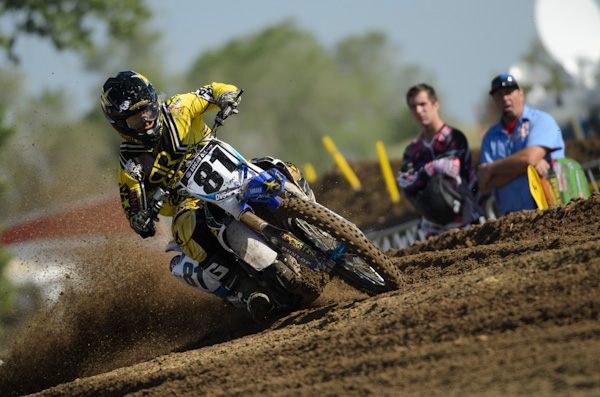 20th – Robert "Bobby" Kiniry
That guy in the background with his mouth open is probably dumbfounded at the speed that Kiniry is going right here. No but seriously, Kiniry's top twenty placing is more impressive when you consider that A- he missed five races due to racing in Canada and B- If he hadn't had such a shitty Elsinore race, he might have been 15th in the points but as it were, a bunch of dudes passed him and got him into 20th. And his bike broke on him in two motos as well but then again, just about everyone on this list has a "What if" moment. Anyways, Kiniry was solid every time he was on the gate, he loved the Yamaha YZ450F, he went wherever the team told him to at the times they asked him to and he is one of the nicest guys around. There's no excuses, no whining and no give-up with Meathead but yet, he's unemployed as of this column. Yep, this is the 2012 supercross/motocross scene as we currently know it.
Swizzle- How can you argue with a guy who commits himself to the series up north where he finishes runner-up, makes the rounds he can in the States(which turned out to be 7 of them) and nails 20th in points. LOTS of guys would be stoked with that.
This is a Meathead that should be on many radars for 2013 but something tells me many teams will "out-smart" themselves right into that crowded land of regret come 2013's end. No, he won't win races but he will finish them and not only NOT embarrass your team, he'll be a damn fine representative of it.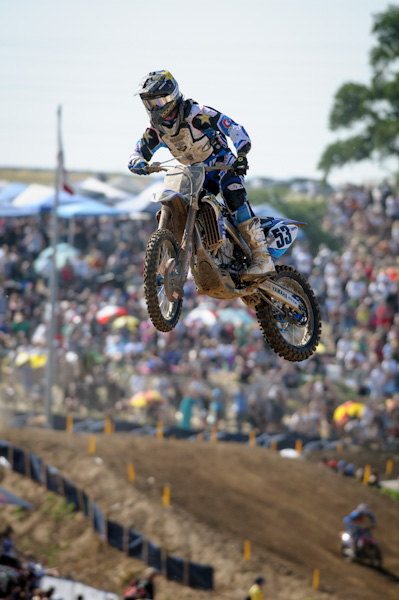 19th– Ryan Sipes
Sipes is the only rider to get top twenty in both series so there's that one supposes. Ryan started the series on 450's and then ended it on 250's when the Star team had injuries. And neither class was very good for Sipes who should be a top ten rider every weekend in either class on his bad days. The problem for Ryan is he came in with a hand injury that made him look like a circus freak and it prevented him riding like he can. He got a couple of sixth place moto finishes so clearly, he's still good but his 450 season never really got on track. And it's not the bike either because Sipes likes it and he once scored 8th overall in the 450 class in 2010. Never a guy to complain much, Sipes needs to have a much better 2013.
Swizzle- I'm really quite surprised Sipes made the top 20 having been "shuffled" by his team mid-series. What is going on with this team anyway? I've seen unicycles with more stability and structure.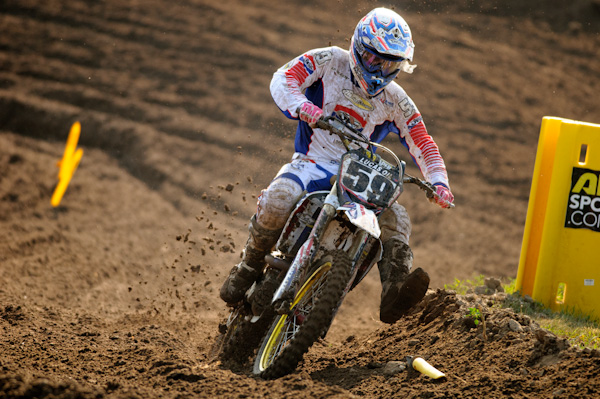 18th– Vince Friese
This is Friese's year in a nutshell. Average qualifying position- 17th , Average starting position- 17th , Average finishing position- 19th. So to see him 18th in the points seems about right doesn't it? Vince has worked hard to utilize his average talent as much as he can but there's no race that I can ever remember thinking "Holy crap, Friese is going fast today!". If he gets a good start he finds his home around 17th pretty quickly or he works up to 17th by the end of the race. And then there's all the stuff that goes on around him with the 39 other riders wishing he would just go away. Look, I do feel that he sometimes gets a bad rap whenever something happens out there on the track- he's not always to blame or didn't take someone out but the facts are there, he's involved time and time again with riders. He's got to change his ways but at this point, it's probably too late. He is what he is. Anyone else notice him lining up next to Ryan Dungey a lot this summer? Yeah, that wasn't a coincidence either. I'm sure Dungey was shaking in his Nike's.
Swizzle- Does it really matter where Vince Friese finishes in the points? He's earned the worst reputation on the pro starting gate yet Mike Genova still see's value in giving him a ride year after year. In what was a great year for MCR where Mike Alessi finished runner-up and sniffed a MXdN spot and Jake Canada narrowly missed the top 10 OA on the season, Friese was the black eye… probably literally.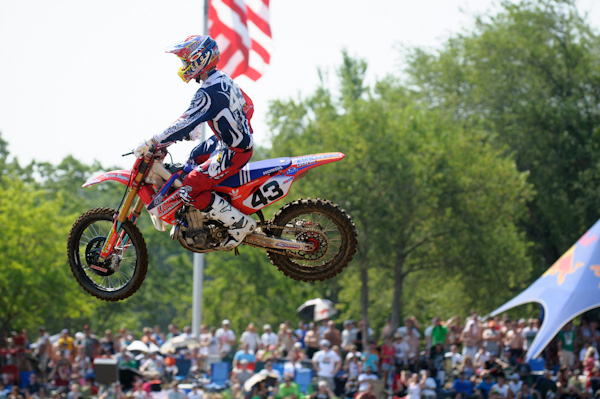 17th– Christian Craig
Like Kiniry, Craig missed five rounds healing up from an old injury and was one of the guys who passed Bobby at Elsinore. He's probably the exact opposite of Friese where there were many times I was impressed with Craig's speed and he hung it out at the front. I seriously wondered about Christian's safety early in his comeback as he wasn't in shape at all and faded bad which led me to think he was going to crash and get hurt (he's among the highest drop from starting position to finishing position outside of James Stewart and Tommy Hahn). But he hung on enough to start getting in better shape and started being more consistent in so far as not fading as much. An amazing riding style and a guy that seems to be able to finesse his way around a minefield, Craig's got to stay injury free and get a little tougher. He went the speed for enough laps for me to think that he can indeed be a 5-10 rider every moto if he got in better shape and figured things out. I think it's a bad move for him to go back down to 250SX next year due to his height and riding style but he's got no choice, that's what his team does.
Swizzle- Is Christian Craig going to be able to stay healthy for a full series? I hope so, cause when he is, he looks awesome. I don't see it happening and I hate to say that because he is so great to watch but history repeats itself, tragically even.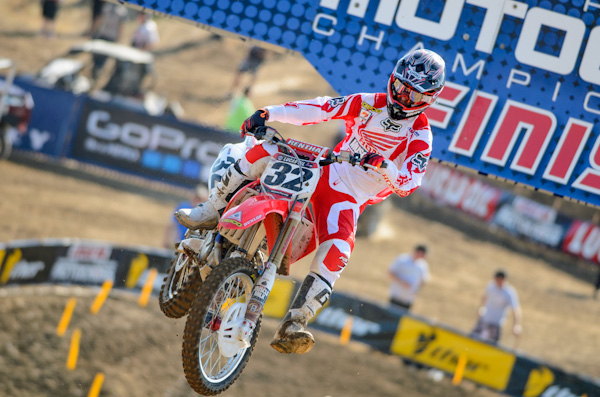 16th– Tommy Hahn
Talk about the rider with the biggest drop from starting position to finishing position, Hahn's stats are skewed because of not many races and some crashes as well. And of course there was the moto he missed due to an allergic reaction to something. In short, that was the year in a nutshell for Hahn. Getting a factory Honda ride was a nice break for Hahn but in the end, it didn't work out. He broke the number one rule for replacement riders in "Don't get hurt". Hahn only raced six races (counting Lakewood when he crashed and broke himself) and he did show speed when he was on the track. Like his buddy Ivan Tedesco, there's nothing wrong with Tommy speed-wise or personality-wise but he just. Cant. Stay. Healthy.
Swizzle- I really wish Tommy coulda put that Honda ride to use for the whole series. Damn injuries. Can't say I was surprised though, it just seems to keep finding him.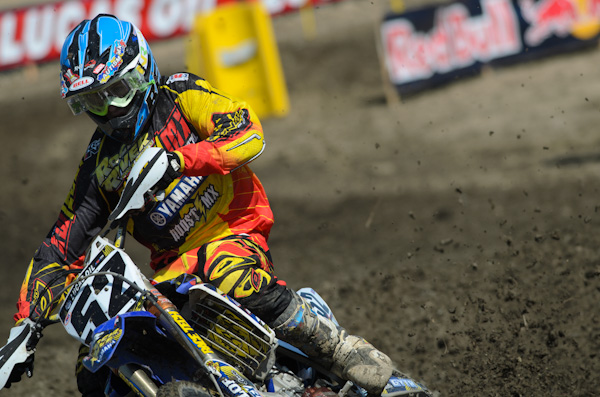 15th– Ben Lamay
The Rock River Yamaha rider from Alaska had (for him) a tremendous series and probably a career high for him. Ben started getting way better and consistent near the end of the year when rumors have it he started getting more cool parts from Yamaha. After all, Yamaha didn't have anyone to use them, why not give them out to a needy privateer? Lamay started the series poorly and that's too bad, if he had managed to only get a few more points early on, it could have been spectacular! He's got to improve on bad qualifying times as well which leaves him with poor gate picks.
Swizzle- Ben had a few good rides in the series. He's quiet and works hard which is great but he benefited quite a bit from a lot of missed races from the group ahead of him in points.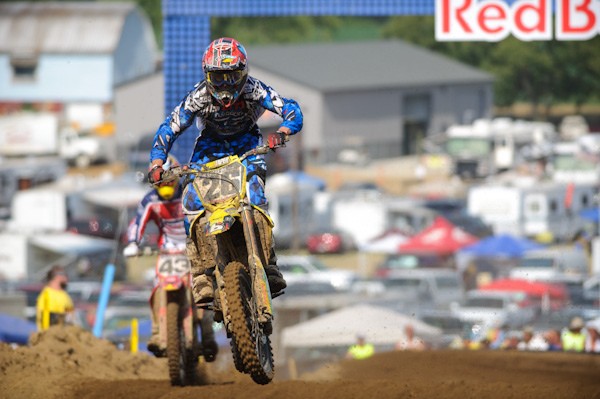 14th– Michael Byrne
Oh what could have been! Byrner broke his leg while leading Unadilla moto one and in my opinion, if he hadn't cross-rutted he would have won. He was riding that well but the Motocross Gods decided that it wasn't to be for Byrner. And that's a god-damm shame really. He's not back to the Factory Suzuki days when he was a top three guy almost every national but he was much better than last year and this was a nice comeback season for Byrner. Not a John Travolta in Pulp Fiction kind of way (not that big!) but a Hugh Grant back from the hooker scandal type thing. A guy that's always testing and trying to get his bike better, Byrner will benefit from the factory KTM involvement with his team in 2013.
Swizzle- I still can't talk about it….it hurts too much.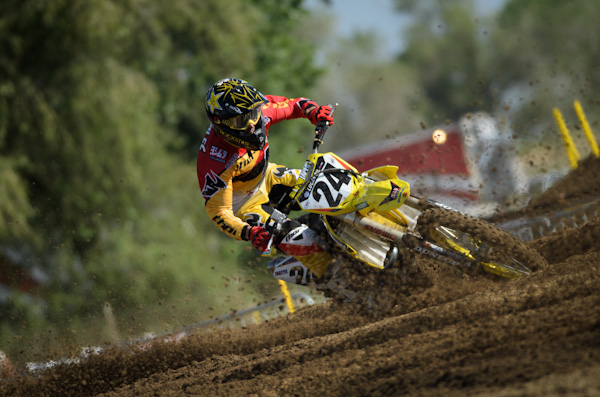 13th– Brett Metcalfe
Metty weeded himself big-time practicing and ended up this high with only five races competed in. He didn't have a great sx season but outdoors was shaping up pretty good for Brett before he crashed out. Whether he was on a Pro Circuit 250F or a GEICO Honda 450F, he was always better as the season wore on. A third, a fourth and a couple of fifths in the ten motos finished indicates that Metcalfe was figuring it out and on the same usual level of excellence that he was usually on. Too bad he crashed out and as of this writing, is still looking for a ride for 2013.
Swizzle- An outdoor warrior, that Brett Metcalfe. He only made the first half of the series but his mark was made. He'll be a solid addition, wherever he lands.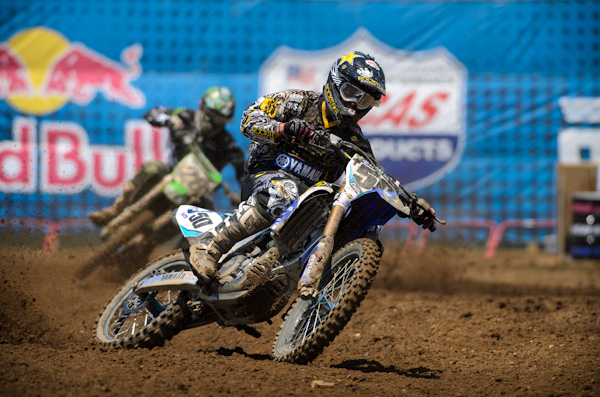 12th– Nico Izzi
A real surprise in sx, Izzi stepped his game up outdoors and when he was out there, was fast. Unfortunately he only raced seven races as he continues to struggle to find consistency out on the track. For a guy who was almost done a couple of years ago, Nicco is making the most of his second chance at motocross but he's like so many other young guys in that the 450 season is long and doesn't stop for anyone. You have to be fast, consistent and in shape or the bike and class will bite you at some point. Lucky for Izzi, he got a 250F ride for 2013 so he doesn't need to figure this out for at least another year. A 5-5 day at Thunder Valley was the bright spot but there were also a lot of crashes in there.
Swizzle- What more can be said. So much potential, yet so erratic.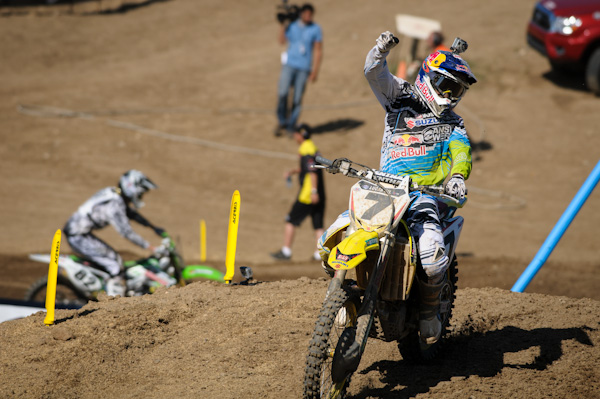 11th– James Stewart
Oh what could have been for Stewart! But then what could have been for Stewart the last few years right? I expected to see a bit of rust on Stewart at Hangtown with the short amount of time on the factory Suzuki and the fact he hadn't raced a moto in a long time (that race at Unadilla on the L&M Yamaha doesn't count) but he came out of the gate with four straight moto wins. And he blitzed to the front in moto 5 before crashing and hurting his hand/wrist. The 2008 Stewart on a Kawasaki was magic out there with scrubbing, body movement and general awesomeness but the Stewart in 2012 was economic in his movements, steady speed throughout and great fitness as well. Well, until the crash that is. Anything he did after the first two races of the year doesn't count, he was trying to race while being injured and losing his edge. A real shame, we could've seen an epic summer of him and Ryan Dungey battling it out but once again we're left with a "Man I hope he stays healthy next year" statement.
Swizzle- Before the season everyone wondered if James could right the ship that looked so broken on Blue. After Texas, people were actually talking about him going undefeated again. It's a fickle sport and now with the outdoors wrapped up with James injured, again people are asking, "Can he right the ship that still clearly has issues, regardless of bike color"? His legacy lays in the balance.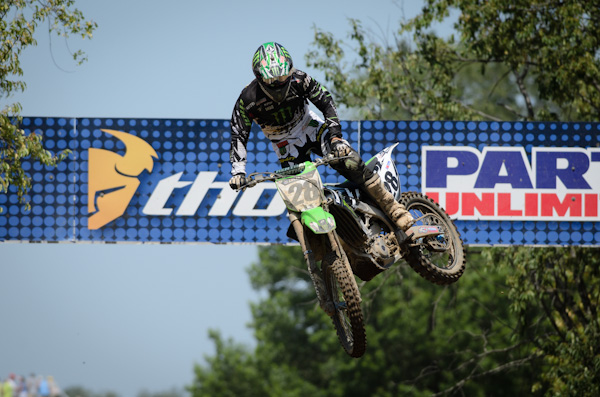 10th– Tyla Rattray
I don't know if Rattray did well or not. I still can't figure it out. He missed five races with injury and usually a guy takes a bit of time to figure it out before getting better as the season goes on. Only with Rattray, his best race was maybe his very first one at Redbud. Then he mysteriously got worse as things went on to the point where he was pretty pissed after the races. But then again, he won a moto at Southwick. But then again, he's always good in the sand and could probably ride a Hodaka to a top five. But then he was good at Lake Elsinore. So in short, I have no clue if Tyla Rattray did well or not. It's your call.
Swizzle- Tyla's 450 debut could not have gone worse. Following his Hangtown injury and sidelining, he had a few bright spots, especially that Southwick moto win. Only the fourth moto winner of the series but otherwise, it felt kind of like a bust.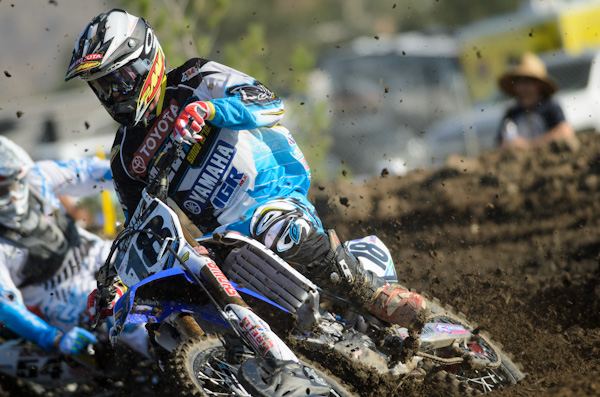 9th– Davi Millsaps
Another racer that only made six races out of the twelve, Millsaps best race of the year might have been the very first moto of the year when he got second behind his ex-teammate James Stewart. After that it was more injuries for Davi and really, there was no coming back from that. Also the fact that the injury occurred while he was on "leisure time" didn't make the JGR guys happy. I will say this though, he signed with the Rockstar Suzuki team about halfway through the series and I honestly didn't think we'd see him again or if we did, the effort would be below par. But he showed me with some spirited rides when he didn't have to and I think the "old" Millsaps might have mailed it in. So props to Davi for appearing to put in a real effort when his ankle was jacked up, he had a 2013 contract signed with a different team and his reputation was out there. He may not get second in the sx series in 2013 but I believe he'll be pretty good.
Swizzle- Davi started out with great drive following his runner-up Supercross finish but injury bit him and then it was a matter of getting through the series without another. Unfortunately at Elsinore he got worked pretty good in his last ride on Blue. I expect a much more consistent Davi on Yellow.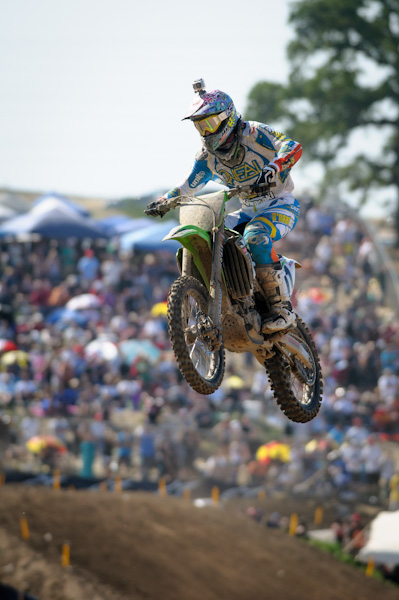 8th– Kyle Chisholm
Chisholm rebounded from what could have been a career-ending crash at Houston last year with a solid outdoors. It wasn't great (he was sixth in 2010) but it also wasn't bad. He seemed to be able to come up from the back when he had to but then again, he couldn't start and hang with the leaders either. He was an 8th place guy through and through and I hate the fact that in our sport, we'll have industry people saying 'Chisholm sucks' because he couldn't win. We need to change a bit and insure that riders like Chisholm keep making a living racing motorcycles because, well, they're good! Chisholm's best placing was a seventh and his worst (take away the motos he scored zero points) was a sixteenth. That was his home and he rode there all season. For some reason, he couldn't gel with the Kawasaki even though 90% of the riders out there that had ridden one loved it.
Swizzle- Chizz was solid but he can be even better still. I'm still holding out hope for that JGR deal to come together.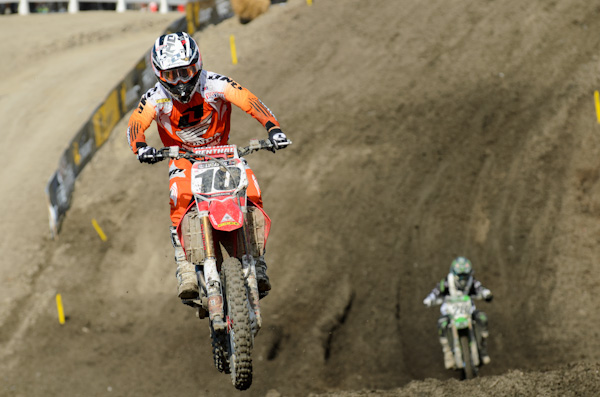 7th– Justin Brayton
For as consistent as Chiz was, Brayton was the opposite. But to be fair to Brayton he was dealing with an injury coming into the series and then another injury halfway through. But then again, I only know this because I know Brayton and I'm sure there are dudes that I don't speak to that were battling boo-boo's also. Brayton started poorly, picked it up around halfway where all of us guys were thinking "Ok, here comes Brayton!" but then, nothing. A third at Redbud second moto followed but three straight fourth places was the highlight for the Honda kid. Never as strong in mx as he is in sx, Brayton had to do better than he did to keep his Honda ride and when JGR came calling, he jumped to go back to the Yamaha guys.
Swizzle- What an odd series for Brayton. Were there injuries or not? Whatever the case, it's nice to see Justin get another good ride at JGR for 2013. Justin missed the first 4 rounds of the 2011 Nationals and finished the same position as he did this year on the Factory Honda.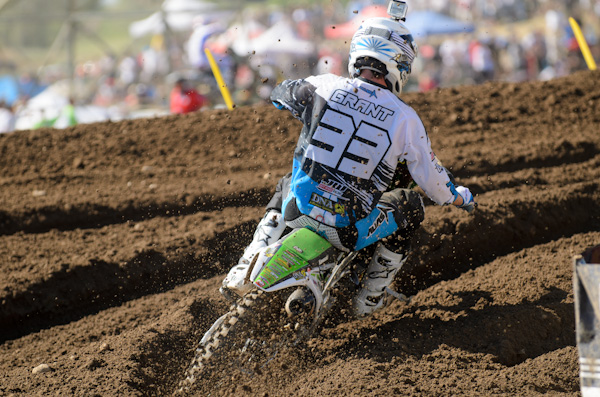 6th– Josh Grant
I think this is good for Josh Grant in 2012. It's not good for Josh Grant in 2009 but that Grant is long gone. Injuries and life changes have caught up to that kid but inside the 2012 Josh Grant lurks the '09 Grant. And no, not just the "Oops, I went across 14 ruts to take Mike Alessi out at Lakewood" Josh Grant either. Grant's third at Steel City was nice to see and there definitely was a renewed Grant in the second half of the series after team owner Jeff Ward gave Josh a pep talk about trying harder. What's crazy about Grant is his sixth is debated about and talked about while there's a shit-ton of guys behind him that would happily take a sixth in the points. He made it through the entire year and that's something to hang your hat on as well. Next year, he's going to JGR and it's going to be interesting to see how he does back with those guys again. I often think that teams and riders who talk poorly on an old rider are so wrapped up they can't see the forest for the trees because in this industry, there are plenty of things that go around and around.
Swizzle- Good rebuilding year for Grant. Will he continue it in 2013, or seek more money on a bike that is likely to bite him?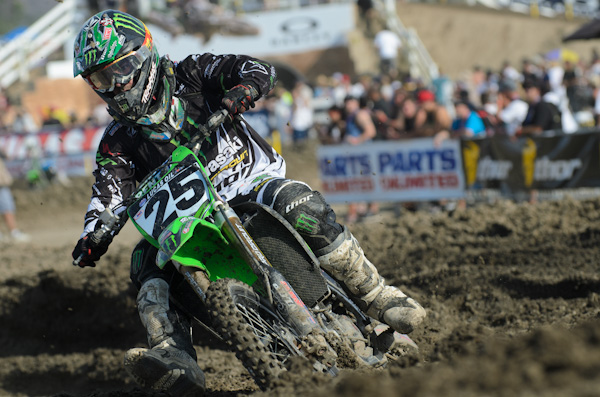 5th– Broc Tickle
C'mon, not even Swizzle could have predicted Tickle's fifth overall and many podium finishes on the season. Tickle's supercross season on the Pro Circuit 450 was average at best but outdoors, he turned it on. And to think, he had three DNF's that were bike related. Give him those points and he's third in the series. Third! There's no way I thought that Broc would be this good but confidence and a good bike are pretty powerful. Tickle showed endurance and consistent speed. I suppose the only fault would be that he wasn't able to just blow by dudes if he didn't get the start but that was ok, a lot of times he had the start. His team owner Mitch Payton was working with Broc on starts all season long and suddenly, at Budds Creek, it all came together for the kid. And next year, on a Hart & Huntington Suzuki, he looks to keep on trucking to that next level.
Swizzle- Broc could have, excuse me- SHOULD have been third in points were it not for three bike failures. He set out to do one thing this series, prove he was better than Supercross showed and he excelled in that manner. His confidence has grown and the future is bright.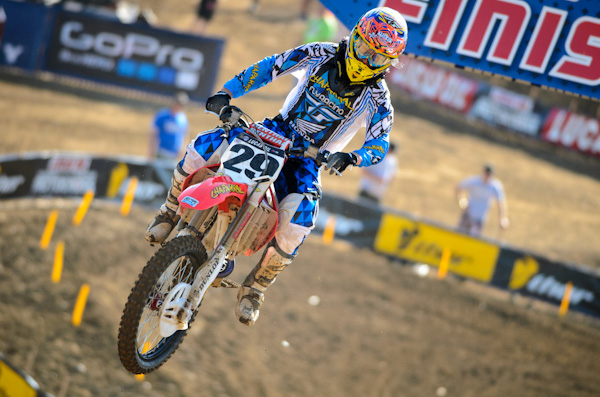 4th– Andrew Short
By the end of Elsinore, Shorty was pretty much a zombie. He dealt with injuries, infections, sickness all season long and tried to make the best of it when he could. I really believe that when Ken Roczen showed up, things started to go downhill as Andrew tired to keep up to the boundless energy of a 18-year old. Roczen rides a lot and Short probably felt like going out with him and trying to stick with the kid was going to help him but in the end, it hurt him. He was never feeling 100% in the second half of the season and it showed as he struggled to put two motos together save for Unadilla and Washougal. And by the way, in 2010, his last on a factory Honda, he pulled eleven holeshots in twenty-four motos and this year, nothing! I'm not sure what happened there but on the bright side, he was only a few points out of third when it was all said and done and he won a supercross this year. Now the old guy in the class (that's weird to type by the way) Shorty's not done yet by any means but 2012 motocross was rough for him, no doubt.
Swizzle- Shorty didn't finish on the OA podium in 2012 but he did overcome a lot of ailments and prove the KTM 350 was more of a virus than an indication of his slagging off.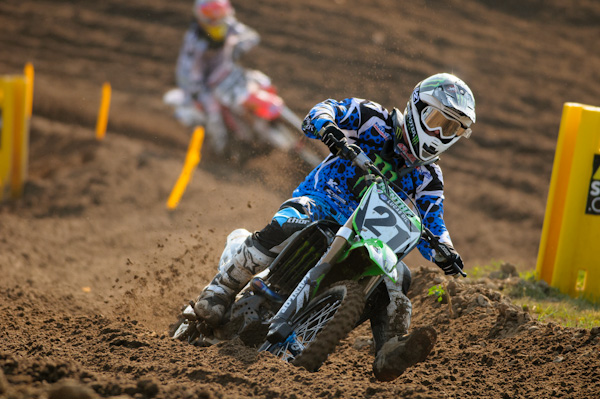 3rd– Jake Weimer
Weimer finished his first complete 450 mx season in third place and after round seven at Millville, he was 12 points behind Alessi for second. But then his next five races were up and down and Alessi's was mostly up which explains the 98-point difference in points at the end. Weimer had ten motos where he was on the box which is great but also had five motos where he scored eight points or fewer (including a devastating four in a row!) so his consistency wasn't where he or Kawi would like it to be. Still it's an impressive season for Weimer but on the other hand, I know he wants to be close to Dungey and sees himself as close to the leaders in speed and prestige but for the most part, Dungey was much, much better than him which has to bum him out.
Swizzle- It's weird to say I expected Jake to be better since he did finish third but I did. I expected him to have third secured by a mile. He's got to dial in that consistency.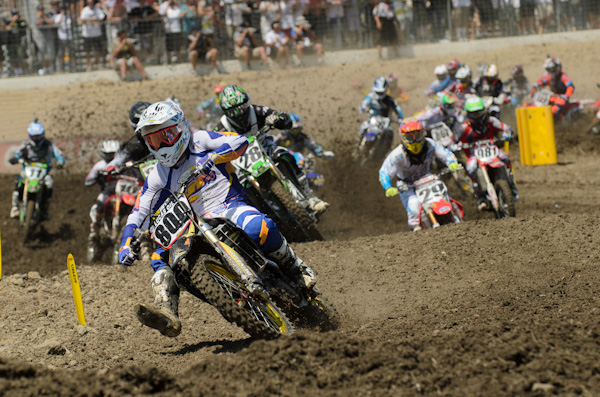 2nd– Mike Alessi
There's so many things to get on Mike Alessi about. His dad, his past history of standing on bikes, his team that has an outspoken owner and is really the only team that would hire him and his dad as a package, his "Please love me Ryan Dungey" act after Washougal but here's the thing, the guy never, ever, ever, gave up. Every time he holeshot (eight of them in twenty-four motos) he really believed that he could win and fought Ryan Dungey very hard in almost every single one of the motos. And I'm sure that Dungey was frustrated and pissed every time he had to battle with Mike but this just in, Alessi's a racer. He was very good this year on a bike that wasn't as good as many he raced against and really, the only drawback was the Alessi's couldn't keep some sponsors onboard as the MB1 Suspension stickers went missing on Mike's stuff about halfway through (even though it was rumored to still be MB1 inside) and Mike's motor guy gave an interview to Racer X about halfway thru the year and the company he said he worked for called and said that the guy had nothing to do with the company any more which left everyone confused. So, yeah other than those hiccups, Alessi was very, very good this year. Combine it with his supercross season and this year might have been the #800's very best season on the big bike.
Swizzle- Mike was great, the best he's ever been. He doesn't care who's out in front of him, it's always gonna be someone he has to chase but he is the very embodiment of tenacity. He's like horse flies in the mid-west summer; he just never goes away.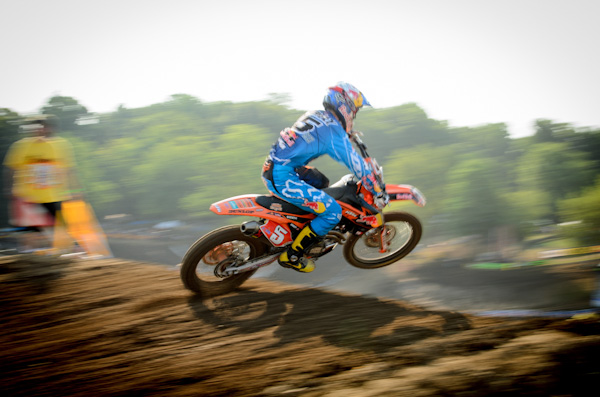 1st– Ryan Dungey
After Stewart went out it looked like a long summer of Dungey runaways and that's what we mostly got. Which I imagine was fine with KTM and with Dungey himself. Ryan dominated on his way to a second 450MX title and showed his usual speed and endurance throughout the season. And props to KTM for seemingly not having a mechanical at any point throughout the year (although I'm sure they came close, every team does). Not including the gas stop either. I heard from some of the Kawi guys that the KTM guys were saying they were basically on cruise control the second half of the year and didn't learn much from the bike because Ryan didn't have to really push it that hard. And it showed, he was picture perfect form for the most part (although didn't it seem he had a hard time keeping it on the track at times?) and was his usual self off the track. All in all, although he's awesome and now third in 250 (450) class national wins, he's got to beat Villopoto. Stewart and Reed in one season consistently to raise his level even higher. We know he can run with those guys but can he beat them when they stay healthy? That's the question and I hope we find out soon enough. Hey, don't blame me for asking the same thing that other teams and riders are.
Swizzle- Dungey's KTM didn't DNF one time in 2012, he pulled down many wins and even a title, in his first year. That, my friends, is a win/win.