The mailbag letters came in fast and furious but this is the best of the best. Sorry about that.
The mailbag letters came in fast and furious but this is the best of the best. Sorry about that.
Photos by James Lissimore
Do teams/riders change their sx practice tracks during the season? I know this isn't a cheap proposition but we often hear oh rider x is killing it during the week. Then come race time he rides terribly. Could it be that these riders get so used to the same track everyday that they can't adapt to the actual race tracks? Also how different are their race bikes and practice bikes.?
Thanks?, Steve
Nice name. Thanks Steve for writing in and it's a good question with a two part answer. Absolutely the racers change their tracks up but not very much. The basic layout is made before the season and then touched up or lightly changed during the year. The expense of building a track (30K and up) makes it costly to wipe it clean and re-do it. The factories sometimes do it once a year but they're usually also locked into a specific track design. The racers and teams sometimes pick one map of the upcoming season to mimic as well. There was a race last year where I was talking to Windham and he said that he hoped to do well because his practice track was modeled after whatever city we were in. I don't remember the track but I seem to remember him not doing very well so it doesn't always help.
As far as the guys hauling ass during the week and then not translating it to the weekend's race, I've seen and heard about that a ton. The guys ride a track all week and master it and yes, they may be hauling ass but that weekend's race involves a new track and plenty of other racers around them. The ones that can adapt to all of this and lay down some times with the relatively short practices that the AMA (or whomever) gives you are the real heroes. Not the guys that have the track dialed in when they're out there by themselves. Have you ever seen a pro's SX practice track? Many times there's a ten-inch groove around it where the guys exclusively ride and there's not much venturing off that main line. Obviously all the super fast guys are impressive in what they can figure out and do right away on a Saturday but the three guys that come to mind as to being incredibly awesome at blitzing whoop, figuring out he combos and making things happen right away are Jeremy McGrath, Chad Reed and James Stewart.
Steve,
Who will be the first rider to make a consistent move into the top 4 (big 4)? Canard? Wilson? Barcia? Or someone else?
Thanks, G
G, The biggest question is Canard. What does he do after almost a year off from racing? If he can come back to his same level, I believe that he's right there with those guys but I also believe that he can't possibly come back to the level where he was. It's pretty tough to do that after all that time off from a serious injury but maybe, hopefully, he'll get there if he can stay injury-free. So not sure he qualifies as being able to step up when he was actually right there before his injury. Obviously, like a lot of people, I expect Justin Barcia to be right in there and I actually expect some fireworks from Bam-Bam this very weekend at the MEC. He's got this 15-inch Macbook-sized chip on his shoulder when he rides out there and he's not going to want to let the "big guys" think they can push him around. I've actually had a couple of the established stars tell me that if Barcia thinks he can ride like he's been riding in the 450 class, then he's got something coming. But, I DO think that Barcia thinks he can ride however he wants to in the 450 class- he's just that type of racer- so it should be interesting to watch the fireworks go off and hopefully, this weekend.
If you were a team manager that had one spot to fill who would you choose? Hanny, J-law, or Vince Friese?
BobbyB
Right now, I'd hire Hanny because he's, you know, actually racing and J Law is not. Friese gets a bad rap for his dirty riding because a lot of time, he doesn't do anything out of the ordinary (in terms of SX block passing) but he gets blamed because of his past transgressions. Don't get me wrong, Vince is in enough altercations that eventually he has to accept the fact he's going to get effed in terms of public perception. But strangely enough, I think he's ok with that.
Ok, back to the question- at the peak of their powers- there's no question I'd hire J-Law. He was better than Hanny ever was (as far as Hanny's peak, it's probably now or maybe back in the KTM days-whatever you want to say-I'm fine with) and has the championship to back that up (to be fair though, Hanny did tie for a title in '05) but Lawrence was (is?) a special talent before it all went up in smoke a few years ago. Jason's style was unique, his corner speed was amazing and he was a nice rider to watch ride when he was on it. But as we all know, it was far too short as he pissed it all away with bad decisions, bad people around him and his own stupidity.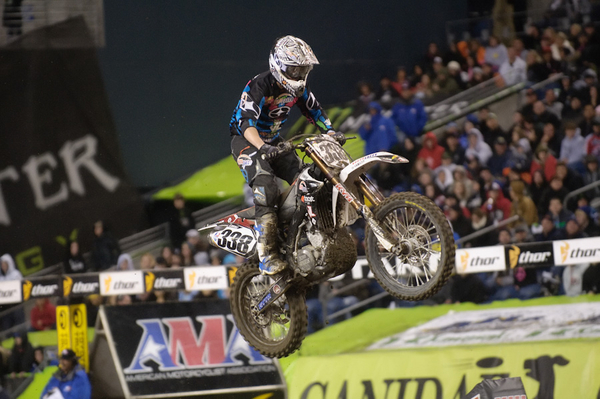 When he was on, Lawrence was a thing of beauty on a bike.
Hey Steve, being a former mechanic like you, I think there would be a interest in what the factories are up grading and changes to their bikes for the new year and through out. If it's not top secret of course. Enjoy the show, I'd like to hear a segment on the bikes . Also there is no other band that can raise the blood pressure like Van Halen when Sammy was there, they're just playing around now. Does the show have a postal address?
David
David, myself and Jason Weigandt at Racer X have committed to try and get some more information about the bikes to the fans of the sport. As any listener to the podcast shows knows, I've always thought the announcers on TV should delve into bike set-up more and try to get something out there to the fan besides "He just wants to win more" or "His mindset is great right now". We should get more technical info out there so that if there are any gearheads out there, maybe we get them to pay more attention to the sport because there is a ton of stuff out there that's very interesting. Unfortunately the teams aren't very helpful in dishing out info on what they've done to the bikes from week to week but I try to do the best I can. I like to think that the Observations columns and podcasts that I do cover the technical end of the bikes better than any other media source out there but I should be able to be better. There are a few people on the different teams that I can trust to give me some off the record info I can use and as well, with any suspension questions I have about the bikes, I can call up Ross Maeda at Enzo Racing to give me the low down on what and why a team may be doing what they're doing. It's always funny to see the real smart guys, like Ross, are the ones more open about things that are done on the bikes. It's the insecure people that aren't confident in themselves that freak out over something I might say about their bike.
I agree with you on the Van Halen comment, they've never reached the same heights after Sammy left, they had more number one records with Sammy, they sold more discs with Sammy and on top of that, Sammy wasn't a goofball like DLR. Email me using the contact form on Pulpmx and I'll get you an address.
Matthes- okay, it's always been said that it takes a village to run and make the professional MX scene function. But seriously, who really makes the traveling carnival that is Supercross and Motocross work? Is it the AMA for establishing and adopting somewhat of a rules and reg's policy? Is it the event promoters for coordinating and promoting such functions? Is it the motorcycle manufacturers and industry labels for contributing to the cause? Has it become a television driven sport where TV personnel dictates how it is run? Or is the sport in the hands of the riders?
We keep hearing about a possible riders union that may or not happen. Some guys are avid supporters while others are deathly afraid of such a gamble.
What or whom is running the sport and what are the pros and cons of a union?
Steve
Steve, another awesome guy with an awesome name. You have a lot of questions in there and I don't have all the answers but the one where you ask if the sport is in the hands of the riders- I can emphatically say that it is not.
I've written and spoken about this a time or two, I'm not really sure who is really running the sport. I've always thought that, like NASCAR or F1, there should be one governing body or guy in charge that makes the decisions with the input of the teams but in our sport, with the destruction of the AMA, there are a few different people running things. In supercross it's Feld Motorsports (with the same basic three or four people no matter what the name) who control a lot of things. The alignment with the FIM a few years ago (when they were fighting with the AMA) saw those guys get involved and for a few years, the FIM ran the 450 class and the AMA ran the 250 class. Now it's the FIM who control the rules and regulations in both classes but don't kid yourself, Feld has a huge say in what goes on in terms of rules and regulations.
In terms of the outdoors, again with the AMA pretty much doing nothing, it's MX Sports series with help from the AMA in terms of rule books and enforcement. Roy Janson, who ran the AMA Pro Racing for years and years is a big part of MX Sports in terms of what to do with whom and when. Jeff Canfield, who used to work for the AMA, is employed by MX Sports and is also at the races to enforce rules and regs. But make no mistake about it, the guys lean on Janson and his considerable experience when it comes to rules. Oh yeah, and Roy also worked for Feld, Clear Channel, Live Nation and all that for years and years after the AMA. In short, it's all Roy's world no matter what.
You can wonder all you want in terms of whether it's good that a promoter runs a race series and makes the rules up and you'd be perfectly fine in seeing the possible double-standard that could be enforced with that.
There's been talks of a riders "union" or "committee" or whatever you want to call it and there was even a meeting a couple of years ago Sunday morning in Windham's suite in Vegas after the final round. But nothing's come of it and in the words of Jeff Stanton (who tried to organize one years ago as well) nothing's ever going to happen with the riders because they're always thinking of themselves and themselves only- always has been like that and always will.
Do you think the biggest advances in motocross/supercross bikes mainly come from the electrical side of them with ignition mapping etc now as four stroke race engines are so powerful that power curve is playing the biggest part in 450's any way if not wear will the biggest gains come from aside from suspension? Also is Kenny Watson coming to Australia or not as I would love to meet him maybe even buy him a beer for all the laughs and insight he's given me from listening to this show huge Kenny fan and I would do almost what ever it takes to catch up with him
From Lips
Lips (and who would've guessed Watson's biggest fan down under would be called Lips? I know I wouldn't have) I'm not sure what Watson's deal is with going down under. He's promised that he's going to go to Europe to cheer on Zach Osborne, to Canada for the Toronto SX and even to Aussie to cheer on Hanny last year. But he's never made it, he loves the red, white and blue too much I guess.
I agree with you, the technical aspect of the bikes is where the greatest advances are going to be made but the rules prohibit GPS tuning so there won't be any adjustments from the side of the track like in F1. The teams are just scratching the surface in terms of what they can do and next up is suspension controlled by electronics. Right now, the mapping and the GPS track overlay (which is allowed in the outdoors) are some pretty cool stuff. For more on what the teams are doing in terms of that, check out my column from Freestone earlier this year HERE
Steve, Hello.
Just listening to the last Pulp Show on my way home, and heard you think Tony Cairoli might want to race AMA National soon. If he does, is he gonna be on a 350? or 450? or 400?
Hitoshi
Tokyo, Japan
Yeah, Pulpmx fans all the way from Japan! No, I didn't make this up. Anyways, in talking to AC over the years, I know that for a fact he wants to race a national in America at some point in his career. It just never works out in terms of scheduling. It might have happened this year as he had almost a race lead in the MX1 title before scoring zero points at one race and he was forced to concentrate on his series. Antonio is a racer, through and through and I predict that he'll be here racing a national in the not-too-distant future. And what bike he rides? I'll bet that the KTM guys send over his probably-way-illegal-350-but-no-one-will-check-over-here bike and he does pretty well. Top five for sure, maybe better.
With all your talk of how teams should sign Bobby Kiniry and Phil Nicoletti, do you think you might be doing more harm then good for them? If you remember last year you were really pushing the hiring of Kyle Chisholm and Jimmy Albertson, and both had pretty disappointing years. So if team managers look at your scouting history they might shy away from your "guaranteed triples". The other option might be that you are the Madden curse of motocross. Any rider you say is a must hire either gets hurt (i.e. Jimmy Albertson) or takes a step back (i.e. Kyle Chisholm). In conclusion you might want to step lightly, which I am sure is getting easier everyday thanks to the elliptical, with your riders teams should sign for 2013 for the sake of Meathead and Filthy.
Sincerley,
Bill
Good job Bill. Way to make me cry myself to sleep which is what I did after reading your email. You might be right, I could be doing more harm than good in pushing these guys. Jimmy Albertson not having a very good year was a complete surprise to me. I honestly thought he'd be much better indoors and out. The Chiz, well he was a bit worse than last year but not too much- he did all right but nothing stellar. Kiniry and Nicoletti seem to be happy that I'm pumping them up so much, to the point where Kiniry says his buddies think I could possibly be angling to get him into the sack. I promise that's not it.
Dear teams, stay away from Filthy and Meathead- you DO NOT want these guys as they are not triples, they are singles and maybe even bunts down the first base line. Terrible people as well, I heard Kiniry tortures kittens. Stay away from both of them.
That should do it. (Sorry Bobby and Phil for I have sinned)
Steve,
I have a question regarding DC, Racer X, and the AMA. Since Davey owns Racer X, does his involvement with the AMA slant the editorial style of the magazine? I mean, he really can't print any negative comments about the AMA right? He's not going to let his magazine badmouth his organization. By the way I'm a relatively new Racer X subscriber and I chose that magazine over the others because of the depth of coverage. But this question has always made me wonder. Thanks.
Dave
Yeah, DC's critics love to point to the magazine as a mouth of the series and yes it has the potential to be that but they're actually off-base if they really read the magazine. DC loves the sport and lives it, breathes it and probably poops it but not sure on that last point. Yes the magazine does promote the sport, it's not the New York Times of the sport- it's an enthusiast magazine written by a bunch of enthusiasts. He's not there to expose the dirty secrets of motocross (or supercross for that matter) and there's nothing wrong with that. He was that way before the parent company, MX Sports, leased the national series from the DMG group down in Daytona. But know this, the parking at Pala was a disaster and DC never once edited myself or Ping who wrote about what a mess it was and even made fun of it a few times. He never once said anything to me when I criticized Lake Elsinore track, or the track prep being too bland, or how I like the wash bays at the GP's or anything else in terms of editorial about the races. There were some things that I wrote that the SX folks didn't like and he called me to explain that what I said wasn't cool (and usually he makes a very good point) but he never took it out and when it came to the outdoor series, he was hands off.
In short, if it's fair and balanced criticism, he's got no issues with it and as I said, the potential is there for it to be a ra-ra mag and website but the truth is, it's not.
Steve,
What is ex-Kawi manager Mike Fisher up to these days?
Paolo
Fish is working for Mandingo Pickles and helping Big Nasty and the boys expand their footprint to Southern California. You may not know this (I sure didn't) but Fish has family in the grocery business in SoCal and he knows the ins and outs of that industry as well as all the things he did in moto. So he's working on that and I hear it's going well. I have wanted to do a podcast with Fish for a long time (even when he was at Kawi) but he didn't seem to be into it although he told me many times he would do it. So I kept pestering him and when I saw him at some races this year, he again gave me his number but would never get back to me.
If you don't want to do a podcast, I completely understand and have had people tell me they don't want to do it and I leave them alone. But Fish (And RJ) kept telling me he was in and despite me giving them chances to say no, insisted he wanted to do it so now the no replies start cheesing me off. So I said something on Twitter about it and he (and his wife) got on me for wanting all the dirty details on his Kawi departure (they overlooked the part where, while he was AT Kawi, I was on him the same- think about all the things that Mike Fisher has done in the sport- from being a top rider to an R&D guy for years to a manager- he's had a really interesting and great career and one that I think would make for a great story) when in reality, if he didn't want to talk about it, I would never have brought it up. When I defended myself, he said to call him but I never did- I guess it's never going to happen.
I absolutely think that Fisher, a 30-year man at Kawasaki, got effed by those guys in the fact that he was fired from the racing team and not offered another position anywhere in the company. Yes he butted heads with some people at Kawasaki and at Pro Circuit (remember when they switched to FMF? Uh yeah, that didn't go over well with people at Kawasaki considering that Pro Circuit has wion Kawasaki 964 titles since 1993) but how about just taking him out of the race team and back over to R&D? I'm sure he wasn't some renegade who went with FMF without anyone else knowing he was doing it. He's a smart guy, he know the politics of such a move. I don't know, just my uninformed opinion on something I don't know much about. But I do know he's had an amazing career in the industry that I wanted to hear all about but he seemed to tell me one thing to my face and act another way and I didn't think that was cool. But he's still a good guy and I would still do one but he's just not into it. Too bad.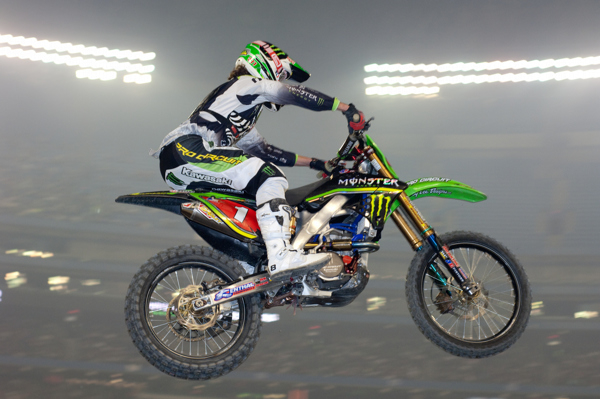 Christophe Pourcel- his nickname shouldn't be Superman, it should be "The Riddler".
Hey Steve, you're the best and smartest person ever but what's up with Christophe Pourcel? Steve M, Las Vegas, NV
Ok, ok, I made this one up. BUT just because there was an interview with Pourcel on Racer X (courtesy of LeBig.com) and I wanted to comment on it. The guy continues to be a mystery wrapped in a riddle and no one can really believe what he says. When I was at the MXDN, I asked around and yep, he's as weird as ever over there like he was here. The last three-four races, he never spoke to his team. He would get off the bike, go into the truck, skip the parade lap and show up right before he had to go to the line fully dressed. And then repeat over and over. Once he realized he couldn't win the MX1 title, the little effort that he did give went away according to those close on the team. He says he doesn't want to go back and race the World Championships but that's because there's no one in the pits who wants him. He says his bike wasn't good enough but he's the one that went with the stock set-up. His reunion with his old team that was supposed to work didn't and the relationships there were fractured. And the lack of effort with people on the team and the media was noticed by everyone over there.
So of course he wants to come back here but after wanting 750K and up to race a 450 and having no one interested, he seems to have been resigned to his fate. He's like an emo 19-year old goth kid who can't seem to figure out what he wants to do and blames the world for his problems. People in Europe figure that he's not happy racing motorcycles but he has to because it's a way to make money- which is the only thing he seems to care about. If he does come back, maybe it's with Mitch Payton (the one guy that seems to be have earned CP's respect) and we'll see how he does. Once again, the guy's just a different dude.
Hey Steve,
Just listened to the MXoN wrap-up with Davey and Weege, what a great show, I could listen to that sort of pro-level-bench-racing talk all night, thanks Steve. Cards on the table, I'm a Brit and was hoping we could hit the podium rather than our usual 4th place (check out Max Anstie at Valkenswaard) but, bollocks, we ended up 8th! The point of the message is to say that I don't quite get the constant USA vs Rest of the World debate. Of course USA has the most incredible riders but so has the rest of the world/Europe. If you ride at the level of all the AMA and FIM team riders you are an elite rider in our sport. There are exceptional riders on both sides of the pond and a good depth of talent below that. I think if you mixed the top 20 from both series in a mid-season race there would be an even spread of the two groups in both classes.
Yes the tracks and the weather are different, but the skills, fitness and commitment of these racers has got to be on a par. So, yes, Team USA have dominated over the years, but dont be surprised that every now again the little motocross nations of Europe have 3 good riders on the gate and some luck on the day. That said, you cant beat the Nations for a good bit of bench racing jingoism in our minority sport!
I've got a good black and white shot of RC airing it out at Zolder I can send you if you have an email address I can attach a pdf too.
Cheers Steve, keep up the good work! Dave
Dave, your email was one of the more civilized ones that I got. Seems that nothing gets the blood going like a little MXDN race. Some people hated DC's appearance on the show, others thought we all sucked off and gave the USA riders excuses and yet others, like yourself, seem to understand it all. I honestly loved the USA losing this year just because of the story itself, it's good to have a new winner every now and then and it took deep sand to dethrone them. So next year, the story is can USA come back and start winning again or is this a sign of the Euro's catching up? See? I like the stories in this sport. Thanks for the Zolder memory, you just gave me more nightmares.
Hey Steve,
Are you the only person in Moto who watches any other sports' media coverage and "gets it?" Real media asks real questions, point out the issues and flaws in an athlete and talks to all of the athletes (as you try to do). What's up with teams allowing riders like the #5 to avoid certain members of the media (you)? I don't get it. Yes, save a few riders, they are all robots on the podium but listening to they in your Pro Circuit Pulpcasts or on the PulpMX show really brings out who they really are.
Any publicity is good publicity and I think that these teams fail to see that. I guess that's what you get out of an entire industry that was home-schooled and is innately socially awkward.
Keep up the great work,
Kenneth
Thanks Kenneth for the email and yep, it's incredibly weak of these guys to not want to talk to me because they don't like what I write. But you know, it's really their loss because the fans of the shows and podcasts are the guys that are paying customers and fans of the sport and even if the rider doesn't like me, they should realize there's a fan base there that listens and wants to hear from the guys. But I understand why, most of these dudes don't have anyone around them telling them stuff they don't want to hear and just want to believe how awesomely "rad" they are and how everyone else who isn't on their side are "haters". It's so incredibly weak that the egos of some of the people in this sport are so fragile and they can't see the big picture of doing the media rounds and acting with a sense of professionalism. Davi Millsaps isn't really a fan of mine but he made a crack to me at a race about my weight, I stopped him to talk about our relationship (he was going out for opening ceremonies in New Orleans) and we agreed to disagree. Then I said, come on the show and say whatever you want and although he was skeptical of me editing it or whatever (maybe he didn't know it was live?) he did it and I like to think that his opinion of me has changed somewhat.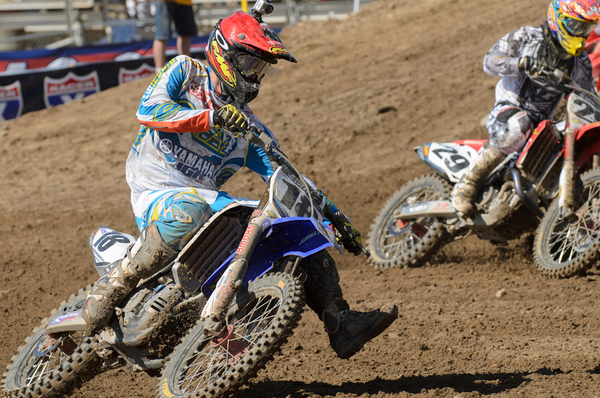 Millsaps likes me. Well, he tolerates me now anyways.
To me, I follow a number of other sports and after a game, I rarely read the actual game account story, I want to read the editorial from the media in terms of telling me the good, bad and ugly of the game. Why one team was so good, why one was so bad or why a particular game was great. Who just wants to read about the race and how awesome the race was? Tell me who, what, when and why about a race and you have my attention. Tell me behind the scenes stories on why a player was good or bad. And when a analyst who's been around the game inside and out (like say, a mechanic for 11 years on two factory teams and some top privateers) offers up his opinion, I'll listen to it. And when the analyst offers praise along with criticism, know that it's real and it comes from someone who does know something. Have you read other moto media? A lot of it is just cheese accounts, interviews or photos from the races? Don't get me wrong, those have their place but not over and over and over and over again.
Let me get off my soapbox…whew. Feels good!
By the way, what's the frequency Kenneth?
Steve,
I have a stupid question.
Do the overalls, at an outdoor event, actually mean anything? For instance, if a guy go's 5/4 for 3rd overall, does he get paid a 3rd place bonus? Or how about the guy that goes 3/3 for 4th does he get paid to 3rd place bonuses or get boned for a fourth? I realize everyone's contract can be different and there are no rules, but do you have any idea how some of them work? Also, how does the AMA (or Lucas or whoever is behind the curtain) pay out in this regard?
I know this is a ridiculous thing to worry about, but what can I say, I'm a curious Alaskan and its all a wonder to me.
By the way, it was great to meet you and Pookie at Seattle SX, when we all met up for beers downtown with the Moser crew. (See, I told you it's all a wonder to me)
Thanks,
Oliver
You're right Oliver, kind of a dumb question. BUT, a question nevertheless. Riders are paid out per overall in terms of factory bonuses but paid out per moto in purse money. So in a sense, there are 24 races in the motocross season, not 12 and the riders themselves rarely care all that much where they are overall unless there's a bonus involved.