You asked and I answered bro. Lots of questions, sorry if yours didn't make the cut.
You asked and I answered bro. Lots of questions, sorry if yours didn't make the cut.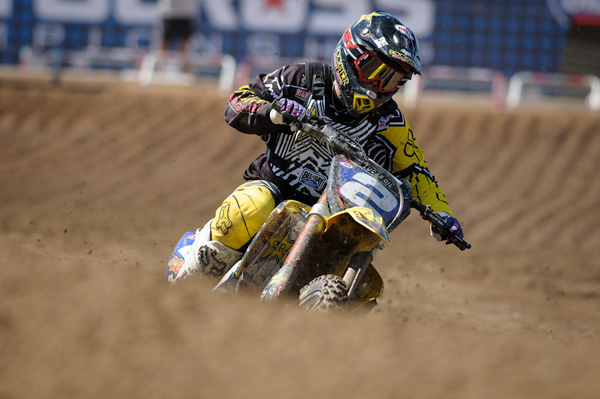 How would JP$ do in a Canadian national? That's a great question, let's make it happen. Lissimore photo
Hey Steve,
Just wondering how you think the top women riders in the states (JP$ and Ashley) would fare if they tried their hand at a Canadian national against the men in the MX2 class.
I am sure they would qualify since the gate isn't even full. But could they run the top pace?
Top 10? Top 5?
Where do you think they would finish?
Thanks, Levi
Levi, thanks for writing in and it's a good question. I think that seeing as how these girls are a top ten B rider in the USA, we'd have to put either of them inside the top ten at a Canadian national. At the last round at Walton we saw Dakota Alix, a top B rider finish inside the top five in the B class so why not a top ten for the chicks?
I'd like to see this actually, I'm going to tell my buddy Eddie Ray (Patterson's man-friend) to see if he can get Jessica up there for a race. It would definitely get them some press. Then again here's the purse payout for the MX2 class up there:
1)$400 2)$300 3)$250 4)$200 5)$175 6)$160 7)$150 8)$140 9)$135 10)$130 11)$125 12)$120 13)$115 14)$110 15)$105 16)$100 17)$95 18)$90 19)$85 20)$80 21)$75 22)$70 23)$65 24)$6025)$40 26)$25 27)$25 28)$25 29)$25 30)$25
so if you went 5-5 you'd take home $250 bucks minus your entry fee of $80 so your profit after 50 minutes + 2 laps is a grand total of $170. So there's that.
I say top ten- stamp it.
Steve,
I vote yes on the Joker Lane for sure! How many tracks have we heard guys complain about it being one lined and there was no passing? I thought the same thing was going to happen when Tomac caught up to Dungey and Barcia in the third moto. No way around, then an excellent choice on the Joker Lane early. I even thought it was a bit funny because of hearing RC say all night long that he thought it would be best to take the Joker Lane late.
You're absolutely right when you said a rider complains about it when it hurts him and the guy that it helped thinks it's great. It added the unknown factor to it for us fans. You couldn't tell who was going to win until the last lap. That's the best part.
Steve
PS. There's always the under over bridge!
Yeah Steve, I agree it was a cool idea and worked out well at the MEC. And you know what? I say bring it into a supercross or two, go ahead and try it. If it doesn't work out for whatever reason then scrap but it but heaven forbid us trying something new in supercross to try and help the sport out. The general consensus in the pits is that the Joker Lane was going to be took later in the race unless you were buried behind some guys. Tomac broke that rule by dipping in early on when he was with a couple of other guys but wasn't really too "stuck" if you know what I mean. It proved to me a smart move as he won the race when Barcia ducked in late in the race. And thereby saving Tomac the time, energy and possibly avoid getting Bam-Bam'ed as he tried to get by his old teammate.
I've already heard the naysayers talking about how there's no room on the tracks for a Joker Lane (and by the way, I know Monster wanted it called something different as does Feld so we've got to come up with a better name. Maybe the "Ur Effed Lane"? Just spit-balling here) but really, there's plenty of concrete showing at any given supercross race and you don't have to put anything gnarly in the lane, just a mound of dirt even. In the split-second world of supercross, a 2-3 second lane will make a difference. Let's try it
Steve,
I got on to your show from your Youtube series, reporting from the Outdoors venues. Your radio show is great, but here's some advice:
1. Bring back your videos, they are classic wit, not seen anywhere else in the sport.
2. Get some leveling sorted out for your mics. Tits is way too quiet. If we turn up the mic to hear what he has to say, our eardrums are burst when you do the "Yeeeah!!!"
3. Take credit where it's due. Those assholes at MXA are soooo jealous that you called Stewie's switch to Suzuki months before it was out there. Rub their faces in it. So many calls you have made way before anyone else, you are, as you say, the only one out there doing serious journalism on the sport. Also not afraid to call it how you see it and if even the big guns don't like it, the fans love you all the more for it.
4. But don't undermine your own professionalism.
Take a cue from H&H: They started off needing some "novelty" element. But then they moved on and are now considered a serious professional operation. Your radio show would also be considered a serious professional operation, except for that "Brokeback Mountain" shite at the end. Seriously Steve, ditch that shite. To continue with it would be like Christophe Pourcel: had all the talent and skills, the contacts, the sponsors, could have been the best in the world. But he was a dumb-ass. Seriously, dump that shite and take your place as the sport's premier, serious, professional, journalist.
5. Fans would love to know how much pay riders get these days. The MEC prize money list was very interesting, but we want to know what does an RV or a JS7 get in salary/endorsement. What does an Alessi/Milsaps/Short get? How about a 10-20 guy? Surely JT$ will share some insight now that he's no longer doing it. What are the bonuses for a race win? How about the Lites guys? What about the Euros?
Kevin
Kevin, thanks for listening and I'll take your questions one at a time, it just seems easier.
1- The videos you're talking about were the "Bottom Line Show" from the nationals that were originally Davey Coomb's idea to make a serious sort of video show with all the scoops from the pits. We quickly realized that no one was giving up anything if substance so it just turned into pure comedy each week. But with the switch to the one-day format for the nationals, it became pretty hard to find enough time in the day to film everything because I was borrowing the Racer X Motocross Show guys to film, I had my media duties to fulfill and when I went to the track on Friday to film, no one was really there. We did three seasons of shows (many of them on the Pulpmx Youtube channel) and they were fun to do but near the end, I struggled to make them funny, to film them and it became a chore. Maybe one day they'll be back, who knows?
2- Sound quality is something we're always struggling with and working on. I just bought an Adobe program to try and level things out post-production and working on that a I type. Tits is a quiet spoken dude and when I turn him up you can hear him typing away on the computer as he IM's Swizzle and Moser during the show to see what they had for dinner. It's a constant battle for me to get the show sounding as great as possible.
3- I'm not going to take credit for anything, sometimes I'm right about stuff, sometimes I'm wrong about stuff. I obviously strive to get reports right but oftentimes, things ebb and flow with deals and rumors and you just never know. I'd rather put myself out there on the limb when I have a good source on something and take the risk of being wrong when I know that a good percentage of my readers enjoy that kind of stuff. DC recently made fun of me in an editorial meeting when I suggest we do something on silly season in the magazine by saying that's always my idea but I'm just passing on what I see are my most clicked on posts, biggest podcasts, most retweeted Tweets, etc, etc. The fans want to know about this stuff so I try to give it to them. As far as the MXA guys, who cares about them? There's some great guys over there but when it comes to the pro pits and what's going on in them, they're not exactly on it. And let's just say that when it came to the Stewie stuff, my source on that was pretty damm close to Stewart. Like, really close.
4- That ending of the show is from Talladega Nights and I think it's hilarious. That's the only reason it's in there and will stay in there. Surely the 30-second bit at the end of a four-hour show doesn't indicate that I'm not serious about the sport. And I'm never going to be too serious and professional about the sport because that's not who I am. Remember this Bottom Line videos you love so much aren't exactly the "60 Minutes" of the sport. It's who I am and who I'll continue to be.
5- If you listen closely to the show and the Racer X Podcasts, you'll see that I often times ask about the money to different people and usually have a ballpark number of deals from different people that would know. I know fans like that and I try to give it to them without being too intrusive because really, do you want someone snooping around and asking you what you make? Without getting super direct, I do try to get some numbers from different people that would know and put them out there across the different platforms.
Hey Steve, you told me to drop you a line and you'd give me the scoop on you getting poached from RacerX – clearly the moto journalistic coup of the decade. Hopefully your story is as good as Swaps dealing with Jody. Popcorn is ready, let me have it!
Sammy
Hey Steve, a while back now I understand, but, can you tell us why you left Racer X for Transworld, then I believe it was not so long after you went back to Racer X? Did you have to have a heart to heart with DC to return or leave on good terms? You and Swap still good?
Thanks brah
Zinger.
I get this a lot and it's funny that people care enough about a media dude's switch but I'll talk about it. Again. I started off at Racer X Canada and then started doing more and more work for Racer X USA. Eventually I moved into a freelance position with Racer X that I was pretty happy about. After a couple of years, I was hoping to get a raise as I felt like I deserved it but when I went to Racer X at the end of the year when my deal was up, they not only couldn't give me a raise, they had to cut my pay dramatically. There was a sort of reshuffling with Racer X and myself and some other people at Road Racer X were the casualties. I think that if you were to give Bryan and DC at Racer X a polygraph test, they'd tell you that they thought I wouldn't leave and I truly didn't want to but I had to make money as I now chose to not take any other industry jobs after my Parts Unlimited gig ended. So it was moto media or bust for me.
Thankfully, Donn Maeda at Transworld was and is an old friend of mine and had some free money in his budget for the 2010 season and I went over there. Donn and the guys there were great, they did everything they said they were going to do and even got me some more money than they originally said they would. Nothing but great memories from my one year at TWMX and I am still friends with all those guys.
At the end of 2010 Racer X went through some more staff changes and made me an offer to come back as my TWMX deal was up. It was a generous offer and one that I honestly never thought I'd see come my way (it's probably at this point that I should thank Weege for not ever being able to figure out how to do podcasts because that was a big reason why they wanted me back, that and my winning personality I suppose) but I had to be loyal to Donn at TWMX because really, he saved me in 2010. I went to him with the offer and if he could have came close to it, I probably would have stayed because I want to be loyal and don't want to be "that guy" that jumps from job to job. It doesn't look very good. But Donn couldn't pay me close to what Racer X offered and as a matter of fact, he said that I might have to take a cut due to budget restrictions from his bosses. So he wished me well and we parted as friends. I'm hella-pumped to be back at Racer X and I never thought I would be if I'm honest. Weege is one of my best friends at the races and I do think that my stuff fits better with Racer X than it did with Transworld. The old-time racer podcasts at TWMX drew terrible (comparatively speaking) numbers as their readers are younger and maybe not into that stuff as much.
I'm proud that I've been able to maintain good relationships with both TWMX and Racer X when I worked for the other side and I think that says something for the way I interact. I didn't run around and shit-talk the other side when I wasn't there (like some people do) and I was open and honest with both companies while I was there. And I think I worked hard also. There you have it, the not very thrilling accounts of a moto media guy.
Hey Matthes; I sent a similar msg to your FB page; but please check out Australian Supercross FB page. I know you know Chad is here racing it, but they would kill for some good US exposure and Pulp is an awesome free medium. Perhaps an interview with Chad from Aus or 1 of the organizers.? Any help to the growth of the Aus MX scene would be appreciated.
On a side not, been following US mx/sx for years now and only discovered your show in past 18 months. Great to hear riders chat and call it as it as, the stuff that happens behind the scenes that you guys are privy to in the pits/media. Listen every week at work. Got a 2 yr old son, on a bike already. Want him to have the opportunity to be great but don't want to push him. I'll send a pic if I can get the shows email address.
Keep up the good work. Go reedy. Go Australian riders… 1 day MXDN winners.
Ashley
Thanks Ashley, appreciate the nice words. It seems that the Aussie SX series is starting anew and it looks to be a nice little series. Maybe the old promoters got ahead of themselves a bit by trying to be this series that attracted USA guys and paid out big money. Just be what you are, a nice off-season sx series that offers the guys a place to make a bit of money and hey look, Chad Reed even showed up! After the war of words between Reedy and the old guys, I wasn't sure you guys down under would ever see the two-two there again.
The Pulpmx Show and Pulpmx.com site are helped out by some serious Aussie numbers when it comes to visits and downloads and for that, I thank all of you blokes and shelias.
First off just want to say love the show be because u guys are the real deal!
I love it when you are giving K-Dub shit and he gets all worked up. But somehow he doesn't come off like a bitch he seems like a cool bro. Second I was wondering if u were still going to do the podcast with Mike Brown? He also sounds like a cool dude I bet he'd be a really good time about a 12 pack in! Any way if you still do the podcast could you ask him why he thinks not many guys make the switch from moto to woods after they can't find a moto ride anymore? My moto bros say it's because of the creek crossings!!!
Blake
Blake, definitely the creek crossings bro- those pussy sx riders don't like to get wet. Working on the Mike Brown podcast, not sure what's up with the phone silence from Brownie, I've got to keep working on him like most motocrossers I suppose. I didn't always like Brown, he used to park my rider Kelly Smith a lot in supercross when I thought he didn't have to and then I was on KTM when he was battling Langston for the 125 title and his mechanic was a dick. So we all didn't like his mechanic and then we just assumed that Brown was the same way. Funny how that is when you're in a competitive environment like that. K-Dub is good people. He's a mystery wrapped in a riddle for sure.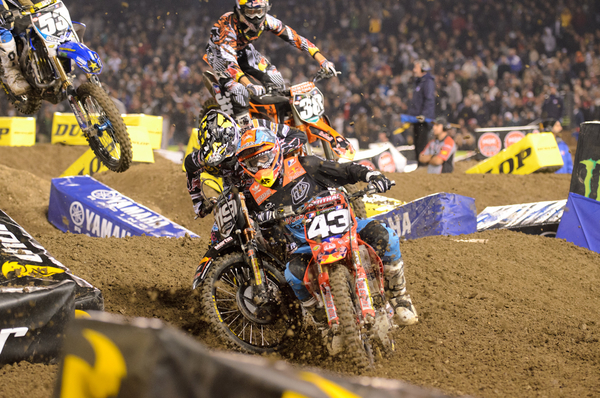 Look at Craig's style right here. Incredible! Photo by Lissimore
Hey Steve, love all the work you do.
My question. Can you explain style to me? So often I hear you (and others) comment on a riders style. "Christian Craig has such great style." For example. When I watch these guys race (only on TV) it pretty much looks the same. They all seem to slightly whip over the triples. They all put their foot out in the corners. Are the differences so minute you can only see it in person? Obviously Reed is doing something different than Blose, is that style or speed? Can you provide some insight?
Randy
Edmonton, Canada
That's funny you bring up Blose because yeah, he's just a bulldog on a bike and not very pretty to watch. But he does get the job done. Riding style is all about body positioning and effort exuded. Some guys look like they're using every ounce of energy up while they're riding and they're all over the bike while others are going as fast but barely moving and have the legs, elbows and arms where they should be. Some guys clip jumps, others hit their marks perfectly. It's just the small stuff really and maybe you do have to be there in person, I'm not sure. I think it's like that age old argument about porn- that you can't describe it unless you see it.
Hey Steve, I enjoyed your obsevations column after the MEC and when you mentioned possible format changes it got me thinking and I came up with an idea I thought I would run by you, here it goes
Opening Ceremonies
450 Heat 1
450 Heat 2
250 Heat 1
250 Heat 2
KTM Junior Supercross
450 LCQ
Intermission
250 LCQ
450 Main #1 10 Laps
250 Main 15 Laps
450 Main #2 10 Laps
I think having the 450 heats first would be a fresh change, you introduce the "stars" of the sport to all the fans in opening ceremonies, and since there all down on the floor anyway go ahead and let them go staight to the gate and get the night started with the premier class. I threw the KTM Junior race in even though its only on the schedule for five races next year (hey maybe only do this format for five races too) and put it before the 450 LCQ to give someone who may have had a mechanical issue in the heat a little more time to get to the line (thinking there should be at least a half hour or so between 450 heat 2 and the LCQ). Run the 250 LCQ as the first race back from intermission as its probably the least interesting to the casual fan and they wouldn't mind if they missed it while still in line for a hotdog or beer. Finally with the split 450 mains let them get gate picks in order of heat race finish for the 1st main but make it reverse order of finish in the 1st main for the 2nd main (20th gets 1st pick and so on with 1st getting last pick). Use the Olympic style scoring for the overall with 2nd main as tie breaker and still use the same points on overall finish(25-22-20-18 and so on).
Just curious as to what you thought of this idea since your the one that got me thinking on it.
Thanks, Justin
Justin. Sold! I like it and agree with you whole heartily on the fact that we introduce our star riders at the beginning of the night to the fans and then, poof- they're gone again while we run through the 250 program.
Oh and congrats to the guys at Feld for changing the class names in 2013 to 250 and 450 from the amazingly dumb Lites and Supercross classes. Between this move and the ultra-smart MEC races, the guys at Feld are on quite a roll right now. They should go to Vegas and just bet the house.
But yeah, back to your format, I like it. Good job.
Hi Steve
Is it true that Ferry doesn't use toilet paper cause shit don't stick to Timmy?
Will JT$ still be doing autograph signings at the races next year and will they retire his number
Where's a podcast with the Rinaldis?
I know you'd like Dungey on the show but let's be honest I thinks his time on the show would be as about as interesting as his race interviews, do u honestly think he'd give a good interview?
What's the scuttlebutt on Showa all of a sudden dominating the 450 class now, I think it's a Jonnyomoto inspired stroke of genius.
Can you please stop with the Cairoli wants to ride in the USA it's starting to get really old now which is what he'll be when he eventually races in the USA which is a pity as he'd be a huge threat to the title. What's he got to prove by riding in Europe now?
How do u rate Germany retaining there des Nations title next year as Roczen and Nagl ride brilliantly at that track.
What's the scuttlebutt on the 2014 Yamaha's?
Keep up the great work Steve (great name by the way)
Cheers Thomo
Ahh Thomo, no mailbag is complete without me squeezing in a letter from you. And I'm sure you asked your lover JohnnyOMoto if it was ok to write in. Hope this finds you well down under and here are your answers:
1- Correct. And on that note, I hope you listened to the two-part Tim Ferry Podcast that came out last week. It's amazing we've never done one (well we did one years ago but he was driving and so soft spoken that it didn't work out) and after completing it, I remembered why we haven't done one. Because he just doesn't remember much or frankly, care all that much about the stuff he's done. I found myself reminding him of things to jog his memory. The guy is classic, there's no really any ego there.
2- I would imagine JT will be signing autographs and hopefully he'll be doing it without his traditional sourpuss face like when he raced. I haven't heard much talk of retiring his number but I imagine its in the works. There goes my hero indeed.
3- There's two Rinaldi's? Huh?
4- I don't think Dungey would give a very good interview but you never know. Him and Watson are quasi-friends and maybe he'd forget what he was doing and drop his guard a bit. I know the KTM guys have spoken to him about being better with the media and saying more but I'm not sure it's working. He is what he is at this point.
5- And there's the Johnnyomoto reference! The Showa thing is huge, make no mistake about it. The KYB guys are telling people that it's because Showa's were cheaper (they're just trying to limit the PR damage) and the Showa guys are saying it's because they're just better. I spoke with RV about this past week and he says with only a day and a bit on them, they work really good and he can't wait to get busier with them.
6- AC222 does want to race in the USA but not a whole season, I really believe that. He'll do a national or two before he's all done. Stamp that.
7- Germany will do great next year and perhaps they'll go in as the favorites on their home soil. I've been to the track before and saw Roczen win his first ever MX2 moto while Nagl led for most of the race before AC got him late. It's in and out of a valley, kind of hard pack, a bit narrow and hard to pass on. Should be a great race, can't wait. Also, the hotel in Leipzig, about an hour away is a real-life Marriott and kitty-corner to it is a Starbucks so it's pretty much the best place I've ever stayed in Europe. I can't stress how much I'm looking forward to this.
8- The scuttlebutt is the bike will be narrower with an all-new chassis in terms of where it flexes. The motor will remain backwards and really, anyone you talk to never mentions the motor being an issue at all. It's got plenty of power but due to the configuration, it is thick up top but the JGR guys have done a nice job of making it skinnier and I imagine Yamaha has looked at what they did. As well, the rear of the bike is too stiff and the front is too flexy so I'm sure this will be fixed by adding aluminum and taking away in all the right areas.