The creator of Inside the Outdoors talks about the new series that has just launched on Fuel TV
The creator of Inside the Outdoors talks about the new series that has just launched on Fuel TV
For years now the talented Mr Troy Adamitis has been giving a fresh look at our sport with his Inside the Outdoors series as well as the all the Great Outdoors videos. It was touch and go for a minute there but Troy and his roving crew of camera people managed to put together a look at the 2012 season that is different from what we've ever seen and opened some eyes all at the same time. I managed to catch Troy for a bit to talk about the season and the first two episodes that have already aired. For more info on the series check it out HERE
Me- Troy, thanks for doing the interview. Inside the Outdoors has started, the first two episodes are out and what's been the reaction?
Troy- It started off really rocky, as a matter of fact Fuel TV stopped doing new programming as of 2012 they decided they were going to focus on UFC and they dropped all of their shows. So technically, we were cancelled there after our third season. We and they were happy with the series, we got some good feedback and probably a month before this season started, we had a deal lined up but it fell apart. Fuel did a freeze on the budgets, they were into UFC but they still love motocross and the show but they didn't have the money to do it. I was crazy enough to say that even though it got cancelled, we're just going to do it anyways.
It was a big leap of faith but we believed in the show, we believed that there are a lot of good stories out there so I decided to put my own money up. And that's the reason why there's only six shows this year. So we set a budget for six episodes and went out to start shooting. And we just had to hope we were going to get a network, hope someone would pick it up and give it a home. We kept discussing it with Fuel and they are planning on showing re-runs of supercross and motocross, I guess they do well.
So they agreed to help us out with the airtime but we had to pay for the shows ourselves. So we had to find a sponsor for the shows and Oakley stepped up for us. They decided they were going to partner up with us and make it happen. Without Oakley, the show might have happened but they were able to cover our costs and our gamble paid off. And now we have a fourth season, that's the deal with it. I just didn't want it to go away and I hope in 2013 we can work something out but I knew I needed to keep the series going, to bridge the gap and I think we have a success with how it's all worked out.
When you called me a while back and started asking me about these back-stories on riders, I wondered what your angle was going to be but we see it now, you're looking at life away from the track and the pressures that these riders are under. It's compelling stuff.
I think that this year was probably the best year to do something like that, I've been criticized in the past for not including the guys behind the top five. We've never really focused on them and I think that's because the network and people overall, want to see the star power, the names like Villopoto, Dungey and Reed. So this year, with Dungey running away with the title, I noticed that there were several shows online that were covering the major guys and covering the series. I just figured this is the perfect year to venture off and talk to guys like Tommy Hahn, Kyle Chisholm and Nico Izzi- guys like that. What we found out was that the kind of things you talk to Villopoto and Dungey about and the kind of things you talk to Kyle Chisholm about are totally different things. It starts to get into some material that is a little more controversial, a little more about why these guys continue to do this as it's a struggle and why is it such a struggle? Like why do you get eighth place? Is it the team? The bike? A personal issue and I think that to validate why this sport is so great, why it's the greatest sport out there yet it's so brutal we were able to show that by talking to some guys off the podium. It gives some insight into the guys that make it happen but don't get the glory.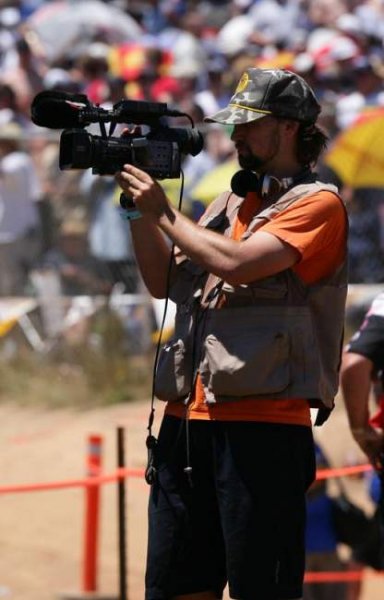 Troy Adamitis hard at work. A Cudby photo
And kudos to Josh Grant and Colleen Millsaps for talking about things that aren't cool…
Yeah, they put themselves on the chopping block. Everyone knows how judgmental the sport can be, the fans and media can be. And I couldn't thank them enough for letting me tell their story. And they're just like, "Well alright but it's not all pretty" and so I just think when people do that they're able to answer some of the questions to some of the rumors that are out there. They're able to address some of the things that are said about them. I just think they're interested in helping the sport grow as well by helping out by giving us their story. Their lives are no different than ours with the struggles that they face. They're not going to hide and maybe along the way people have a better understanding of what it's like to be me.
It's funny because Pulpmx made the last episode and I got Tweets about how it was awesome that I was in there and telling it like it is and yet others I got was that Davi punked me and I'm an idiot. I think you as a filmmaker are doing a great job when you present something that gets equal reaction on both sides. You've told the story well and people are making up their own opinions which I think is a good thing.
Yeah and it's always a struggle for journalists or show makers or whatever, and you know, to get that story out there. It's a fine line and you don't want to air everyone's dirty laundry but you don't want to give some sort of access or insight as to why things happen. And with all the secretness that goes on, it makes it difficult and at times it makes the sport uninteresting. The guys put their helmets on, they go ride and if they don't make the podium all the guys can do is say that the rider doesn't want it, he doesn't train. And instead of just assuming that I think it's worth the effort to find out why, what's going on in their life. And if I was going through what Josh Grant was going through with his finances, I don't think I'd be getting podiums either. It's gnarly and I'm proud of what we've done and I appreciate all these guys trusting us with their secrets and letting us tell their stories.
Is there one episode that was the best, the gnarliest one- have we seen it, is it coming up? Which one stands out in your mind?
It's tough to beat the Josh Grant one and we wanted to start off with that one. We just wanted the audience to know right off the bat that this year, things were different and it wasn't going to be about racing. It was going to be about how these guys got to their situation that they were in. So we wanted to start off with one about how, if you're not winning this is what your life is like. It's brutal out there, the way they get paid none of the guys can cruise around and not put in the effort. I think they all of their uniqueness to them, I think that Izzi's coming up- episode three- his is very insightful and he opens up about how he was the guy who had it all. It was all right there, teammates with Dungey, and it just all slipped away as he went down the wrong path got injured and how do you recover from this? How do you recover from a few bad years? Can you do it? I hope so but history has told us that there isn't too many comeback stories in the sport and we're hoping it happens with Nico and it motivates and inspires him to have a better life for his daughter and himself.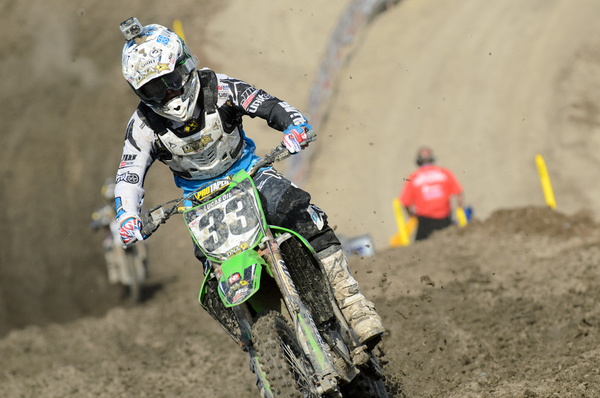 Inside the Outdoors Episode 1 featured Josh Grant talking about his off-track struggles. A Lissimore photo
I don't understand why the supercross folks don't see the value in letting you do this in supercross or at least getting their own people and trying to do something similar for supercross. Any idea if you'll ever be allowed to film that?
Well actually, that may be changing. The amazing thing is I got a call from Feld and they want to do something with Ryan Villopoto so this will be my first show with them. I believe this is going to happen in February on CBS and I'm hoping that this is the first step towards a long relationship with them. The dollars and the eyeballs are on supercross, they have a great package and that series is doing well. I'm hoping that it's the first of many projects with them. I'm glad you mentioned that because I've been trying to do things with them for a long time. I just think they want to have everything in house but hopefully this starts something.