Yamaha's tired of being pushed around and for 2013, they're hoping to do some pushing of their own
Yamaha's tired of being pushed around and for 2013, they're hoping to do some pushing of their own
Photos by James Lissimore
There's no question that Yamaha, not that long ago a premier factory team and an innovator in forward thinking, has fallen on hard times. The economic slowdown that has cut bikes sales 50% or greater in the last five years, cost Yamaha its factory team and it's reputation.
Losing the factory team was a blow that could have been softened by aligning itself with some better outside partners (outside of Joe Gibbs Racing, there hasn't been a Yamaha team that has won much of anything in the last few years and even JGR probably hasn't won as much as they, or us, thought they would upon entering the sport in 2006) but the realities of having a 250F that is outdated and a 450F that is perceived as a bike that is hard to ride is a double whammy to Yamaha that's been tough for them to overcome.
Whether or not the forward thinking, radically different 450 IS actually a hard bike to ride is difficult to say. James Stewart breaking a lucrative multi-year contract to get off it is a tough PR hit as is the other pros that have had difficulties on it and the poor magazine placements in the shootouts. But riders like Davi Millsaps have done well on it, as has Justin Brayton and for Joe Average, it's probably a bike that has as many pluses and minuses as any of the other four OEM machines. The 250 has seen some tweaks here and there but there's no disputing that with its external oil tank, older five-valve motor design and carburetor, it's competition is much more of a sexy choice for racers everywhere. You can certainly win races on a Blue 250F but it's a lot harder than on another color.
For years Yamaha has sort of just plugged along, either refusing to do much about it or having been unable to do much about it due to the finances doled out to the racing departments. At Anaheim one this year, only 1 privateer out of 73 entered in the 250SX class rode a Yamaha, in the 450SX class it was a little better with 4 out of 53 on blue. Going back four years, in 2008 8 out of 67 250SX riders were on Yamaha's. In 2012, professional racers are clearly on the ABY program as in "Anything but Yamaha" when it comes to their choice of bike to race.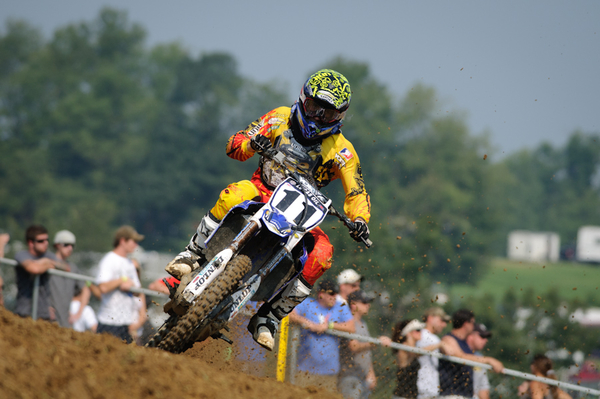 Kyle Chisholm is going back to blue for 2013.
But things are different now, Yamaha's revitalized itself and its racing efforts for 2013. They're looking to get some blue back onto the starting lines of professional supercross and motocross. It's a two-pronged attack for team tuning fork and one that, in my opinion, should help out its flagging fortunes dramatically.
First up is a dramatic revamping of Yamaha's contingency plan. A major makeover by blue to get the money to the riders that actually need it. Yamaha's 2012 contingency program is laughable at best, a top three payout and oh by the way, if you're a rider on a Yamaha supported team such as JGR or Star Yamaha, you're not eligible to claim this prize. Only Zach Osborne, a factory supported rider in Europe was able to actually make a claim for these Yamabucks based on his two podiums in supercross in the 250SX series.
Below is the 2012 Yamaha payout:
2012
250SX/250MX & 450MX 450SX
1- $15,000 1- $15,000
2- $7,500 2- $10,000
3- $5,000 ($27,500 total) 3- $7,500 ($32,000 total)
And here is Yamaha's recently announced 2013 contingency:
2013
250SX/450SX 250MX/450MX
1- $10,000 1- $10,000
2- $5,000 2- $5000
3- $4,000 3- $4000
4- $2,000 4- $2000
5- $1,000 5- $1000
6th-10th $700 6th-10th $700
11th-15th $500 11th-15th $600
16th-20th $400 16th-20th $550
(Total $30,000) 21st-30th $450
31st-40th $400
(Total $39,750)
As you can see, the total dollars invested isn't much different and it's actually slightly worse for the 450SX guys but there difference is that Yamaha will have to pay some of this cash out. Or at least they hope so. Every rider that makes a main event will get paid money for choosing Yamaha. If a rider like Weston Pieck who made eleven out of seventeen main events had been on Yamaha in 2013, he would have made almost $7000 for his efforts.
For the outdoors, it's nice to see that every single rider in the top 40 on Yamaha will make something for his efforts and Yamaha's put over ten grand into the motocross series- something that is nice to see. In 2013 it's going to pay to ride Yamaha and in my opinion, a program like this will make a bit of a difference in what a privateer chooses to race.
The second action that Yamaha has done is throw more support out to the pro teams out there. Besides it's stalwarts of Star Yamaha and JGR, the Valli team is back (its merger with the Star team last year resulted in a cluster for all involved) with a limited 250SX program with Travis Baker but outdoors will be going with Brett Metcalfe on a Yamaha as well as Baker. There's also a Velocity Racing team that is new to the game. This supercross-only team will be on Yamaha's and have Bobby Kiniry and Kyle Chisholm. As well long-time privateer Honda team Eleven-10 Mods team is going blue with Alex Martin and one other rider (no word on whether their black box van will be painted blue or not) and the Ti-Lube team, last seen on Kawasaki's with Nick Wey, will be blue with Phil Nicoletti and one other racer on 450's. That's three new teams (if you count Valli coming back) on Yamaha's and one older team switching to Yamaha's.
Four new teams in the pits with eight top twenty (at worst) riders all on Yamaha's and all making their presence felt. All of these teams get bikes, money to buy parts and use of the Yamaha supercross track as well. And don't forget Justin Brayton, Josh Grant, Kyle Cunningham, Jeremy Martin and perhaps Cooper Webb once nationals start all on Yamaha's also.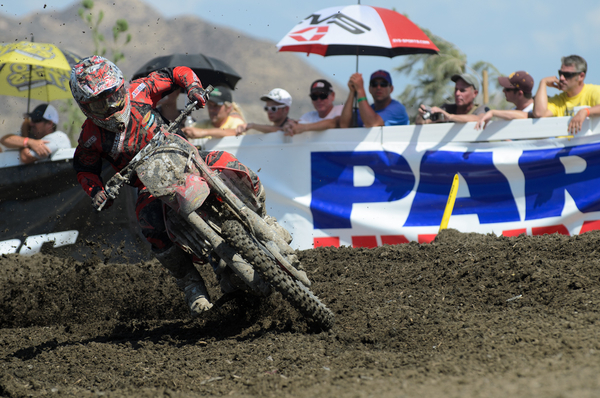 After a few years on Honda's, Alex Martin and his Eleven-10 Mods team will be on Yamaha's next year
There's also a re-developed Yamaha YZ450F coming in 2014 that the teams have been told they may be able to get on for the motocross season next year. It's still going to have the backward motor design of the 2013 but will have a new frame with better, more predictable characteristics as well I would think we'd see some sort of new "JGR style" tank and shroud combo and wrap-around header that we see now. According to sources I've talked to that have ridden the bike, it's much improved and able to turn on the level of it's counterparts.
Fans on the message boards and in the pits point to Yamaha's withdraw of its factory team as the reason why things have headed south in recent years and although Yamaha has had a long history of producing some iconic riders (Johnson, Glover, Hannah, McGrath, Windham, Henry, Windham & Reed to name a few) it's not the demise of the in-house team that did them in. In my opinion, it's not being able to align themselves with a GEICO Honda or Pro Circuit- a solid stable team capable of hiring riders and producing results. For example, when Kawasaki and Suzuki teamed up to produce a 250F, the results were terrible (overheating issues among others) and they were blowing up left and right with a team like Motoworld but Pro Circuit just kept on winning. Teams like these can make an outdated bike work, Yamaha of Troy-before it went off the rails- is another example of some structure and smart people producing results.
And then there's perception, a powerful thing in our sport. You have a program like JGR but they've run into walls with potential riders who don't want to ride the 450F. The Stewart debacle (and let's face it, it was a debacle) cost the team much more than money, it cost them in the court of public opinion. So you have a perfect storm, if you will, of teams that don't have a good reputation and when you have a team with a good reputation, the stigma of the motorcycle comes in.
Give Yamaha credit, they've seen their reputation corrode over the past few years and are fighting back with money and support. It remains to be seen if it's too little, too late but at least if this doesn't work, they're going down swinging.