It's 1AM in Geneva, Switzerland and this is what comes out of that
It's 1AM in Geneva, Switzerland and this is what comes out of that
As I write this here at the Movenpick hotel in Geneva, Switzerland I realize that I've made a huge mistake. It's 11:47PM here and I'm wide-awake. As any experienced traveler to Europe knows, in order to adjust to the time change as quickly as possible, you've got to get on their time right away. That means when you land at 7:30 in the morning after flying all night, you've got to stay up and fight through the sleepiness in order to go to sleep right away that night.
But nope, I laid down for what was supposed to be an hour or so nap (shocker I know, but I didn't get much sleep on the flight over) and it turned into six. So here I am, pounding out this blog because as most of you reading this know, nothing puts you to sleep like reading my stuff. If reading it works, you should try typing it.
First off, the disclaimer. I didn't want to come here. When Eric Peronnard asked me at Endurocross if I wanted to come over and check it out I eagerly said yes because a free flight and hotel seemed like a pretty good deal. I travel a lot and while getting on an overseas flight to go watch a dirt bike race seemed like a good idea at the time, on Tuesday night while I was packing? Not so much. As excited as I was in the moment, it soon dawned on me that it's not all Toberlone's and candy canes in these trips.
If you add up this trip, the MXDN, the Bercy supercross and my two trips to Canada to go watch nationals up there, that's almost an extra 30 days on the road for someone that already goes to 29 supercross and outdoor nationals in a year. And this is my seventeenth year of following this circus as a mechanic or media guy. You get to a point where home time is very important time and I'm sort of there these days. The last flight into a city, the first flight out and "oh yeah, can I get out that night?" are all regular occurrences for me. It seems like only yesterday that Lissimore, JT and I piled into my truck for the drive home after Pala National.
Seriously. I think it was yesterday. Where in the eff does the time go?
So I trudged my ass to the airport at 4:30AM on Wednesday, my wife begging off airport duty at that hour and I can't say I blame her. Not even the Bassets were up at that hour. I got a half-hearted tail wag from one of them as I walked by. The other one was snoring away dreaming of muffins and cheese.
But somewhere over the Atlantic while watching Ted for the third time, I had a complete attitude change. It's a big-picture attitude, not the small one. Yeah, I was somewhere on hour ten of being in an airplane and I was tired and yeah I'm going to be a walking zombie this weekend as my sleep patterns are all off but I was lucky.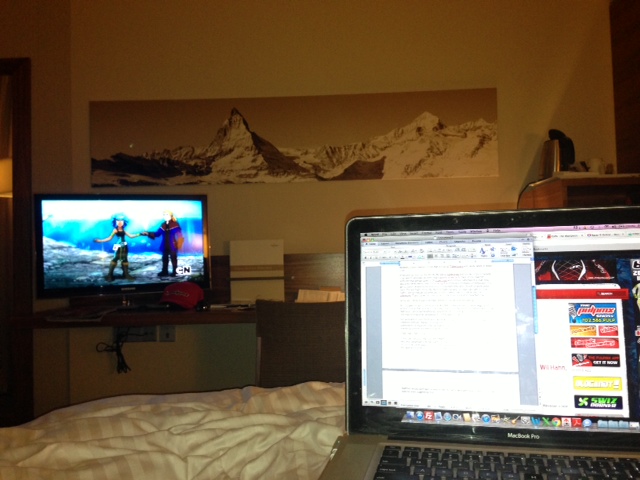 The view as I type this in Geneva, as far as English TV goes it's cartoons of CNN. You can guess which one I picked.
Yeah, that's right. Lucky.
If you had told a 21-year old Steve Matthes who had a dead-end job he got laid off of, who was desperately trying to get out of Winnipeg to be a mechanic on the AMA circuit if he'd ever pass up a free trip to Geneva (well it's not totally free as I empty my bank account with duty-free chocolate purchases on the way home), that Steve Matthes would have said no way in hell. Actually, he might have kicked you in the nuts for even suggesting that.
So yeah, there are lots of things that aren't fun in going to a race like this (or Bercy, or the MXDN or Canadian nationals) but in the big picture, how lucky am I? As a fan of this great sport (that's what we all started out as) to be able to go to a European supercross where Marvin Musquin, Justin Brayton, Mike Brown and others are going to be battling it out over two nights is pretty cool, And it's free! Free to get here, free to stay here, free admission to the race, all-access pit pass to hang out with the riders- it's something that as a kid bicycling to 7-11 every day "around" the time you think it's time for the new Motocross Action Magazine could've never imagined.
So yeah, I'll complain here and there about stuff-we all have a tendency to do that no matter what-but it's important to have a big picture look at these things and sometimes sit back and think about how lucky you are in whatever you're doing.
And for a motocross fan like myself growing up in Canada, it doesn't get much better than this.
Time for some sleep, I've got a great day coming tomorrow.