I don't know much about the guy but reader Isaac Scoggin penned a little ditty about when it all goes wrong
I don't know much about the guy but reader Isaac Scoggin penned a little ditty about when it all goes wrong
A Dream turned into a Nightmare
By Isaac Scoggin
Photos By James Lissimore
Martin Luther King Jr. once quipped the following line that will forever hold a place in our minds and hearts, "I have a dream…" What most people do not know is that his final speech was much more dark, and portrayed the eroding fissures that had crept into his dream; thus, he spoke these words, "I have seen this dream turn into a nightmare." Who knew these powerful words could transcend race and now, like a clock out of time, be rewound and start anew with the 2013 Supercross season. (Notice the emphasis is on the words not the Civil Rights movement, just so people don't get up in arms about the point here.)
The dream of a new season with all the major players healthy and riding full steam ahead into the unknown that is Anaheim 1, coupled with the mirage of a five or six man race with nearly all on different brands of motorcycles seemed to be obtainable. Yet, our dream made it to the end of the second practice session before we saw the eroding fissure that began as a small crack, we knew it would inevitable grow, but we hoped otherwise. James Stewart, fastest man on Earth as some would call him, "tweaked" his knee after setting the fastest practice time. No doubt the idea of a mental game breezed through the air and infiltrated the sense of the teams in the pits as James has been known to play up an injury and then wax the competition to get into there head. The reality was much different this time however, as it was indeed the beginning of our nightmare.
What a beautiful nightmare it would turn out to be, not because of James's injury, but because of the racing that ensued throughout the evening. It was evident from the drop of the gate that James was intent on getting through the night with some points, but the even bigger blow to the previously stated dream was the speed at which Villopoto blazed through the pack in his heat, along with the stale form showed by Dungey and Reed alike. They were not slow or even that far off of the top pace; however, they seemly were lackluster in intensity and ferocity on the track. The fissures were indeed growing exponentially as the second heat drew to a close with Barcia barely withstanding the pressure of the two-time and reigning champ. It was obvious that Villopoto only needed to start up front to reel off his third consecutive opening round win, and begin a promising campaign to be the third rider to ever three-peat in supercross.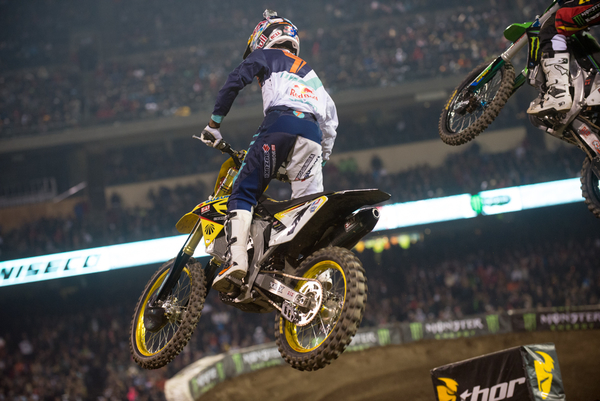 It all started out so well for James Stewart at Anaheim, no he's got some problems.
Anyone who has watched the last few years of Supercross or Motocross racing understands the role of consistency in a long series of racing. They would also know the importance of sheer speed and the willingness to never settle for any position other than first. We have a pair of front-runners in Reed and Dungey who settle and only attack when a golden opportunity presents itself. At Anaheim 1 the golden opportunity lie in wait for the past champions to claim it and announce themselves as the man to catch as the series marched through the west coast. Consistency has its place in racing, and they both may have made a great decision by settling for third and fourth, but nevertheless, they left something on the track, and it very well could have been a championship come Las Vegas.
Inversely, James Stewart and Ryan Villopoto remain the most aggressive and outwardly passionate racers on the track. They do not play the game of chess that Dungey and Reed do; they attack and crush the spirit and will of the opposing riders, and they do it week in and week out. They may not win every race, but they will ride to the limit of the tracks abilities and beyond to make sure you know they are catching you. No mind games are in the subtleties in what they do because what they do is not sublet. What they do is push themselves and the other riders every time they are on the track. Either you will falter or they will, but it makes no difference to them. They will only come back the next weekend pissed off and ready to push you harder. Stewart had no choice but to subscribe to the philosophy that people have begged him to over the years, to get points and not push it if it isn't coming easily. I ask you, when does it ever come easy in Supercross? As for Villopoto, it was not his night, but he did not care. He pushed it and paid a heavy price and next week he will be back and looking to put the other riders in their places. An 8th for Stewart and a 16th for Villopoto may have also been the beginning to the end of their championship runs. Come the final round they may also look back at Anaheim one and see their own dream of a third Supercross Championship turned into a nightmare. No mistake about it, if they could they would change how it ended, but the clock has already been rewound and is now moving forward at a seemly, increasingly, faster pace.
The top four riders in the 450 Class just played the hands we always knew they had, but had already forgotten about. Their on track personalities shown through as we have come to see from time to time, and yet it was unexpected by all who watched: Stewart was smooth until the moment he was hurt, Villopoto was aggressive until his third incident left his sails without wind, Dungey stumbled to take advantage of a golden opportunity, and Reed rode like a fifth place guy instead of the winner we all know he is. And so our perfect little dream crumbled and fell to dust, and all that remained was a nightmare. Oh, what a beautiful nightmare it turned into! Just as I imagine Mr. King Jr. would have thought had he been able to see how it all turned out for the fight he pursued so heavily.
Davi Millsaps and Trey Canard just rode two nearly perfect races with pressure the entire time. I have never witnessed a more beautiful display of near perfection and resilience on a Supercross track than what these two portrayed. The race for the win was in question for twenty laps and whichever of these two emerged as the victor it mattered not, they had already placed themselves into the light and out from the darkness. A reminder to all of us that every rider out there is special, and the talent level has been elevated beyond just five. What is more impressive I ask you, being judged before the gate drops as Millsaps was, or people doubting Canards ability to ever regain his former speed and place among the top? Let us not forget a rookie was in the hunt until a late crash displaced a sure third at that point. Barcia was in the mists of showing patience and speed. I have little doubt that he is turning into a championship contender already. It was a night to forget for a few, but a night to remember for so many.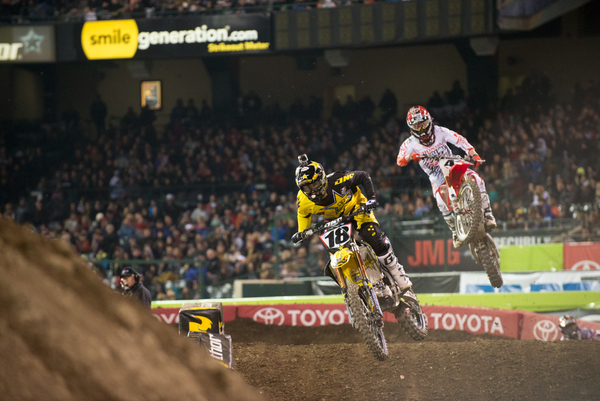 A1 went great for these two guys.
With all things that were expected we were all shocked at what we all knew was possible from the history of every one of these pro athletes. I am shocked that I am shocked at these results. As fans we buy into what is sold to us by the teams and the media, and by the last few races in our memory. We always seem to forget the truth that lies in front of us and personalities that we have witnessed all along. Nothing that happened should have turned our dream into a nightmare, but it did. Not just for some of the riders, but also for me, as a fan. I look back and I understand I should have known better, but our short-term memories and our ability to be influenced by the industry pulled a mirage in front of the truth. Truthfully, I am glad that it did, because the shock that was Anaheim 1 was a welcomed one.
Martin Luther King Jr. was a pioneer and a believer. He believed in the future and in a moral code that was inside us all, he believed that freedom was universal and more than a word or an idea. The eroding of his dream and the nightmare that it was becoming was unforeseen by him but evident by the history that had preceded it. Had he been able to see what a nightmare might truly be, I believe, he would have been pleasantly surprised and even proud at where it ended. Just as with the battle for race equality in his eyes so was our battle at Anaheim 1 in our own. A dream into a nightmare just goes to show we don't even know what we really want, even in our dreams.