Foenix – What about Bob……& Baker

Foenix – What about Bob……& Baker
By: Moser
Photos by: Jamie Lissimore

Phoenix is the 6th largest populated state in the USA, I never would have guessed. We have a Just Short regular this week, a rider that was featured a couple times in 2012, a man feared by both bikes and jumps because he just crushes them Mr. Bob Kiniry. The LCQ's were not "Short" of any action this week with Dungey unable to pass the privateer effort of Top Jimmy who celebrated crossing the finish line in perfect boner air form. Davalos showed a lot of heart after cartwheeling like a Russian gymnast off the pole vault in his heat race only to bounce back figuratively and literally to win the LCQ (ever realized how overused the heart analogy is in SX/MX I mean how much heart can everyone have, it's a very loving sport I guess). Lets take a look at the riders that almost qualified for the mains but instead watched from the stands.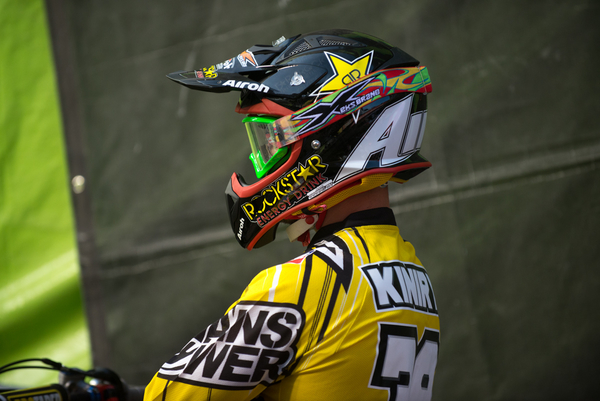 If you look up brick shit house in the urban dictionary this is the picture that comes up (not really and I wouldn't recommend looking that up)
#39 Robert Kiniry – Velocity3 racing, Yamaha, DRD Exhaust, 360
Kiniry commonly and rightfully called meathead, is simply gnarly. When he raced back to back US & Canadian nationals last year just because he could I was impressed. Just like any meathead would he just does the work doesn't complain just keeps going he's a terminator a soldier, use whatever analogy you would like or as JT$ refers to him as a Nihilist.
I assume anyone reading Just Short listens and reads all available Pulpmx content so when JT$ slipped in the Nihilist reference about Bob it went over my head, I understood the pretence but wanted more. The inside jokes and references on the show commonly have me reaching for my iPhone to google or text someone in search of the answer, I'm an answer guy it's one of my many weird quirks.
Urban dictionary gives us a definition
Nihilist
Someone who makes decisions based only on an objective perception of reality rather than emotions or personal benefit.
JT$ was pointing out that Bob is not intimidated by other riders doesn't over think the situation and just races lap after lap, race after race aka meathead. It also is a reference from the Big Lebowski which I'm reading between the lines here and assuming is the inside joke part between JT$ & Matthes both being Lebowski fans. Bob is riding for the new Velocity 3 team with Chiz, I don't know much about the team and maybe next time I'll do some research on them, see what I did there I'm making you come back for more. Bob and Chiz both have had some of their best finishes on the Yamaha so it seems like a good fit to me a guy sitting behind a keyboard.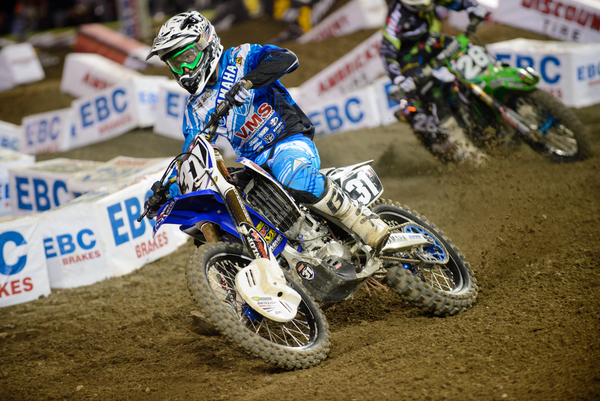 Baker is riding blue this year, and was left feeling blue in Phoenix.
#31 Travis Baker – Valli Motorsports Yamaha
Baker road for the TLD team for 2 or 3 years with decent results, I think overall both him and the team expected more. He had some flashes of speed and top 5 finishes that would lead me on, picking him in my fantasy SX league only to be left feeling blue at the end of the day, he lacked consistency so it was hard to know when he would go all the way. Going off memory which isn't the best I think Baker has had some random bad luck, bike problems and such. Baker seemed like a good fit over at the TLD team and by that I mean from the outside looking in he fit the image and appeared to have synergy with the team.
During silly season Baker found himself in a position most guys dream about, wanted by two teams, a moto version of the Bachelor if you will. Do I stay with my current girlfriend or do I take out that girl from the bikini barista that shows me a little more skin than she has to. It's a tale as old as time and there is no correct answer we all have buddies that have chosen either way and made the wrong choice, dumping the nice girl for the skank or staying with their current girlfriend and passing up that wildcard that was smoking hot. Baker could stay with TLD they're comfortable with one another there's no awkward where do I put my hands, they both know their preferred riding positions.
But maybe riding in the same position has gotten a little boring, with your every move you know the counter move, the excitement is gone. Having someone proposition you is always a good feeling, which is why I always whistle, honk or compliment women on their assets to boost confidence in others. When Yamaha started hitting on Baker I'm sure he was flattered but was probably happy with his current relationship, but then they start texting, one thing leads to another, TLD finds out and now both rides are throwing themselves at him. I can only image the text pictures of titanium bolts and nuts that were being passed around. Ultimately Baker decided to change it up move on and try a new ride I've lost track of what the actual team name is this year, the ama score sheet lists it as Valli Motorsports but I thought Valli was out, anyways it's the Yamaha 250 support team that also has Cunningham and Morais is the team manager this year.
Although the production Yamaha 250 is pretty outdated you don't hear many complaints about it, maybe it's a tried and true thing I don't know the package must feel good to have Baker jump on it. Is Baker happy with the switch did he make the right choice? I don't know and it's probably too early to tell if he lays in bed at night dreaming of his old ride or his new one. One more thing about Baker he has that perfect wavy hair, I bet he never combs it and it just always has that surfer I don't care messy but fashionable look.
Thanks for reading this Short recognition of the guys that almost made it. See you next week, Moser
Please send all comments to jasonw@racerxill.com