For this week's Classic Steel we are going to take a look back at Damon Huffman's US Open winning 1998 works Kawasaki SR250.

For this week's Classic Steel we are going to take a look back at Damon Huffman's US Open winning 1998 works Kawasaki SR250.
By: Tony Blazier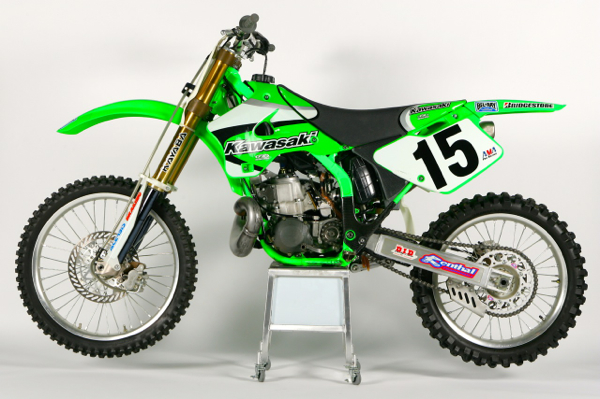 Damon Huffman's works SR250 was in the fourth and final year of its development cycle by 1998. The design had proved extremely successful, taking Mike LaRocco and Jeff Emig to multiple National titles during its four year run. While the '94 thru '97 SR's had been well liked by the riders, the '98 version proved to be far more polarizing. Changes made to the bike in off-season testing proved far less successful once on the track. By mid-season, Kawasaki would end up going back to their '97 set up, in an attempt to turn around their troubled season.
The 1997 season turned out to be one hell of a year for Team Kawasaki. For starters, after a decade of domination, Jeff Emig and Team Green finally broke Honda's stranglehold on the Supercross title. Then Jeff backed up his shocking '96 250 Outdoor title with a second championship victory, this time in domination fashion. It looked as if the pendulum of motocross power might finally be swinging toward the boys in green. With both number one plates in hand, and a stable of young up-and-coming riders, 1998 looked to be one heck of a year for Kawasaki. Unfortunately, 1998 turned out to be anything but.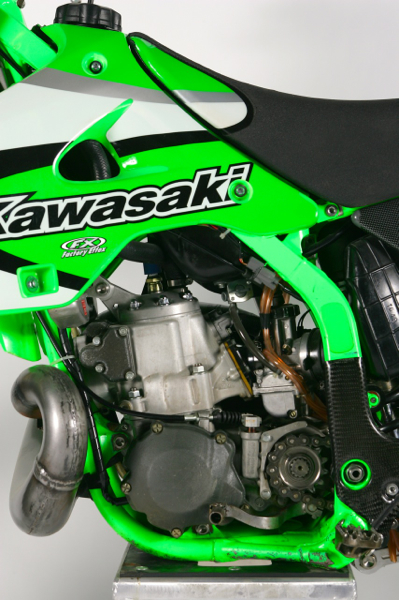 Unlike many other team's "works" machines, Kawasaki's SR factory bikes were not just run-of-the-mill production machines tarted up with some aftermarket goodies. These machines were hand selected in Japan by Kawasaki to be Factory racers and they receive special care at assembly. All the parts were painstakingly analyzed and matched to assure optimal performance. The cases were matched, the crank balanced and the frames checked and gusseted before being powder coated in florescent green. KHI (Kawasaki Heavy Industries) supplied the works cylinder, head and piston, which were then tuned by Rick Asch to suit each rider's personal taste.
The season started out promising enough, with defending champ Jeff Emig taking a second place behind a surprising Kawasaki mounted Sebastien Tortelli in a muddy Los Angeles Coliseum. From there however, things got progressively worse. After having some of the best bikes on the track in '96 and '97, Team Kawasaki riders Emig, Ryan Hughes and Damon Huffman seemed to be struggle on the '98 SR250's. There was talk of arm pump by the riders and poor performance by the bikes. Whispers in the pits pointed to changes made in the off-season that had the riders searching for answers on the track. Ironically, the stock KX250 was universally acknowledged to be the best 250 of '98. With such a strong base to work with, the struggles of the Factory team became even more puzzling.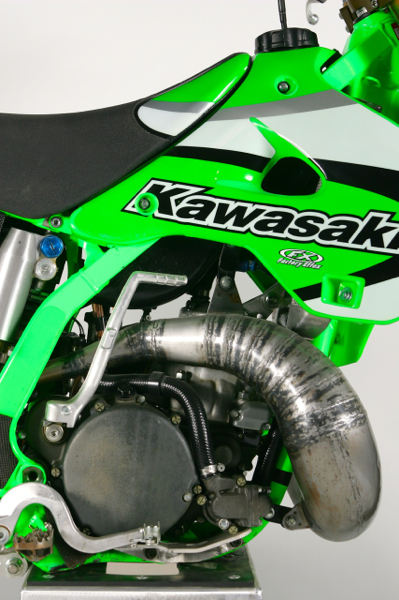 Works magnesium covers were used throughout the SR's motor and helped lend the machine that "Factory" appearance. The super-trick pipe was hand built by KHI and was complemented by a lightweight carbon fiber silencer. The SR's ignition was works KIH and featured a "launch mode" similar to the one that comes standard on the current KX450F. For carburation, Huffman's SR250 employed a KHI works Keihin Powerjet carb with a specially shortened body for quicker throttle response.
As the season wore on things got even worse for the team. In Seattle, defending Supercross champ Emig holeshot the main, only to fade back to 14th place at the end – all without crashing! At this point, everyone began scratching their heads, as McGrath continued to pull away and the whole of Team Kawasaki struggled to crack the top five. Emig eventually left the series with back problems and night vision issues (at this point, many felt Team Emig was grasping at straws). By season's end, the top finishing Kawasaki rider would be Ryan Hughes in tenth position. It was a mighty fall from grace for the team that had dominated 1997.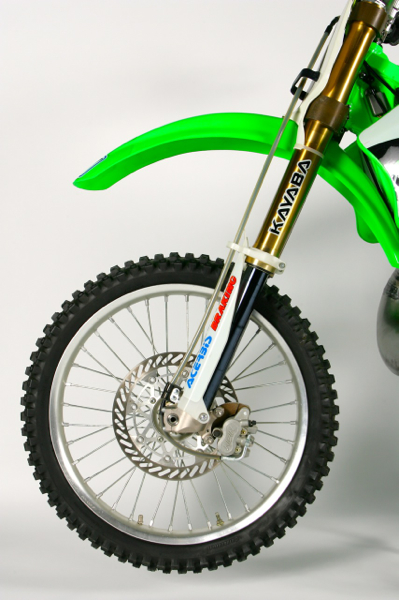 Works KYB forks graced the front of Huffman's SR250. The forks featured a super slick nitride coating and were often equipped with Kayaba's remote bottoming canisters, hidden behind the front numberplate. The front brake used a massive (for the time) 270mm Braking front rotor mated to a works Nissin caliper and magnesium carrier. Tires were works Bridgestone's mated to shoulderless DID rims and works KHI billet hubs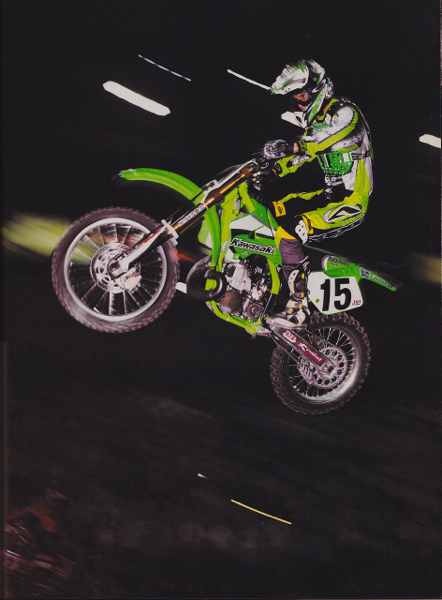 Huff-Daddy's upset victory at the inaugural US Open SX certainly surprised many, after his lackluster '98 season. Certainly one of the most talented riders of his generation, Huffman was never able to put it together on the big bikes after a stellar 125 career. Although he would show occasional flashes of brilliance on the 250, injuries would prevent him from reaching his true potential.
Midway through the outdoor season, things started to come around for Team Kawasaki. After a rocky first few rounds, by Red Bud, Emig was back to his winning ways, scoring a dominating 1-1 in the July heat. Emig would go onto reel off four of the next five overall wins, tightening up the series points chase. Unfortunately, just when Emig was starting to make a series of it, injury would derail his season. He would pull out after the Millville round, ending Kawasaki's chance at a third strait 250 Outdoor Motocross title. Emig would finish the 250 MX season in fifth, with teammate Hughes rounding out the top ten.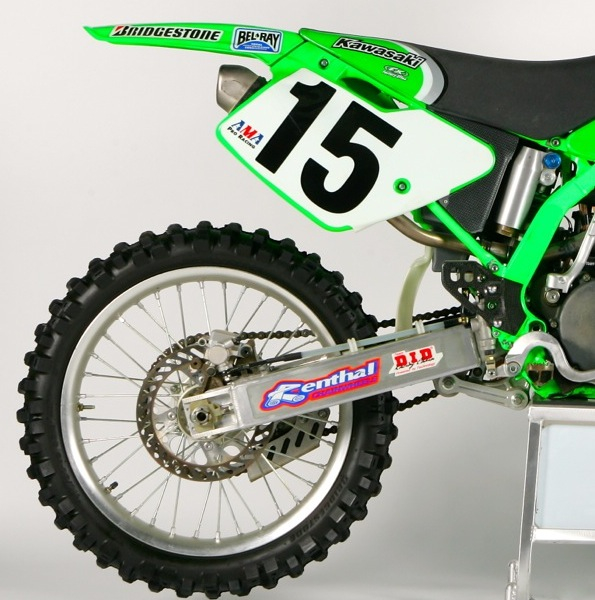 Huffman's works KYB shock was machined out of magnesium to save weight, and featured a larger diameter than the stock shock shaft. The shock featured both high and low speed compression adjustments (which was very exotic at the time). The linkage was manufactured out of billet aluminum by KHI and could be swapped out to suit different track conditions. Even with all Kawasaki's weight saving tricks, the '98 SR250 tipped the scale at 228 pounds. At that weight, the SR was giving up over ten pounds to its'98 competition.
(Swiz note: That is one wasted tire and I always thought these smooth rounded rims were ugggly.)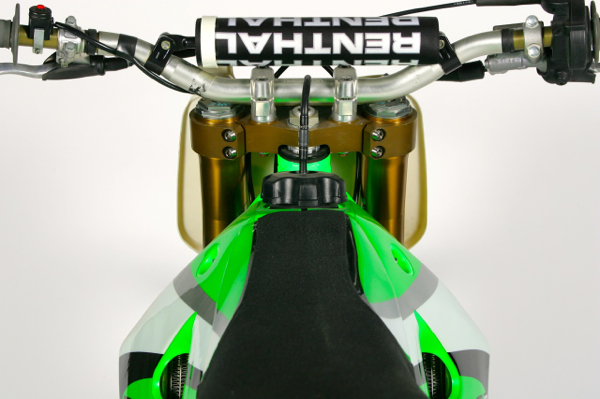 Huffman's works clamps were super-trick magnesium units and came in several offsets to suit the rider's preference. Earlier SR's had used a switch on the left side bar to change ignition curves on the fly. After Emig activated it in a crash and was unable to switch it back, Kawasaki removed the manual switch altogether.
After a disappointing Outdoor and Supercross campaign, the inaugural US Open Supercross would provide a chance for Team Kawasaki to end the '98 season on a positive note. The race would take place in MGM's Grand Garden Arena, and be more like an Arenacross than a traditional Supercross event. Predictably, going into the event, '98 Supercross champion Jeremy McGrath proved be the heavy favorite. McGrath, however, would struggle on the tight sandy circuit, finishing 7th and opening the door for a true wild card to take the win on night one. As it turned out, it would be the incredibly talented, but often injured, Robbie Reynard that would capture a surprising opening night win. Following home in second would be Damon Huffman on his #15 SR250. On night two, the King of SX would rebound and take a popular main event victory. Reynard, however, would prove unable to back up his night one win, finishing a disappointing 15th place. That would leave a consistent Damon Huffman and his solid 2-2 finishes to capture the overall and its fat $100,000 payday.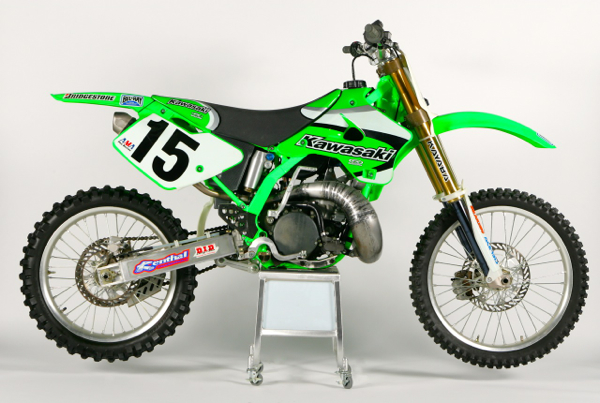 With their flo-green bodywork and flashy graphics, there was no disputing that the mid-nineties SR250's were some of the coolest looking machines on the track. Even though this '98 version may not have been the best of the breed, it was still capable of winning races at the highest level.
After the incredible season Team Kawasaki had in 1997, 1998 proved to be a real challenge. The entire team struggled with bike set up throughout the majority of the season. Adding insult to injury, Jeff Emig became the first ever reigning Supercross champion to not win a race, while defending his title. 1998 has gone down as the year that the King reclaimed his throne, while Emig's rock star antics finally caught up to him. It was a tough year all around for the team and certainly not the one they had envisioned in January. Huffman's surprising US Open victory probably helped take some of the sting out of a disappointing year, but for Team Kawasaki, 1998 probably remains a season best forgotten.