Anaheim dos was not Short on exciting LCQ racing.

Anaheim dos was not Short on exciting LCQ racing.
By: Moser
Photos by: Simon Cudby

Anaheim dos was not Short on exciting LCQ racing. I don't even have to do the research nor do I have the time, to know this is the first time in SX history that the first two race winners in the SX1 class both landed in the LCQ (I'm adopting Swizcores class names, they simply make sense and also allow you to reference any race any year without the hassle of mentioning the bike displacement or the previous class name at that time). Did anyone ever hear a definitive cause to Millsaps crash in the heat race, looked like the motor locked up to me but I don't have MMI on my resume.
Just like Emig I was surprised with the intensity that Millsaps and Barcia were racing while both in a qualifying position in the LCQ. Things didn't get dirty but one small error, missing the brake grabbing too much brake and you're both on the ground, I found it odd to see them race that hard with only pride to gain and everything to lose. The SX2 LCQ was equally as stacked with Nelson and Stewart leaving little hope for the privateers or less supported guys to make the show. With so many heavy hitters landing in the LCQ I wonder if they still had semi qualifiers if it would provide more opportunities for more riders to make the show but that is another argument for another article.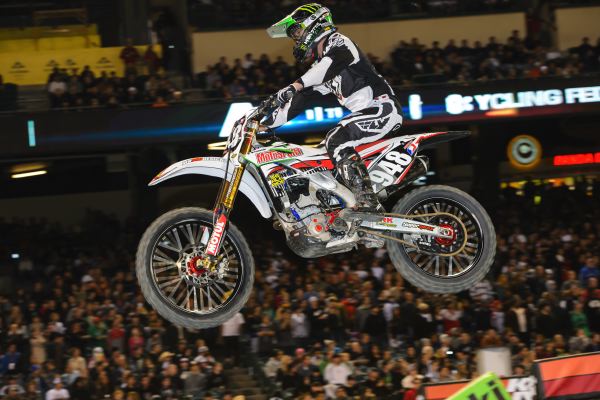 I wonder if Mosig has a siggy trick?
#948 Kade Mosig Motorsport.com/We All Ride/Motul/MX707Design
I hadn't heard of Mosig but if you google him he's apparently a pretty big deal. There are endless sponsors, interviews, videos, pictures associated with this kid from down under. I took a look at his twitter page and I love his profile/bio.
"G'day! I race motocross and supercross for the Monster Energy Kawasaki team australia. I love my life my mates and my family. Follow My World!"
It's a real shame Americans haven't adopted G'day and mates into our everyday lingo they roll right off the tongue. I'm not sure I want to follow Mosig and have him show me his world, but I'll think about it. My knowledge of the Australian SX series and riders is about on par with Tits knowledge of American SX, meaning subpar at best. Matthes asked Alex Gobert over at MotoOnline.com.au for a little background on Mosig.
"Kade Mosig has spent the past season as Monster Energy Kawasaki's factory MX2 contender in Australia, finishing third in the recent Australian Supercross Championships and also fourth outdoors earlier last year. Riding for the all-new Australian owned ADR Motorsports team for just the first six rounds of West Coast 250SX, the 23-year-old has set his sights on the main event, but has so far fallen short in his first three attempts. A flu had him sidelined between Phoenix and A2, however he's back on his KX250F this week and will continue his surge come Saturday night at Oakland. Following San Diego, Mosig will return to Australia to prepare for the MX Nationals, which start in April."
I contacted me mate in Aussie Mr. David O'Rourke so see if he had any further insight into this Mosig kid. His immediate response "his nickname is panty dropper". Having the nickname panty dropper has to be right up there with the nickname GodBod. This is what else O'Rourke had to say.
"Mosig was a "Fenom" coming out of the amateurs. He is one of those guys who has had flashes of brilliance but never shown his true potential. A little bit of the Davalos syndrome. He has gone from factory team to privateer team and then back again and then back again. Very good looking guy and featured in many Unit ads here in Australia."
Thanks to both Alex and O'Rourke for the insight into the "world" of Mosig.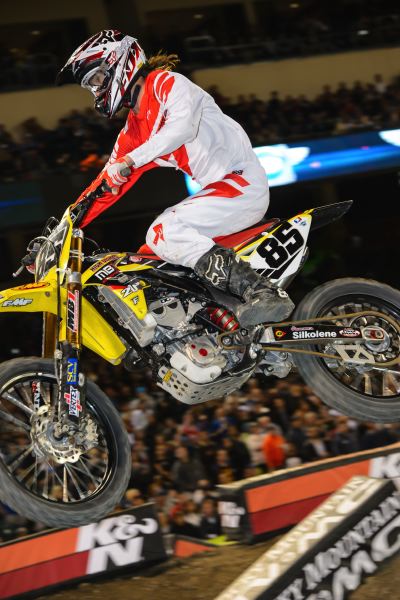 Expect Partridge to come out swinging at Oakland, get it swinging?
#85 Kyle Partridge MB1 motorsports, high desert services, 2up racing, Shift, FMF
Seems like only yesterday I was talking about Kyle Partridge, well maybe not yesterday but I did when he came up Just Short at A1. Should we look at the good news or the bad news about Partridge? We'll start with the bad news, his season hasn't gone great so far he hasn't gotten into the main event. The good news is he's riding well and showing lots of potential to make it happen soon. I got to meet Partridge last year at San Diego when I was broing down with Watson under the H&H tent, eating Chipotle and jamming out to a game changing Johnny Cash cover band. In the 5 minutes I talked to him he was polite, funny, pretty soft spoken and seemed like a good guy. Partridge is tall especially by professional motorcycle racer standards, he's build similar to Pastrana, tall skinny, and lanky. When I think of someone that has a habit of starting fights he's not the first person that comes to mind, or the second person, he doesn't come to mind at all actually.
Why has he gone all fight club the last couple weeks? Well we all know the 1st rule of fight club is you don't talk about fight club. Seriously though he got into it with Blose at Phoenix and wanted to fight and this week with Barcia. With Partridges body type I will bet a lot of my kids college savings account on Blose kicking his ass. Mike Mason mentioned that Partridge would have an advantage because of his long arms but I saw Bloses biceps at A1 there would be no stopping that brick shit house.
I sympathise with the frustration of racing and the adrenaline pumping, I haven't won any Manitoba titles but I've had my share of bad races. But what is the best possible outcome of getting in a fight, perhaps a funny YouTube video of two guys punching each other while wearing helmets? (ala Hughes and that other dude) Sure there may be some immediate satisfaction but it will be Short lived and then what? It just doesn't make a lot of sense in general but to try to fight two guys two weeks in a row he may want to try some meditation or maybe a stress ball, I don't know I've never tried to fight anyone. I was scrolling through Kyles tweets and saw this RT of Cianciarulo which I found interesting.
Adam Cianciarulo?@AdamCianciarulo
I don't think it should go unnoticed that Kyle Partridge is riding awesome. Unfortunately not going to make it due to Barcia/Millsaps.
Retweeted by Kyle Partridge
Thanks for reading this Short recognition of the guys that almost made it. See you next week, Moser
Please send all comments to jasonw@racerxill.com