I feel like I've already written the words that I'm channeling into my fingers right now oh that's right because I already have.
I feel like I've already written the words that I'm channeling into my fingers right now oh that's right because I already have.
Photos by: The 2nd gunman on the grass knoll
Please take a moment go refill your coffee cup or better yet your "orange juice" (that is a little bit too clear) then come back and click on the link below to read about my thoughts from last year when we had "Transponder GATE". That was my 7th Just Short article, wow how time flies. I wonder if Swisscore can track how many people click on this link, just click on it, do it, do it. Going back and reading it I even made myself laugh so it must be good right?
http://pulpmx.com/stories/just-short-vol7
Thank you to everyone that clicked the link and went back for a little Just Short nostalgia, the rest of you should be ashamed of yourselves. I can't say I have ever quoted myself in Just Short but that is about to change. Allow myself to introduce myself from approximately one year ago.
"Alright back to the issue of installing the transponder reader thingy at the actual finish line can't be done or it's too difficult etc. etc. Can't be done? Really, really? Are we talking about the same finish line structure that has the flames shooting out of it 10′ into the air?
I'll admit I'm not the most tech savvy guy in the world but if you can engineer a way to rocket flames into the air out of the finish line maybe just maybe someone can come up with a solution on how to also incorporate the transponder reader thingy. I don't even know how it works but I have already thought of approximately 29 ways to get it across the finish line. Feld Entertainment is owned by the circus, the circus is the best in the world at doing things that are amazingly impossible.
I just watched Water for Elephants last weekend which is about the circus it's a pretty good flick despite the fact that Robert Pattinson doesn't take off his shirt nearly enough but I digress, carnies have an amazing talent for making things work that shouldn't work, in addition to having really small hands and bad teeth. Six clowns shouldn't be able to fit in that little car, tight rope acts, dancing elephants, or more impressive yet is the carnival rides that could fall apart at any given moment still going around and around, all these amazing death defying feats no big deal but installing a transponder reader thingy in the correct spot, can't be done too difficult. Maybe I'm overreaction but I doubt the formula to install the transponder reader thingy in the correct location is E=mc2."
The more things change the more they stay the same. I have gotten a bit better more with my run on sentences, but only a little. The AMA has not made even the slightest attempt to improve on the finish line scoring procedure in the last year, nothing. Once you quote yourself once why stop there, lets take a look at my thoughts from two weeks ago when Kiniry and Peick when at it in the LCQ.
"The real Just Short battle of Dallas was between the two meatheads, and neither one of them cared. Kiniry and Peick, (meathead and the nihilist) were 2nd and 3rd respectfully in the SX1 LCQ. A true battle of brawn. These two guys are really one in the same. They look similar with the build of a linebacker, jaw lines and craniums that make beer bottles shutter at the thought of getting broken over their heads. Similar riding "style" or lack thereof. If ever there were riders that needed to adopt Rynos riding technique of unlocking their hips its these guys. Some riders say they need to feel the flow of a track to go fast, like Cole Seely. But Meathead and Nihilist have never flowed with a track nor do they care.
What they lack in style and flow they make up for in heart, determination, brute strength, and training. It may not be pretty but they get the job done. They don't make excuses or complain they just do it, I guess you could call them Marines. It's easy to poke fun at these guys but they have put in untold amounts of work to make it this far in their careers without the natural talent of a Seely, Short, or Windham (and that's nothing to shake a stick at). The battle of the meatheads never really came to fruition with Peick going down and not making the main, but he didn't even care. Let's take a look at the guys who came up Just Short."
For the second time this year we've had two riders from the same team featured in consecutive weeks, with Bobby coming up Just Short that concludes everyone on the N-Fab team getting featured, including Blose, and Filthy Phil I hope somebody is keeping track of these stats. Alright so who should have gotten the qualifying spot, that is the real question, actually I think the real question is how to fix the scoring system to avoid this situation yet again so lets start there. Utilizing the transponders to provide the final say on who crosses the finish line first is the best and most logical answer.
To make that happen they need to run the cable or whatever it is at the exact spot of the uprights I think they should be able to do this far enough inside the jump to avoid any chance of ruts and or sculpting of the jump to cause any problems, hell through the cable down on top of the plywood and build the jump over it. Building the jump and peak and placing the finish line structure exactly over the top of the transponder cable has it's challenges and I'm assuming that is how we've ended up here so routing it over the top and through the finish line structure seems like the next logical solution seeing how this "is" technically the finish line anyways.
This would be an idiot proof solution and would allow the electronic scoring system do all the work and provide the final say. If this transponder cable thing can't be moved for whatever reason and they have to continue to bury it near and around the finish line but not at the line (even typing that sounds ludicrous) then they need a photo finish. A camera, a GoPro, an iPhone photo, something anything, and you can't tell me that's not easy enough to do because they do it in lots of racing, nascar, horse, bmx. You need to be able to back up your ruling with some type of evidence, ie a photo or replay. Letting the head flag judge and the scoring keepers decide the fate of a race which is influenced by their point of view is ultimately not fair, or professional. I had hoped to talk with one of the score keepers but their personal information is harder to track down than someone in the witness protection program. I don't blame the scorekeepers or head flag judge anyways their job is simple to note who comes across the finish line first, it's the system that is broken man, this burden should not be placed on their shoulders. Lets take a look at the finish line photos circling the web.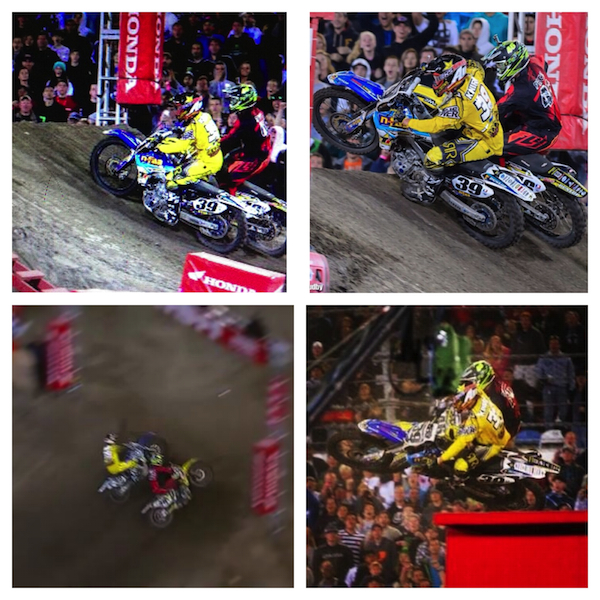 "Transponder Gate" Part Deux
The top two photos were widely distributed around on twitter and instagram, they clearly show Kiniry in front of Peick, but the angle of the shot is greatly effecting what you're seeing kind of like those 3D photos that were so popular when I was a kid. The bottom left photo is more blurry than a nude camera phone picture but if you squint and look really close you can see how close this finish really was, initially I thought Peick was the clear winner in this picture but the more I look at it I'm not so sure. Hence the reason for a camera to be installed at the actual finish line with the correct angle to confirm who crossed the finish line first. So what is my "expert" conclusion I think Kiniry had him by a knobby. What a great race though, when people think back to Daytona 2013 they may not always remember who won the main events but they will certainly never forget the LCQ battle heard round the world and the race to the transponder cable or to the finish line or whatever.
#532 Ricky Renner Plant City, FL KTM 250 SX-F — none listed —
Ricky has been taking a swing at the pro class for a couple years now, mostly with one off races. Last year he qualified for the night race at Daytona on a 144cc two stroke. His bike ended up blowing up but I'm sure it sounded cool braaaping around inside Daytona speedway. In an attempt to silence the haters and mask his loathing of all things 2 strokes Matthes had Ricky on the show last year to talk about his career and racing. I don't know much about Ricky, his older brother is Robbie Renner multi time X-Games gold medalist in the step up competition and also RedBull athlete that's set a couple crazy world records, if you don't know who he is you've been living under a rock.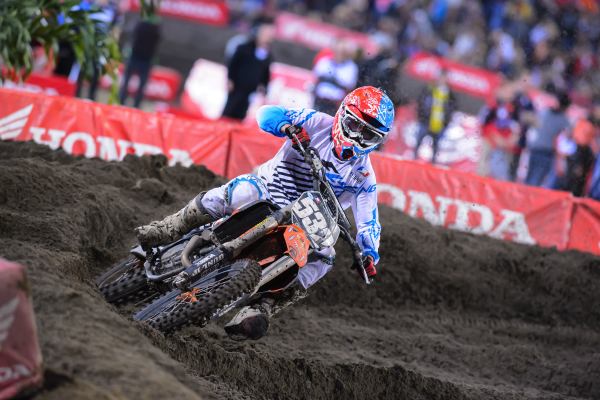 R&R or Rich & Rare should be his butt patch, it's some of the "finest" cheap whiskey available. Photo by Cudby
Although the race was live and I was watching it I also had a "source" who shall remain nameless per his request at Daytona. Here are some of the edited notes and highlights from our texting during the LCQ's
Nameless source. Who's #412 he's about to get 3rd his gear is as flashy as his riding. He's not afraid to drop an elbow to grab some extra throttle.
That's Kilabarger
Nevermind now Renner is in 3rd. Renner is a Florida boy he's fast but never quite fast enough, he just finished 3rd.
Alright find him in the pits after the race and try to provoke him to say something bad like the paparazzi does.
He won't say anything bad, he doesn't have it in him, good dude. He just got married recently to a former WMX racer Leah Cantrell. His older brother tried racing supercross but he's been more successful at doing whips and setting world records for RedBull.
This is gold keep it coming
Well Leah has a set of aftermarkets, that isn't relevant to Just Short really but just a fun fact.
I'm going to need you to prove that
Alright the 450's are off like a g-string in the Moto XXX semi (90's reference) Who's 46?
Peick
He's fast he's also 3rd. Peick looks like he's Just Short of a size 36 pants, I would know because I'm a 36 pant size now.
I wear size 34 pants you fatty
Peick is pressuring for 2nd he obviously hates your column. His yellow gear is a caution for his over aggression. BEST LCQ EVERRRRR.
Thanks to my "source" for just a little insight into Just Short this week.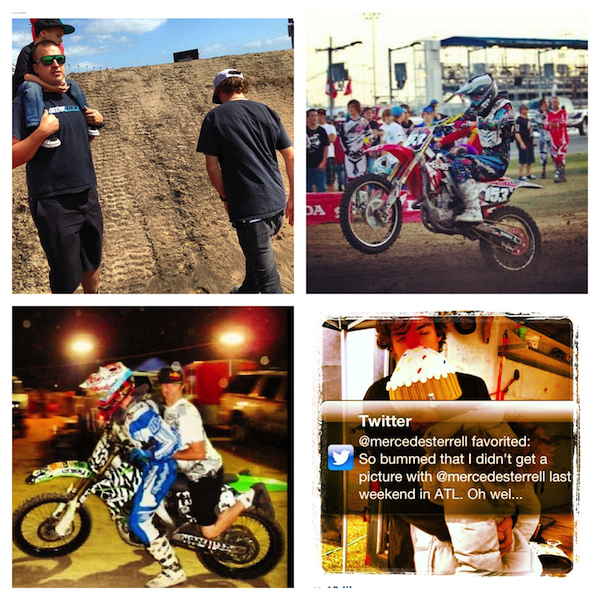 The infamous wall jump at Daytona
Throwback Thursday picture from Daytona a couple years ago
A little brotherly love riding double
Can't beat having @mercedesterrell favorite your tweet
#39 Robert Kiniry Holland Patent, NY Yamaha YZ450F N-Fab, TiLUBE, Yamaha
What about Bob? Well the guy is gnarly, seems like a good guy probably a great guy. They say there is no such thing as bad press and out of all of this Bob and the N-Fab team has gotten a ton of press and good for them. I saw someone post that the difference between 3rd in the LCQ and last in the main is $500.00 so I'm sure Bob's wallet would rather have the cash than the press. Congratulations to Bob and his wife on the new little meathead addition to the family.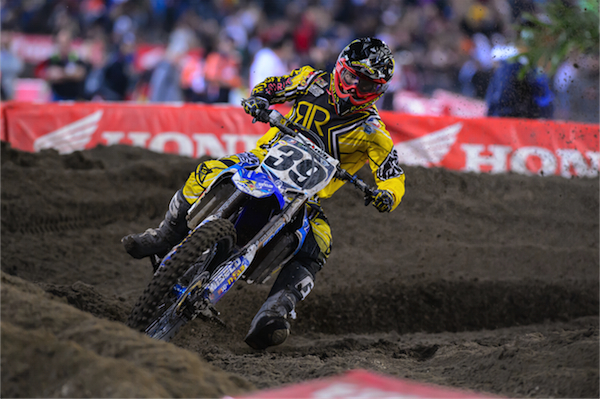 Meathead wanted to tear off someone's head in Daytona. Cudby Photo
I don't want to over saturate the moto market with Bob and this Short article has already ran long enough so we'll finish this up with some pictures off of Thomas the owner of N-Fab's Instagram because shocker meathead doesn't have a twitter or Instagram account. Speaking of N-Fab it's cool so see Thomas invest in the sport he loves, but can somebody please tell me what a nerf bar is? I understand what the steps are but I'm completely lost on this nerf bar thing?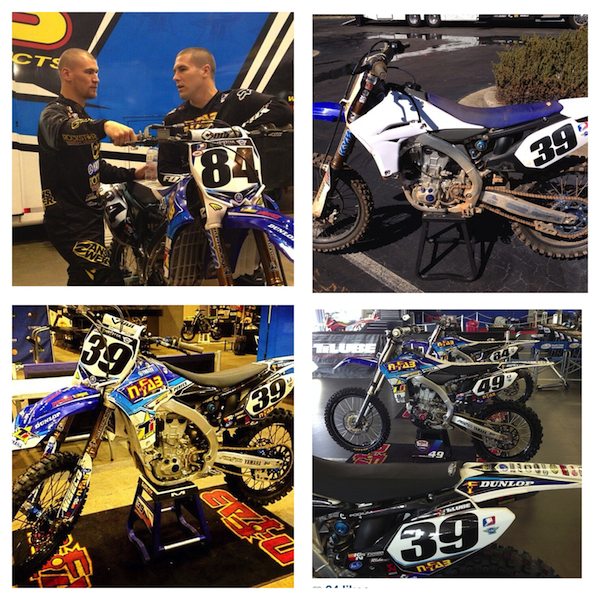 Looks like Bob and Blose go to the same hair stylist
The #39 after it lost velocity and pre N-Fab nerf bars
The N-Fab bikes are cool looking with the back ass ends
Thanks for reading this Short recognition of the guys that almost made it. See you next week, Moser.
Please send all comments to jasonw@racerxill.com