The non qualifiers at Indy get the spotlight
The non qualifiers at Indy get the spotlight
Just Short 11 Vol. 2
Indy
By: Moser
Photos by: The Spikman
There was no lack of excitement in Indy including the LCQ's with another Kiniry and Peick showdown. With their speed pretty evenly matched and similar riding styles, demeanor and history of rubbing is racing this season they had my full and undivided attention for the duration of the race. It's been mentioned a couple times already but I like how Peick continues to race all the way to the checkers although he's in a qualifying position maybe it's not the smartest way to approach racing but it shows heart and nobody can question the desire and drive these two guys have. Top Jimmy didn't get the best of starts and made a push a couple times to catch them but didn't quite have enough speed or time which is a shame because I'd love to see another boner air over the finish line, a real shocker I'm sure that I find the boner air so humorous.
Top Jimmy Albertson has been the one that got away in regards to Just Short interviews. Last season he was featured three or four times and I was never able to pin him down to respond to my interview. I text and emailed him relentlessly and in his defense he initially got back to me with a couple answers but then the excuses started, my phone died, my dog ate my phone, who is this I don't have your number, who is this why are you sending me nude photos? I know this is just a Short column but believe it or not I do put a fair amount of effort into it. Something this smart, funny and witty doesn't write itself.
The more Jimmy ignored me the more I wanted that interview, he was playing hard to get. I harassed him on twitter which resulted in getting in contact with both his wife Georgia and brother Gregg. Like most pretty girls Georgia sounded like a sure thing but then left me hanging. Gregg did get back to me so I improvised and was happy and grateful for the information I got from Gregg but it still wasn't the same. It turned into a running joke in Just Short "Top Jimmy is featured again and yet again I was unable to get him to respond to me". I did meet Jimmy briefly at Seattle Supercross last season but I think he was scared of me at that point, he definitely looked uncomfortable when I said "alright when are we going to do this interview?". So I didn't push the issue and drowned my sorrows instead. Ironically when I went to text Jimmy on Friday it had been almost exactly a year from the last time I had sent him a text trying to get an interview.
Top Jimmy was the one that got away, my unfinished business, until now. So how did I finally get Jimmy to respond you ask? I didn't I honestly don't think he would have but I happen to know a guy who persuaded him to get back to me by holding his necessary goggles for Toronto ransom until he did. So it's with great pleasure that I present to you the long overdue Top Jimmy Albertson interview. It feels good to type that I could use a cigarette. Big thanks to Jimmy for tolerating me and responding to all my questions it ended up being a bit longer that I intended but I appreciate him making the time to get back to me. Also let this be a lesson to everyone that if you come up Just Short again and again and again, coercion is the best way to get what you want, and it's totally worth it. Without further delay, these are the riders that came up Just Short in Indy.
#244 Ryan Zimmer
Fuquay Varina, NC
Honda CRF 250
MAYKERS/Witt's End Racing
This undoubtable hasn't been the season that Ryan wanted having only made one main event thus far in Texas, resulting in a 16th place finish. Ryan pulled a sweet pass on #531 Todd Krieg in Indy but unfortunately it was a pass for 3rd place. For some reason Ryan had no sponsors listed on the ama score sheet, with the amazing consistency I see on the ama score sheets week to week I'm going to assume it was a mistake on their part and not conjecture that Ryan isn't riding for the MAYKERS/Witt's End Racing team anymore which would cause me to speculate that he broke up with his girlfriend one of the team owners daughters.
I wouldn't say that because conjecture (cough cough Swisscore) is commonly interpreted as factual which is confusing, inaccurate and could rightfully piss people off. Ryan is not on twitter or at least not that I can find, I'd like to learn a bit more about him and the team and that would be much easier if you had twitter Ryan. I'm sure I could have gotten in contact with Ryan somehow but all the Just Short employees and resources this week were busy trying to get the Top Jimmy interview.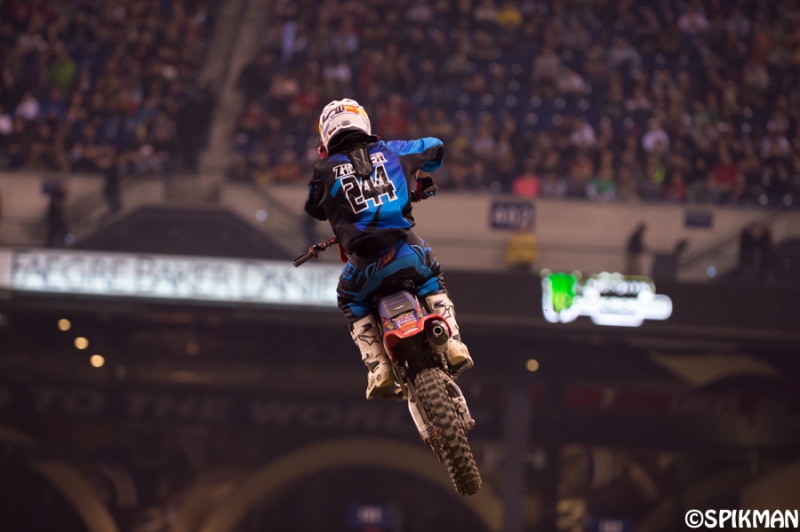 This is Ryan Zimmer riding a motorcycle
Ryan was featured in Saint Louis, Just Short 9 which you can read here
http://pulpmx.com/stories/just-short-9-vol-2-st-louis
After I featured both Ryan and Zach Freeberg MAYKERS/Witt's End Racing teammates in Just Short, PulpMX's own controversial journalist Swisscore was inspired by my writing and called up Freeberg for this interview it's worth checking out.
http://pulpmx.com/stories/scott-motorsports-spotlight-zack-freeberg
#55 Jimmy Albertson
Shawnee, OK
Honda CRF450F
Fly/HRT/MotoThump/FMF/Merge Racing/Beer Optics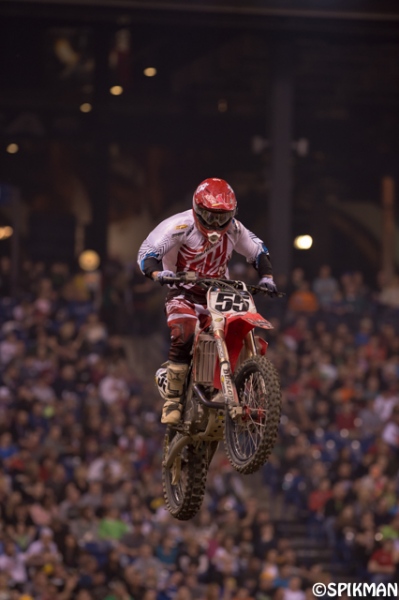 Jimmy was my unobtanium for a long time
Moser: Alright Jimmy I feel like you've done a superb job of promoting your sponsors this season so I wanted to touch a bit on all of them in my article this week. Thanks for your time and I'll see you at Seattle where we will have another awkward exchange. Lets talk about the sponsors that help you get to the races every weekend and keep the #55 Honda purring like a kitten.
Dunlop Tires-We might as well start with the rubbers you use (safety first). What's your favorite front and rear tire or what do you most commonly use? Does Dunlop mount your tires for you at the races are do you bribe your brother Gregg and or Ronnie Mac with Coors Light to change your tires?
Top Jimmy Albertson: I use spec tires at the races but during the week I run the mx 71 front and mx 51 rear in basically every condition. I feel it's good to stick to the tire you know rather than change the tire for the track condition. Dunlop hooks me up on the weekend, I just drop them off and they come back ready to rip. I change all my own tires during the week though. Sometimes I do other people's tires on the side for some cash, or beer.
DUBYA Wheels-In the last couple years DUBYA has become the standard for wheels that pros run it seems like. Do you also run their sprockets or just the hubs and wheels? When tightening your spokes to you do every third one or do you just snug up the loose ones with the tried and true method of banging on the spokes to listen for the loose dead sounding one?
Dubya is the standard for wheels for sure! I run the carbon talon hub and did sdx rim. Wheels are something you should never try to save money on by buying cheap wheels. I've had wheels exploded in the past and it's not good! Not only do you have to replace the wheel but you also have to replace your underwear and pay off a stack of medical bills. I go every three spokes when they are new, then everyone once they are broken in just to make sure they are snug. People who bang them are the same people who had to play the triangle in music class because they were retarded, just saying. (editors note: it's called a symbol Jimmy and the teacher said I got to play it because I was special, wait dammit)
Rekluse Clutch-I've never ridden with the Rekluse does it take any getting used to in the corners or do you not even notice out on the track? Do you still burn through clutches just like normal or is there less wear and tear on your actual clutch?
The semi auto clutch from rekluse is something you have to try to believe because it is so good. I felt absolutely no difference. The clutch only kicks in when you need it. Like when you screw a corner up or fall. I also feel way more confident braking hard and riding a gear higher in the corners. If anything it's easier on clutches because you find yourself not using the clutch as much without having the fear of stalling. Rekluse is not just for trail bunnies anymore so go check it out! They also make a manual system that is great and less expensive than Hinson!
Works Connection-They have all kinds of trick parts, and I know your buddy SinJin regrets not running the radiator braces. What parts are you running? Assuming you use their quick adjust clutch perch how often do you reach up there and adjust that during a race?
I run a bunch of works product! Clutch perch, radiator braces, skid plates,and holeshot devices. Their product is great and for the new crf 450's, radiators are a must! With the Rekluse auto system your clutch doesn't go out of adjustment!
FMF Racing-You run the single FMF exhaust for some major weight saving gains without a noticeable drop in performance. Do you know where your bike weighs in at approximately?
A FMF single exhaust for the crf 450 is a must! Massive weight loss and massive power gain! I would suggest not getting this system if you want your bike to be heavy and slow, some people are into that I guess. And the weight of my Motorcycle? I bench pressed it last week and it felt anywhere for 219 to 224. These aren't exact numbers though.
Mika Metals-I wasn't familiar with Mika Metals but they make, chains, sprockets and handlebars. The bars are "engineered to flex, built to last" how much flex are we talking about here? What is the Top Jimmy bar bend? What gearing are you running?
Mika's bars and sprockets have been great. I'm yet to bend a set of bars and the sprockets hold up great! I run a pretty high bend. I'm not sure what its called but my bend is comparable to a renthal 998 and I run a 50 in SX and 48 in outdoors.
Cycra Racing-I have always liked the all red plastic Honda look, any chance you change it up just for me and run all red plastic?
Cycra is the company to buy from for Honda plastic but they have only got front number plates and fork guards at the moment for the 2013 Hondas. I just run Treys old plastic in the meantime. I get mad when Trey falls and scratches my stuff before I get a hold of it.
DT1 Filters-Please tell me that Georgia helps clean air filters, I'm sure if she didn't you wouldn't have married her. One of my fondest memories is when my then girlfriend offered to clean my air filters, that's when I knew she was the one and now she is my wife.
DT1 is cool because they make three different filters. SX, MX, and triple thick for really bad conditions. Georgia has never cleaned a filter but filter cleaning is easy these days! All these bio cleaning products are nice. I remember my skin falling off my hands as a small child cleaning filters in a bucket full of gas.
MotoSeat-How do you like your hump, little, big, pointy, round, hard, soft or no hump?
Motoseat is da bomb. They can make anything. Dream it, they can do it. I'm a standard dude but I have a hump for nasty conditions!
MotoPro Graphics-Who is better at installing graphics you or Trey? What's the trick to keeping them bubble free?
I would say I am but that's only because I do it on the reg. The last graphics Trey put on were probably on his 110 we he was 13 years old. He's typically good at things that involve patience though. Don't ask me about keeping bubbles out because my graphics have more bubbles than a 4 year olds bath tub.
Renegade Fuels-What octane is the gas you're running? Have you ever ran out of gas in your truck and topped her off with race gas to get to the gas station? I used to run mixed two stroke gas in my truck all the time trying to get home.
If I told you the octane of my fuel I'd have to kill you. Running out of gas is something women do…..I'm a man
Merge Racing, It's no secret that you are a huge supporter of Merge Racing. Just to clarify they perform engine and suspension modifications correct? What makes them so good at getting your jetting and sag set just right?
Jim Lewis at merge racing is very adamant about making the bike balanced. He has always done an awesome job on my stuff. The confidence a rider gets from their suspension is huge! Trust me!
Alpinestars-I've lost track of what Tech number of Alpinestars are available now but which one do you wear? Do you have anyone to break in your boots for you, if not what's the easiest way to break those babies in?
I run the Tech 10's. The easiest way to break them in is to ride in them. So stop being a puss and strap up.
Fly Racing, The Fly Racing stuff is awesome looking and I'm not just saying that because Shorty wears it, but it does influence my opinion. You've been with Fly Racing for awhile now what has been their most improved product over the years?
This is my second year with Fly. I'm going to just come out and say it, I had never been a fan of Fly gear before this year. Saying that, this year's gear in my opinion is the coolest stuff on the market. Not only does it look great but all of it fits great as well. The fly hydrogen gear is by far the most comfortable gear I've ever put on!
Freegun Underwear, Jimmy nobody is going to want to know what type of Freeguns you wear and I'm not going to be a perv and ask if Georgia wears them, but I'm sure the readers want to know.
Freegun undies are bad ass! It's all I wear anymore. And yes Georgia and I have matching underwear.
EKS (X) Brand Goggles/Beer Optics, You said you prefer the Beer Optics for their superior soaking ability, do you just sweat a lot or do you also have horrible BO that comes along with that? How do you like Matthes to prep your goggles, less dog hair I assume but how many tear offs, what color lens? When are you going to run the Coors Light strap?
Beer optics are surprisingly an awesome product! They were made as sort of a funny weekend warrior deal for the average plus class racer but I run those baby in supercross! Plus supercross and beer go hand and hand, ask any fan strolling the pits. I run whatever Matthes gives me… He knows best. Coors is my beer of choice and if it were up to me I would wear them every time.
Braaap Nutrition,Whats your favorite flavor?
Blueberry, delicious!
HRT Honda-Hansen Racing Team, how are they involved in your program, I'm guessing they are helping with the transportation to the races?
Yeah Todd Hansen is an awesome dude! At first it was just bike transport but now he pays for my mechanics flights. Everyone under the truck is awesome and I hope we can raise some money to go racing this summer together!
MotorSport Products, Do you have one of these crazy scissor lifting stands?
Not at home but it's awesome to have at the races. Which reminds me I need to hit them up for one at home!
MotoThump.COM-This looks like a moto version of Facebook. Your profile says you weigh 165 pounds? Really, really? Jimmy you're not fooling anyone there is no weigh you weigh 165 pounds.
You basically nailed it… It's Facebook without all the gay shirtless selfies. They have a mobile app so go download that beast on iTunes… Now!
Shawnee Motorsports-For all your Honda needs and they are pet friendly, buy a bike while your dog takes a dump in the showroom.
I've yet to bring Harry back in the shop, not because I'm afraid he's going to shit but because all the people talking about when he did shit haha. All the guys down at Shawnee Honda are awesome! It's cool to have a local store backing you.
Thanks for reading this Short recognition of the guys that almost made it. I might see you next week or I might just retire after finally bagging Top Jimmy.
Moser

Please send all comments to jasonw@racerxill.com