My buddy Randy and I debate the just completed Toronto SX
My buddy Randy and I debate the just completed Toronto SX
KTM's passion for motocross and off-road racing runs deep. For years, KTM has been the leader in off-road and enduro, but now that success is spilling over into the pinnacle of racing: AMA Supercross. It's an exciting time to be riding orange, with Red Bull KTM's Dungey, Roczen and Musquin proving that KTM is also a leader on the motocross track. In the north, we anxiously watch as Colton Facciotti, Tyler Medaglia, Dusty Klatt, and Kaven Benoit prepare for the 9 Round Canadian National Series, which begins June 9th in Nanaimo, BC.
Follow KTM and their racers on Twitter – @ktm_canada.
There's this buddy of mine up in Canada, I've known him forever and he loves three things- Poutine, Trailer Park Boys and motocross. He still rides and races to this day despite getting up there in age. He's also been to every Toronto Supercross since the thing began in 2005 (along with some actual Toronto Supercrosses that were one-off races featuring mostly Canadians) and he took in the race this past weekend. We all call him Randy Poutine for reasons that are obvious. I thought a little email exchange with Randy would be appropriate for this week's KTM Canada column.
Steve Matthes: Randy, quite a race up there this weekend eh? I know you don't follow the American series as closely as I do but trust me when I say this weekend's track was really good and the racing was also epic. Almost right from the start, the top five in the main event were Ryan Villopoto (two-time defending champion) Davi Millsaps (surprise of the year), Ryan Dungey (past sx champ), Chad Reed (two-time past champion) and James Stewart (two-time past sx champion) and the drama was high. The crowd was into it and speaking of that, an almost 50% increase in attendance in Toronto from the first year that the supercross was held. That's pretty remarkable in these tough economic times. I was in the press box but I know you were in the stands, how was it there and also, as a fan of all-things Canadian, I got an email from someone wondering why Cole Thompson (Canadian) or Matt Goerke (this year's past Canadian champion) weren't recognized a bit more or brought out to a bit more pomp and circumstance? What are your feelings on this stuff and the race in general?
Randy Poutine: I thought the racing was okay, eh, but the whole weekend was a blast for me really.
For Canadians, Toronto is our eh one. Our one and only stop on the tour. We love the event and as you noted, more of us Canucks are attending the Toronto event. You're right, Feld could dig a little deeper to play up the local heroes. But thinking that, maybe all rounds it would be cool to include a local lad or two into the opening ceremonies. Play a video interview during practice track grooming sessions. Wrap the maple leaf around Cole Thompson and have him shoot hot poutine and Tim Hortons coffee into the crowd. Do something!
Sorry for getting emotional, but I'm a patriotic Canadian fan and I think Feld could gain even more fans and interest if they put the spotlight on a deserving Canadian. The racing in Toronto was good in parts, but I found most of mains quite boring. Musquin is riding good (too bad Wilson is out) and made it look easy in Toronto. RV is best 450 but I he can't relax, the other guys are not far off. Exciting to see all top guys together of start but nothing too wild ever materialized.
Anyways, who am I comment..,it's incredible to watch live the best SX riders in the world making it look easy. Can't wait for next year. I'm a social butterfly and like to hear myself talk, so I can't enough if the great pre during and post race shindigs in TO. The Houston was fun this year and I hope it comes back. I tried something different this year at the social events and kept my shirt on…,My wife really appreciated that and says I'm starting to grow up. Don't worry honey, there's always next year!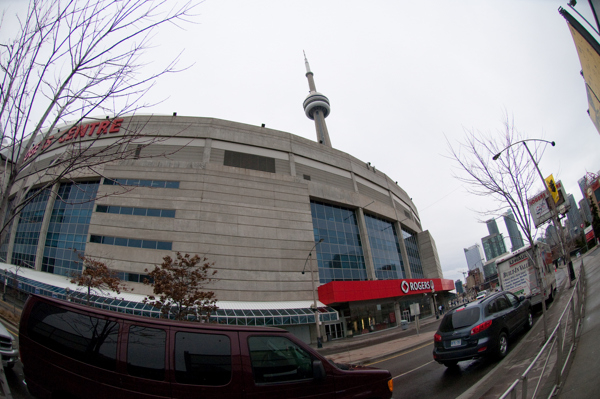 The SkyDome is Randy's only SX of the year and as usual, he enjoyed it. Photo by Lissimore
Matthes: Yeah Randy, you were probably too drunk in the 300's to notice much about the race. Because I thought it was exciting, we have the five big dogs of the series first through fifth and we were set up for some great racing. I suppose none of really knew that Stewart wouldn't be able to make a charge? So yeah Randy, the racing was great because the track allowed it to be. There were actual mistakes made by the racers out there, which makes for good racing. I hope the tracks continue to be that good from here on out.
Randy, put down the poutine and give me your opinion on some of Canada's best motocrossers choosing to not race Toronto. Lots of excuses from the guys and I get where they're coming from but in reality, it's not that hard and guys like Nick Beatty and Kyle Beaton have made it work and no offense to those guys but no one is mistaking them for Rhodes Scholar's anytime soon. As a proud Canadian, what is your take on the fact that the Facciotti's, Medaglia's, Klatt's of the world don't line up at Toronto or really, anywhere else?
Randy: I didn't say the track wasn't good! Just that the racing wasn't exciting in the mains. As a loyal Rollerball fan, you can understand when I say racing, I mean, paint rubbin, fists swinging, take the other guys girlfriend home racing. Well maybe not to that extreme, but you know where I'm going…
Remember when our homegrown talent like Keast, Medaglia brothers, Burke, Thompsons, Beaton, Klatt, Cooke, Lockhart and more were on the line? Granted it was different back then with less Americans but weren't the risks and costs the same?
Can't get better without at least trying it. If I could borrow those guys talent (and fitness) for sure I'd be our there. Our guys are better than they think and us fans are begging them to sign up. Please don't ask us to sell shirts or start fundraisers to invest into your career. It would take a decade racing the Canadian nationals to equal the eyeballs of one race in front of a big American supercross crowd.
I hear it is difficult for signed team guys to enter a race outside their contracts but hopefully these teams see the value including this race in their sponsorship deals and put Toronto on their schedule.
Matthes: Well Randy, if Ryan Gauld and I can do a podcast, then I suppose anything is possible. Our guys need to want it a bit more and make fewer excuses. I know this is harsh (these guys are my friends) but it's true. Look at the Canadian media "machine" like DMX and that other magazine. They virtually blow any Canadian that's racing supercross and it's well deserved. Randy, when you're sitting around the garage working on that Can-Am of yours, don't you ever sit back and dream of the Rollerball days?
Randy: Now you and Ryan are friends? Wow anything can happen. I do think back to those days when Ross, JSR, Dube, Lockhart, even Gauldy would race every chance they could. Seems like it's far and between when we get to see Canada's best racing together. 9 weekends. It's not enough!
Take care Steve, I gotta get running. Heading to the legion tonight for my brother Ricky's bachelor party. We're watching the worlds greatest SX races and I can't to see Ross carrying that inhuman corner speed around the far, far outside bowl turns.
Cheers