A column about the week off and what it means to the riders
A column about the week off and what it means to the riders
By Isaac Scoggins
Photos by James Lissimore
A lot of things can go wrong on a motorcycle. A lot of parts on the human body can bend, break, tweak, torque, be pulled (hey, catch those thoughts before they escape), and even bruised. It can happen in an instant by another rider, another bike, or you might just do the deed yourself to save the embarrassment of losing dignity along the way. Sometimes it is the lesser of the two evils of sucking or wrecking to do just that, wreck. I have always wanted to line up on a 40 man gate and pull a huge holeshot, against much better riders, and then go straight off the track in turn one, lay it down somewhat gently and proceed to act as if my bike is messed up. The entire crowd would be left saying, "Man, these guys are lucky that guy went down", and I would be tooting that horn loudly. The point is, at that point in time, I have reached my own breaking point. What cannot be broken? A will can be, a spirit maybe, pride, resolve, mental toughness, determination, and of course the body or bike can be. We all have our points, some much further than others, at which we will give in and break. Now we understand that one can be trained to withstand physical and mental burdens to a certain extent; however, we are born with or learn at a young age our own thresholds for toughness. Maybe it depends upon how many brothers or sisters you have and how ruthless they were to you. Maybe Rambo was your father and because of this you don't speak well or feel pain. Whatever the case may be it matters not, right now the season is approaching it's one and only break, and the riders are preparing for a little rest, but also have to prepare for the upcoming MX season, along with finishing the SX campaign off strong. As much as they would love to catch their breath, now is the time to gain ground. Should we take a look into which riders have shown a breakdown of some sorts or should we just admire the perfect series? Nah, let's break it down.
Now I am done talking, thinking, dreaming, and crying over the streak Ryan Villopoto has established at this point in time. Our only hope for the series is that this break will allow the competition to gather themselves and get back into attack mode. I do love the fact that Villopoto is ensuring all the top guys ride to their full potential, but I do hate that no one is doing it. It starts with a holeshot and only Dungey seems to have the outright speed to catch the Champ; however, I am not sure he would be able to remain flawless with a wheel pushing his swingarm. Dungey is riding with a sense of urgency from the drop of the gate…wait, no it is more like from the end of lap one until the checkered flag. He has not put his full game together and Villopoto has, and that is the difference right now. I haven't decided if Dungey is trying so hard that we have actually seen his breaking point come in the form of a stall or not. Was that just a silly mistake or was it a break in focus? I don't think we can say for sure yet, but my expert opinion is that he tried the move I have always wanted to try. He just didn't get a good enough jump to get to the first corner first, so he had to wait until later. Just when we thought the battle was going to heat up, he throws water on it. He knew we would all be saying, "Man, those two guys were lucky Dungey's bike couldn't lug him around the corner in 5th gear".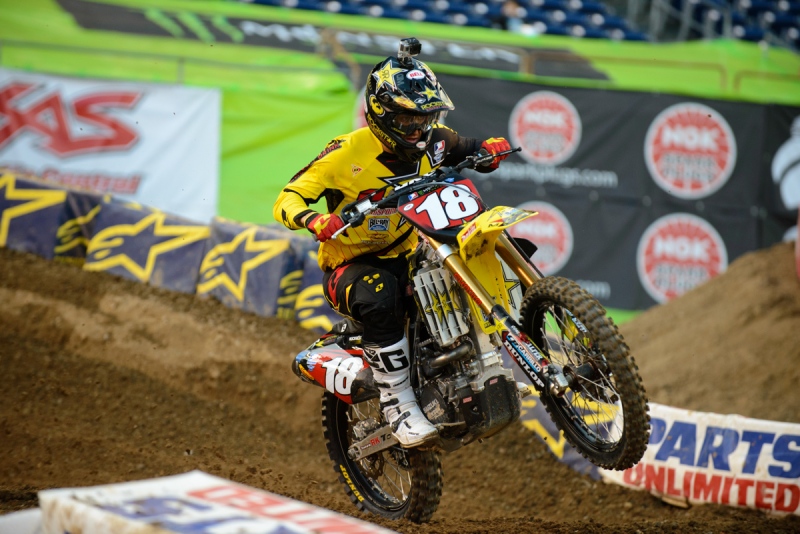 Millsaps has had a lot of things "break" his way this season.
Earlier this season, in a heat race, Millsap's Rockstar Energy Racing bike broke on the holeshot, and he persevered. Next incident involved yellow flags, not doubling coming up to a cross flag, and a red number 41 bike torpedoing his right side, it hurt him a little, but he pushed through. What happened to Millsaps? It wasn't that long ago he would have wilted into the pack behind him after only being passed. Now, he gets drilled by his bike, by another's bike, does damage to his knee and won't get it checked out because he is pushing through it anyway, and he still doesn't break. Is it really possible for a man to go through so much and break so many times before that he actually becomes unbreakable? I think we have to assume that of the 18 for now. St. Louis, Daytona and Indy he bent, but he refused to break. With the break this weekend I hope he will be stronger, faster and ready to put some points on Villopoto. Even Villopoto watches Dungey and his progress over him, and almost ignores Davi. If the focus stays off of him it may be possible to rewrite Millsaps a third time.
Crack! That may or may not have been the sound of Chad Reed's armor breaking…or it is a Kit Kat bar that I am eating. Either way, I am sure Reed has scar tissue built up and I believe that it is causing him back pain as he attempts to compensate for a weaker knee while riding. I also feel that it may be an attempt to save face a little bit or an excuse to lessen the blow of his tough year. I cannot recall a time Chad has struggled this much besides on the Kawi, but even then we did not get a whole season to judge. I mean, if it is no big deal and he may be racing when the series resumes in two weeks then why even mention it? What does he gain by saying it except for us to say, "Man, if Chad's knee wasn't hurting him (crack, crunch on my Kit Kat bar) he would be smoking them"? If anyone has proven impervious to mental breaks it is Chad, but times do change, has Reed too?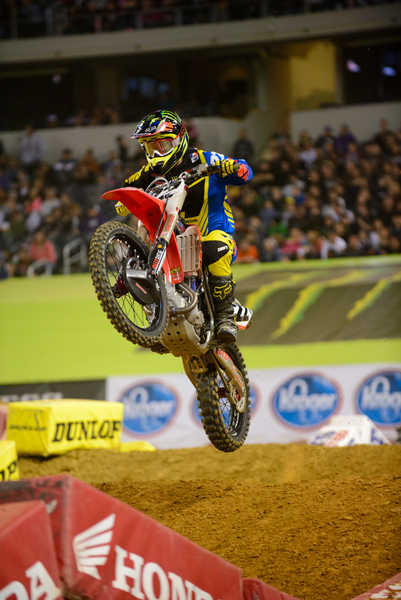 The break means something different for Chad Reed.
Some rider's I feel that have hit their breaking points are Alessi, Brayton, and Canard. I don't believe they are fully invested in SX at this point, by looking at the way the results have been reading lately. The breaking point for Alessi has been a lot of weird bike issues resulting from crashes, which then leads to terrible finishes. It is not a stretch to say he is looking forward to the outdoors, where we will be saying, "man, if Alessi rides like this in SX next year he will be killing it". Brayton's season was on the cusp of being great until Barcia took his front end out. It wasn't that big of a deal, but ever since then we have not seen Justin Brayton start up front and his finishes have been subpar for him. Did Barcia break his spirit? Was it the final straw in a year where every time I turned around Brayton was being taken down by Dungey, Reed, and Barcia (Did I miss anyone)? I wouldn't blame him for breaking some balls on the track next race and he has to be hoping MX goes much better. Canard, sigh, I am glad he is back and staying in the fight. I am glad he only has a concussion to show for side-saddling his factory Honda and he must have saved more spectacular looking crashes then everyone else combined. If he can stay healthy maybe the outdoors will be more kind to him, but truth be told, he should have broken himself a hundred different times and if he makes it to every round outdoors, he should be happy. He is someone who cannot be spiritually broken, and his resolve has been tested and is true. It is only his physical and mental toughness to worry about. Sounds like everything, I know, but it's only small pieces that need to be in place for Trey to make us say, "Man, that crazy SOB can beat anyone if he stays up". Which is better than what we are saying now, "Man, did you see that? He looked like a flying spider Monkey"! Quick question, who or what wins between Trey, Villopoto, and finish line scaffolding?
It is expected for a long, trying season such as this to break down the riders physically, as it grinds on them week in and week out for three straight months before a two week break. We also expect the rookies of the 450 class to break every so often as we label those mistakes, "rookie". Barcia has made his fair share of mistakes, but overall how can he be anything but happy with his performance? Even with only a few races Tomac and Roczen made "rookie mistakes", so no one is immune to it. I believe it will be beneficial for Barcia to have made those early mistakes as it allows him the opportunity to focus solely on himself, and to not worry about points; this may in turn, help him to stay focused and break no more.
He has been more solid than the 2X Champion James Stewart, even after Stewart hit his stride with his knee. Stewart has long been known to reach a breaking point, and it was long said that he wins or wrecks. Lately, he has been wrecking a lot. Just look at how Ricky Carmichael beat him in 2006 for the SX title; even if Stewart passed him he would remain glued to his rear wheel, shadowing his every move. This would usually end with Stewart reaching his breaking point and making a mistake allowing Ricky to win. It seemed to happen quite a bit during that season and it has proven true to this day. Aside from the race where Stewart won (Atlanta), he has usually crashed when pressure was applied to him for the entirety of a race. It has always left us saying, "Man, if he would just stay off the ground he would win everything ".
Both 250 series are short enough that usually physical breakage is all that will come from either man or machine. Just because it is a shorter season it does not mean the ups and downs won't be as severe. In this day and age of racing motorcycles, we don't see very many mechanical failures unless something new is being tested. The air shock on Dungey's KTM failed and has been removed (for now) from his bike. Davi Millsaps's bike broke in a heat race, Ryan Villopoto's bike was smoking during a heat race but never failed, and James Stewart's clutch broke on the line of a main event, but other than that…ok, it sounds like a lot when you list it that way. In the 250 class the bikes haven't had a bad rap, as the main guys have stayed away from mechanical problems thus far. Obviously, Dean Wilson's body broke for the second straight year, while he was in contention for a title. Other than his bad luck, the top competitors only worry is their starts. Wil Hahn has started behind Musquin the last three main events, therefore has been unable to get the win. He has made it to the podium every time which shows he is head and shoulders above everyone except Musquin. Marvin is fast and if you give him some clear track he is deadly…sound like Kevin Windham? I believe one of these two will have a breaking point the very next round. Either Wil will get another bad start and get frustrated, causing him to make a mistake, or Musquin will get passed and/or left by Hahn.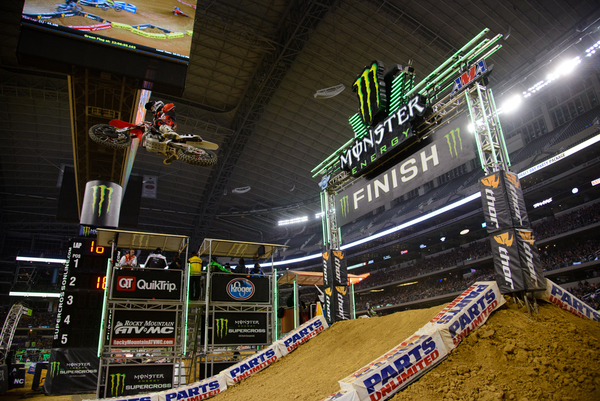 Can Canard get "it" back after the break?
We already know the whoops break many a championship dreams, just ask Wharton on the East and Tomac on the West. They are not the only obstacle on the track to cause concern for the riders though, as tuff blocks, flat corners, 90 degree turns, off-camber turns, sand corners that develop into one line, sand sections that don't get rough, and the simple monotony of one or two standard length triples. These routine obstacles that form our racers into holeshot and win, follow the leader machines, should be considered breaking points for Feld. I know it is for the fans. The flat corners allow for no diverging from a line once it is set, and to think about making a pass around the corner is mind-boggling. Tuff blocks just cause problems for the riders as they snag them and cause mayhem in their wake, but they are necessary evils. The track designs could use a little creativity, and in agreement with Steve on this, the over/under bridge would allow for much greater use of space while allowing the designers to manipulate sections to their liking. I feel the sections have been very basic and the jumps have been small this year. Now, a 450 can jump some ridiculous sections and make combinations possible that you would not think so; however, when the jumps are arranged so they set up for a specific line to be used it promotes no passing or creativity by the riders. Do we even need triples anymore? I believe it would make for better racing to put either a rhythm section in that produced a combination of options, or introduce something completely new. Hell, just make an obstacle up and see what happens…it can't be worse than what they have. I have reached my own braking point on that subject.
We have all be around long enough to understand that everything breaks down. At a very young age you even learn that one can break wind, who would have thought something unseen could be broken? If you wait long enough a Twinkie will decompose into roost, now wouldn't that be a stone spray to eat? It has been a grueling series for the competitors, I am sure, and everyone involved is probably breathing fresh air thinking of a weekend off. Maybe a nice break is what everyone needs to get back on track and elevate this series to what it could be, what it once was. In my opinion, the series came on like a fever comes on; with chills, accompanied by goose bumps, then the shakes, and finally, the temperature rose to a near dizzying degree. Sigh, even fevers such as this reach a breaking point. Our only hope is that the virus of 2013 SX is merely in a state of remission, and that it will surge on our SX stricken immune systems once again. The moment of the greatest strain where something has got to give, that is a breaking point, and that point is now. I only hope when the racing returns the fans won't be the one's to do so…to give.