The last American World Champion gives us his thoughts
The last American World Champion gives us his thoughts
25 minutes and 12 seconds with… Bob Moore
Interview by Jonathan McCready
Picture by Nigel McKinstry
Surprisingly it has been almost twenty years since an American won a world motocross crown. The last American to win a world title is still Californian Bob Moore.
It was back in 1994 that Moore took the 125 world championship, a long nine years after he first arrived on the GP trail. Moore had contended for both the 250 and 125 titles in that time before finally clinching the title he wanted so badly on the famous black Chesterfield backed Rinaldi Yamaha.
Moore had made the trip to the 2013 Dutch GP where we were able to catch up with him to talk about his career and about his current role in the sport.
Open, friendly and still possessing a passion for the sport that took him to the GPs in 1986 as a teenager, Moore chatted freely about anything and everything to do with motocross.
Sit back and enjoy a fascinating insight into the life of one of the GP legends from the 90s.
Pulpmx: Nice to see you at the GP -what capacity are you here in?
Bobby Moore: I still work for a management company Wasserman Media group and we have quite a few riders in GP racing. Our current MX1 riders are Steven Frossard and Tommy Searle so I am just here overseeing things. Jamie and Jeremy look after the day to day things I am just here taking in old memories and stuff. This is the first Grand Prix that I ever raced – it was in 1986 so it was a while ago! But it is always fun to come back and see everyone.
Are you enjoying the job?
I can say for someone that has been racing all his life and enjoying this awesome sport it is such a pleasure to doing this. I really believe if you want to be good at something you have to have passion about it and I have so much passion for racing in general and it keeps me coming back.
You were the last American to be World championship, is it hard to believe that was nearly twenty years ago?!
It's crazy. It is a long time ago, I think a little bit of that is because of the strength of the US supercross series you don't see as many Americans coming this way now as you did in the 80s.
It is still neat to know. I still have my motorcycle that I won the title, it sits right outside my office so I get to see it every day – it's pretty cool.
When you came over back then it was probably harder to live with all the different borders and currencies.
It comes down to the day to day living -that is one hurdle you have to overcome. To be honest the first two years I raced over here I hated it – it was just brutal. I spent all of the money that I raced travelling back and forth to the states. I spent over $20,000 in airfare going back and forward. It was so hard for me to live and be away from my friends.
After those first two years I told myself, 'look, this is what I want to do and this is where I want to be.' I tried not to live like I was in America. It made all the difference in the world and from then it became easier for me.
I think that is the toughest thing for Americans it is such a different lifestyle but again nowadays it is way easier with the credit cards and no money changing. Now it is pretty much like living in the states now.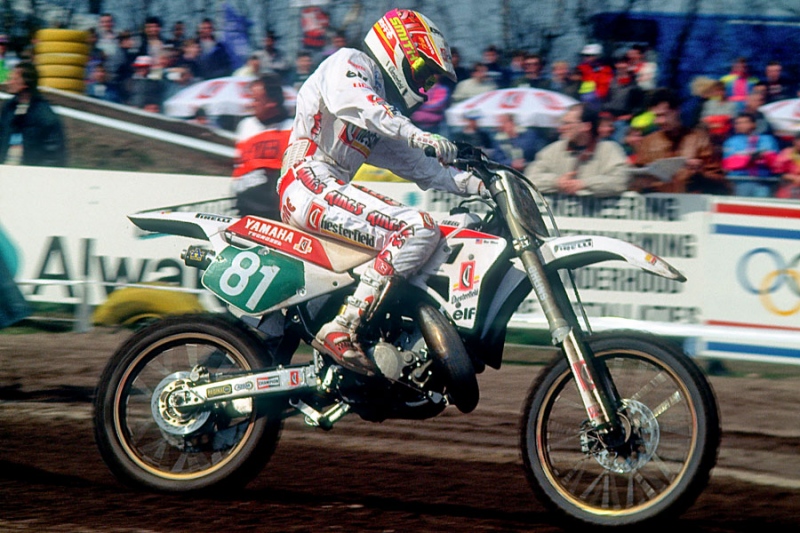 Moore on his sweet Chesterfield Yamaha back in the day. Photo courtesy of Racer X.
Zach Osborne did pretty well adopting that attitude?
I think Zach did exactly what you needed to do. Zach always had the ability and the talent to run at the front but he had a few injuries at the wrong time in the States and he came here and showed everyone what he was capable of doing. It opened up a whole new door for him in the states, which is great. He has a two year deal with Factory Connection although I know he is not so happy with his season so far but he is going to do well.
What riders are you representing in America?
We have Chad Reed, we have the H&H team, Davi Millsaps, Tyla Rattray and Blake Baggett. We have a really good slew of riders, it's fun to see them do something they love and get paid for it.
Davi Millsaps has had a great season but then Baggett and Chad Reed have had difficult years is that difficult to manage?
I don't manage their day to day business, I basically oversee things if there is a big problem or a contract that has gone wrong, then I can step in. The nice thing is Davi has always had that ability to ride a motorcycle and when I really pushed hard to sign him back six years ago you could see he had the ability to win and not a lot of riders have that ability to ride a motorcycle that he does.
For me to see what he has done has been really, really nice. He has a family now, he is more stable in his home life and I think that rolls over onto the racing life as well.
Chad on the other hand has had kind of a bummer season. He started out ready to go but coming back from the injury he had was pretty hard. He started to get back into it but the knee injury was holding him back. I don't know if he is going to miss Houston but if he doesn't make it he is supposed to be back for Minneapolis so that will be good to see him back racing.
Blake had a good chance to win the 250 West Coast but when you get injured it's over. The first weekend those guys had off was this weekend, it's just a really long schedule to stay healthy for.
What about Baggett for the outdoors, will his wrist be ready?
O yeah he will be good. That guy has so much ability on the motorcycle he will be difficult to beat again. He is so fit and the heat is something he excels at. It seems like the outdoors are even harder than the supercross from a fitness stand point. We will see, Roczen has stepped up his game this year so I think you will see him and Musquin pretty close to the front.
Being part of racing in 2013 there hasn't been this kind of racing ever in Supercross. The top six or seven 450 guys are gnarly. I mean they are so good that you don't get a bad start and just come up. You saw what Villopoto was doing at the start of the season and it wasn't because he was slow it was because he was having a hard time coming through. Now things are shuffling themselves out and couple of guys are getting injured but still, the racing is just unbelievable, it is really strong.
And that is good for the sport…
Unbelievable, I was just sharing with a couple of guys earlier, that from a sponsorship stand point and the public that we have had probably the best ever. The TV ratings are really high and you almost have live supercross coverage at every round and the attendance has been really good as well so it has been really good to see.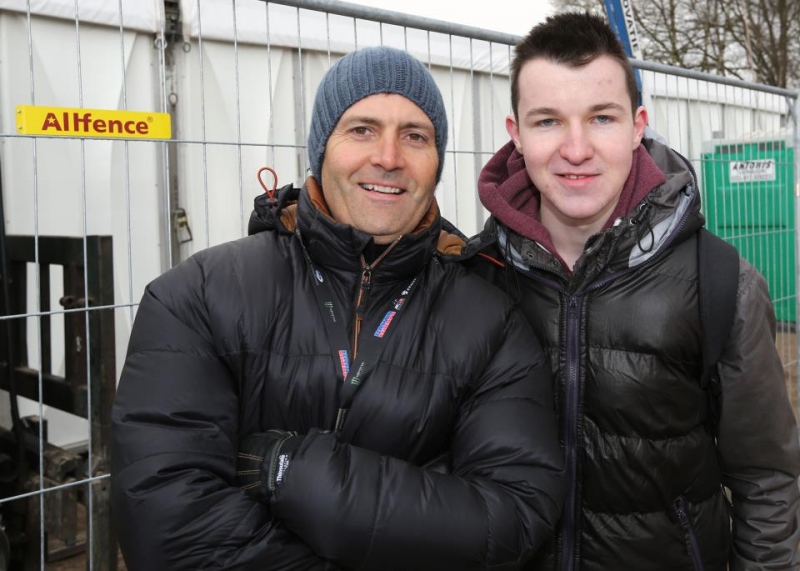 Bobby with a mystery spectator at the Dutch GP a couple of weeks ago.
Going back to your career, you won the world title but you were competing in the world championship for a long time and always up there, what are your fondest memories of that time?
Obviously winning the World Championship was something I had wanted as a little kid even racing in America. I wanted to be world champion, I don't know why I had that but it was just something that stuck in my head that I wanted to be world championship and not supercross champion.
I think what I took looking back at it now was the people I met and it changed me as person. I can easily say that if I took the route of supercross and staying in America I would have been a different person .
You have a really different outlook living over here. I was living with an Italian family and doing the whole Italian thing more than any other country but it changed me. It is something I really appreciated and was fortunate enough to be able to do.
In 2011 I brought my family to leave in Italy. My wife and I talked about it a few years ago and I wanted to bring my kids over to see what life was like here. I knew it would be challenge because my kids are 16 and 14 years old but I wanted to show them something other than Southern California. You get in this bubble in California and you think everything is like that and it's not.
We lived in a beautiful place in Florence, Italy. We put the kids in a private school and they learned Italian, they didn't complain and they really got a different perspective.
Of course of you ask them now they like California where they are from but if you ask them in ten years I think they will say it was pretty cool because not a lot of people have been able to do that.
You had a big crash in Foxhill in 93 did that affect you much?
I was really struggling that year anyway. I had a really good year in '92, I was racing for Rinaldi and I wasn't factory rider I was more a satellite rider but I ended up getting second in the 250 world championship. Then I went to factory Suzuki and for whatever reason that bike never suited me well.
I was maybe a bit too over zealous on that jump. I remember I got passed by another rider and I was just like 'man, I got to get by this guy.' But I went too fast and hit the lip at the top and was rolling windows down twenty feet in the air going 40mph. I landed and shattered my ankle, out of all the injuries this left ankle is still…on a day like today (cold) I feel it. I shattered the pivot bone in there, it's still sore today. I didn't get surgery but that was because it was all broken into pieces.
To come back and win the 125 world championship the year after then was a great achievement.
Yea and an interesting statistic about me and Foxhill was I either went to the hospital or I won the Grand Prix! I got two wins and two hospital runs!
To win the GP at Foxhill in '94 was great and I nearly won the championship that day but Chiodi at the time made a couple more passes and kept me from winning. But I just had to go to the last round and get a fourteenth to win.
It was funny because I don't know how other riders are when they win a world championship, but for me it was something that I waited for my whole life.
It took me nine years to get to that point but after that race (Foxhill) I wanted to scream and yell because I had won it, but really I hadn't quite because something could happen (at the final round) my bike could blow up and I could lose!
I was wanting to be so excited after than race but I had to go home and ride and train for two weeks. The final race we went to in Belgium and for the first moto all I wanted to do was get a start. If I got a decent start I was going to win the world championship.

I remember going to the GP it was like – you know when everything works perfect for you? Well, the gate felt like it dropped three seconds earlier for me. I got the perfect start, got into the lead and I went as fast as I could and won by eleven seconds. That was the final moment when I could finally scream, 'yeaahhhh!'
Did waiting the nine years make it sweeter?
It did, I did not race without injuries every single year of my professional career. I broke an arm or a leg or ankle and even the year I won I broke my thumb in January. That didn't bother me because the season didn't start until April but then in December I broke my tib/fib and dislocated my ankle.
I didn't escape injury free like some of the other top riders can do but I am blessed to have one championship, have three second places and I won a ton of Grand Prix. More importantly I met a lot of cool people.
I guess it gives you the connections today to do your job now.
Yeah that is how I have a job now. I knew all these people and when I decided to become a manager I was lucky enough that riders would say, 'I know Bob, I'll trust him to do my contract.' That's how I got into it and the people I deal with now like the boss of Yamaha for MotoGP – he was my boss when I won my world title.
It's the same type of people, some are in MotoGP now but some are still in motocross. It's just because of me being around so long and knowing so many different people I have been fortunate enough to have this job.
I remember you made a one off comeback in '99 for FMF Honda when you were the team manager.
I don't call it a comeback! I was that guy that looked at riders that came back… this sport is too hard when you get to that level you cannot retire and come back at the same level. I don't care who you are it's never been done, whether it's Michael Jordan or whoever – you can't do it, it's too hard.
I was getting pressure the whole year by the team. I would go out and ride with the riders and I was usually faster than them on outdoors. I did it because that year they were bagging on the bike so bad and I was saying, 'look I can ride it,' and they would say 'come out and race!'
So I said I would do one race. I was going to do the first round at Glen Helen and I ended up separating my shoulder. So then I said I would do Mt Morris. I was in fourth until the last few minutes of the first moto and then we had some problems with the bike and I almost endoed on the finish line jump and i just pulled over and said, ' you know what? I don't get paid to do this, this is too dangerous!' so I just parked it and that was it!
It was a pretty cool story to come back and beat the riders you were managing!
Yea well Tallon Vohland was running second so I wasn't quite beating everyone but it was a good time. I retired the year before but I still won a GP in '97 – the Spanish GP.
I was still young enough to compete for a few more years but the reason I retired was because if I felt I couldn't win a world championship I didn't want to race. I didn't want to be that guy out there collecting £100,000 and finishing eighth or seventh in the series – that wasn't a motivation for me. Then when I got the opportunity to manage with FMF Honda and work with the young riders it was perfect.
One of the toughest things to do is to find something to do that you really enjoy. For a lot of riders this is all they know. They don't have any passion to do anything else. I was fortunate because I had a job I could get paid to do something I love to do. The riders need to find a place in racing somehow whether it's as a goggle guys or clothing guy or team manager. You look at Stefan Everts and he is doing well. It's tough too with our economy to pay a guy $50,000 plus all the travel, it's tough but I was fortunate to find a good job.
Now I am doing MotoGP and our company is still looking to get into F1 and that is a final thing from a motorsport perspective but we are a smart company and we aren't going to make silly decisions. We are taking it step by step.
The Superfinal is a controversial thing in the GP's but what are your thoughts on it? You have a pretty unique perspective.
You have to have that one race show because that's what people know. I don't know if I agree with have the 250s along with the 450s because it's never a fair race I raced my whole life and there is never a track you go to where a 250f is better than a 450f. I don't know how you solve that but I like the idea of going to a one race format. From a television format that is why supercross has become so successful because you have just one main event.