Moser's Soapbox
Moser's Soapbox
Just Short 14 Vol. 2
Minny
By: Moser
Remember when you sat down to take a test in college, or high school (I'm still a little unclear about the demographic of the Just Short readers) and you were completely unprepared. This was a somewhat regular occurance for me, I generally paid attention enough in class that even if I didn't study I could stumble through it well enough for a passing grade. How is this relevant you ask? On any given Saturday I usually will follow twitter for any practice and pit updates throughout the day, I'll watch practice live if I have time and then watch the race live while also reading the twitter updates just in case something happens that the cameras don't cover. On top of that I listen to all of the Pulpmx podcast content available (sometimes twice), and usually DMXS as well, I read Swisscorner, Redux, Racerhead, and Observations in that order.
So I don't mean to toot my own horn but I feel like I'm in the "know" of moto. This weekend I was off the grid, no cell service, no TV, no internet, and as I sit down to write this I still haven't watched the race but it sounded like a good one that I will for sure make time to catch up on. I'm just going to wing it like I did on all those tests in college (which I graduated from believe it or not). In all fairness you probably wouldn't have noticed had I not given full disclosure, I doubt CBS covered much of the LCQ's if at all. I had to get a bit creative this week when I didn't know either of the riders that came up Just Short and didn't have the time to do background checks on both guys but nonetheless I'm attempting to bullshit my way through this just like all those tests.
#394 Tanner Moore
Auburn, KS
Honda CRF 250
Letko Ktm/MBR Racing/Bike Tek/Novik Gloves/TiL
Tanner Moore rides the Lites Arenacross class but I'm sure you already knew that. I unfortunately already bleed my Arenacross information well dry last week by interviewing Weege who was more than forthcoming, only problem being only 29% of what he divulged was on the record.
Weege did have this to say "when I did AX TV (comments edited for content) we barely covered the lites class. They actually run two classes in Arenacross, one on 250Fs and the other on….also 250Fs. One is called Lites and one is the regular Arenacross class. The Lites class is somewhat entry level and dudes that did win had a hard time stepping up from Arenacross Lites and really contending in the Arenacross (main) class."
That's two weeks in a row now that riders from the Arenacross circuit have almost qualified for the Supercross main event, the "RC road to Supercross" appears to already be working. I won't get on my soapbox now about how Tanner Moore doesn't have a website or Instagram. He does have a twitter account though @Lnghurdntcur394 (I have no idea what that is an acronym for) but he doesn't post stuff mostly just RT his chicks posts. Perhaps there is a market for someone like Kenny Watson to teach people how to promote and sell their brand, yes I'm serious.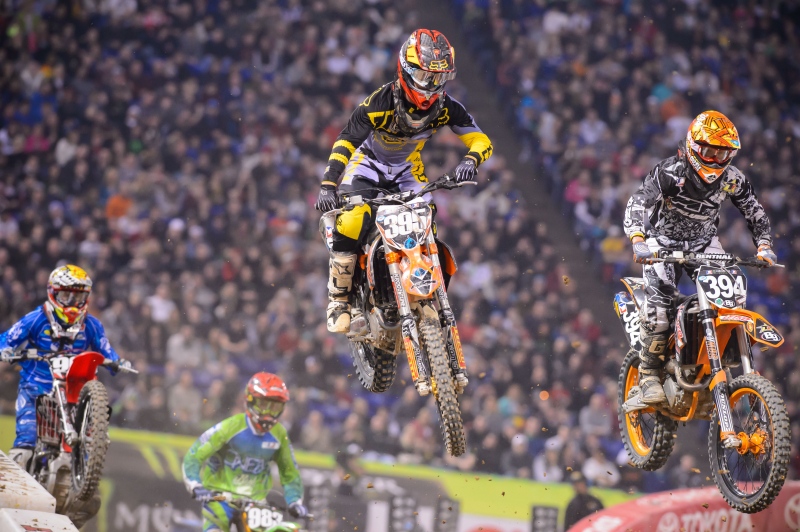 That's Moore there, #394 on the right. Seriously, it's the best we could do- the 250SX LCQ's are insane these days. Photo by Cudby
When you don't know who Tanner Moore is or can't find anyone who knows who Tanner Moore is who better to interview than the 3rd favorite Pulpmx employee? Thee @Swizcore
Moser: But seriously do you know who #394 Tanner Moore is?
Swizcore: Never heard of him
Well he races Arenacross
That's no help
Do you hate Arenacross?
Sort of
So you don't watch Arenacross?
Only when I'm bored
Did you know they have a West and East coast Lites class?
Nope
Who is a better announcer Weege or Langston?
Is that a real question?
Well that just answered my question. But just so you know Weege wasn't fired they just "went another direction". Who is your favorite past and present Arenacross rider?
Are you interviewing me?
Yeah I told you that bro.
No you didn't start over.
No bro we're on the record
Dude I've been playing baseball with my son
How's his swing? It would be a disservice to my journalism to change your quotes after the fact.
He's the next Mantle. That's not fair my answers were in between throws not actual answers.
This is all solid stuff keep it coming, my readers love them some "Swiss off the record". Who is your favorite past and present Arenacross rider?
DBO of course (Denny Stephenson). Or Budman, always liked him.
And present or current guy?
Any of the Team Faith guys, mostly Kelly Smith because he's Michigan Mafia.
What do you think of the whole "RC road to Supercross" concept?
I think the concept is long overdue but that doesn't mean the concept will actually prove to work as intended. The current Bowers situation is very cool though. I'm sure they will trumpet that as proof of the concept though. It's really just an indictment of how bad Mitches' 2013 season has gone.
But doesn't Bowers have to transition to Supercross full time to "prove" the concept works?
Transitioning full time would definitely prove the concept works 100% but I would say three races is enough of a trial to "prove the concept"
Have you ever watched an Arenacross live in person?
Negative
I say Arenacross you say?
The Sheriff
I still can't believe he lost a leg, and that he was married to Leticia Cline, mostly that he was married to Leticia Cline.
Life is cruel
What is an appropriate nickname for The Sheriff now or is it still too soon?
Karma bro
What does the #394 mean to you?
Not a damn thing.
So just to confirm you hate #394 Tanner Moore and Arenacross?
No I think his name is sick. Sounds like he was in Wyatt Earp or Tombstone.
Which movie is better and you better say Tombstone or I'll be your Huckleberry?
I like Unforgiven more than either of those. Wyatt Earp is too "Hollywood" for a Western.
The Sheriff, Unforgiven, Wyatt Earp, I think we covered everything except Tanner Moore. Thanks Swiss.
You were all over me like Shorty on Tickle
If by that you mean faster and better looking than yes.
Like Tickle I'll take the higher road and not defile Shorty
Hey Swiss on more thing…..suck it.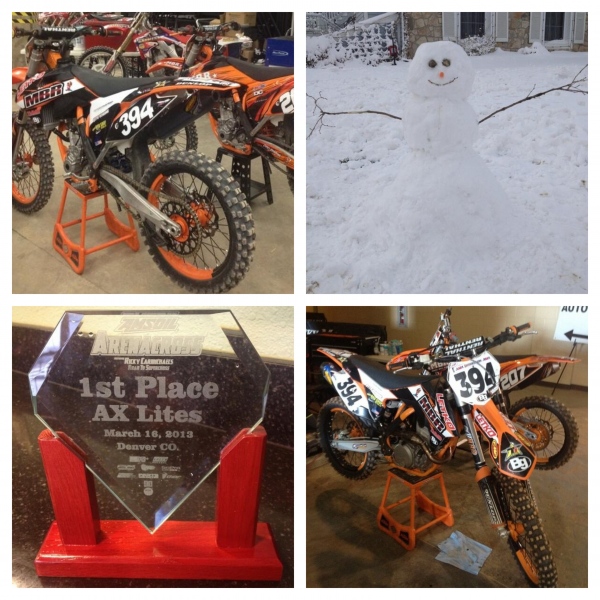 Tanner needs to improve his photo posting skills this is all I could find a couple bikes, a trophy and a snowman.
#374 Cody Gilmore
Blair, NE
Kawasaki KX 450F
Yankton Motorsports, Race Tech, Motosport, Moto
I know I've heard of Cody Gilmore before I can't recall where but definitely heard the name before. A fellow that works on strokes and rods at JGR (cough cough the big O) told me he thought DBO (Denny Stevenson) knows Gilmore. I just so happen to know a guy who knows DBO and got his number. He text me right back and I was looking golden on getting this interview, with any luck DBO would have a couple beers and this could be an epic interview.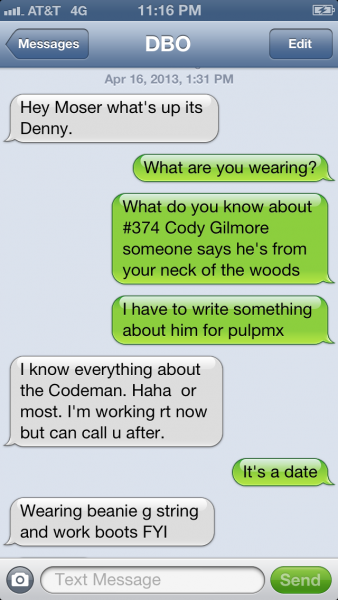 DOCUMENTATION of the interview that almost happened
After a brief correspondence with DBO I didn't hear back from him in time to meet my deadline and I can't afford to have my boss dock my pay (I don't want him docking me in anyway shape or form actually). So what do you do when you lose the interview of the guy that knows the guy you need information on? You interview a guy that knows the guy who knows the guy you need information on, a David Castillo.
Moser: You're filling in for your buddy DBO who didn't get back to me. Do you know #394 Cody Gilmore?
Dave Castillo: DBO is a way better interview than me and no I don't know him.
I wanted to interview you over DBO anyways, just didn't want to bother you. Cody is from DBO's neck of the woods apparently and subsequently has an awesome beard, is the beard just an Ohio thing or what?
Iowa?
Spellcheck got me and/or I'm drinking
Omaha Nebraska
Sure who am I to argue with GodBod, but the midwest is basically one big state.
True
Back to the beard, unless you know something about corn that is interesting.
No I don't. Is this an interview?
Yes I told you that.
I'm just trying to feel out if the interview has started yet.
I can't even answer that.
Haha continue.
Wait you're trying to "feel me out"? Lets get back on topic, beards.
Beards, what about them?
Has DBO always rocked them, did his dad have a beard is it an Omaha thing? Did you ever go back to Omaha with DBO and everyone had a beard like the Amish?
I don't recall Don having a beard back in the day. Dennis (DBO) has always been a walking facial hair fashion statement. The beard is just his latest thing. I've never been to Nebraska.
What is the weirdest thing DBO has done with his facial hair?
I'm a big fan of the chops meeting the corners of this mouth, mixed with his flavour savor grown down over his chin.
During the Great Western Bank Team days who was the best dressed?
Best dressed was Factory for sure.
The reason I ask is this Cody Gilmore kid wears a lot of flannel, now I think flannel is timeless but you have far more fashion sense than I do.
Flannel is only for when you feel it. You can't wear flannel because you think it looks fashionable. It's gotta be an attitude.
Like Hanny is living flannel, just living it?
Yup, he's feeling it.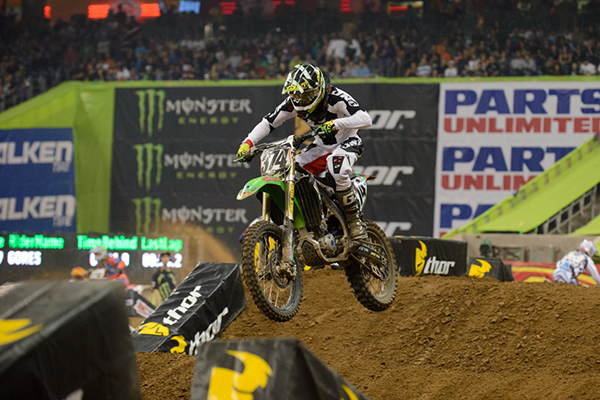 You can almost see Gilmores beard under his helmet it's there trust me. Photo by Lissimore
This interview is more fitting than I ever imagined. I'm scrolling through Gilmores pictures on Instagram @happy374 and it looks like he is still living in the 90's, very Great Western Bank Team-esq.
What is this interview for and about for that matter?
It's about Cody Gilmore coming Just Short of making the main event in Minny. Trust in Moser GodBod that's all I ask. In todays racing how far do you think you can go without putting in the work, can a guy still get by on talent alone?
I think these days that the level of commitment the riders are putting in is crazy. From the time there amateur, their hammering laps, have trainers, and are so focused. I don't think you can get very far without the doing the work.
Each to their own I suppose in retrospect I guess their careers are pretty Short.
Talent will get you noticed and you'll get a long way if your a world class natural talent. But sooner or later the lack of work ethic will catch up and you won't last that long.
I say Omaha you say?
Bob
Lol perfect.
No really @bobfromomaha
Alright Mr. GodBod I'll let you get back to whatever you were doing previously that I interrupted thanks for your time.
Thanks
BREAKING NEWS: Eventually Denny Stephenson DID get back to me with this quote about Cody "Happy" Gilmore:
"I've know Cody since he was a little kid racing 60's during Arenacross. His dads a biker. Cody survived cancer he's a bad dude for sure. He had a tumor on his back and left Lorettas and ended up at the mayo clinic. Went through chemo and all that shit. Looked like an 80 year old man for a few years, but kicked it and is back 100% cleaner and meaner then ever. He likes to party so we get along great."
I highly recommend giving Gilmore a follow on Instagram @happy374 the guy looks like he's living life and having a good time. I like so many of his photos I couldn't narrow it down to just four, so I picked eight because I can do that if I want to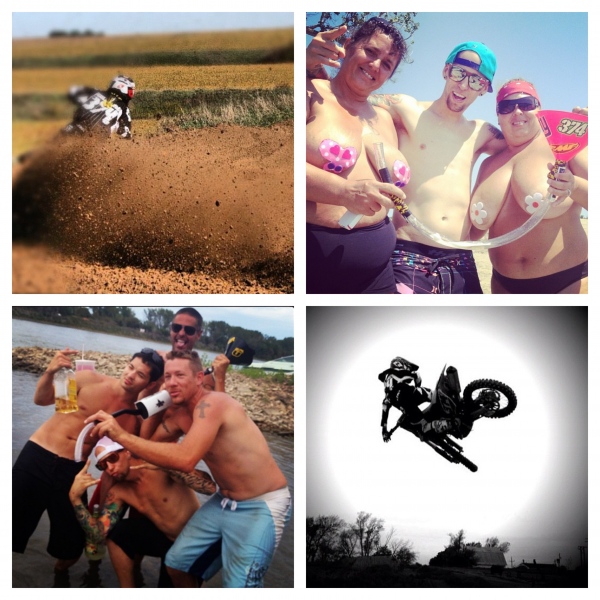 Cool roost photo
Gilmore and couple of his ladies
It looks like DBO really does know Gilmore that's in the back with the big smile on his face.
ET inspired moto picture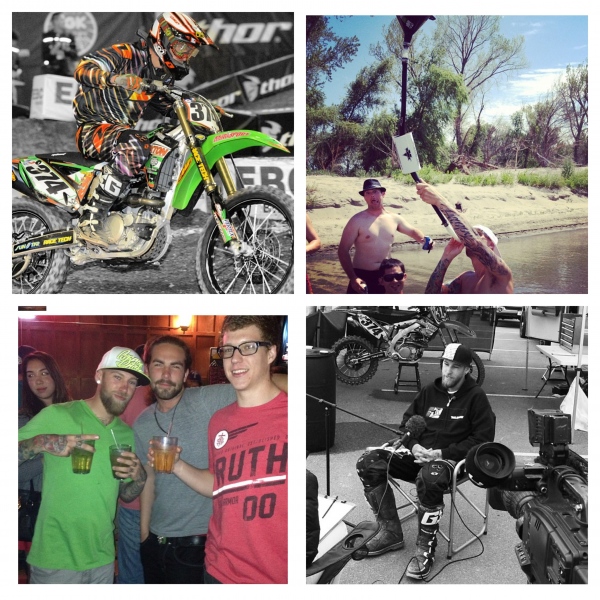 I think it's cool when the background is black and white but the rider is in color
You will have to look closely but that is a beer bong fashioned out of handlebar that they have named "Kong the handlebar Bong" I'm impressed and jealous I didn't think of integrating a handlebar into a beer bong.
Gilmore appears to be going wide open and hanging out with Tyler Wharton
The beard and Gilmore getting a little TV press
Thanks for reading this Short recognition of the guys that almost made it.
Moser

Please send all comments to jasonw@racerxill.com