Here's the thinking…
Here's the thinking…
KTM's passion for motocross and off-road racing runs deep. For years, KTM has been the leader in off-road and enduro, but now that success is spilling over into the pinnacle of racing: AMA Supercross. It's an exciting time to be riding orange, with Red Bull KTM's Dungey, Roczen and Musquin proving that KTM is also a leader on the motocross track. In the north, we anxiously watch as Colton Facciotti, Tyler Medaglia, Dusty Klatt, and Kaven Benoit prepare for the 9 Round Canadian National Series, which begins June 9th in Nanaimo, BC.
Follow KTM and their racers on Twitter – @ktm_canada.
Photos by Lissimore
Matthes: There are only three rounds left in this thing called supercross, there are a uncountable number of things to bench race about but one of them that I think is interesting is this. Is Andrew Short having a good year? He's in a battle with James Stewart for seventh in the points, he's had to switch bikes and teams this year and he's been unable to break out onto the podium this year. It's been tough for the #29 but at times he's ridden very well and at times, he's looked like he's struggled with the bike.
It can't be easy to have to go from an aluminum framed works Honda to the steel framed KTM but in a way, Short hurt himself by doing so well on that almost-stock Honda he was riding after his L&MC team folded. He did so well on that bike, under that stress, that you almost wonder why he can't do better on the factory KTM. And yes folks, that IS a factory bike he's got underneath him.
I think he's doing fine with all the off-track stuff that's been going on and the switch to the new bike but there's no doubt that on paper, his results aren't what they were a couple of years ago. And let's not forget, he won a race last year!
So with that in mind, I thought we'd go to his number one fan, a Cory Moser and ask him the tough questions.
So Moser, IS Short riding up to his typical excellence? What say you on his year in general?
Moser: The "Short" answer is yes he is. Every rider will tell you there is always room for improvement but overall his finishes have been in the range I believe he expects of himself. Shorty is a top 5 guy and I would fight anyone that says otherwise but getting on the podium this season is no joke. Shorty is one of the most consistent guys in the class and he's proven that again this year even with all of the drama surrounding him at the beginning of the season. I would disagree that he wasn't "doing fine" with all the off the track stuff at the beginning of the year and you're actually contradicting yourself when you repeated several times that "he wasn't sleeping well".
Tensions were high at A1 sure he still was kissing babies and signing boobs but his Shorty smile wasn't quite the same you could see the stress in his eyes trust me I looked directly into them for an awkward amount of time. The L&MC team folding and racing a stock bike couldn't have gone any better given the circumstances and his finishes exceeded everyone's expectations. Trying to get a bike built, arrange sponsors, get to the next race and also plan for the remainder of the season left little to no time for his usual training, and riding routine. Shorty made mention more than once of how he likes everything a certain way and that he's a little or a lot OCD. I don't think the transition to the KTM went as smoothly as he wanted but in addition to all the bike changes I think the lack of training and routine started to catch up to him.
I was concerned about the setback a broken pinky might cause but when I asked he told me it was "just a finger". Short has looked noticeable faster and more comfortable the last couple weeks and I think he can now throw his leg over his bike and doesn't have to question what it's going to feel like.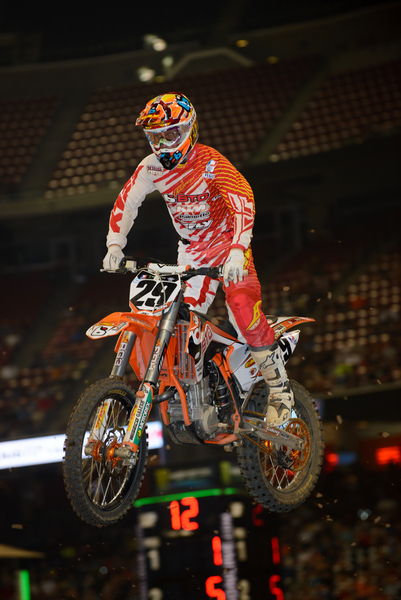 Short's season has been up and down off the track but pretty consistent on the track
Matthes: All I meant by saying he was doing fine was that even with all that chaos around him, he put in some great rides on the production Honda. Better than he's done on the orange bike but we all know that results in the main event are due to a number of factors outside a riders control but there are some things you can control. And starts and clicking off solid 20 laps are one of them- which Andrew did on the production CRF450.
He's been better lately on the KTM450SXF and I think the outdoors we will see a better Andrew Short than at any point this year. I've always thought Andrew was a better outdoor rider than indoor but he's gotten top three in both series so many times, who really knows?
The question I have for you, the Andrew Short super-fan, what do you prefer him on? The factory Honda (I know you're a Honda guy), the production Honda (where he looked great) or the BTOSports KTM team where he's got a good bike, is getting paid but perhaps hasn't had the finishes that he was having on the Honda?
Where would you like to see "your guy" at and on?
Moser: Like you said I'm a Honda guy so Factory Honda immediately pops into my head, I know Shorty also likes Honda and rode there for a long time but change can be good sometimes. Riding a production based bike is a ton of work, it's admirable what Chad Reed built in such a short time, granted he's on a Factory Honda now but I can't imagine the amount of time it takes to get sponsors and run a team. I think making a production based bike competitive is doable but personally everything that comes along with running your own team would take years off your life, but it's all in how you value your time I suppose. There is something to be said for just showing up on Saturday to race, and knowing the bike and team is all there ready to race and you don't have to worry about any of the details.
When Shorty was getting ready for the big decision of what to do I considered all the team options available, I mean the team he riders for also directly affects me. I honestly thought the BTO Team would be a good fit; the Factory KTM equipment is a huge advantage and is proven stuff at this point. The BTO Team has been around a long time and I know a lot of people but without the Factory KTM equipment I think it would have been a tough sell. Another obvious advantage of the BTO Team is all of the common sponsors they had, with his lifetime FLY gear deal, and Alpinestars there was very few conflicting sponsors and it goes without saying Shorty is the type of guy that stands by the people who have stood by him. With that being said I think he could have easily been a good fit on the Geico or Two-Two Team but that's probably just the Honda blood coursing through my veins.
Matthes: Yeah but still.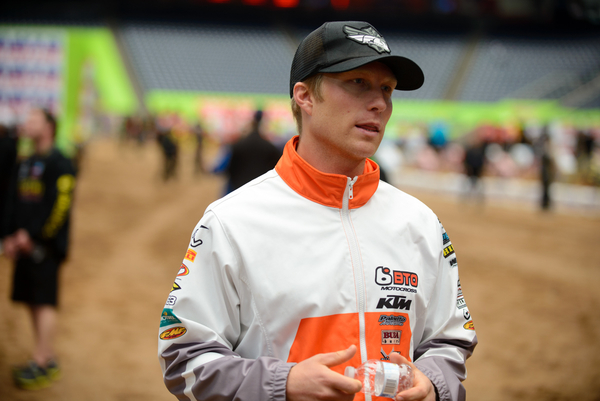 Moser's happy that Short has found a home on the BTOSports KTM team but he'd be happier if it was the BTOSports Honda team.
Moser: I couldn't say if Shorty is a better SX or MX rider you could flip a coin really and again he's almost consistent to a fault. I won't cut my balls off if he doesn't get a podium in the outdoors but I would shocked, and I will punch myself in the balls. Perhaps you've heard starts are a huge "key to the race" and Shorty seems to be happy with how the KTM is out of the gate, whereas everyone on the Hondas including when Shorty was riding one has struggled with starts.
I think one of his strong suits is his fitness and training, ironically he's had some health issues during the outdoors in the past but he's raced long enough he knows what does and doesn't work for him. The two Ryan's are going to be tough to beat this season but that doesn't mean a win is out of reach as Byrner (almost) proved last year. I'm hoping the Pirelli tires might even excel outdoors if not I'm going to have some words with @itsORourke that's for damn sure. With Shorty getting settled with the team and a fresh start with the outdoors series "we're" looking forward to a solid outdoors season.
Matthes: Thank you for your thoughts on this situation. I feel a little bit smarter now.