Chasing perfection is an ideal. It is the forever-circulating loop that we all rotate on as we navigate life.
Chasing perfection is an ideal. It is the forever-circulating loop that we all rotate on as we navigate life.
By: Isaac Scoggin
Photos by: James Lissimore
Whatever you do for a living, whatever dreams you have had and lost, or still maintain, these factors all inhabit this loop of allusive perfection. It is after all, human nature to want to be the best at what we do. You grow up wanting to be the best son, daughter, brother, sister, and then, as you age it transfers to best husband, wife, mother, father, friend, and employee (more realistically employer). The fact is, that we will all eventually settle for less because we get tired. However, as it is possible for us to stop on our loop, it remains possible to start again as well. Inspiration is all around us simply waiting for our eyes to adjust to it. I don't mean to inspire you, but if I did or do, I would proudly take that to the bank and cash it over a check any day. As you might have guessed, I too am searching for perfection from myself, as a writer, a brother, a son, a friend, a worker, and even as a boy friend. I get tired of the fixation of what I want and who I want to be; especially, when it seems like no matter how hard I run I always come full circle back to where I started. I imagine for the racers this time in the series feels like they are coming back around their own loops, coming to the realization that the perfection they chase has eluded them once again. Some may stop, disheartened by the charade of it all, others may just put their head down and push forward in the hopes of becoming more than they are.
"What goes around comes around." The phrase rings true throughout life, and this loop of luck or just rewards, seems to go hand in hand with SX and it's mentality. The mentality that hard work and dedication, along with the sleeping, eating, breathing, and living of racing will ultimately bring the results to you has flown around the world and now nests in every ear of every wanna be Champion. If this is actually true, many privateers are smiling with anticipation, knowing that just around the backside of the loop lays redemption for all the sweat, and overdraft notices received on their journey. Unfortunately, most privateers will remain living in vans, motoing wherever they can, and continuing to circulate the loop of perfection. They are chasing that beautiful bike the factory racers obtain, that wonderful sense of security of checks constantly being deposited rather than withdrawn, and that minuscule breath of air to breathe in and exhale accompanied by the words, I MADE IT! That is the perfection they chase. It really is the simple things in life isn't it?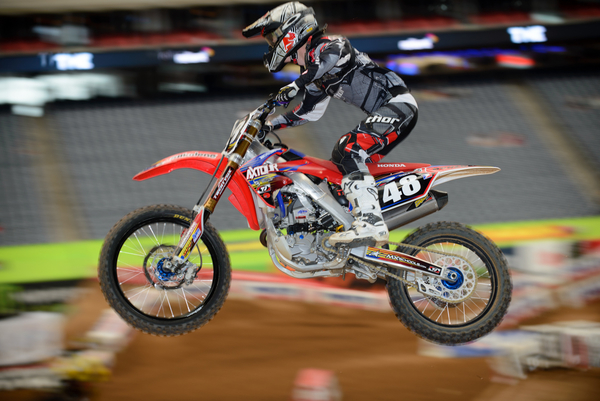 Cole Thompson has been riding well and is top placing Canadian in the East 250 series. (Har)
With that in mind, we can rotate our attention to the 250 East and the array of privateers that occupy the majority of the spots in the 20-man gate. So, in Houston the top 5 riders were supported, and by that I mean by teams that pay them, give them a bike, and say, "train, take care of you and we will take care of the rest". If you want to get down to brass tacks, the winner, Wharton, and the fifth place finisher, Faith, are supported by independently owned teams that have no support from a factory. That means 3 riders with full factory backing and the perfection the privateers are shooting for. Of course there are plenty of injuries to the factory squads to go around and that has undoubtedly hurt the racing up front. However, because of this mess out east the privateers are getting serious exposure and better results. Right now people are putting asterisks by the series with every position achieved by a privateer, but in a few years a guy like Vince Friese can still point to this season and say, "Yo, Tony! Look man, I was in 4th place after 7 rounds in the 250 East SX series." He may never achieve the perfection he is chasing, but to me, it just depends on the way you view it. To him, he has come full circle and is wondering how he can be so high up in the standings yet never get a call from a top team, or so I imagine. The reality is that he is building a dream-come-true one makeshift week after the next, and maybe that is not his perfection, but it's going to feel like it one day when he is looking back.
Manufacturers are in a constant flux of producing, testing, and innovating new technologies to revolutionize SX/MX; plus, out sell the competition by beating them to what the customer wants. And if you can't do that, then you sell them a lie. Every year you hear how the improvements are made in areas that last year's model lacked in. The irony comes when you reread last year's shootout and find no mention of the problem. It did not exist last year, but all of a sudden it does this year? It seems as though we are being sold one lie after the next. The bikes are all good enough in stock form for the average racer and each has a bigger weakness that can be fixed with bolt on parts. The only real joke about it all is the price tag of a brand new 450. Otherwise, it just depends on heritage, the luck you have had with brands, what team your favorite rider races for, or what shop gives you the best deal. Do I want a bike that turns well, starts with a click of a button, was once known for reliability, has a backwards facing motor, or has Jeff Emig doing commercials for it? None of them are going to make me a professional, so what do I care? Of course, because I want the newest, coolest, fastest, easiest to ride, make me look like a pro without being one, bike. So the manufacturers road to perfection runs through every local racer, and every local racer's perfection runs through the professional or the emulation of them, and every professional's perfection runs back to the factory…wait, was that a loop?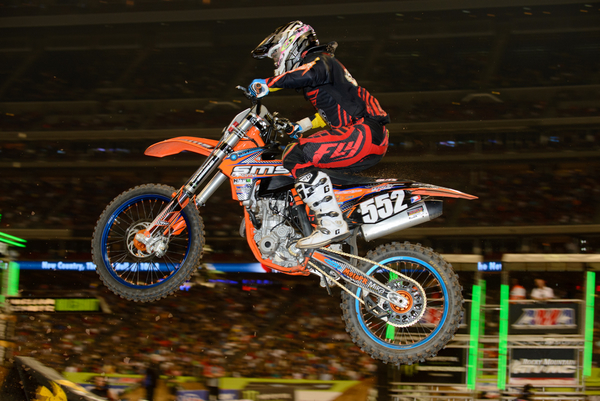 England's "Scuba" Steven Clarke is back in the US making another run in Supercross aboard a KTM.
Speaking of loops, how about the Yamaha YZ450F with it's looping exhaust and backwards cylinder? I know they are supposedly doing some revamping of it for 2014 and that is great. I do feel as if Yamaha fell behind the other manufacturers, but only because they left the bike stagnant for too many years. It was an innovative idea to try and centralize the mass of the bike by turning the cylinder around…now, make it better. It seems like they put all their eggs in one basket, crossed their fingers and said, "Let this work". Well, it almost did. Irony strikes again when you consider the idea of most of the weight in the center of the bike and how that affects braking and acceleration. When you accelerate hard the rear suspension will compress from the load of both your body and the bike. This equivocates to excellent traction when accelerating out of corners hard. Inversely, what happens when you brake hard? The weight bias is shifted forward along with your weight, making the front end gain more traction. This can cause issues with an inconsistent feel of the front end, and especially when you are mid turn, off the brakes and beginning to apply the throttle…it is like no man's land. I am getting out of my depth here pretty fast so I will wrap it up. Why not just adjust a few things here and there to more evenly distribute weight? I know every bike has similar characteristics in terms of biases from front to back on braking and accelerating, but when the weight is specific to the middle it changes the dynamic of it all. All bikes have issues that need resolved, and now this generation of Yamaha is going to die a gruesome death because it never changed; therefore, becoming a perfect scapegoat for any rider on it with whom the results don't come. I am not accusing, ok, everyone not named Kiniry or Chisholm has used it as an excuse one time or another. So if you ride a Yamaha 450 you are indeed straddling the perfect excuse and circulating a track lap after lap. No need to chase, because you have found it.
As for the 450 class, it has been advertised by Feld all year that anyone can win, a great year of parity they say – we bought it after just one round – and the last few races have been reruns. Don't you just hate it when you are pumped up, ready to see what new rider will get a win, only to find out that the same rider passed one guy and stole the show? The worst part is that we are now spoiled from the first 7 rounds and now only the perfection of a race long battle will do. Waiting for a mistake from the two-time Champion is not a place any of us want to be in, racer or viewer. If we want this loop to connect back into itself we might have to take matters into our own hands. I think if we simply sneak up behind the #1 and place a nice sized stick in his rear wheel (this is old school, I know), watch the bad start turn into a bad finish or at least some crazy passing. I realize this will not work as planned, as Mechanic Mike Williamson will most likely torque whoever attempts this down like bolt. Therefore, we fool him by pointing to a media guy he loves to hate, and informing him that they were talking crap about the air fork, new clamps or twinwalls back on his rider's bike. Loop complete.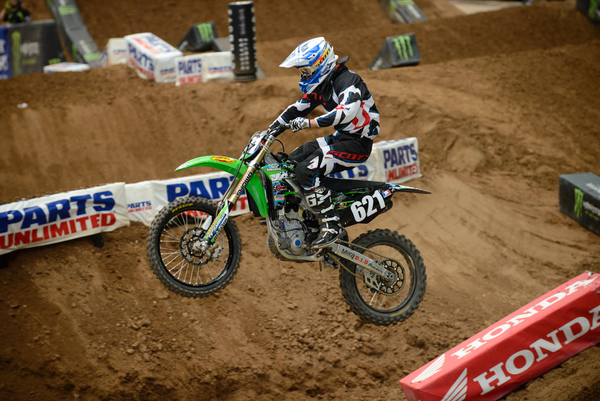 Vann Martin is part of the Jab Motorsports team, an outfit that provides solid support for their riders.
Chasing perfection is like being on a treadmill; no matter how fast you run you will never reach a destination, unless your point of happiness is a number of calories burnt or miles run. However, it does not mean we should not try. What our view of perfection is will change as time goes on and maybe while we were too busy pushing ourselves to gain more ground, we missed it. I am confident in saying that each of us has a different view of perfection, an alternate route to get there, and the infuriating feeling of making a loop back to where we started. This racing season started out perfectly, but along the way we circled back around to past years of dominance. Blame it on a racer, all the other racers, bikes, R & D, the will to win, the fear of crashing, Feld, Dirt Wurx, or me. It doesn't really matter because we have all been here before and it is easy to forget to appreciate what we do have. I predict in the future we will all look back, at one time or another, and realize the perfection was in the chase, and not in the end result. A little bittersweet, I know.