Let's try and give the spotlight to some riders that didn't get it on Saturday.
Let's try and give the spotlight to some riders that didn't get it on Saturday.
Just Short 16 Vol. 2
Salty in Salt Lake
Photos by: Lissimore
Wow just wow. Exciting racing in Salt Lake, a place I never plan to visit due to their strict alcohol laws and watered down beer. Did you hear Roczen didn't qualify and that everyone thinks he should have stayed on the track in his heat race to get a better gate position? The topic has already been analysed from every possible angle and beaten like a dead horse but fret not I will also be giving you my $.29 on the subject. Reed and Roczen in the LCQ's you can't argue it makes for exciting racing. I'd love to see the Semi's make a comeback but the chancibility of a top rider ending up in the LCQ after two rounds of qualifying are slim. I'm not sure if that would take away from the racing excitement in the LCQ's but it's just a Moservation.
Greg Crater from my home state of Washington was running in 3rd for a Short while in the 450 LCQ. You may remember Crater as the rider that had graphics and gear made a couple years ago to look like the bikes and riders from Winners Take All at Seattle Supercross, it's hard to forget those pink spandex. Cody Gilmore had a solid ride finishing second in the 450 LCQ and stayed fairly close to Reed the entire race. Gilmore was in Just Short a couple weeks ago and ever since has been putting in some solid rides it's amazing what a Short amount of press will do to a guys confidence. Lets do this.
#94 Ken Roczen
Germany (I refuse to write Murrieta in here like is says on the ama score sheet)
KTM 250 SX-F
Red Bull/KTM/Motorex/Foremost/Dunlop
What can be said about Kenny "Rocks" Roczen that hasn't already been said? He's a sponsor's dream: fast, funny, stylish, marketable, talented, outgoing, has an accent, world champion, and has a dog. What more could you want? Roczen is a great personality for moto, well spoken on the podium and in interviews which is no easy task to overcome with it being your second language. When he raced some select Supercross races here in 2011 he was really exciting to watch, scrubbing everything, over jumping, lots of speed but a little unpolished. After moving here full time in 2012 I thought he might of lost a little bit of his flare. Who knows what it was exactly, culture shock, the pressure and expectation to win maybe it was just an adjustment period but last year in Supercross it almost seemed like he took a small step backwards.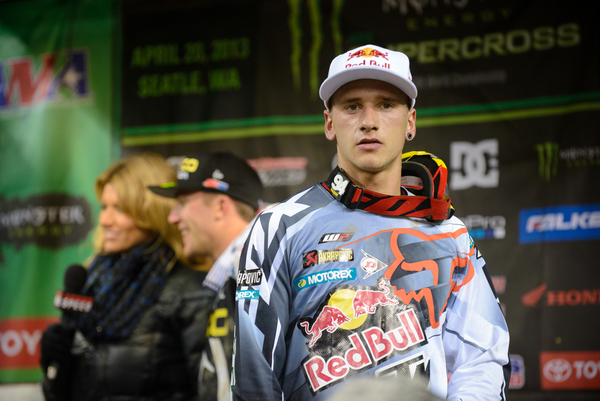 I think Kenny needs to bring back the chain necklace it was his "thing"
This year I've seen the old Roczen, ridiculous scrubs and it looks like he's just having more fun and enjoying the racing again. At the beginning of the season Tomac had Roczen covered in speed but Tomac also proved he couldn't ride on the edge and stay off the ground for 9 races. Over the course of a series I think Roczen proved to be the better man with both speed and consistency. So what happened in Salt Lake?
Roczen had this title in the bag, the check was cashed, insert your favorite cliche ________. But as they say there is a reason they run the races. Roczen crashed in the second turn and it looked to be his own fault running up the inside of someone who was already cutting down and inevitably falling over. No need to panic yet lots of laps left, it's not the first time he's hit the deck in a heat race this season. Next he narrowly avoids disaster but missing a guy in the whoops but still ends up in the hay bales. When he pulled off the track it was understandable he was frustrated BUT there was a collective sigh and groan in my living room from everyone watching the race immediately questioning the decision not to finish the race for gate position.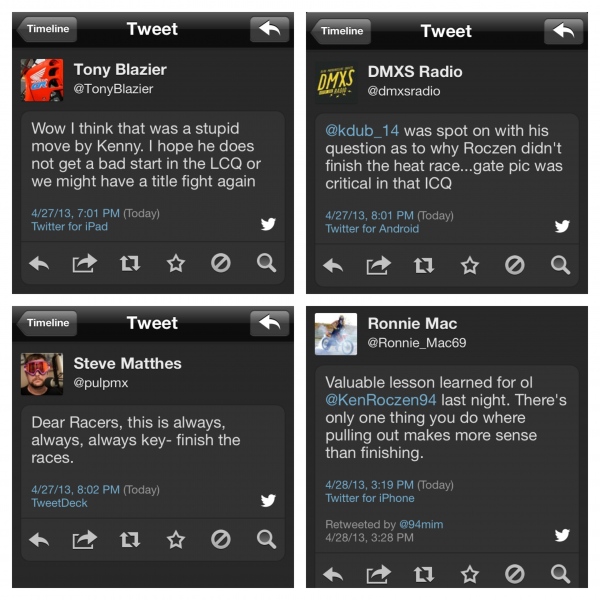 In clockwise and chronilogical order we have some industry heavy hitters weighing in on Roczens decision to pull off.
Like I said before the idea that he shouldn't have pulled off has been beaten to death and then ran over by Weston Peick, it's dead. On the PulpMX show they discussed that the team and/or mechanic should have reacted quickly enough to get him back on the track after he pulled off, that's a valid argument and one of the reason they wear headsets. Hindsight is 20/20 so nobody questions he should have finished out the heat race but I think he also could of approached the LCQ differently. I didn't see a good start from the outside all night, generally that not the case but this was an exceptionally Short start maybe the Shortest start I've evern seen in Supercross. When Dungey pulled a holeshot from the far outside gate in the LCQ the start was much much longer. Roczen Going into that first turn hot was a real gamble (in hindsight of course) if he would have let off early and snuck around the inside corner I think his chances of staying off the ground would have been much better. I still think Roczen is the favorite for the title and although I sympathize with the situation he's in it sure has made for an exciting race this weekend in Las Vegas.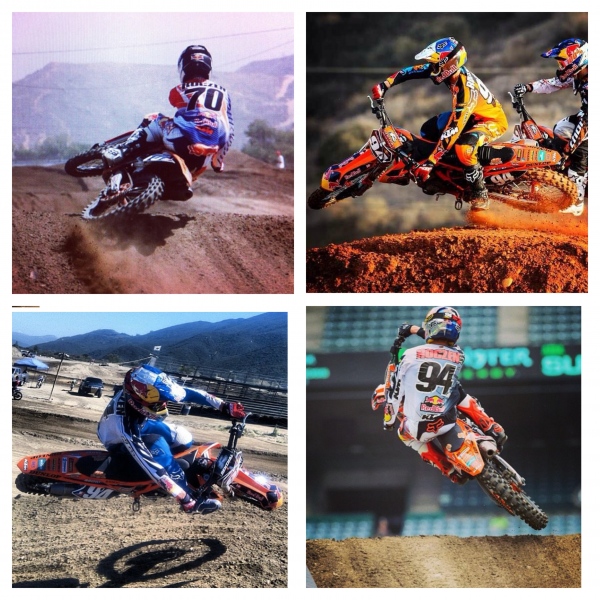 Pick your favorite scrub picture, I think I like the upper right hand corner the best.
#56 Kyle Regal
Howell, MI
Yamaha YZ 450F
Valli Motorsports/Yamaha/DC/Rockwell Training Facility
Deja Vu here we are again, featuring Regal in Just Short. I was tempted to cut and paste what I wrote last weekend but my dedication to excellence wouldn't allow me to do that. I tried to call Regals buddy Aaron Handsolo again but he wouldn't take my calls. So I thought long and hard about who I might know that knows a guy that knows Regal and it came to me. I know a guy that goes by @whosthomo on Twitter, he lives on the opposite side of the world in Australia but is somehow buddies with the suspension guru Johnny O at JGR who worked with Regal last summer. I also helped Johnny O's celebrate his 29th birthday with a couple pints Seattle Supercross weekend so it seemed fitting to get his Short story about working with Regal.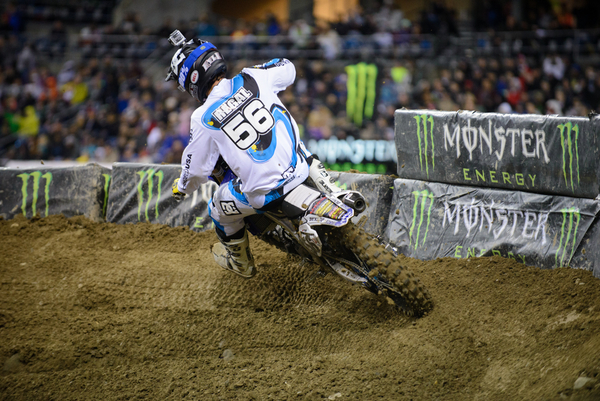 I sure hope Regals dad also makes a comeback
Moser: Mr. Johnny O'Moto thanks for taking the time away from your shims and oil to talk to me.
JohnnyO: My pleasure Mr. Mosher.
So what was it like working with Regal last summer?
He was fun he's got a great personality, he wanted to get in there and help build the bike, suspension everything.
You don't hear many complaints about him as a person seems like a good enough kid so what's missing? His results have been subpar. Going right for the hardball question.
Hmmm, well lets break it down. He was super fast as an amateru under his stepdads guidance, then he went pro. Pretty much as a privateer and showed some huge speed and talent. Then he got "a ride" which means the bike should make you win right?
(Laughs) Well his speed has never really been the issue the kid has skills.
At least not in MX. I'm not sure he's ever been spectacular at SX. When he got onto teams I think his old program conflicted with the teams programs.
As a rookie I think his first team ride was with Valli.
Yeah that sounds right and I think there was some drama over there with his step dad or something.
Yeah but they had DOCUMENTATION.
I think not long after that he kind of broke away from ma and pa.
How fast were his lap times on your bike at the practice track?
When he came to us he was fast.
Like Shorty speed or?
Is that fast? (heavy sarcasm)
I will fight you and don't forget Jeremy Albrecht was beating down Shorty's door last spring.
Over twitter, who could forget. The hard part about the speed question is every rider looks fast when they are the only one on a track. It's a problem we run into because we have an amazing facility but don't allow other riders on it.
How's he like his bike setup? Did you adjust his stroke fast, hard, slow, soft?
Well that's not a yes/no answer. But if you want to make it that simple, you've taken everything genius out of suspension tuning. Honestly we struggled to find a setting he was happy with but it only became apparent after a race weekend. He was almost too nice and not critical enough when testing. Everything seemed great during the week then he'd do mediocre at races because he wasn't happy with the bike setup. I think he was so happy to have a ride and making his own decisions that it didn't matter to him.
Is it too many choices that creates a problem? Whereas when he's riding a privateer bike it is what is and you just ride it?
Yes exactly
Did you meet any teen moms?
I did meet one. I think when Kyle broke away from his pops he kind of lost his riding coach/trainer.
That's pretty standard for any kid growing up and is going to do it his way. So what was missing last summer when he road for JGR?
I think there are two things. His normal program and his lack of directing where to take the bike.
You lost me, so his normal program worked or didn't work?
Lets say his old program the one his dad instilled.
Dude you're speaking French. The old program is what he ran last summer or the program needs his dad and/or doesn't need him?
Well with setting the bike up he didn't really know where to go with it. I mean old program as in when he was successful as an amateur. It appears he was more successful when his pops was still involved.
Basically riding a JGR bike is like dating a supermodel it sounds great but once you through your leg over it you don't know what to do.
(Laughs) maybe.
It's the big leagues.
He was fun when we were testing, I think maybe the girls were a bit of a distraction.
Alright one more time. Last summer he was doing his old program?
I'm saying his old program was when he was under his pops wing, since he's gone his own way he hasn't seen as much success. We don't have a rider coaching program. That's kind of something they usually have straightened out before getting on a factory team.
I thought JGR looked after their riders more so than most teams?
Yeah I think we do. When I worked at Honda the rider might live in Florida and not see the team until the weekend. At JGR we try to give them direction on fitness etc. and to be around the team for a good atmosphere. Different people react to different motivation, some excel with reward, some with punishment.
Off topic are you guys still making the JGR shock?
No that ended last year. Now we're using works Showa front and rear.
Does that make you happy or sad?
I'm proud of what I built from scratch and now I have so much more knowledge to bring to a shock that is already well developed.
Alright Mr. O I've used up enough of your time. Do you recall Regals best finish or hottest girlfriend from last year?
Well a couple years ago he did really good at Millville.
I say big lips you say?
1. Kyle Regal, 2. Spencer Bloomer (our in house tech guy)
Thanks big O
You got it.
How much of this can I print?
Not much of it.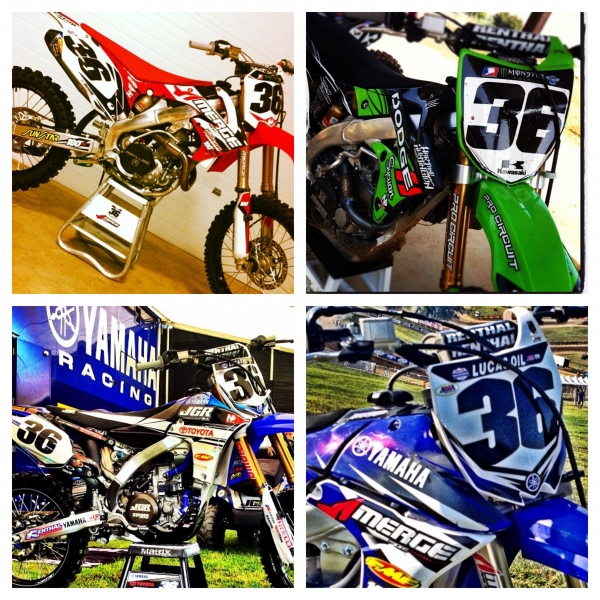 The bikes of Regal's 2012 racing season, privateer Merge racing Honda, H&H Kawasaki, JGR Yamaha and ending with a privateer Merge racing Yamaha
Thanks for reading this Short recognition of the guys that almost made it.
Moser
Please send any and all comments to jasonw@racerxill.com