Moser gives the guys that came so close some love
Moser gives the guys that came so close some love
Just Short 17 Vol. 2
Viva Las Vegas
Photo by: Lissimore
Well this season went faster than a ½ rack on a hot day. Seems like just yesterday I was at A1 not getting the inside scoop for Just Short. When I make notes on what I see while watching the LCQ I always think I'm being very thorough but when I read my notes several days later it's like trying to interpret hieroglyphics. This is my best interpretation of what I wrote about what I saw on Sunday night (yes Sunday night, long story Short I don't have cable).
Wait they're running a 250 LCQ? I don't recall that from last year but I'm starting to questions how good my memory is. Ingalls and Osborne have a good battle for the last transfer spot with Osborne just edging out Ingalls. I'm glad Osborne made it in but it would have been fun to profile him. If I interviewed Osborne I would work eyebrows into the conversation somehow. Savatgy won the LCQ and I'm still a little confused who he's riding for in the outdoors (editors note I've since learned that he will be riding out of a Fun Mover pitted next to the factory KTM team with FMF support, sounds like Fun to me.)
The 450 LCQ is up next, last one of the year, I'll drink to that. The #228 of Meynet is all over the track. The white wheels Meynet is running are awesome looking but they're drawing more attention to his mistakes and he's making plenty of them. This quote from Ralph in regards to Meynet is priceless "He's crashed twice, but he just hasn't hit the ground yet" very true and very witty, I'll drink to that too. To add insult to injury RC couldn't stop laughing throughout the entire Meynet maylay, understandably so though. The last transfer spot goes to the #415 of Schmidt who's from my hometown state of Washington, I've never heard of him but I became a fan when he did a big one footer over the finish line jump. Great #606 Ronnie Stewart came up Just Short this guy doesn't exist, google can barely find him he's like my kryptonite which would be a dry town.
#91 Topher Ingalls
Honda CRF 250
San Luis Obispo, CA
Slaton Racing/Experts Exchange/Bolt HarWdware
You may recall Mr. Ingalls from last season as the rider with the trick looking black frame and white and orange graphics on a Honda, although you couldn't really tell it was a Honda. Here's what I had to say about him last season and if for no other reason it's worth clicking the link to see a picture of how cool that bike looked last year.
http://pulpmx.com/stories/just-short-vol3-la
In regards to Ingalls website I'm going to quote myself from my Just Short article last season"clean, simple, informative and well updated what more can you ask for, check it out at www.topheringalls.com" Well Mr. Ingalls you've outdone yourself, you again knocked my socks off with the updates to your website this year, I repeat I have no socks on. It's the end of the season so it seems like an appropriate time for a rant. This is the 21st century there are several free I repeat FREE types of social networking available so use them.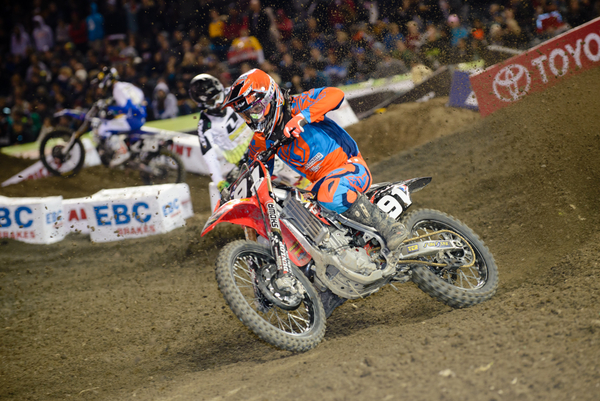 I guess once you go black you can go back
When you pursue a sponsor you're not just selling them on your race results and that you train hard and put in 110%. Shocker they've heard this before, tell them something they don't already know. Besides the fact that a sponsor can write off giving riders free product and a salary what are they looking for in return? Exposure, marketing, brand recognition, which should all lead to sales. I know people that haven't even graduated high school that are marketing geniuses at this shit. So as a professional rider you need to be able to sell yourself to a sponsor. What are you going to do for them?
I'll tell you one thing if someone wanted a check from Cory Moser one of the first things I would do is google them. Lets use Topher Ingalls as an example. First search result is his own webpage www.topheringalls.comwell done Topher, well done. This is a no brainer and EVERY pro rider should have their own website. Second search result @TopherIngalls91 on twitter, next up photos, then a RacerX interview, then a Facebook page, next GoPro footage, Vimeo footage, more interviews more videos. I couldn't not find Topher on the internet even if I didn't want to. Having a website is one thing but most of them are poorly done.
Not Tophers with his KISS (keep it simple stupid) design. BIO, CONTACT, PICTURE/VIDEOS, RACE RESULTS. What more do you want? Lots of pictures because everyone loves those, throw in a couple videos, a quick bio, contact info, a quick summary of last weeks race. The results page alone saved me hours of time. I had no intentions of going through the hassle of looking up Tophers results from this season, but he did the work for me so I'm sure as hell going to take advantage of that. How did Topher do this season you ask, I'm more than happy to tell you these are his finishes in the main events he qualified at, Phoenix 19th, Salt Lake 14th, Las Vegas 12th. If you're curious what his career best Supercross finish has been not a problem let me look that up for you, Salt Lake 8th place in 2012.
As a potential sponsor you're already sold right? Topher is using every resource available to him to help promote your product, but maybe you're still waffling. Here's what seals the deal. The "RACE BIKE" tab on his website, I was curious so I clicked on it. Here he lists all the modifications done on his 2013 Experts Exchange/Bolt Hardware/C4MX/CRF250R. It's a cool idea and he went balls deep with it. He runs a Works Connection Elite Perch, in black, part number 16-669 MSRP $149.95 That just happened. Not only does he list the aftermarket parts on his bike but the manufacturer, part number and the price. Did you know he runs the FMF Factory 4.1 RTC Exhaust in Titanium, if you want one for yourself it's only $849.00 and the part number is 041442.
I don't know what else Topher could be doing to promote his sponsors, short of spinning around one of those signs on a street corner. I may like Tophers website more that I like Topher himself. This summer he is headed up to Canada ehh to contest the CMRC championship, last season he finished 3rd overall. By the way I easily found that information on his website. Good luck this outdoor season in the Great White North, and keep setting the standard in privateer rider websites. Topher isn't on Instagram but I'll let it slide he's got plenty of pictures posted on his website and strewn all over the internet. I pulled these pictures from his twitter account.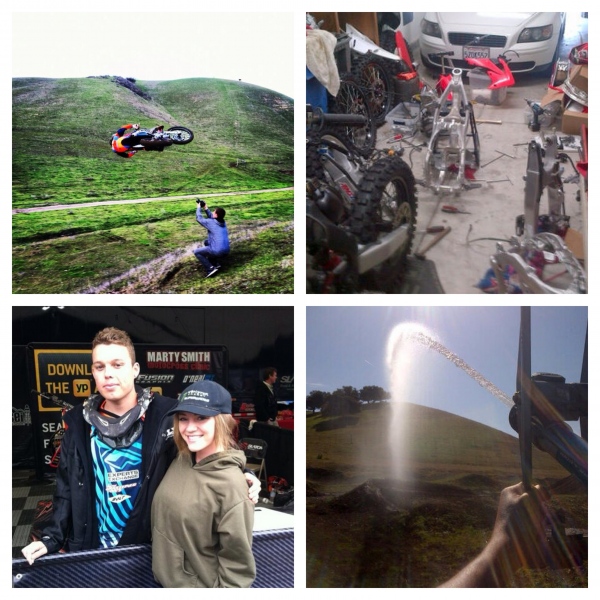 This hill shot reminds me of MC in Terrafirma II at Castillo Ranch. Changing the oil filter appears to have turned into a much bigger project. Topher doesn't seemed thrilled to be touching this fan or maybe he just has gas. This last pic is either an epic piss shot or he's watering a track you be the judge.
#606 Ronnie Stewart
Easton, PA
Suzuki RM-Z450
RSR Racing, Hellbound, FTI Racing, Ocean County
So I'm protesting Ronnie Stewart at this point. I sympathize that he hasn't made a main event and I know he's come up Just Short not once. not twice. but three times now. trust me I know. Ronnie is the exact opposite of Topher, no website, no social networking, no google search results. I wouldn't put it past him to not even have a cell phone. What's he look like with his helmet off? Nobody knows. Ocean County is listed as a sponsor on the ama scoresheet, is that a business, a place or just a thing, we'll never know. Ronnie I don't mean any disrespect but come on man, really? really? help me help you. Here's the links to the last two times I've written about Ronnie, followed by a copy and paste of what I've previously written edited, slightly.
http://pulpmx.com/stories/just-short-vol-5-0
http://pulpmx.com/stories/just-short-12-vol-2
I made the necessary edits, AGAIN to what I wrote last year and this year but most of it still applies. Google thinks it's the 5th most important thing about Ronnie Stewart who am I to argue with that type of logic.
I'm not familiar with Ronnie Stewart and my buddy Matthes that I hung out with over the weekend didn't know much about him either so I had to go to plan B aka Google. Ronnie has made every night show of this season but hasn't made a main event yet, so by coming up Just Short in San Diego Toronto Las Vegas this was his best finish thus far. R. Stewarts qualifying times average in the 30th – 40th range so unless he's the type of rider that rides faster in a race format then he rides during timed qualifying he's going to need to pick up the pace a bit to sneak into the main event. I found a blog for R. Stewart but it doesn't appear to have been updated recently. Looks like R. Stewart does some riding schools and wrote some Student Spotlights which is a cool idea and probably made some amateur riders super pumped.
After extensive investigative journalism (reading his blog) R. Stewart made his way into the professional ranks via the Arenacross series accumulating the necessary points for his pro license. I recall a few years back the AMA was really pushing this route of riding the Arenacross series first before racing the Supercross series in an attempt to make it a feeder series, which was flawed in my opinion, but I think AMA has since become more lax on those requirements. (editors note: I must have had some type of pre-conceived notion because the Arenacross requirements are coming back) (editors editors note: Bowers just proved the road to Supercross really works with his win in Vegas). R. Stewart raced some of the 450 nationals last summer and qualified at five nationals, a solid first go of it for a privateer. Congratulations to Ronnie for his best tying for the 3rd time his Supercross finish yet.
If you can find a picture of Ronnie Stewart then you're a better man than me.
I hope you enjoyed reading this Short article because I enjoyed writing it and hopefully gave the working class and unsung heros of the sport a little press. Thanks for reading another season of Just Short, see you next year, maybe.
Moser
Please send any and all comments to jasonw@racerxill.com