Yeah, it's time for the premier class to get their breakdown
Yeah, it's time for the premier class to get their breakdown
Photos by James Lissimore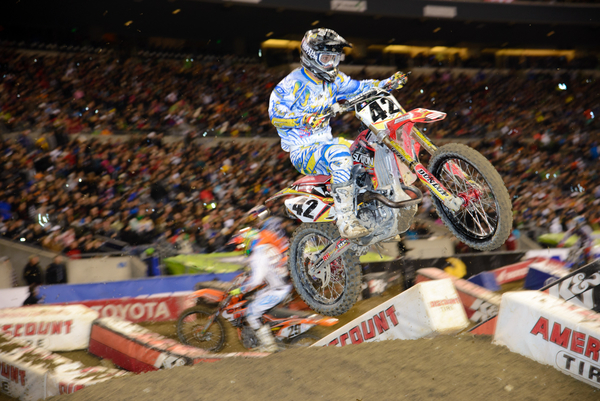 20th Place- Vince Friese. Congratulations to Friese one of only two riders to be top twenty in both classes. When the series started it was a stacked main event and I guarantee you no one had Vince as one of the main event guys and yet he rattled off five main events in a row to start the year while some big names sat on the sidelines and watched. Friese is a very good starter and that skill has helped him out a ton over his career. He only missed one main event that he lined up for (San Diego) otherwise he was in there. This placing was gained with only 7 main events as well. Great year for Vince as he also finished 4th in the 250SX East series.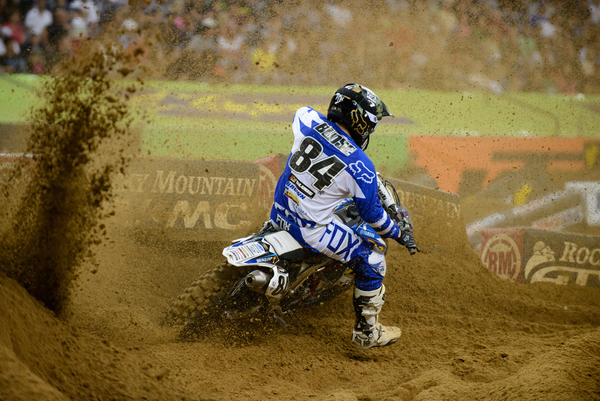 19th Place- Chris Blose. Blose had a tough time in the beginning of the year getting used to the Yamaha YZ450F as well as dialing in his suspension to his liking. Blose made four mains in a row, missed three and then six in a row to end the year so it appears that he was a bit streaky. Blose, once a top privateer in SX, wasn't a "WOW" guy but he was solid in the races he was in but you never noticed him a whole bunch once he got in there. I do think if the supercross series was 30 rounds and not 17, he would be better at round 30 because he was slowly figuring things out.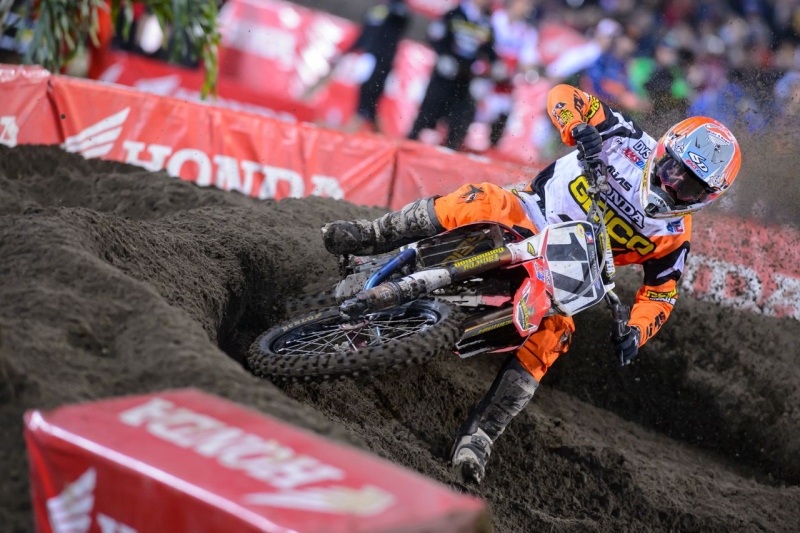 18th Place- Eli Tomac. The kid from Colorado got this placing with just four main events. When Tomac jumped to the factory Honda for Atlanta, the word "podium" was thrown out there from more than a few pit insiders. And he was very fast most practices but by the end of his four races, he was on a very production-ish Honda and wasn't sure he wanted to ride red in 2014 and beyond in the big class. Oh and just like the 250's, his starts weren't very good on the bigger bike either which cost him better finishes. By far his best 450 cameo ride came at Daytona where he charged from way back to get a 4th. (Photo courtesy of GEICO)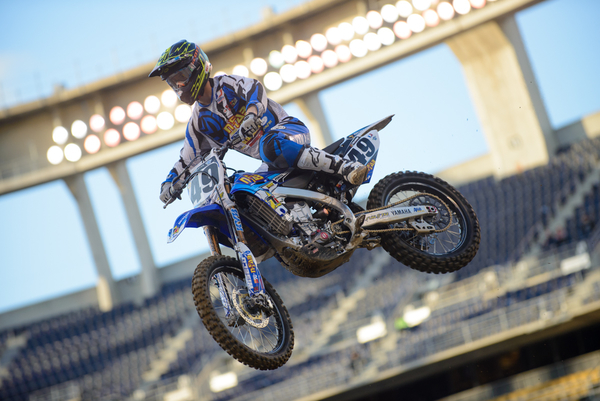 17th Place- Phil Nicoletti. There's no doubt that if there were a "Most Improved Racer" award, Nicoletti would get it. He didn't make the first eight main events and then he never missed one. Having never ridden a 450 in SX at the start of the year, no one was sure what to expect out of Filthy Phil and early on, he didn't even display that blinding speed and crashes that we've seen out of him in the 250's. Nope, he was just very average out there. But then something happened, something clicked and Nicoletti was challenging for top tens many main events. The guys got talent but he's never been able to put it all together but maybe, just maybe, the move to the 450 class is going to pay off for him.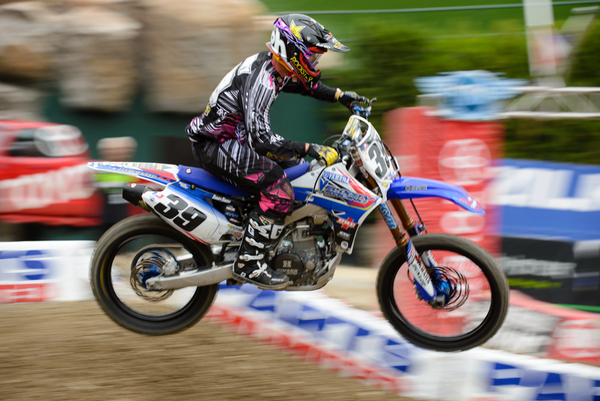 16th Place- Bobby Kiniry. The N-Fab Yamaha team has the late teens locked up as the third member of the team comes in at 16th. Kiniry wasn't as good as he was last year when he filled in at Star Yamaha but then again the competition was deeper. Still, he never seemed to have that speed and there were way too many LCQ's for a rider of his skill. In his defense he had a team folding on him, a new team to get used to, he's a new father, he was trying to dial in his suspension for most of the year and it was just a frustrating season for Kiniry. So maybe a 16th and beating all his teammates is good then?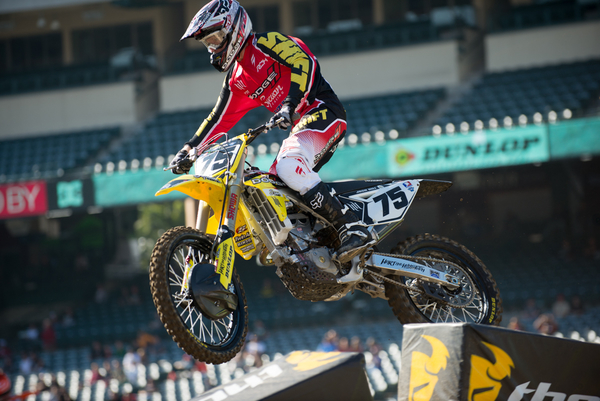 15th Place- Josh Hill. Wow, what a turnaround for Hill and I have no clue what happened. It was the most bizarre thing as Hill got hurt early on and didn't make the start of the year. When he returned he was a main event guy but just sort of a JAG (just another guy to steal a NFL term). We take a week off for Easter and boom, Hill's a different guy after the break. Want proof? He was averaging 6 points a race (14th place) before the break and after? Try 12 which is a 9th place and he won a heat at Minneapolis. Not sure what happened (I suppose he healed up a bit more) but he went from a guy who was probably going to be out at RCH next year to maybe they find a spot for him and if not, he can get a ride with a good team. There were more than a few times late in the year when Josh beat his teammate Broc Tickle by just being a better rider.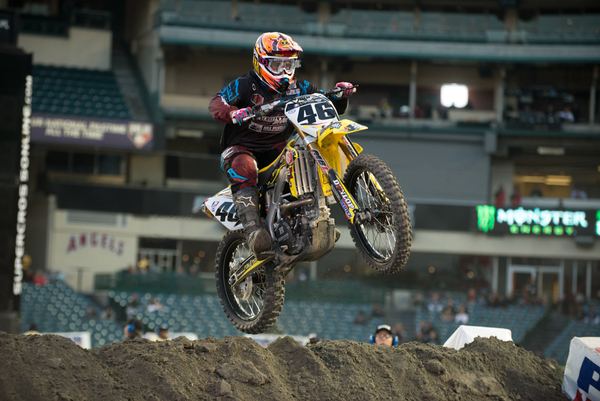 14th Place- Weston Peick. There's a lot of talk about privateers these days and just to be clear, sometimes privateers show up in semi-trucks and they're still privateers. Peick was the highest placing privateer this year with this impressive finish. Three out of the last four races, Weston was in the top ten on a bike I guarantee you wasn't as good as those around him. Also, unlike so many other guys (I'm looking at you Kyle Partridge) Weston wasn't just happy to get into the main events, he wanted more. I don't know if this season (or last) will get Weston a better ride as the blunt, non-bro'ing down Peick isn't everyone's cup of tea but I'd like to see what he can do where he just doesn't have to worry about anything but racing.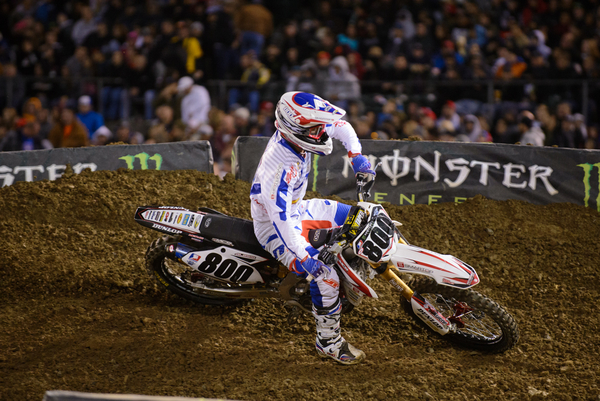 13th Place- Mike Alessi. Last season Mike finished 6th in the points, made every main and was, at times, looking like he's figured out this supercross stuff but they year? Forget it, it was a disaster as Mike DNF'd the first two races and it never got any better from there. For every step forward one week, he'd crash or have bike problems the next week. It got so bad that Mike just skipped the last two races to focus on outdoors. It is surprising that so many people say Mike can't ride supercross, ("Absolutely cannot!!" is what they shout out to me) and yet, here he is in 13th place (and not to bag on Peick but we all agree he was awesome right? Well Mike beat him on a bike that's probably pretty close) and if you give him twenty more points for those races he crashed out in (I know, the What If game can be played with everyone but just sayin…) he's right behind Broc Tickle (who only crashed out of one race) who is looked upon as a very solid rider. I'm just saying, that the "ALESSI CAN'T RIDE SUPERCROSS AND SUCKS BALLS" is so far from the truth. Now having said that, Mike really, really, really, needs to get better in whoops.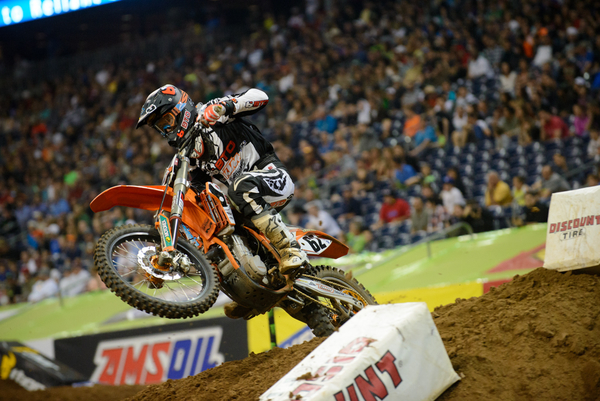 12th Place- Matt Georke. We can all agree that Matt was having a great season on the KTM right? Well ok in one less main event than Mike he didn't' finish that far in front of the 800. Ok, I'll stop now. Anyways Matt was going for a top ten overall finish when he broke his wrist late in the season. Bummer bro, he was last year's "Most Improved Rider" when he filled in on the Suzuki for BTOSports. Most people who are close to Matt and the team say that he's always been this good at supercross but he's just never been healthy and although that may be true, I think Matt moving to California before last year was the biggest thing he could have done for his career. It got him out of his comfort level, out of the soil of the east coast and forced him to be able to ride with faster guys and the hard pack.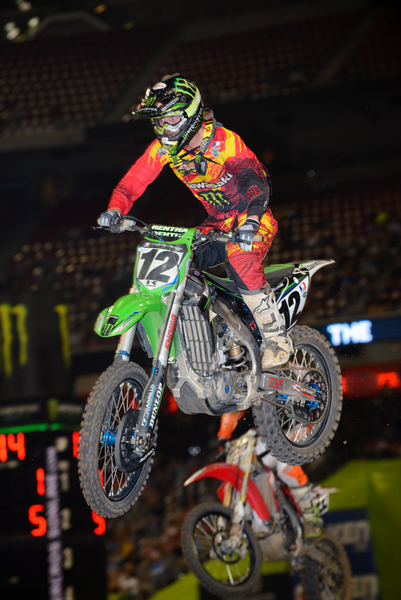 11th Place- Jake Weimer. There's no other way to put this, even with missing four mains (one of them he scored a point when he crashed out with the injury that caused him to miss the next two races) Weimer's season was a bummer. Last year he made five podiums and was in the hunt for third OA despite basically missing two mains (one just a straight DNQ and the other he got last) and it was thought that even with the deeper field this year, he'd be in the mix for podiums and on a bad night, still be top ten. He went 5-6-5 the first three races which was strong, missed a race with pneumonia, crashed and got hurt in the next one and he was never really the same after that. Not sure what was going on with The Snake out there, he's got a great bike, listens to his trainer, appears to work hard but 2013 SX wasn't his best. The positive thing was his ride at the last race of the year where he battled and beat two-time race winner Justin Barcia has to give him some confidence.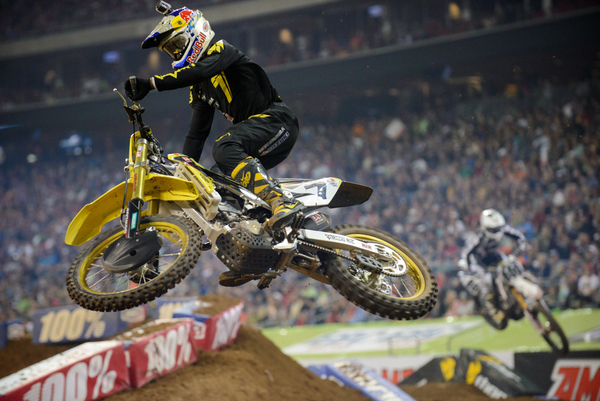 10th Place- James Stewart. Where do I even start? How did the pyramids get built, is there life after death, are there aliens and what happened to James Stewart this year are the world's greatest mysteries. Tearing up his knee at practice at the first round wasn't good and we watched him struggle with that except he could still put in a fast lap. The rumors are he wasn't in shape but he would go out there and win Atlanta fighting off RV in the process. People said he lost his speed but he'd qualify fastest and win heat races over RV and Dungey. He stalled his bike in two mains for pete's sake! Sometimes he wouldn't get the start and it looked like he wasn't even trying but we had seen him set fastest time in practice and win a heat. I have no idea what to think anymore, he's still so gifted and so nice to watch on a bike but there's just something going on that I can't figure out. One win and two other podiums is what we got from the #7 this year. I'd love to say that his time is past, it's over, he's too old and injury prone-whatever you want but the guy STILL sets the fastest times in practice and STILL wins heat races. I'm so confused, my brain hurts thinking about James Stewart's SX season.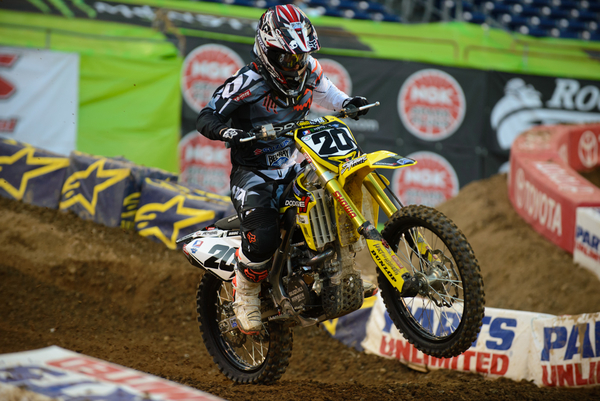 9th Place-Broc Tickle. BT20's (see what I did there? I combined his initials and number together to make a nickname. Original huh?) season was a good news/bad news type of thing. People expected him to make this giant leap with a full works Suzuki but really, his Pro Circuit Kawi last year was basically a works bike (and was lighter than a factory bike) and with RC helping him he was thought to progress quite a bit. Tickle was 9th last year with 171 points and this year he was 9th with 176 points but there's no doubting the field was deeper this year. Broc also made every main event (one of only seven guys to do that) but there weren't too many "WOW" moments in his season (Well, maybe when he and Short hooked up but that wasn't for the right reasons). So what was this? I'd say it was a small step-up from last year and whether you thought he should've stepped up more is up to you to decide. I can go either way.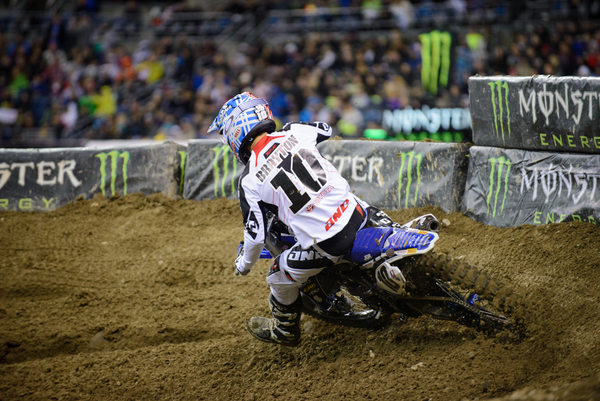 8th Place- Justin Brayton. The return to JGR Yamaha wasn't what Justin or the team thought it would be. Like Tickle, the field was deeper this year and perhaps no one illustrates it like Brayton who battled for podiums last year and never saw it this year. And probably most of you are saying "Yeah Matthes, he went from a factory Honda to a Yamaha and that's why" but in many conversations with Justin, he indicated that his Honda wasn't the magic thing he thought it was going to be and that his Yamaha did some things better than the Honda. He hit his head at some point in the season and struggled a bit with that also. There were times, like at San Diego, where Brayton was right there with the top five and could've been there if he hadn't made mistakes but he did and he didn't make it. He crashed out of Daytona but other than that he was pretty consistent and solid, it just wasn't closer to the front like so many of us thought it would be.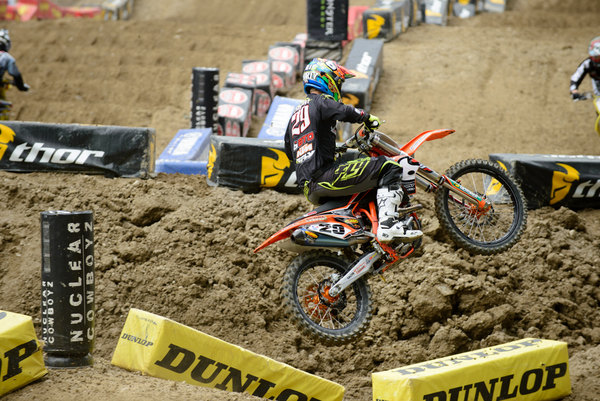 7th Place- Andrew Short. Shorty had a good season all things considered. He started on the factory Honda and then when that team folded, he went to Kranyak Racing on a production Honda which had to have been a shock to the system. But he put in good rides on it (in fact he got 5th four times and twice it was on the stocker) before moving to KTM for BTOSports and actually starting to collect a paycheck. Short's been higher in the season points before but that was when he was younger and the field wasn't this deep. It's doubtful he can get back to the kids level at this point but 7th place is nothing to sneeze at for the veteran. He's a creature of habit nowadays and having a full season on whatever bike he's on next year will help out a ton. And he'll never admit but maybe a switch back to Dunlops, a tire he's been on his whole life, would help.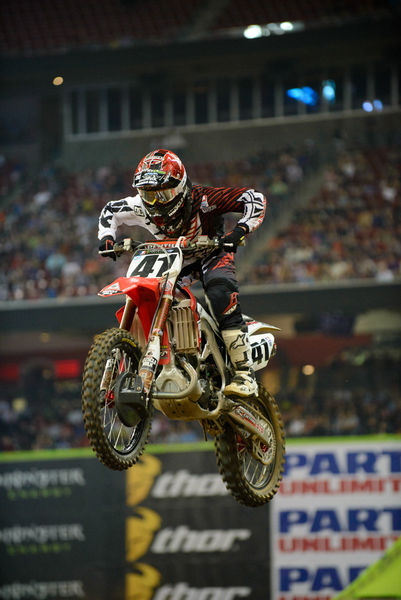 6th Place- Trey Canard. Around the halfway point this year I found myself asking questions in my column about what's happened to Trey Canard? After all he nearly won the opening race of the year, was a half lap or so from podiuming in Phoenix before crashing and then made the box at round three before getting a fourth at round five. So with that in mind, his drop back into the pack caused me to wonder what was going on. But then I realized that Canard was coming back from a very serious injury and basically missed all of 2012 and this was fine. 6th overall with those podiums is awesome right? I think that perhaps the grind of the series started getting to him because A- he'd never done a full 450 season before and B- it IS a grind. He set the bar high early in the season and got us all excited but this still a fantastic finish for a guy some thought was finished with racing. His starts went away in the middle of the year also but I've always thought that starts are so related to confidence moreso than anything else so I just take that as a general sign things were low upstairs.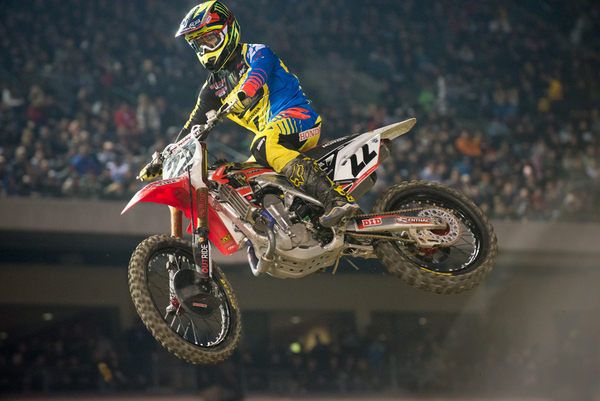 5th Place- Chad Reed. I'm not as confused by Reed's place here as I am Stewarts. Reed missed one race and then had a disastrous end of the series but other than that, he was about a fifth place guy. Hey, everyone gets old at some point right? Chad's a fighter and I'm not counting him out but the fact he didn't win a race this year and really didn't have any moments where he led races is very telling. The one race where I thought he was going to do it was San Diego but Millsaps stepped up and didn't look like he was going to crack like so many other racers have other the years. I did my annual trip to Florida this year and Chad was telling me that he'll quit before he gets to the point where he knows he cant' win. And truthfully, I hate this attitude. The guy's a two-time champion, he's thirty years old, his place in mx history is cemented so why not be the most adored guy out there (who would have EVER thought that would happen back in 2003 right?) get your top tens, sign autographs and ride off into the sunset? There's absolutely nothing to be ashamed about in not being able to win a supercross race but this is the way Chad feels so I suppose some janky article on Pulpmx.com isn't going to change his mind. I know he didn't like the 2013 CRF but it will get better (as the 2010 did once Honda bolted on data stuff and had an entire off-season with it) but the question is, will Reed still be on red? He's got one more contract for one or two more years left in him and I think that Yamaha will step up and try to get him as they desperately need a guy like him on their side. Reed's pissed about his placing but I think there's absolutely nothing wrong with it.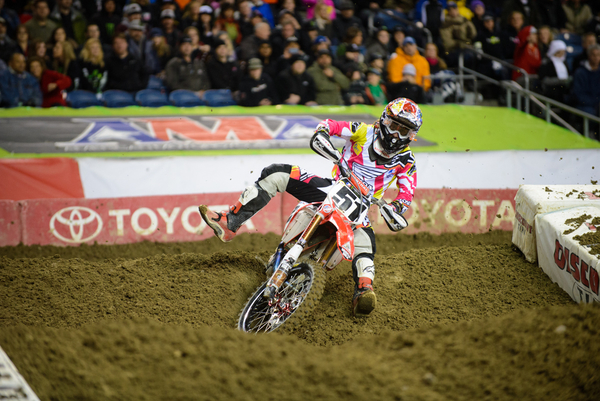 4th Place- Justin Barcia. The rookie did well in winning two races and being pretty strong most of the season. He'll win more and do better next year as well. Barcia also did some of the things that we thought he'd do when he crashed out of two straight races early in the season. Barcia was one of those guys that if he got the start, he could win and if he didn't, he could come from the back. That was a rare thing in 2013 as many of the tracks didn't allow that. Barcia wasn't always happy after the races which is a good thing, he's striving to be better. I know that Villopoto, Reed and those guys are worried about Barcia doing "Bam-Bam" things out on the track but that never materialized out there. He was smart as he was being aggressive. Also, Jeff Stanton wouldn't still be around if Barcia wasn't working hard and doing the right things so that's why I think he'll be even better next year knowing what to expect.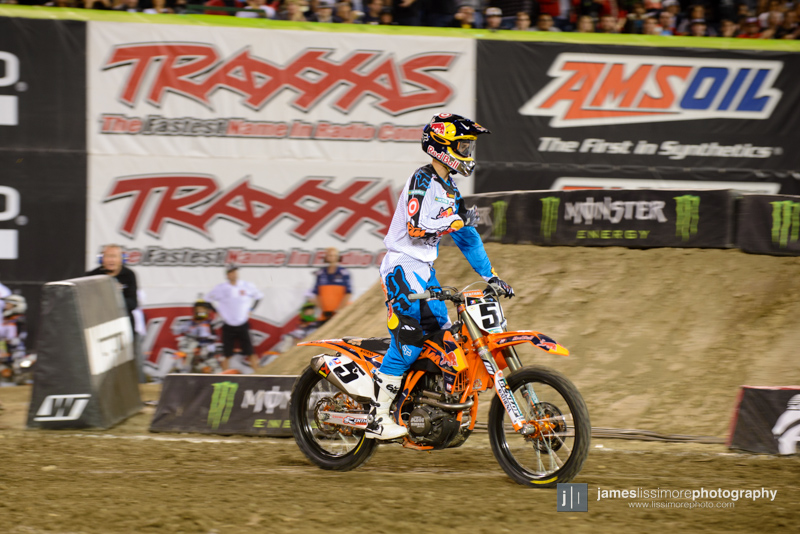 3rd Place- Ryan Dungey. Two wins and just a point shy of second place is a great year for anyone but just, in my opinion, a good year for Ryan. He's just so solid out there, no matter who's leading, who's faster, Dungey is like a locomotive where he just does the same speed for twenty laps and where he finishes is where he finishes. His early season rides weren't very good but winning A3 from the last spot on the gate (after his air shock collapsed in the heat per this remarkable photo above) was truly incredible. Like Villopoto, as the series went on, Dungey's training and routine during the week helped him rise up above the rest of the riders. There were times when his bike set-up looked to hurt him a ton in the whoops as he ran it so low in the back but he made it work most times. So a great year for just about anyone else was a good year for Dungey, got it?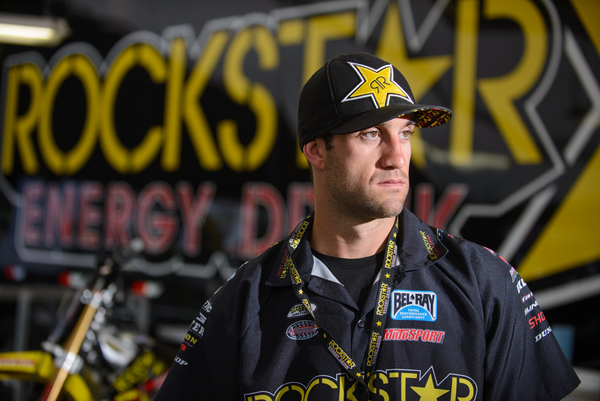 2nd Place- Davi Millsaps. Last year the people that didn't go to the races talked about how Davi only got second in the series because everyone else was hurt but what does that say about Brayton and Weimer and all those other guys? If you went to the races though you saw that Davi was very good as he jumped some stuff that only Dungey and Villopoto did, he charged from the back showing that he was in shape and I don't know if he would've got second last year had there not been a lot of injuries but I guarantee you he'd have been in the mix. This year he took it to another level as the switch to Suzuki agreed with him. Davi was electric this year despite a knee injury that hurt him a bit around halfway. Millsaps won two races, got ten other podiums and yeah, it was as great of a year and it seemed to be. I predict that the switch has been flipped for Davi and he'll continue this little run for the next while. Can you believe he's only 24 years old? Crazy right? Anyways good job to him and his team on this finish, it was well-earned.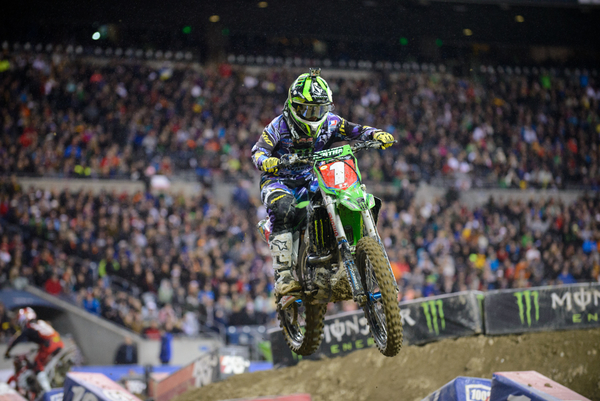 1st Place- Ryan Villopoto. This was RV's third straight indoor title and it was his most dominant season yet. Ten wins on the year and remember all those early season struggles? Yeah, me neither. The best thing for the series was RV crashing at A1 and then at A3 otherwise this thing would've been over early. He was much better than everyone else at most races and when he wasn't, he took his second or third once he figured out his bike. That was, to me, the thing that held him back in the beginning of the season and the one thing that he and his team can work on next year and that is to be better off the start with the bike setup. His team hired ex-Team Two Two and ex-Kawi guy Sergio Avante to help with designing links and to work on getting the Computrack software to its fullest. But what else can you say? Ryan showed speed and aggression at most of the races and many times his competition couldn't put both of those things together when they needed to. What a season, he's up there with the greats now.