Moser shines a light on those that had tough days
Moser shines a light on those that had tough days
Shortcomings Vol. 2 #1
Photos: Simon Cudby
I'm back baby it's that time of year again where I take a look at a couple guys that had some type of shortcoming over the weekend. It could be a mechanical DNF, maybe a "big one" meaning a crash or perhaps they are just Short in stature you'll have to read every week to find out. With 40 guys on the gate for four motos there is not a shortage of riders to choose from that came up Short in one way or another at Hangtown. Full disclosure I haven't watched the motos yet, I've only read about them so you will have the pleasure of getting mostly just my opinion this week and not necessarily facts just like Swisscorner is every week. It's a long season though so it's probably best to ease into Shortcomings nice and slow.
#167 Zack Bell – Geico Honda
Tell me where you have heard this scenario before, finally pulling a holeshot and rides really fast in one moto, then DNF the next moto. Everything I know about Zack Bell I've learned from just watching him race on TV so I'm no Bell expert but from my view on the couch I'm starting to notice a pattern. Last week in Point/Counterpoint I rooned Swisscore in the debate over whether or not AC should go pro now or wait. One of Swiss main arguments was that AC wasn't big enough yet, you could say he still has kid strength and not yet boy or man strength. Bell makes AC look like a giant, Bell has to be one of the smallest riders I've seen race pro in both height and weight. My Shoei helmet fits my 3 year old daughter better than it would Bell, he looks like a bobble head out there.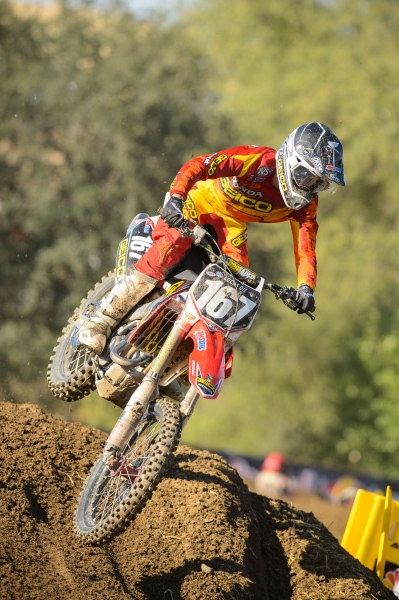 Does size really matter? The jury is still out.
The not crashing thing has definitely gotten into Bell's head at this point and it's one of those things the harder to try not to do something the worse it gets. I've always liked the phrase "you have to go slower to go faster" and I think it applies to most people but Bell isn't one of them. James Stewart is another rider that pretty much only has one speed, balls out. A lack of concentration and/or a mental lapse is the problem in my opinion and I was guilty of it myself. It's not easy to put all of your focus and attention for 30 minutes + 2 laps, on every line, rut, jump, bump, hole, and breaking bump. In a five lap local amateur race I would find my mind wandering. Travis Pastrana was another rider that admittedly had a really hard time focusing for an entire race and it cost him race wins, and championships.
RC and James Stewart crashed a ton in their rookie seasons but they also won a lot something Bell hasn't been able to pull off just yet. I think it goes without saying this kid is really really tough he's a badass or he's crazy or more likely a crazy badass. His determination and drive is inspiring almost to the point of stupidity. Bell may be Short in stature but he has balls of steel, and after racing the LCQ Shortly after falling out of the sky I have no doubt he can ride through the almost any pain. I don't know how bad the shoulder was coming into the outdoors but JT$ made a very valid point what did he have to lose? Do the best you can to rehab it try to race and if it doesn't work out you still have plenty of time for surgery and rehab before Supercross.
Bad shoulders seem to haunt professional motocross riders and more often than not you can't ride through it and it requires surgery. That is unless you are Tallon Vohland who told us the story about trying to pop his shoulder back in while riding through the whoops section leading the Washougal national. This story included full arm rotation movements at the dinner table to accurately depict the situation; it was a true to life reenactment. I can't say for certain but I bet Vohlands balls are probably bigger than Bells but it's almost too close to call.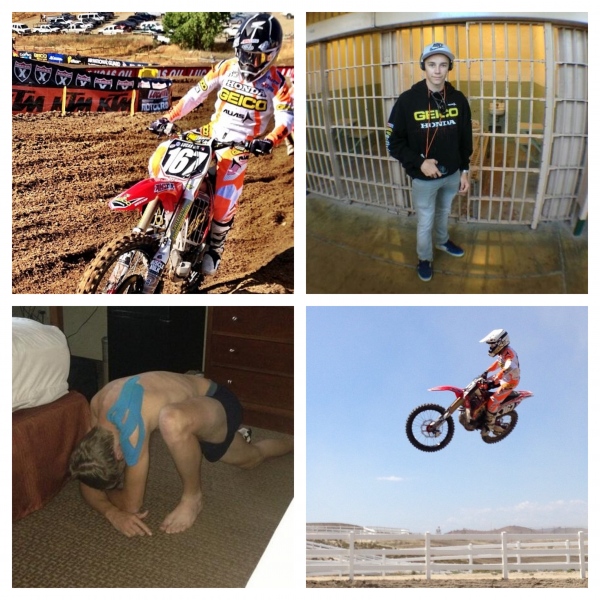 Bell in practice at Hangtown (maybe he would look bigger if he wore a chest protector)
Your standard Alcatraz tourist photo
Airing it out at RacerX Elsinore ride day, I'm digging the white helmet
It's never a good sign when you have your shoulder taped up before you even leave the hotel room on raceday.
#32 Mookie – Troy Lee Designs, Honda
What do they call him Mookie? I think it has something to do with Bubbas world and maybe Sorby, if you happen to know please email me the backstory, my email link is at the bottom. I'm not on the Mookie bandwagon and never have been, it's nothing personal but I just don't feel like his heart is in it. Does he enjoy riding or racing or is he just doing it because he's a Stewart and that's what they do? I don't think anyone is forcing him to race but it seems like a job to him. James said on more than one occasion that his brother was much faster than he was at the same age when he racing amateurs but I don't recall Mookie ever winning any major amateur championships. I think it's finally time to throw out the old concept that the younger brother is usually the faster racer. Villipoto, Alessi, Stewart, Sipes, Durham, all prove that theory wrong.
Mookie is a big kid with big hair; honestly he has to be pushing 190 pounds. I feel sorry for those 250F bikes he's just been pounding and breaking for years. I don't think ANYONE thought he shouldn't have moved up to the bigger bike sooner. Mookie may be the biggest guy I've seen race professional on a 250F bike, prove me wrong I dare you. Alright his hair is so big it has to require a larger helmet that's not even up for debate, I'm curious how that effects an impact test he might be on to something here softening the potential blows to his head through his dreadlocks.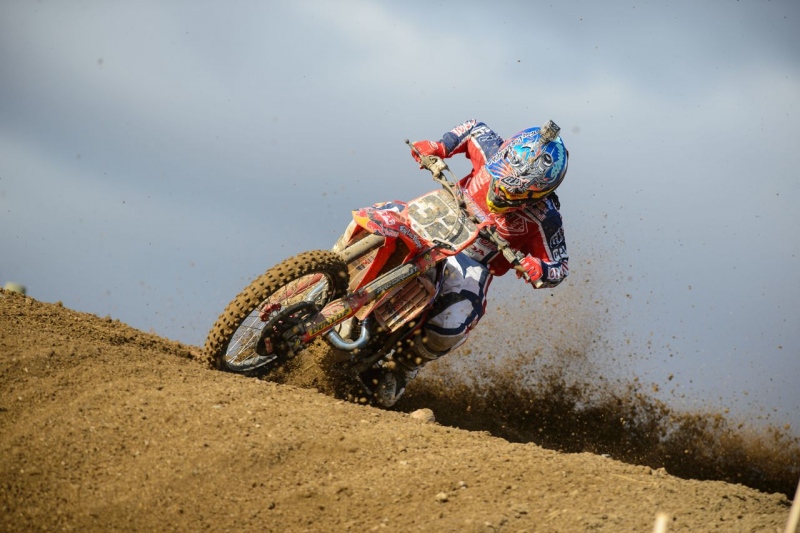 Mookie was on the gas at Hangtown but had some "Short Comings"
Speed is not an issue with Mookie and I don't want to discredit him for having the speed because he does but I also expect it from someone who rides with the "fastest man on the planet" everyday. This brings up the age old question of what creates a better racer, speed or consistency and what is easier to teach? The general conception is that you can teach consistency but all out speed is something that can't be taught. I disagree, respectfully of course. Wil Hahn, is an example of a rider whom has slowly gotten faster with experience and now he has a title to his credit. It's a gamblers mentality to bet on someone who has the speed to win but has trouble keeping it on two wheels, a Cunningham or a Davalos.
Flashes of speed have more value in this sport than consistency. To play devils advocate there is some justification to that and I think it really comes down to sponsorship exposure. Winning just one race or getting just one podium gets you more publicity than a season full of 5th places. This is where Matthes team triples concept comes up Short. I don't like it or agree with it but that's the way it is and it's not going to change. Mookie is a wildcard a big gamble and I wasn't pumped to hear he scored the TLD ride as I could think of several other riders I would have liked to see get the opportunity.
But it wasn't a bad choice because Mookie has the speed to have those flashes of brilliance and that gets you publicity. What more could you ask for from a fill in rider? For a minimal investment you are looking for any and all the press you can possibly get from that rider and having a couple break out rides will do just that. So in hindsight from a business perspective Mookie was a good pick he fits that mold. I also don't see him breaking that mold how many years is he into this and it's the same old story one good race followed by 5 bad races, with some broken bikes sprinkled in between. The cause of the bike failure in the first moto at Hangtown was apparently a broken water pump that I'm interpreting happened when he got together with Dino based on this tweet from his practice bike mechanic.
"The reason the 32 machine DNF at Hangtown was because of a racing incident. A collision punctured the water pump cover. Get the word out".
Mookie has been training at the Rockwell Training Facility and I love following owner/trainer Johnny Louchs Instagram, it's almost turned into a guilty pleasure at this point. The gym looks great and has come along ways in the last year or two but the topless pictures of his riders training make me laugh everyday. Mookie doesn't look ripped like James he doesn't have a Shorty 6 pack but he does look in shape. Speed verse consistency (sigh) that tortoise and the hare book didn't tell the whole story because the tortoise is broke trying to get to the races and the hare has a ride is making six figures but still loses the race.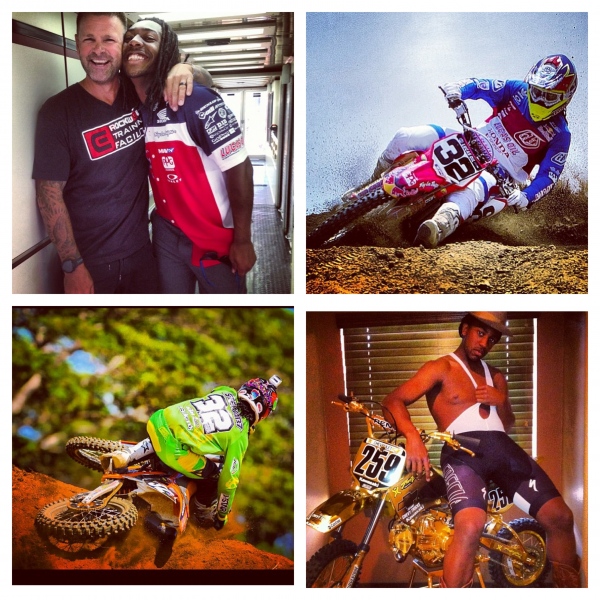 Mookie and thee trainer to the stars Johnny Louch
Breaking in the new TLD ride
I don't know what's going on here but he slipped a nip for this pic
That scrub is just silly
Thanks for reading see you next week.
Please send any and all comments to jasonw@racerxill.com