Suspension man to the stars talks about getting back into it
Suspension man to the stars talks about getting back into it
Cory Hutter started out as the suspension tech for DGY Racing. In the early nineties DGY was one of the first support teams besides Pro Circuits Team Peak. There he worked for Henry, Button, Pedersen and Dement. From there he co-founded A-Ride Suspension. Building a strong business locally and nationally. Working with riders such as Evans, Currie, Lewis and Larry Ward. There he moved to Factory Yamaha as the head suspension tech for the SX/MX team. While working for McGrath, Ferry, Reed, Vuillemin, Voss, Hill, Hepler and Langston he was a able to accumulate 1 SX title, 2 SX World titles, 2 US Open titles, numerous SX main event wins and 2 time member of the Motocross des Nations team.
Me: Hutter, you and I worked together at Yamaha. We were friends before that, even going to back to the A-Ride days. But what's going on with you now?
Cory Hutter: Personally, I have just enjoyed being a father. When I left Yamaha, my wife was 4 months pregnant with our first. Now we have 2. Professionally, I have been doing some consulting, helping grow the SKF business under Element Distribution and expanding A-Ride suspension again.
What's SKF?
SKF has a great line of seals available for forks, shocks and wheels. The reduction in friction is great and on top of that they are more durable than OEM. To have increased performance and durability in a wear item such as a seal is very rare.
So you're kind of like me where you got out of the race team end of things, and I got a job at Parts Unlimited for a little bit; you got a job working with Fox as a road rep. And I think we both over time had talked here and there and we were both happy to get out of the grind, the hamster wheel of pro racing. Do you agree?
I agree, yeah. It's a tough schedule, working in the shop, all the testing, then flying out on the weekends back to back and being gone 35+ weekends a year, it takes a toll on you. I definitely needed a little break. But still, I miss the racing. I watch all the races, I go to the races, and find myself lying in bed at night thinking about stuff. How can I make the bike work better? My body left the races but my mind never left racing.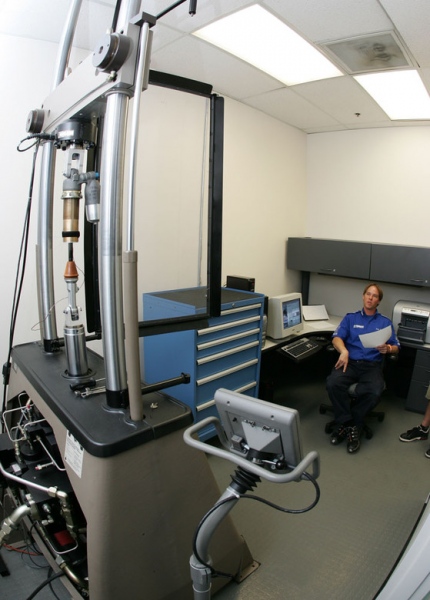 Here's Hutter in the Yamaha days contemplating shims and oil.
In some ways your career in racing is a little bit like a Cinderella tale where you really were a suspension guy from the Midwest with A-Ride Suspension and you turned that into basically a factory suspension job at Yamaha. That had to have been pretty cool.
Yeah, it was pretty cool. Definitely a dream job for me, something I had always wanted to attain all my life, or career. Just put your head down and work and good things will happen. Do good, have a reputable company, put out a good product, and have a positive attitude and just keep putting your head down and things will happen. I was fortunate enough to make some good connections within the industry with Ross (Maeda) from KYB from ENZO. He helped me out a lot when I was getting started. Jon Rosenstiel from Yamaha. I was fortunate enough to work under him back in the early '90s with DGY when I worked at DGY and I was responsible for their suspension, but I collaborated with Ross and John R and was fortunate enough to keep that relationship over the years and it just fostered and eventually it led itself into the job at Yamaha.
Talk about Jon R a little bit. There might not have been a smarter, a more unique person in the industry. That guy had done it all. And when you started at Yamaha, obviously you worked with him at DGY and then when you started at Yamaha you were right underneath him. What was he like?
Yeah, he was probably one of the most knowledgeable guys I know but he's one of the most humble. Never gave himself enough credit, that's for sure. Just knowledgeable, not only in the motorcycle industry but in the scientific world. I call him the Mad Scientist; he's very, very intelligent. He has his own little laboratory in his garage and he's always tweaking…
The X-ray machine.
I'm afraid to ask what goes on. I think once he leaves the garage is glowing in the dark. He was doing all kinds of crazy stuff. Half the stuff I don't even ask because I don't want to know about it. But definitely a smart guy. He's also a Midwest guy. He grew up in Illinois and then moved out west and worked in the industry doing everything. He worked for Marty Tripes and Marty Smith in the Honda days. Then teamed up with Broc Glover and Yamaha. When he was done wrenching he moved into suspension. I was fortunate enough to have met Jon R in 1990. I was working as the suspension tech for DGY then. DGY was one of the first support teams along with Pro Circuit's Team Peak. Jon R became my mentor from there. I owe my career to Jon R. Ross Maeda from KYB / Enzo also played an integral role as well.
I was a decent mechanic and thought I knew a lot, and then you get to be on the factory team. And I worked with Bob Oliver a lot; you were with Jon R. You really learn begin to realize that you didn't know that much.
Jon R has forgotten more than I know. There's a wealth of knowledge there. There is an incredible amount of experience at Yamaha. With Keith McCarty, Mike Guerra, Bob Oliver, Steve Butler and Jim Perry. I believe they have the most collective knowledge out of any team.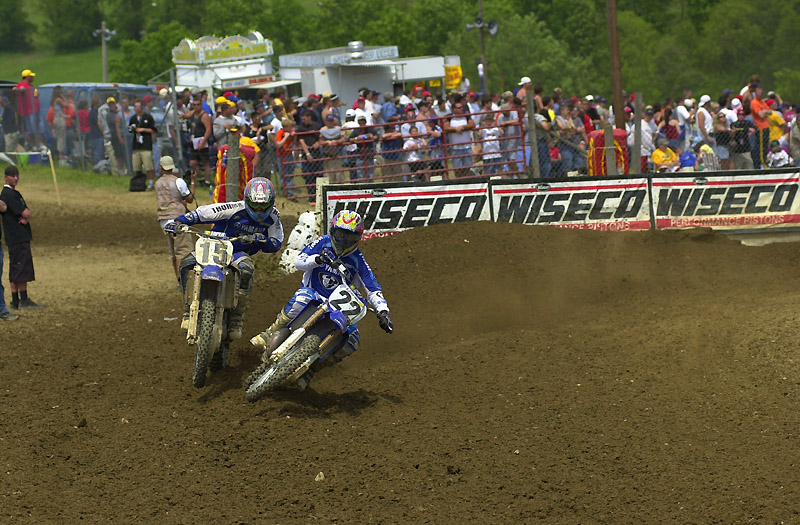 Reed making the pass on Ferry at High Point in 2003. Both Hutter-tuned suspension. Stoneman photo.
What about working at Yamaha? We had Chad Reed, Tim Ferry, David Vuillemin. I always felt like you didn't give Tim Ferry enough attention, by the way.
He didn't need it. He knew what he wanted; he was good.
But at times Chad was a handful for you.
Yeah, he was probably the most demanding.
Just a demanding rider.
I guess he was searching for a certain feeling and wouldn't give up until he found it. Most demanding or maybe he just had a lot of pressure. It's hard to say; everybody's personalities are different. But definitely the most demanding guy, in a good way. I mean, it pushes you further to develop a better setting and to kind of go back to the drawing board and reset everything you know. So like I said, demanding in a good way.
I know. He just causes you and everyone else to raise their game.
Right. And it also helps everybody else. It's a collaboration and we all took information from whoever was on the team, so Tim Ferry or Chad and David. They all have different riding styles, but you learn something from each and every one of them. So I can honestly say what we learned from David went to Chad, and vice versa, Chad went to Timmy and Timmy to the rest of the team. It is an individual sport and a team effort and have racing between everybody. At the end you're just trying to give these the best motorcycle you can and then it's up to them to perform.
Do you have a favorite moment from those years at Yamaha?
I would say probably… I don't remember a year. When we went 1-2-3 at Anaheim. That was pretty cool to do that. I never had that happen again in my career. Do the 1-2-3 podium and those guys were on it, and the bikes seemed to work really well that night. I think that stands out as my favorite moment. The first race is always exciting. You believe that you did all your homework and left no stone unturned in off-season testing. But you never really know until A1. 1-2-3, great team effort!
What about the worst moment? Do you have a worst moment?
I guess some of the outdoor seasons we really struggled. Especially with Chad. I guess he was really searching for something that we just weren't able to give him. Probably that 2003 outdoor season with Chad probably was definitely a trying time. Just never quite got the setup right.
What's the biggest thing you learned about suspension at a factory level? What was something that really helped you out?
You can't change just one thing. You change one thing it affects multiple things on the bike. I learned to look at the motorcycle as a whole, not just a fork and a shock, but as a whole unit. Whether it be chassis flex or motor carriage or power delivery, the way the power comes on, to type materials used in the frame or the clamps or the torque specs used on a motor mount. You have to look at it as a complete package, not just a fork and a shock. That's my biggest eye-opener is looking at the whole package before you make an adjustment or go any further is to look at it that way.
What's been the biggest advancement in suspension technology since you started doing it? Even way back in the day. Twin chamber forks or check valves in the shocks, upside-down forks…?
Well it's kind of sad to say that it's been kind of stagnant. There hasn't been too much… besides the new air fork, I guess if you want to call that new technology. I mean there's been some parts here and there. You mentioned the check valve; that's available to the public now. There really isn't anything that I can think of that's being used that really isn't available to the public. There might be some special parts, internal parts and maybe some coatings but for the most part the gap between production and works suspension has never been closer, in my opinion. It's all about the person setting up the bike, in my opinion. I think a well-setup bike, every guy could win on production suspension.
What's your take on the air stuff? Obviously you saw Showa's got the air chamber for the pre-load adjustment. So there's triple air forks going on. We moved the fork spring to one fork, and then we dropped that totally and went to air. And now we're at triple air and production bikes come with air. What's your whole take on this air fork revolution?
I think overall it's a good thing. Definitely it's a huge weight reduction, which is, we spend thousands of dollars on titanium hardware to try to reduce the bike a half a pound or whatever. This saves two pounds or more from the fork, so that's huge. Tune-ability is nice. It's nice to be able to change a fork spring and pre-load via air versus taking apart the bike or anything like that. There's a leaning curve. Some guys still haven't adapted to it. I guess maybe a negative would be the progressive characteristic. It ramps up more than say a standard coil spring. That might be a slight negative. But I think for the most part people like the air fork.
I'm sure it will continue to evolve. Like everything else, the first year it comes out there might be a few flaws. Like when the aluminum frames came out with Honda in '97 or Yamaha in the course of that year, the years going forward they're going to improve and get better. I think overall the forks are a great thing. The weight reduction, the tune-ability. I think over time these guys will adapt to it. There are guys that aren't completely comfortable.
I worry about the local guy who never checks his air pressure in his tires and also never checks the air pressure in his forks.
You're exactly right. It is a little more labor-intensive. So you have these guys that buy these fork air bleeders but then they're too lazy to crack a screwdriver to bleed their fork. So are these guys going to take the time to put on the pressure gauge and check their fork pressure every time they ride? That's another drawback, too. It's great because it has the tunability but if you don't use it, you don't get the advantage of it and it's a negative. A guy can't just throw the bike out of the truck, throw gas in it and hop on it, well, it's going to take a little more involvement with your setup to get the bike to ride it. Checking pressure should be a regular thing every ride.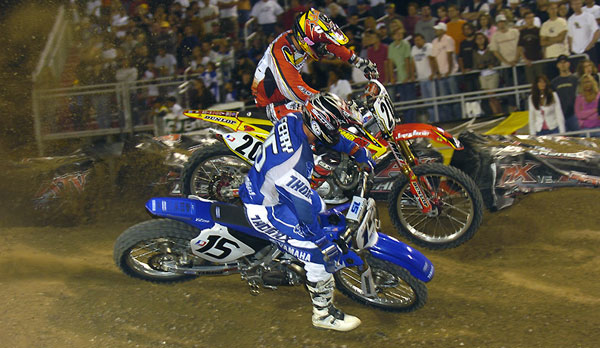 Tim Ferry stuffing Damon Huffman with his Hutter-tuned suspension. Yes, great reason to run a Tim Ferry photo. Stoneman photo
That's definitely something that people need to think about, right? What else can we talk about…
Tim Ferry, let's talk about Tim Ferry.
Ok.
He was the most sensitive guy. Timmy, he could dial like a millimeter he would know if it's off.
He would. He was really good at that.
At first I thought he was full of it. I'm like, no way. And then after the fifth or sixth time, sometimes he would sit on it and he would say too high, it's too low. And then you'd check it and sure enough it'd be on him. One time we had it set 2mm too high or low for fork height…
We changed the setting in the middle of the day, and he liked it. And the next week I put it at the old setting, forgetting that we had changed it. And he was like, this is not right. This is not the same as last week. And I'm like, "It is." And then you or he said, remember changed it. And I was like, oh yeah. It was like two millimeters.
Yeah. He got on the bike, he went out of the truck, went out in the parking lot, did a U-ey, came right back, and he said, "It's off." Like, what are you talking about? He's like, the fork's off. Checked it, sure enough I'm like… I know. It happened multiple times. Usually with the sag, checking the sag, like, too high, too low. He was dead on every time. It was incredible.
What's the number one advice you would give to a local weekend-warrior guy about his suspension that he could do to help it out? Change the oil more often?
I would say the best thing you can do, and it's probably the most simple thing, is just to get your bike balanced. One is set the sag properly. Make sure when the front wheel is installed the forks are not pinched, there's no binding. Make sure all the torque specs are correct. And make sure your springs are correct for your weight. Tire pressure is set. It all sounds so basic but those few things done improperly will have a huge effect. It will make the bike handle… It sounds so basic but it's so overlooked. It's incredible.
I tell people make sure you torque your fork bolts. Don't just tighten the shit out of them.
That and then even we messed around a lot with changing the torque on motor mounts and swing arm pivots and even that had an effect on handling. So just whatever you're going to do, rebuild the motor or whatever, make sure you tighten them according to the owner's manual specs, because the torque does have, believe it or not, has a big effect on how the bike handles. Those are all things that don't cost any money. That's the most overlooked thing I think you could do, besides spending money to get your bike modified or sped up to more your riding style.
Was I the best mechanic you ever worked with?
You were, by far. I think you were the best mechanic. You were the funniest mechanic. Yeah, you were great. We never had a problem. When it came time to race we had no failures. There was nothing…
Nothing that was my fault anyway.
Yeah. You were racing; stuff's going to happen. Products fail when you push the limits. But as far as I can remember you never have any failures. You were always prepared.
Where can people learn more about the services you offer?
If you go to aridesuspension.com or call me at 562-480-6537. You can go to the website or give me a call if you have any questions, anything, whether it's just recommendations in setup or any way I can help you. I would like to extend a special offer to all your followers Steve. Anyone who sends in their suspension for service will receive a free set of SKF seals until July 31. Just mention PulpMX.