These guys had poor Unadilla's, Moser tries to brighten the mood
These guys had poor Unadilla's, Moser tries to brighten the mood
Shortcomings #10 Vol 2
Photos: Simon Cudby
Unadilla one of the most, if not thee most historical track on the circuit. Scanning through the results it was a no brainer who had Shortcomings on the day, so thanks Unadilla for doing ½ of the work for me. Well enough chit chat lets do this.
#21 Jason Anderson – Rockstar Racing
Anderson has had a great year. Wins his first supercross race and has been solid all of the outdoors. Perhaps you've heard but Matthes has quietly started up the bus and will be driving that bandwagon next year for Anderson to be a title favorite. What happened to Anderson at Unadilla? I remember stumbling across a Rockstar race review press release earlier in the year and was impressed with the content so I looked it up again. And I was again impressed with the content, actual real information and insight in there-I wonder who's writing them? You can read the entire thing here and for those of you too lazy to click the link here are the cliff notes.
http://mx.rockstarenergy.com/rockstar-energy-racing-unadilla-motocross-national-race-report-2/
"Jason Anderson's day started out a bit slow in practice 1. He qualified a decent 7th, but his times were way off of where he wanted to be. Jason set out to improve in the second qualifying session. The improvement was massive. Anderson knocked an astounding 11 seconds off his original fastest lap and he looked very good on the bike. In the opening 250 moto he was buried in the pack exiting turn one, sitting in about 25th position. He began passing riders by the handful and immediately found himself in the top ten less than halfway through the first lap. Jason's line ended up leading to just that, and a collision with another rider sending him to the ground. He remounted and shortly after the first incident, he was just simply cleaned out. Picking himself up one more time, he was right back where he started, outside of the top 20. JA's 2nd moto started much better, but finished way worse. He looked to be poised to finish easily in the top 5 when he landed on a breaking bump on the huge step-up, swapping and going down hard. He was banged up a bit but luckily just had the wind knocked out of him."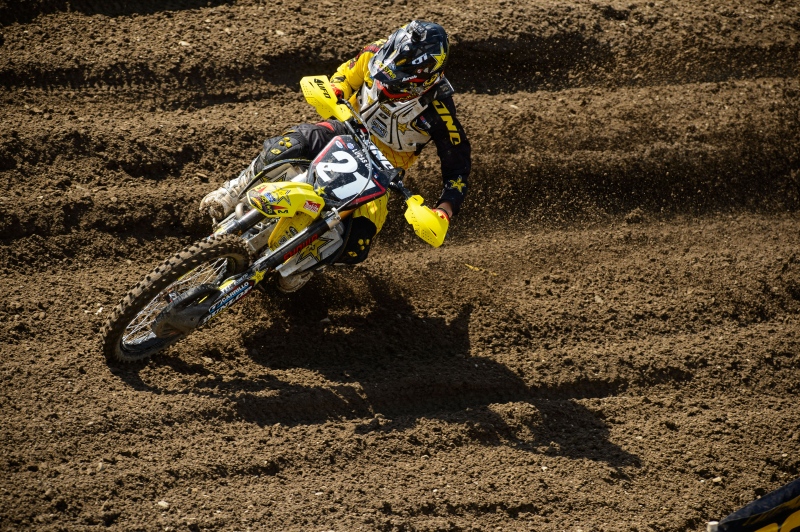 Anyone else think Andersons riding style looks like Josh Hills? They both bend a lot at the waist and look hunched over.
Coach Seiji is not your standard personal trainer or fitness guru. He's a very interesting individual with lots of experiences in several different disciplines. When I've read about some of the places he's gone and adventures he's had it's like he's already lived a couple lifetimes. In short he's an interesting individual and a wealth of knowledge. Shorty best described him as the "smartest dumb person he knows". Seiji works with Shorty but also does some online training for several athletes and has been working with Anderson for awhile. I pulled him away from his busy schedule to ask him a couple questions.
Moser: How long have you been working with Jason Anderson and in what aspects are you helping him with?
Seiji: I have trained Jason in the past as an amateur into his first year as a pro then again starting last summer. I prescribe all of his training and monitor and actively manage his health and wellness as well with an associate doctor that helps me with all my personal training clients.
Anderson was a Loretta Lynns horizon award winner and people had some big expectation coming into his rookie season, but it didn't go quite as planned and he had a lot of struggles. It's been cool to watch him steadily improve each season and I think his evolution as a racer is a more realistic approach for most riders, as it's a huge step and transition from amateur to pro. What's the most difficult part of this transition, speed, conditioning, travel, mental strength, monster girls, or all of the above?
Yes, it was quite the struggle for him to transition from an amateur that could literally do no wrong into that first year as a pro. I was training him during the time when he won that Horizon Award and let me tell you it was like a fairy tale. We trained, had fun at it and won almost everything he entered. Then that first year was a disaster. My opinion is that for Jason, the difficulty was mostly mental but that came from a lot of things; trying to meet those expectations he had as the Horizon Award winner, going from living with his parents to living in SoCal by himself and all that entails (from grocery shopping to laundry to all those things that your parents can help you do), having a real boss, and well, racing with pros.
Just a mixture of things that are the reality of becoming a professional rider affecting your mental state, confidence, etc. I don't think for him it was ever really a matter of speed or a matter of true fitness or his ability to have speed or fitness. Those things were suffering as a byproduct of the lifestyle if you will of being a new pro jacking his mental state. That is just my opinion of course. It was very difficult for me to watch happen and I am so glad he steadily and sustainably progressing as a professional.
You're probably not aware but I'm a big fan of Andrew Short whom you also work with, what are some similarities and differences between Anderson and Shorty?
Hah! They are almost complete opposites as far as riding style, physical and mental attributes, and where they are on their career paths. You couldn't be more opposite. I will say they have one thing in common though, they both are intelligent and think about their training and careers and take an active stance- they ask questions about what they are prescribed to do, they ask the why's and the how's about physiology and wellness, they care enough about those things to think about them quite a bit and how they can better those things to better their racing. Some people just want to be told what to do and they don't want to think about it or have any responsibility over the outcome of their training and preparation. Andrew has always been like that since I have worked with him and Jason has become that way which I am stoked about.
The biggest difference comes from basically where they are in their careers, for lack of a better term, Andrew has a gigantic base of all the aspects of training…he has a huge physical, mental, emotional and experience base that he relies on and from which is seasonal rise in all these works from. He requires much less of everything to gain improvements and maintain when the time is right. Jason is building all that, he is laying that foundation still so he requires much more of everything…including the experiences, there is no skipping that..he is in the process of building his own base and he has just started in my opinion.
He will hopefully be able to absorb and adapt to gradual increases in all that and continue that for as long as Andrew has and at the same point in his career, he will require less. This is all the ideal plan of course…only time will tell but I have full faith that Jason will continue with his improvements and be just as successful as Andrew.
Anderson has a lot of momentum going into next season and is no doubt going to be considered a title contender. In the off season in preparation for next year should he change up his training or are you a supporter of staying the course and being consistent with whats obviously working well this year?
No, as I said, I expect him to be able to gradually and progressively handle more intensity, volume, mental pressure, all that as he matures as a professional rider and really as his body matures physically. His body is still changing just because he is aging and the training he has done up to this point, his body is still on the upswing if you will. All this has to be sustainable. Like I said, gradual and progressive so it is sustainable over his career, so he can have a long and productive career…for as long as he wants to do it hopefully.
Who do you thing is the gnarliest rider out there in terms of training, who puts in the most work during the week? We'll save the debate on how much training is necessary and how many riders probably over training for another time.
Well I don't know about what other riders are doing and I don't want to guess but for entertainment value only, I will throw out some guesses wholly based on personality as I see it. I would say that both Phil Nicoletti (whom I have trained myself) and Bobby Kiniry both probably just grind themselves to oblivion daily and love it. I would say Trey Canard…just because that is who he seems to be, you know, work hard, no excuses, comes from within. Again, just fun guesses.
Oh, Millsaps, I would guess he lately has been working his ass off to get the great results he has gotten recently and because it was a self-admitted weakness that he has obviously slayed. Dude and you can't forget Weston Peick..his seemingly natural body shape..you know he works super hard to keep his mass down and well, seems to me his personality demands hard work…or else he will kick his own ass. The Martin brothers…they seem like no nonsense, I will work hard, I will do nothing else…just clean living and hard working types it seems.
Who is the next Anderson, a kid that you see a lot of potential in but for whatever reason the results aren't quite there yet?
That's a hard question…so many kids get to that position and never quite live up to that…if you look at the Horizon Award winners say over the last 8 years…hit or miss really. I would say Darren Durham. You can see that speed and it's just me, but it just seems it wants to come out..but you know, he seems happy (just guessing) and if he is happy with what he is doing, more power to him. I would also throw both Martins in there too…I just like them and the way they seemingly carry themselves. I don't know what they do at all but to me it just seems like they try really hard to do the right things. All this is just my opinion and I don't know Jack!
And Tomac. I know he is crazy successful already but I think he has so much more ceiling left that you haven't seen nothin' yet. Could be a ton of Millsaps out there too…you know, linger as a pro for quite a while then just one day, BAM, they are on it. Hope that is the case with a lot of riders. Man I wish a lot of riders would just start killing it! I am going to throw my own name in there too. I don't ride at all anymore, I can't jump shit, but someday I am going to ride a bunch again and we will have a showdown..me, you and Jacki haha.
Thanks for your time Seiji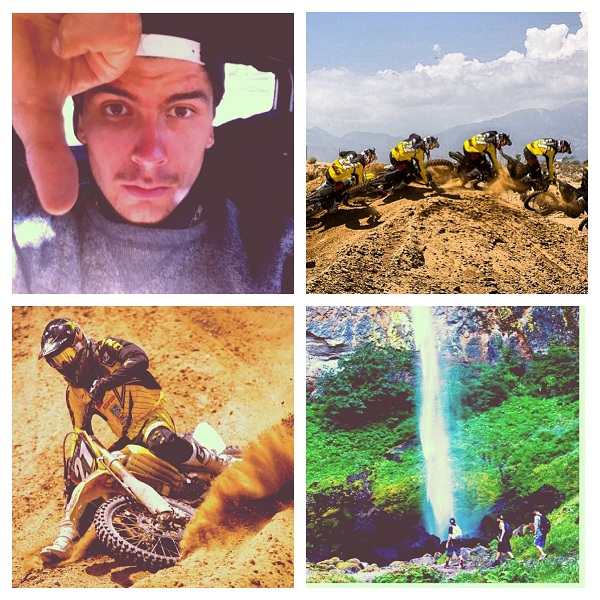 Anderson uses sign language to describe how Unadilla went
I've either had to much to drink or I'm seeing quadruple Andersons
Anderson checks out Multnomah Falls not far from the Washougal national
The track looks a little dusty in this picture, poor air filter
#41 Trey Canard – Honda Racing
All things considered I don't think realistically this season could have gone much better for Trey. After being out basically all of last season with a gnarly injury and coming back to consistently run top five and mixing it up for podiums and race wins. I tip my hat to you Mr. Canard your tenacity is inspiring (I think tenacity is the word I'm looking for). Most importantly Trey has made it through the season without major injury and he's had more than his fair share. Trey's Unadilla went even worst than Andersons with a mechanical DNF in the first moto and a big crash in the second moto. I was going to call up Trey and get some insight about his season and his weekend but who would want to read that?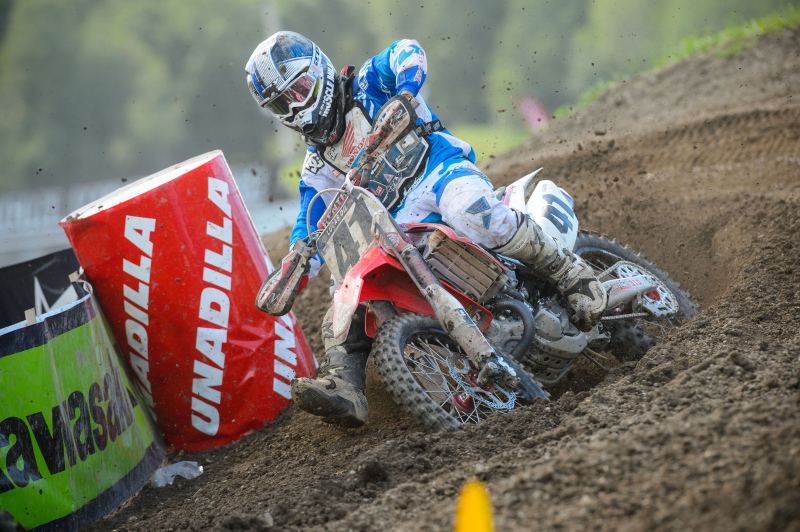 Trey tries his best to try and make the Fly gear look as good as Shorty does. I don't recommend racing without a visor like Trey is trying to do here.
So I called up Gregg Albertson instead, Trey's practice bike mechanic. The practice bike guy is one of the unsung heros of the sport, no spotlight, no champagne, no TV time, and more work. I don't recall how Gregg and I crossed paths but we both like beer and moto so it's a match made in heaven.
Moser: I'm writing about your boy Trey you have time for a short interview today?
Gregg: Yup, it's raining cats and dogs outside I ain't doing shit right now.
So you don't have to water the track today?
I'm not stepping outside
What's a typical day in the life of Gregg, when it's not raining cats and dogs outside? You get up piss excellence and then what?
Wake up around 7:45am and head straight to the water truck or some piece of equipment for some final track maintenance for an hour. Then I do a final once over on the bike and set pressures. Trey starts riding at 9:00am. Then it's motos with Chad Cook, Colt Nichols, Justin Bogle, and Trey. I make them ride together and come up with the spacing for the motos. Trey and Jimmy call me Colleen sometimes. Then I might throw on a mid moto bike wash and we might have some testing to do. After riding I wash the bike and take a lunch. Then it's track maintenance in the dozer or skiddy. Fixing jump faces, filling in holes or fixing water truck paths. Usually Chad is watering right now too. Then it's bike maintenance which usually takes an hour or two. By then it's 6:00pm-7:00pm and I get back in the water truck and water til dusk. That's a normal day barring any unforeseen issues with equipment or water pumps.
Does Kare-bear make you lunch or do you brown bag it?
I live in the shop so I have food here.
So unlike people that say "they live at work" you literally live at work.
Yeah on back to back riding days I work 11-13 hours. Lunch is usually the local deli where they all know me by name and occasionally I get free cookies.
When is it CL time? (Coors Light)
Maybe one with dinner
Only one CL? I can tell you right now I couldn't do your job
Yeah you got to love it.
To prep the entire track approximately how long does that take?
If it's all jacked up?
Yeah like after a rainstorm so tomorrow?
Are we counting mowing?
No mowing just track work if you have to do the entire track.
Then me and Chad working 7 hours together to make the whole track fresh tilled and watered.
Here's your standard what's the best and worst thing about working for Trey question?
For me the best part for sure is being around dirt bikes everyday. Trey lets me ride his stock 450 which is awesome, so I'm able to ride in my free time. But I'd say the most gratifying thing to me is knowing that I'm the one with him for 75% of the time he spends on the bike. He's racing the other 25%. Just me and him in Oklahoma, no other mechanics, coaches, girlfriend etc. That tells me that he trusts me in all aspects. The worst part is watering and mowing hands down because it's mindless and easy and I'm not bettering myself or learning anything while I'm doing it.
As you mentioned hands down you spend the most time with Trey and I've heard other pro riders talk about how important a practice bike mechanic is because of how many laps they pound out during the week. What's the biggest mechanical problem you have had on your watch? These things happen it's just a matter of time.
The guys at Honda know exactly how much time each part in the engine can take before it becomes problematic. With my maintenance schedule and Honda engine rotation schedule we have no major issues ever.
Thanks for that politically correct answer. So you're perfect never had a problem.
I guess we're careful with our fuel. We keep it off the ground to prevent condensation and filter it twice before using it.
That's not a problem, that's just being smart because you're a badass.
Dude it's a Honda. Jimmy would need three Suzukis to one Honda.
I know I love Honda, it's all I've ever owned. How about the seat falling off, flat tires, give me something.
We can only get two days out of the spec tires.
I'm not stopping until you give me something, broken chain, loose clutch lever.
Dude I'm pro
Sticky throttle tube, pros ruin bikes that's what they do.
I've lost two fork guard bolts this summer.
Thank you. This is a little of subject but what is with these man made ponds down there that people stock with fish it's weird?
I don't do that business I'm from the Ozarks, streams and real lakes.
Didn't Jimmy just put a pond in at his house?
No it was already there.
You should catch a bunch of the fish in Jimmys pond and put them in Treys swimming pool as a joke it would be funny.
Trey has fish in his ponds too.
He doesn't have fish in his swimming pool yet. Any plans for the offseason, do you get some time off at least?
Kind of. We are practicing all of September because Trey is taking time off for his wedding and honeymoon in late September/October so I guess that's my time off too.
Big bachelor party plans I assume? Knowing Trey I'm sure he will go on quite a bender.
We are doing a ride day out here. We're telling the ladies there is a bachelor party though so us groomsmen can have a night out.
Alright don't do anything I wouldn't do and thanks for your time Mr. Albertson.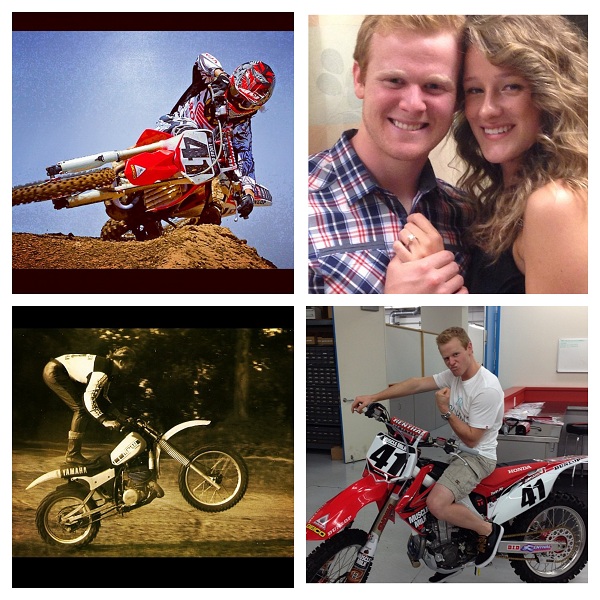 Trey scrub a dubbing it, these pictures never get old
Did you know Trey is getting married? He's the lucky lady.
Trey does his best bad boy bicep pose
Badass picture of Trey's dad pulling a seat wheelie back in the day
Thanks for reading about some shortcomings, see you next week.
Moser
Please send any and all comments to jasonw@racerxill.com