Transcribed for your pleasure
Transcribed for your pleasure
Zach Osborne
Me: You ran up front, probably didn't have the day you wanted to. Talk about it.
Zach Osborne: The second moto I just kind of backed off. I was a little sketched out by the wind and stuff. My main goal this season was to score points in every moto and be top five in the championship and today I wrapped up that. I've been through a lot and I know it doesn't seem like much to probably most people but it does to me. It wasn't great but it was okay.
How bad was the wind and everything out there? Alex Martin just told me that he thought maybe they were going to red flag it?
I thought for sure after 15 minutes they would have red flagged it but they let her rip.
So it's not the handlebars that turned everything around?
Like I said, it was a culmination. Today I was thinking about that too much, the championship.
Was that going through your mind out there?
That was the biggest issue today. I just couldn't get my mind off that. I wanted to make sure that I did that.
I'm asking everybody this: thoughts on the track?
It's the first race. The facilities are the things that we need to grow the sport. You can bring someone from a big company to a place like this and have something to show them, whereas say they had to fly to – not that Unadilla's a bad place, but it's way out there and it's a mud hole…
Got suites here and everything!
This is what motocross needs to be. It's not the greatest location, the track's not the greatest, but…
Did Giuseppe teach you this?
No, but in my opinion to grow the sport we have to have INAUDIBLE pits and towers that are presentable. Definitely not this elaborate. It's way bigger than what you need, but definitely something in this direction is in order, in my opinion.
Let's focus on the positive as we end this interview. Fifth overall. You podiumed some races and it's been a successful return from Europe. You'll most likely be better next year with more time on these tracks.
Definitely. I think this year, like I said, I met my goal. I think next weekend I'll be a lot better; maybe get on the podium again. I've been through a lot to get back here. I've never raced a full season where I raced every race, and so far this year I've done that. I'm going to continue that streak at Elsinore and hope for the best result and try to get ready for ISDE.
I think you put some more gap on the guy in 11th in combined points. I think it was Anderson. I think you put some points on him today when he went down in the second moto. What permanent number are you going to pick?
I don't know; I really like 23 but 38 is pretty close to my heart. So, we'll see. I don't really know yet. What else is open?
16.
I like 16, it's okay. I really like 23 though.
Nick Wey?
He's 27.
But he was 23 for like four years in a row.
It's a cool racing number. Even Canada runs it. It's a cool number I think. We'll see. I think one of those, 23, 16, 21 is even pretty cool.
Good job on the season; not so good job today. But you'll be better.
Today is behind us and I got done what I needed to do and now I can quit thinking about that and pin it again.
****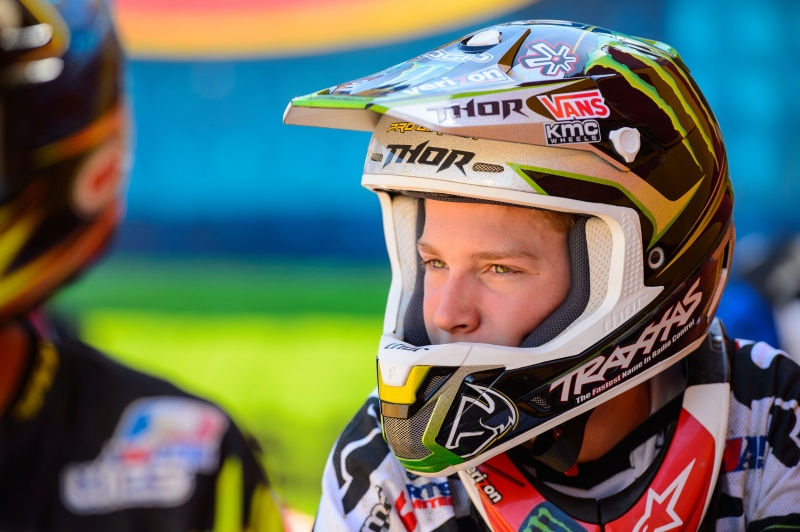 Adam Cianciarulo had his best national of his career in Utah. Photo by Simon Cudby
Adam Cianciarulo
Me: This is what we've been waiting for. The boy wonder. Great job today, third place in the first moto. Second moto you fell in the first turn and came from last to 9th. Great day.
Adam Cianciarulo: Yeah, it definitely was a good day. Good qualifying. My plan this morning was to get behind Tomac in practice just so I could get a good gate pick. I did that in the first one. I think I ended up 5th and then kind of applied it by myself in the second practice and got 2nd which gave me a lot of confidence for a guy that gets pretty much 10th or 12th every weekend in practice. To come in here and get 2nd, it was definitely good. I got a good start in the second moto. Not great, but good. I think I passed a couple people right off the bat; they all bunched up over that single. Osborne and I battled for a little bit. I was able to get around him.
Then Baggett was behind me until maybe five minutes to go and made a huge mistake and then he caught me and he went by me. Then 3rd for that moto which was really good for me; I was pumped. Second moto kind of banged some bars with some dudes. A lot of the dudes are bigger than me and that didn't go in my favor. I was on the dirt. But I made a lot of good passes right off the bat, right on the first lap when they were all bunched together. So that was really good. I made it to about halfway, kind of felt a little fatigued. Altitude, whatever excuse. But the track was gnarly. So 3-9 for 4th overall. Good day for me.
Keep it up. Pretty good day. Maybe you'll like west coast now.
I think you need to bring Pookie to Elsinore. Maybe I can podium.
***
Justin Barcia
Me: Every weekend you run from the truck and you do not do any interviews. Every weekend you're mad and you're angry and you run away.
Justin Barcia: And then if I'm not angry I'm at the press conference.
You've been there a little bit but most times you haven't been happy this year and so nobody talks to you, but I got you.
You got me. And today wasn't that great of a day.
You got Mookied. Are you mad? Payback type deal?
Of course. They don't call me Bam Bam for nothing. Probably don't know who he's messing with.
Did you do something to him?
Supposedly but I don't remember that.
That looked a tad dirty.
That was the dirtiest move I've had in a while. I love it, though. That's the stuff that gets me going. At the moment I didn't love it because it hurt.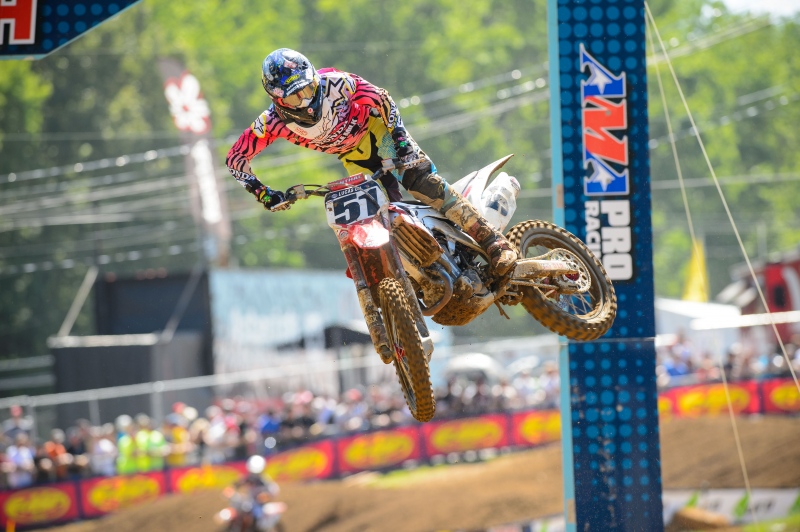 Justin Barcia got Mookie'd at MMP. Photo by Simon Cudby
Let's focus on more positive things. Second moto, at one point you caught up to Trey and I thought you were going to make a deal of it. What happened?
I don't know; I just couldn't make it happen.
Now you're angry again.
I'm mad at you. You're asking me a bad question. No, he was riding good and I just couldn't get him. I did put the charge.
Team USA bro.
That's awesome. Try number two I think will be a better try than last year.
I'm not trying to kiss your ass because you're in front of me, I think last year you rode the best on the team. You had that accident with the front wheel but that was from charging hard and trying to make it happen. So are you looking for redemption?
Yeah, last year I definitely gave it my all and maybe a little bit too much and made a few mistakes. But this year I'm looking for redemption. We need to win. That's the end of the story. They picked us because they know we can do it and we're going to do our best to get that win for sure.
First time 450s indoors and out. We got one race left. Has it been a grind?
It's been a hell of a grind. These guys are fast and no letting up.
Three weeks off for the whole year or something.
That's not fun. The off-season's not going to be much vacation. I think I got Team USA, Belgium, then we'll go Monster Cup, Bercy, and possibly Italy.
You're in for Bercy?
I'm in for Bercy. I love it.
That's going to be exciting. Trey's going and Shorty's going, Roczen… It's going to be exciting. It's always good when you go to Bercy. It's very entertaining.
Hopefully not too entertaining.
Very exciting day. I finally got to talk to Justin Barcia after a race. I'm very excited. No matter how it went, it's a good day to talk to Justin Barcia.