Read it and weep
Read it and weep
By Issac Scoggin
Photos by: Simon Cudby
In the truly prideful words of Ron Burgundy, "I'm a man who discovered the wheel and built the Eiffel Tower out of metal and brawn. That's what kind of man I am." As funny and obviously over the top as Ron is he has a valid point. We are prideful, not just men, but especially men. We are proud of what we make with our hands. We have a sweeping notion that if someone else made it then we can make it better. Whether that is altering what another has already developed or envisioning and building from scratch, we are bound and determined to try to improve upon it. In this day and age, paradigm shifts have occurred without full recognition by the majority of us.
Man-made is no longer the symbol it once was; which was that what the mind sees the hands can build. Now there is an increased importance placed on "the natural". The examples litter the shelves at Supermarkets the World over: no preservatives, no dyes, no hormones, no chemicals, etc. It carries over into all aspects of life too, like wearing shoes that promote "natural running", fabrics that are not synthetic, and of course, products for the skin that "naturally make you look younger." I predict soon we will be wearing loan cloths because it promotes a natural aeration of the nether regions. Just the way we are headed. What I am saying is that man-made is still something to take pride in, but now it is of increased importance to make something look natural.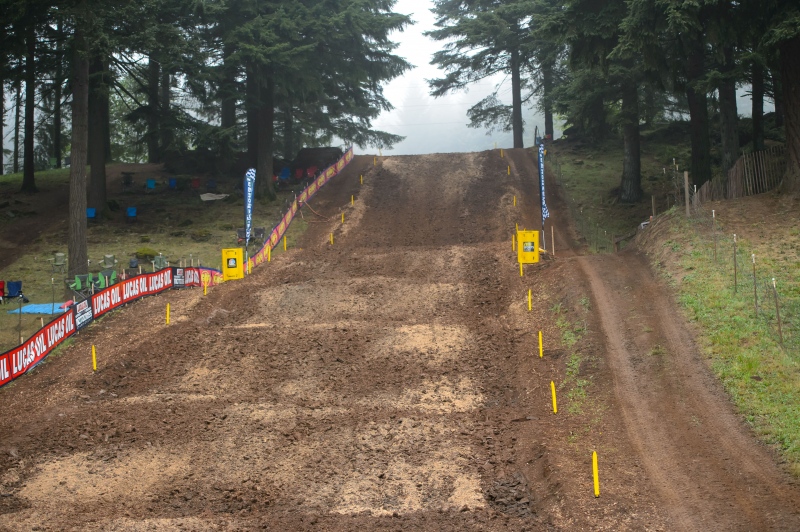 Here's something we never want to lose.
Just like a plastic surgeon, the track builders of today are given a location not suitable for the task they are expected to complete. To make the riders truly happy they need to take a flat piece of land, in this case dusty "moon dirt", and create a natural feeling MX track. It needs elevation changes, as many as can be made by man, combinations of jumps ranging from rollers, to singles, to camel humps, to doubles, tabletops, triples, step-ups, step-downs, and any other step you can think of. Of course, we must have a SX section in there somewhere to make the riders happy, and keep the "natural" fans bitching that the authenticity of racing is gone. It has to be wide so it allows for multiple lines to develop with beautiful, soft, yet tacky dirt. The corners themselves need options too, inside bumps, outside berms…some switchbacks, not too many doglegs or 90-degree corners or else it will become one-lined. So we have some elevation, some good dirt, some fun sections, and we better make a few really gnarly ones so the men are separated from the boys. Then all we have to do is figure out how to prep it for the most effective, fun but hard track that requires less maintenance throughout the day. Oh, now you are going to come in here and tell me I have to make sure it is viewable from many places for the fans! Wow, I am going to be proud when I make this, but it won't be or look natural.
With that being said we have just finished the race for the Championships in both classes on the first of two obviously man-made, unnatural tracks. These tracks are developed with sponsors, fans and facilities in mind. In all honesty the racers themselves are an after thought in this process, but they still have to go out there and perform to make it a good race. The Utah National looked to come straight out of one of the few MX video games made. It had huge jumps that looked to land terribly rough and made no realistic fan even want to attempt more than a lap around the track. To me, that is part of the allure of being a wanna-be professional racer. You see them on these beautiful, gnarly tracks with long faced take-offs and long landings, but the roughness of the tracks show what separates the Pros from us. They may over-jump a double and downside some breaking bumps to gain time and keep up their momentum where we could only dream of being that technical. It is the small things that add up on a pro level track, just as it is with their technique, speed, ability, etc. To be a successful track from a fans point of view you have to provide a track that we want to race on. How does this happen?
Simple, make it a great track for the pros, make them enjoy racing on it and we will want to watch because we are moto nerds. We want to envision ourselves racing on it, we want to show up for amateur day and ride the same track, and feel what we think they are feeling. It is man-made, but the feeling must be authentic. From the pros to the fans we must be "tricked" into a notion that this is the most natural man-made track, and one in which we want to do nothing more than race on it ourselves.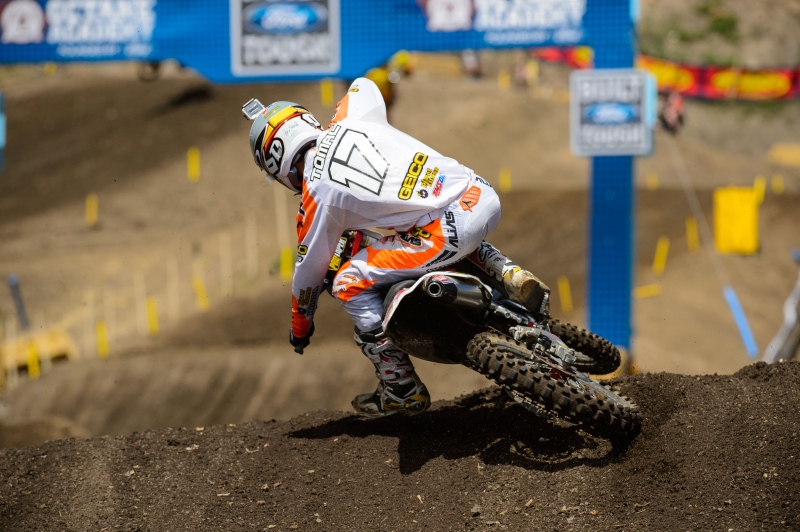 Tomac tamed last weekend's man-made track, what about this week?
Essentially, what happened last weekend was unnatural. The only two natural phenomena that took place at the Utah National came in the form of chalky, dry, square-edge developing dirt and a dust storm the blew through. If nothing else it will be remembered for that. These races are actually good for the sport because it makes us realize that the right direction is not always "the natural" one. In this case the unnatural direction is to find a location suitable for racing with a natural landscape. Yes, we will have to build infrastructure, a parking lot, and we must try to keep it as close to a big city as we can. These places exists out there and we need to take advantage of them; otherwise, we may find the quality of racing and racers being diminished by the direction we are headed. So, "run for the hills people!"
The only constant from natural to unnatural were our race winners. They seemed to not care what track, what dirt, what jump, or what situation they were in on Saturday…they were there to win, and so they did. That is natural considering Eli Tomac is known as E.T. and he was racing on "moon dirt". It is also alarming how much the gap became between RV and RD. What is understandable is the RV is never afraid to push the limits and find an edge to ride on whereas Dungey toes the line of predictability. A few weekends ago I was excited to see that Dungey had stepped out towards the edge a little more to match Villopoto, but it bit him and back he withdrew into his normal place. Did this track suit Villopoto more than Dungey? Yes. Does it matter? No. Ryan Villopoto is unnatural himself and he is showing that no obstacle, other than himself, will slow him down. Not even a faster, longer version of Daytona.
Change can be a good thing, but it can also promote resistance, and a resistance usually comes from a more natural standpoint. The MX series is quiet possibly at a crossroads; one direction is better TV coverage (maybe), the other direction is staying grounded in the roots of MX and hoping it will somehow increase viewership and sponsor dollars. What is the right answer? Somewhere in the middle as usual, but it is a hard place to find. We have to allow pride it's proper place without letting it alter what needs to be accomplished. Making something brings with it a pride matched by nothing else this World has to offer, but now we must somehow keep it as natural as we can.
As I illustrated above it is accompanied by severe hardships, but we need to allow a little room for error. I am sure there will be growing pains. I am sure we will witness some tracks/racing that does little to highlight the true passions that drive this sport, but those hardships are natural. So make your point known, and do not run for the hills just yet. Everything eventually gets boxed up anyway, and what is natural about that? We still call it natural even though it has been packaged, and contaminated by human hands (who knows where they were before that?). Everything that we sell as natural is actually unnatural…maybe the future of the Nationals will be as such. I will leave you with a short conversation between Ron and a Bartender, or in our case MX Sports and the average fan.
Bartender/MX Sports: "You know, times are changing…and you're going to learn how to deal with it."
Ron Burgundy/Fans: "What? Were you saying something? Look, I don't speak Spanish."