Some interesting thoughts from some interesting people
Some interesting thoughts from some interesting people
Ryan Villopoto
Me: You didn't jump onto that table top like I told you you needed to. Still somehow managed to pull out two wins.
Ryan Villopoto: So what would have happened if I would have done that table top jump thing?
You would have won by more seconds.
How many more?
It's probably a good half a second lap times ten laps. You did a great job today, but you did lose something: the holeshot award. You were going for it. You needed two today to make it happen.
I was super close. First start I left the gate really good and then just kind of lost my balance a little bit. Instead of it going left I kind of veered right. Then I lost that one. Second moto it was even a better start and Brayton just nicked me for it.
Swept you on the outside.
He did.
How was the track today? What did you think? Better, worse than Miller? I thought it looked prepped better.
I thought Miller was better. It's tough because these are kind of new tracks, kind of stadium-style tracks, lots of jumps, kind of Supercrossy.
But neither one was your favorite?
No, for sure I wouldn't say they were great. But what can they do?
Hot today. How'd the weather affect you?
This was definitely the hottest race all summer. I don't know what the temp was but I know it was fairly warm.
You're on another level lately, man. Big debate on the Pulp Show whether you stepped it up or Dunge felt the effects of training and he slowed down. What do you think? You guys were closer beginning of the year. It was closer, it was looking okay, it was a battle. And then the last little while you really dominated.
I don't know what it is. We did some testing and things like that. After especially the races that we struggled at, and Millville was the last one that we really struggled, little bit of bike setup, some mistakes and things like that. We went back, worked on it, and it seemed to get better. Not only did it get better at most tracks, it got better at all the tracks. I was able to ride the bike harder and faster.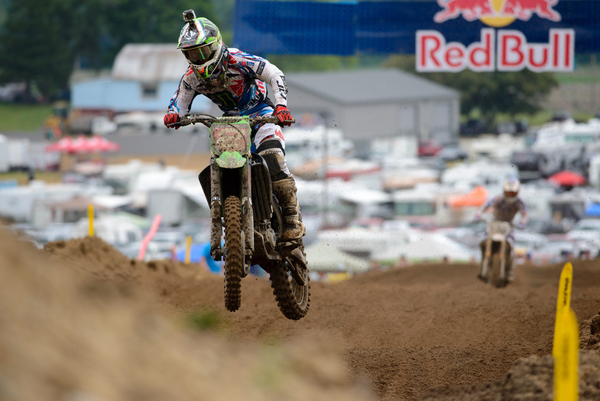 Villopoto wrapped up his second 450MX title and now he's scheduled for surgery. Lissimore photo
So from here, surgery for you and some recovery time?
Yeah, nothing super major but get some cleanup stuff done and be ready for the long season that's coming up. It will be ready for Monster Cup also. It'll be good. I think everybody's pumped everything's over. I support those guys 100% going over there. Hopefully they can come back with the win.
Are you getting some flack from fans, social media, that kind of stuff, people who don't understand this? For example, last week a guy was very upset at you, letting us know. How's that been?
There's always going to be a bad egg in the basket or a few bad eggs in the basket. Nothing you can really do about it. If you really knew what really goes on on the inside then you would understand. But it's fine. I'm good with it. This sport is very rough when it comes to fans and you're kind of only as good as your last race.
You're pretty good now.
As of right now but they'll let you know.
If America loses I don't want to be your Twitter on Monday.
We'll see. But you're only as good as your last race and they let you know if you have a bad race. He's this, he's that, he's washed up, he's off the drugs… whatever. You can never win. That's just the way it is.
If you wanted to race Des Nations, you need this work done. It's been bothering you for a bit. If you need the work done you would have waited until after Monster Cup because you still want to race that. Now you're looking at maybe a November start and that's a little late for your time.
Thats really late. And also you have to remember I have to go all the way back over to Monaco for FIM banquet. Mandatory. If someone wants to pay my fine $100,000 if I don't show, I won't go. I have to go over then. It's over Thanksgiving. They don't know how big Thanksgiving is here in the United States. It's a pretty big deal for all of us. Pretty major holiday.
***
Justin Barcia
Me: Third overall today. And Jason Lawrence did visit you which made you happy.
Justin Barcia: The highlight of my day was Lawrence come visit me. He was straight as an arrow. He looked great. It's good to see him doing good.
Good second moto; kind of rode by yourself. First moto though, no offense, you had some horrific laps to start. What was going on?
I've really been struggling with bike setup throughout the whole year. It wasn't my moto for sure. I was really struggling bad. Luckily we made some big changes for the second moto and it was better, but still wasn't to that RV pace.
That's a reoccurring theme. I know Trey's battled his bike a little bit. You've said it, Eli… Hopefully the off-season, get some data acquisition and get that thing going.
I hope the off-season's going to be really good. It's got to be good or else it's not going to be good. I quit, for good. No, I think we'll get the bike good and come swinging for Supercross.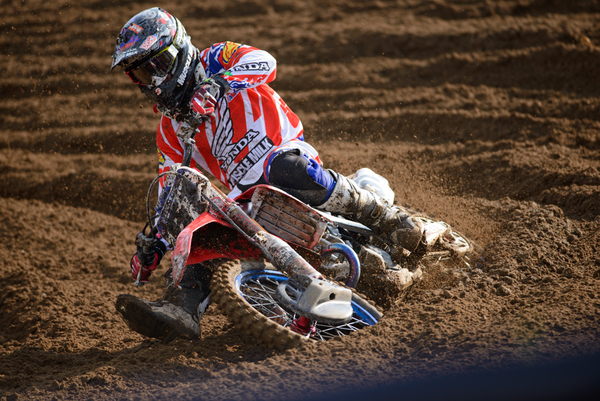 Justin Barcia was third overall at Elsinore and he's not getting ready for the MXDN. Lissimore photo
What'd you think of the track? Not your style?
Me, I like that nice Unadilla tilled up, rutty dirt. This place was rutty but hard-pack underneath. It's a little scary.
We got to the bottom of the Mookie thing. I don't want to re-start anything, but you cross-jumped him the corner of the jump after the mechanics area and then over that next hill you moved over on him and that is why he did that.
That sounds believable but no. He's an idiot all around. I have zero respect for the guy. I could have cleaned him out about six times today, and I was the bigger man and didn't do anything. But when the time comes, there'll be a time. I could have got him good quite a few times today. I had to like control the steam. I was like, I could get this guy good. But it would just start more problems. I'm looking at the bigger picture.
Going to Motocross of Nations, are you going to take any time off though?
Like a week maybe. We'll test Supercross this week a little bit, just get kind of a setting. Then I'll go home and take the weekend off and a couple days. Still ride my bicycle and stuff but take a little time off of riding.
****
Mitch Payton
Me: You've refused some interviews late in the season here, but I got you this one. First of all, Blake Baggett, great second moto. He got penalized there. Thoughts on that?
Mitch Payton: Absolutely atrocious. I can't believe it. I think we're going to take it to the superior court.
Is there a drug ring inside of MX Sports?
There is a flagging ring. Actually it kind of sucks. I understand their standpoint but I don't think Blake saw it. I saw the replay and I did noticed that he jumped on it so I knew something was coming. I thought maybe it could be five seconds or something like that. I didn't know. I didn't think a spot because he made up about two seconds on Eli that lap, and I thought they would evaluate that. And he won by 11.9. I thought that was probably appropriate.
It seemed a bit harsh.
I thought it was. On the replay he was on the right-hand side, the guy was on the left-hand side, and where his line was I really don't… Blake said he didn't see it, and I believe him.
I think so too because he almost died.
He wouldn't have tried to land on that guy's bike.
I think a penalty was needed there but it may be a little harsh. But still a great way to go out with the number one plate.
I was proud of him. He had a really good start which if he could do that more often that's what you're going to see from him. And honestly just the year, hats off to him. He started with a bad wrist, finished with a bad wrist and he's going to go get that worked on next week. The goal is to try to be back at Anaheim and have a good Supercross season and then I want to do good in outdoors. It's important to me and we need to get our act back on top. I think next year we're going to have the same guys that we have now, plus Dean Wilson. He's going to ride a 250. I think having that group, there's no reason that we shouldn't be back where we can sweep.
You're going to have six guys. You prepared to go into a season with six guys? Thomas Covington is saying maybe he's got something going on so maybe you'll have a 7th guy in a different truck or something, but this is what you're going to go into 2014 with?
I'll probably have, I would say, four or five outdoors and if I have the results that I currently have out of some of them I would expect those guys to have a long summer vacation.
Talking about that, it's been a rough season for you but you're angry. You don't like this.
I'm not okay with it. It's not what we work for. It's not what Kawasaki or Monster or Pro Circuit expects. It's not what I'm used to. I want to be up front. We expect to be up front. We deserve to be up front. Our bikes are good. That last moto proved. That was a good start and it was a solid moto, and that's where we belong. You either buy into it or don't be part of it.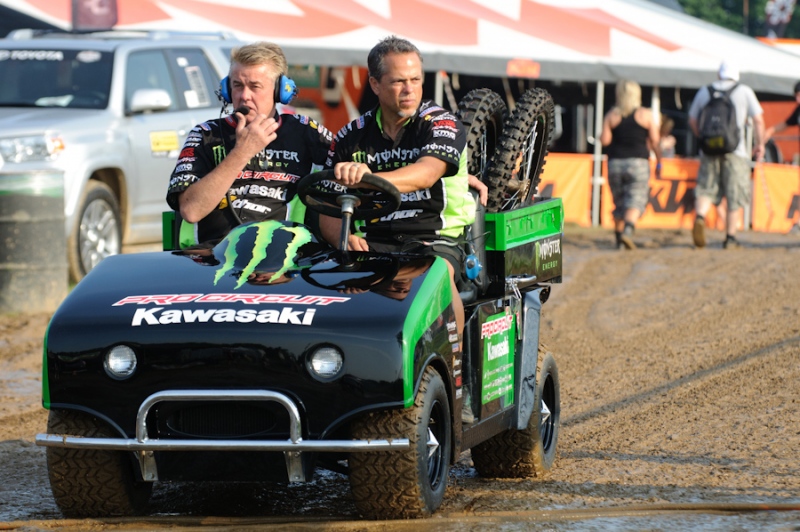 Mitch Payton's angry and he's not going to take it anymore. Lissimore photo
I want to get your take on the last two tracks here. If you read the internet a lot of people feel like motocross is going downhill and being ruined. What's your take on these facilities?
Hold on, because my eyes are shut because the dust is blowing in my eyes. It's a sand storm. We're in the bottom of a dry lake. Lake Elsinore is right there. This is like push-off from it, blow sand. I didn't think, and I hate to say that because Miller Motorsports, the facility is fantastic. I thought the track was a little bit not good. And I thought Elsinore was better than I expected it to be, but I thought it's still not good. My real opinion is we're 30 minutes away from Glen Helen and that's a National track. If we're serious about giving the fans and the teams and the riders what they expect I think we need to be at a National track. I understand looking at… no, I don't.
You're buddies with Davey, you're buddies with Bud at Glen Helen…
No, I like all of them but they need to make peace. That's the best thing we got in Southern California. And for the Nationals when they rip it and you got the hills and you can watch, you can see, you don't get to watch three corners. It's a facility that is out here perfect for a National. That's why it used to have a National and that's why we, if the right people talk and we have sense, that's where we need to go back to it. I pray that they do that because fans are not going to continue to come to these flat events like this. I don't think they get an opportunity to watch the guys that much.
You can broker this.
I tried to broker it last time. I didn't do such a hot job of it. But I really think that they need to try to do it. With give on both sides a little bit, it would be fantastic if they could do that. If you ask European riders or American riders and you ask them about Glen Helen for the National weekend, not during the week, but the National weekend, they would tell you that's one of the best tracks of the year. They deserve that.
Tyla Rattray told me the deal's done, he's going back to Europe. Rode for you for five years, almost won a title, led points for a while. Talk about his time on the team. You go back with him in Europe where you told him if you win a world title I'll give you a ride. So you were there way back.
I love Tyla and I think Tyla's a good guy. As always I totally respect him. I think the last two years over here have been hard where he's had a lot of Supercross injuries. Supercross has not been friendly to him. We talked I would say three months ago and he said that there was an opportunity to go back to Europe and I said you need to take it. And I support it and I really hope he does good over there. It was just too foreign to him. He was doing okay at it but it was hard. And then last year for the 450s he hurt his hand right off the bat, tried to come back… It didn't work out. That's why I wanted to give him a shot this year. Then there was a crash and today was a twisted ankle in the first moto and the second moto of course it popped up again. He just needs to get back to what he did. I'm sure he'll be successful. I think he's going to ride for Kimi Raikkonen. I'm sure Kimi will have a good program for him and he'll be on good bikes. I would expect him to do well.
Thanks for giving me interviews all year, always honest. One of the best interviews in the pits.
We need to make sure that the Pulpcasts, the Pulp shows- we need to rev those things up because that one was epic. If we could get the right flair of people on there and you could really push the right buttons. I could barely quit laughing. I thought it was just the most epic show. That one goes in the can and should be saved for life.
Kyle Regal's step-dad was good too.
Documentation, that's a phrase I use. I have documentation. You need to push for those shows.
Funnier moment, the Pulp Show, with Mike Genova, Tony Alessi and lasers, or the Nazi video with the translation.
I got to admit the Nazi video was pretty good. But the thing was that started and then the Pulp thing was that night, so I was already laughing. As the show was going I said this is going to be really good. If I watch that and they involve me in it I'd probably be a little bit over the top. If you lit me off you're going to run with it.
****
Trey Canard
Me: Good first moto. Coming from the back to have a good ride. Second moto you fell or something. What happened?
Trey Canard: First moto was pretty good. I actually started in 5th. Just kind of slowly passed a couple guys. That was good. I felt good, felt strong. Second moto just didn't feel it.
I missed the crash.
I stalled it. I tried to start it in gear and it just kept kicking and kicking and kicking and lost a lot of spots. Tried to move forward and did what I could. I got hot for sure. It was baking out there. I think I kind of baked myself when I was trying to kick it. It was so hot; it was really hard to recover.
Still a good comeback from the back. You were kind of moving forward the whole time. It's probably not where you wanted to be but at least you picked off a lot of guys.
I'm happy to end the season and to have a full season under my belt. I've never done that. That's a huge thing for me. I think leaving here with some good things and some things to work on, definitely some motivation to come back next year a better, stronger person.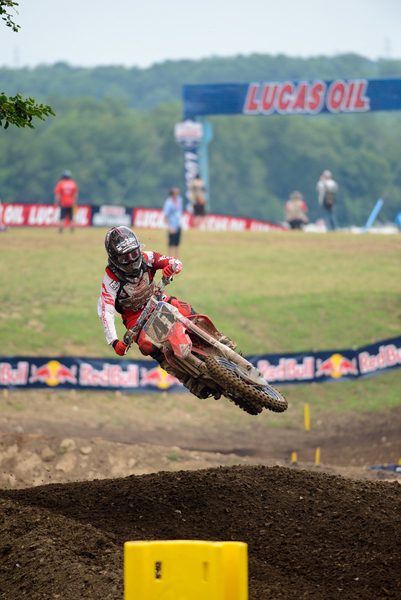 Trey Canard had a nice bounceback season in 2013. Lissimore photo
How bummed are you that you had to miss Houston Supercross? One race all year.
It's way better than I've done the last couple years. I can't be too discouraged about it. I know that I did my best each and every race. I can leave satisfied with that. I'm bummed I didn't get a win. I was really hoping I could this year. I came really close. I think there's a lot that I learned this year and a lot to really bring into next year. I hope next year that I can be in that lead group.
You were at times for sure, but every week, it's the hard thing.
If there's any hope of winning a championship that's what got to happen. You got to be up there each week. It really impresses me how those guys are there every single week, every timed practice, every start, every race. I think really they've just got a lot of confidence and belief in their motorcycle and what they're doing. Hopefully I can be that, but I'm going to do my best and I'm going to be content with that. But it would be a real big cherry if we could get some wins and hopefully a championship at some point.
Obviously Barcia got picked for the Motocross des Nations; I wrote about this in one of my columns. I think they could have flipped a coin, you or Justin. Were you disappointed?
He beat me in the series. I don't feel at all bad about it.
Are you an alternate?
No, I'm actually getting married that weekend. So it kind of worked out. I love that race and I want to be a part of it for sure. I hope next year that I can. I'm happy for those guys. I'm happy for Justin and Ryan to try to get a little redemption from last year.
Looking forward to getting some bike testing done and proving that thing a little bit over what you saw this year?
I think we learned a whole lot about it, too. Especially the air fork, getting that more tuned in and knowing how to adjust it throughout the day and everything like that. I think that's going to carry a lot into Supercross. It's really cool to come off of a series and have an off-season. I haven't had that. That's a big deal. Hopefully we can improve a lot. I'm going to do a couple off-season races. I'm not doing Monster Energy Cup. Hopefully I can use that time to improve.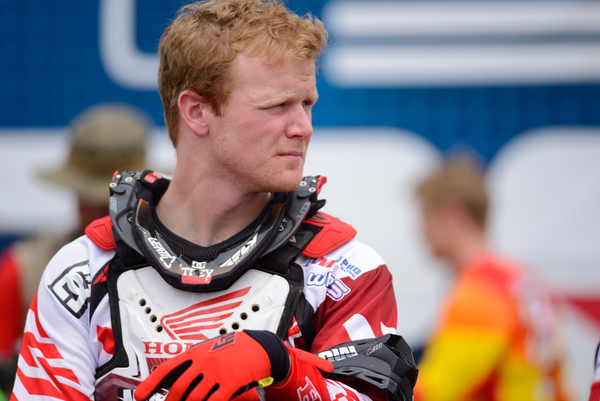 Canard stalled it at Elsinore but otherwise it was a good day for the #41. Lissimore photo.
Bercy and Genoa?
Yeah.
That should be fantastic. Close quarters.
That'll be fun. I'm hoping that I can kind of have a bike improved and taken good steps and race that. I know it's not anything close to what we do but it's still good to get in the race conditions.
Good job this year. Like you said, you raced every race but one and a big rebound for a guy whose career was probably in jeopardy so you can't be too upset.
I'm grateful. Thankful to be here.
***
Eli Tomac
Me: 2-2 today for Eli Tomac. Got an overall win. Your moto streak came to an end but still a good day. Straight up in the first moto Roczen rode great.
Eli Tomac: Yeah, he did. First moto he made the moves early. That's something I've noticed about him is he's really good at slicing through the pack the first lap and maybe taking a little bit of risk. That's where he is really good. Going into the second moto he made the move super fast. He was right there in front of me. But he did wash out there. So maybe he did take a little chance there and paid for it. But the first moto he was on it. By the time I got to 2nd he was gone. For me, this track wasn't a Tomac track where I could really get the mojo going. I don't know if anyone really had it, so you just kind of had to settle in with it.
Nice move on the table top though. That was sweet. I was bugging RV about not doing it. I was bugging everybody about not doing it. You were the only guy I saw try it. I guess Cianciarulo eyed it up at some point. How was it?
It was the roller section onto the table. I used it to get Martin in the first moto. It was sweet. Then I kind of cased it and got a little scared.
Second moto you cased it good.
Cased the weeds off of it. Never did it again. The lip was just a little bit funky, kind of like how the track was all day.
Not anybody's favorite track. Let's put it this way though: was it better than Miller?
No, Miller was better.
You're like the third guy that said that.
Miller was better. If you think this place is better I think you're crazy. Miller had the sand. It just had a little bit more flow. This place is weird. It's just prepped weird. The mulch is weird. I personally like when they mix sand into it and not the funky wood-chip, mulc stuff. It's just not a place we can have a National.
Second moto Baggett, good ride for him. Last one, a number one plate. Maybe had something to prove. He rode great.
Blake rode good. Caught him a little bit and then the red cross thing happened. I actually saw the guy jumping on the side of the track waving his arms, like "oh my gosh, watch out." I thought Blake was going to crash. I saw it. I must have been looking up a little bit more or something.
They didn't dock him for that at all?
He did get docked.
Seconds?
Maybe even a position.
So you won?
I officially won, even though I didn't officially win.
This is news. I was making the rounds. I knew they were discussing it.
I think I'm officially on the results sheet a 2-1. After that he kind of snuck away again.
Getting back to that incident, I think that was fair. He definitely pushed the limit.
He pushed the limit because I saw it and I was even behind him. Maybe he was in the zone; I don't know. But I even saw the rider on the side of the track jumping up and down and saying, hey. And I saw a flag. Who knows. You never know. But that's where he did get back away from me and then he kind of put the hammer down. I was like, there's no reason for me to try to go after him.
Taking some time off before des Nations at all?
Yeah. I'll probably take at least a week off. We have just over a month. No reason to keep frying myself out. Go back home to Colorado, do some hunting, play some golf.
Looking forward to it, des Nations? Getting a little nervous?
I'm definitely not nervous because I want to go race the Euros and show them what America's got.
That's bold.
It's bold but I'm going to be bold about it. I think we can beat them.
I like it. Kenny's been blazing fast. He's won MX2 three years in a row I think. Beat a lot of 450s, but you've beat him all year so you got to have confidence you can do it. He's on his home track. If you're in the media like me this is awesome. This is a great setup. I don't know what's going to happen.
He obviously is going to be fast but I think myself and Ken are probably… well, Blake's been going really fast too, but I think we are the fastest MX2 guys. Who knows. We don't have Herlings over here, but me and Kenny are definitely close to the top of the list.
I'm excited for it. Good job on the season. Fantastic job.