I finally got to the bottom of my inbox and here's some answers
I finally got to the bottom of my inbox and here's some answers
As always you can use the contact form right here on this site and send me your emails. I'd like to do more of these in the off-season- Matthes
I would like to start off saying I believe all riders who can make the night show at supercross or the 40 man main in outdoors deserves a good bike, lots of money, and a monster chick to bang. Unfortunately this is not the world we live in, so I wonder if people are going a little overboard on what a travesty it is that Weston Peick does not have a factory ride. We all know that teams weigh heavily on supercross results when selecting riders, and Weston's results this year in my opinion were not factory level. He did finish the season strong getting 3 top 10's in his last 4 races. But let's not forget that he was a regular in the LCQ and even missed 3 main events. He also finished between 13th and 19th place 9 times. And next year the field should be even deeper with Tomac, Roczen and Hanh moving up. So unless factory teams are looking for more LCQ exposure or want to make sure there bike is well represented in the bottom 1/3 of the main event I would not blame a team for passing on Weston.
Thanks, Bill
Bill you better be careful with that view because some people will want to burn you at the stake. There are a lot of people who think the privateers do get effed over by the promoters, the industry, the teams and the media. And in some ways they're right but the pro sx/mx scene is the ultimate form of dog-eat-dog and the strong (fast) survive. You're absolutely right on Peick, he's put in some fantastic rides here and there and is certainly a great rider but if you're a team manager and you're looking at Weston's 5-5 finish at Miller and wondering how if you gave him your bike and your team he can do any better. And you'd be right in thinking that he probably can't. Weston's not on the level of a Trey Canard, Justin Barcia, Ryan Dungey or Ryan Villopoto- he's just not. So maybe he's maxing himself out on his performances with his current program. And like you said, if you're on a factory bike and missing mains (Weston missed 3 this year) then you're a complete failure as a hire.
What you're saying is a dirty little secret that the managers all know but don't want to really say. For the most part the best riders have the best bikes and teams- that's the way it works. Weston can certainly fit the bill at somewhere like N-Fab Yamaha or BTOSports KTM but he'd have to improve on his results a bit. And maybe he would, maybe he wouldn't. Some managers I speak to think he's maxed out on his potential right now.
People like to say that guys like Jake Weimer and Justin Brayton are "wastes" of a factory ride, make too much money, are failures, etc, etc and the hard-done-by privateers are done wrong but for the most part if you dropped the gate 100 times, these guys would beat the Peick's of the world in 90 of the races. Remember Brayton was once a hard-done-by privateer also. His talent, work ethic got him a factory bike and he's put in some good results. The results don't lie and sure there are always outliers who don't have good years or get injured but by and large the best riders get the rides.
The problem we have is there isn't enough of the N Fab Yamaha's around to give Weston a ride (by the way, I'd bet that straight salary comparison Weston made more than Nicoletti this year but of course he had expenses while Phil did not) and that's a bigger issue than we have time to tackle here. I will say this though, and again I'm not picking on Peick-but he's a good example-a privateer can do ok racing supercross. Yes the folks at Feld can and should pay more purse but what they do pay isn't bad. If a rider is as talented as Peick and makes every main event he's bringing home around $8000 a month in purse money.
Yes he deserves more, yes he works hard for that money but it's also not far from the poverty level that some people like to portray these guys at. And that's not including contingency if you ride a bike that pays. Yes I know Weston's on his own for expenses but I'm just saying it's not a "joke" payout like some people would have you believe. You can hit seven of the sixteen rounds of supercross and not drive more than five to six hours away from SoCal.
So to recap, yes the Weston Peick's of the world need a ride that at least pays expenses but no, he shouldn't get a factory bike. He's just not that good…yet. The riders with factory bikes generally prove that over time, they're good picks. Unless it's Cody Cooper or Matt Moss.
Steve, please read this whole letter. It's so simple. Somebody at the AMA or Feld, or whoever has the power to do something read this and fix the sport by implementing the following:
Get rid of restrictions on two strokes now that four strokes have caught up.
Bring back the Open class for SX/MX (by this I mean simply call the 450 class by its proper name). The "Open" or "500" class would be 350cc and up. Guys could choose to ride a 350 or 450 or 500 or whatever as long as it's a production based bike so there would be no cheater 360 two strokes, Service Honda handmade bikes or whatever. Most if not all the guys guys would run 450s because 4 stroke open bikes are way more fun and manageable than the outdated crop of 500s that haven't been developed for 25 years. Manufacturers would simply continue in the current development process of making the 450s the premier bikes. Outdoors and indoors the Open class would still obviously be the premier class.
Make the 250 class the 250 class again. SX/MX on a two stroke or four stroke. Of course the two strokes would rule this class and most amateur and local motocrossers would start to gravitate back to the less expensive to buy (and maintain) and more fun to ride two stroke 250s. Development of the manufacturers should switch back to 250 two strokes (slowly introducing efi, new aluminum frame chasis', current suspension). The overpriced four stroke 250s which grenade after a single season of use could go the way of the dodo bird if people stopped buying them.
Make the 125 class the 125 class again and call it a support class and possibly make it pro-am. SX/MX two stroke or four stroke, but of course it would be hands down all fine blue-smoke belching race bikes here. It could be considered like a support class and in regards to TV time it could just get a couple highlights and maybe amateurs moving up could be required to start out on 125s to cut their teeth for their first year and amateurs wouldn't lose their status if they rode them before turning pro.
MX des Nations would be 125/250/Open again and weird shit like Lammy smoking everyone on a 125 would occasionally happen.
Sick right? And so GD simple nobody who runs this sport can see the handwriting on the wall that the average 9-5, 40-hour-a-week-guy can't even afford to ride anymore let alone take his family racing week in and week out. Without a long-term base of local weekend warriors actually buying bikes and racing or just riding them for fun, the sport will continue at its current level.
This isn't Communist Russia, let the free market determine the bikes people want to see on the track. Works bikes were cool but were eliminated to keep the price of the sport down and even the playing field for privateers. Now we have heavy ass four strokes that cost as much as works bikes and make the racing less interesting and have driven up the price of racing for the teams and regular guys that race. Neat.
Where the hell is the logic AMA/Feld? A simple rule change would fix a lot of problems overnight. Better racing, more people buying bikes, racing and having fun on their bikes would pump more money into the sport.
Having lower cost racing for the teams with 125/250 two stroke stuff would lessen the burden on team budgets instead of having to build fleets of mega expensive 250 four stroke motors. Privateers can continue to get away with running practically stock motors (see Zach Freeburg, Jake Canada etc. etc.) in the open class. Two strokes can get simple port jobs and head mods and be super sick race bikes.
By adding a 125 support class (probably regional for nates and SX would make sense) lots of local pros who are on the bubble of currently qualifying at nationals and supercrosses would have a chance to make a showing and there could be a few more jobs added to the mix for the industry. The 125 SX stuff could maybe be run during the day qualifiers or something like that as hard core fans could come into the stadium before the night program. At the nationals the 125 support class would not have to be televised and could give the fans something to watch as the program is shorter now. I remember when there were always fun-to-watch 80cc races to fill in at the nationals before WMX. The 125s could fill that void adding some good racing to the program.
Thanks, MotoKris
Wow, that's a long letter. Thanks for the thought behind it but there are more than a few pie in the sky theories and holes in what you're wishing for. First off, the public did decide on what the OEM's had to make and it wasn't two-strokes. When the Thumpers came out you couldn't get'em. They were the dirt bike equivalent of the mid-80's Cabbage Patch Kid. No one wanted two-strokes anymore, they were boring, not up to date and harder to ride than the four-strokes. The OEM's were just giving the people what they wanted back then. It was a simple case of supply and demand and unfortunately for those that want two-strokes back, they forget that fact. Don't blame the companies, blame your buddies.
As I've pointed out before, the price of a new two-stroke is only around $1000 cheaper than a new thumper. So it's not exactly a lower priced option here. Apples to apples, a 2013 YZ250 verses a 2013 YZ450F are close to the same price. And you're getting EFI and the latest greatest stuff on the 450 and the 250 is pretty much the same since 2002. And when we're talking 7, 8K for a bike the 1K isn't a difference maker.
The OEM's are your partners for racing and most of your partners have chosen (because of past sales) to not make two-strokes and you just want Feld/MX Sports to institute rules for bikes that some of them don't make? Have you followed road racing at all? Most of the Japanese just packed up and went home leaving that series a shell of its former self. Not a smart business move for anyone. And as I also detailed in part 1 of this mailbag, when you say "Make the 250 class the 250 class again. SX/MX on a two stroke or four stroke. Of course the two strokes would rule this class"- are you sure about that? Up in Canada they've allowed 250 vs 250 for a number of years and there hasn't been any riders who's performances have drastically improved because of being on a two-stroke. And in Australia where the same displacements race against each other the thumpers still rule. The four-strokes have come a long way since they first debuted. You have to be too perfect on a two-stroke and the four is easier so I'm not totally buying your statement.
Also, I'm not sold on these claims people make of the four-strokes just blowing up everywhere. I have a buddy with over 100 hours on a 2006 YZ450F and he's never done anything but change oil and check clearances. The four strokes are pretty bulletproof if you look after them and do the right things. If you're a moron and don't maintain the bike then it will blow and cost you money but then again, so will your two-stroke. You have to do two top ends on a two stroke to every one on a four stroke. As a former mechanic, I say look after your shit and it will last. Only at the highest levels of racing (that's about 5% of us) do you have to do the crazy expensive maintenance schedule and that's only on the 250's and when you're at that level you're investing thousands into your whole program with a funmover, RV, etc, etc and the cost of the motor stuff is a drop in the bucket.
You seem passionate about this but it's so not that easy to make the changes you wish for. And it's not all factual either.
Hi Steve, thank-you for all your work you are putting out their for us to enjoy. I listen to all your shows and they are awesome.
Is there any chance to get Jeff Matiasevich or Larry Ward on for a podcast or the pulpmx show? RX had a good interview with Chicken this year and he sounded like he had his act together as opposed to that Vegas race years back. You've said how hard it is to nail down Ward. These guys should have some great stories for sure.
Keep doing what you are doing and great job!! Thanks, Brady
Thanks Brady and I've been working on both riders to do a podcast with but Chicken's been a little flaky and Larry just won't do one. I've spoke to Ward for a Moto XXX story I've been working on as well as a 5 Minutes with in the back of Racer X but he won't do a podcast. I have no idea why but at this point I think he just thinks it's funny. I told Big Bird that everyone is going to forget about him if he doesn't do a Podcast with me and he replied "Hopefully!" So then I switched it up and just sent him a text saying I'm ready to do a podcast and we have to do it today. To which he replied he'll do it "in Neveruary".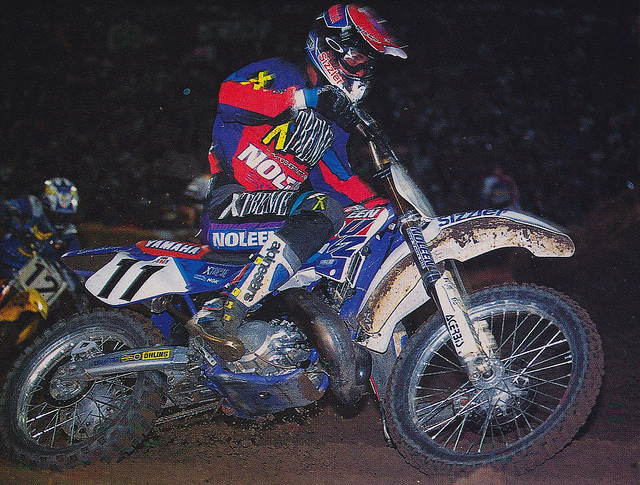 The Big Bird has proved to be an elusive beast to capture.
So my hail mary to him was I dropped the story to him that a fan came up to me one time and said he loves the podcasts and he loves Larry Ward so much that he cried when Larry won the Kingdome SX in 1990. This guy's wish in life is a Larry Ward podcast and upon me telling Larry that story, he still won't do one. So there you have it. Larry Ward is the white whale of the Racer X Podcast Show. Chicken, well that's another story. I don't think Jeff is real good at appointments and stuff.
Hey I saw Steve's tweet about spelling errors, and it made me want to ask the question / give my two cents. I have been riding/racing my whole life, and the thing I hate most about the sport is the lack of education. I understand there are some parents out there at the pro level that push their children to make good grades. In my eyes that isn't good enough. What would you say to a requirement of being enrolled in legitimate college courses on your way to a degree as a professional? When a child is raised in a motorhome it really makes me wonder what is going on in a 13 year old's life M-F when they aren't riding.
It is evident that a rider such as Justin Brayton or Ryan Dungey is well spoken, and probably had real discipline growing up in terms of education, but you can't tell me that Austin Stroupe or Jason Lawrence were doing their homework so they could race Loretta's. Any talk of a union for the riders is irrelevant without a rider representative that not only has a good head on their shoulders, but understands labor law and negotiating (prime reason Lebron James was laughed at when he wanted to represent the players for the NBAPA, he had neither). In my eyes with great talent comes great responsibility, and until the riders progress, the sport will stay stagnant. Thoughts? Brent
Some good points in there Brent and yeah, I agree with what you're saying and I've got bad news for you. It's just going to get worse. As the kids get more and more support the younger they get the more and more home schooling is going to take place. And let's not forget the addition of all these amateur races (nicknamed "The Cash Grab Nationals") makes it all that much harder for kids to stay in school. Here's the thing though, no matter how much the adults either do or don't make sure their kids take their lessons, there's going to be the Adam Cianciarulo's of the world (home schooled kid who is whip-smart) and then there's going to be the Austin Stroupe's of the world. Home schooling, or lack of it, isn't always the determining factor in how a kid is going to turn out. Sometimes the parents aren't exactly the smartest people in the world and that gets passed down whether or not the schooling is happening. Funny how the most important job in the world (being a parent) requires absolutely no schooling whatsoever.
Education should be more important than anything else in a young motocrosser's life but then again, I wish Dairy Queen Blizzard's grew on trees.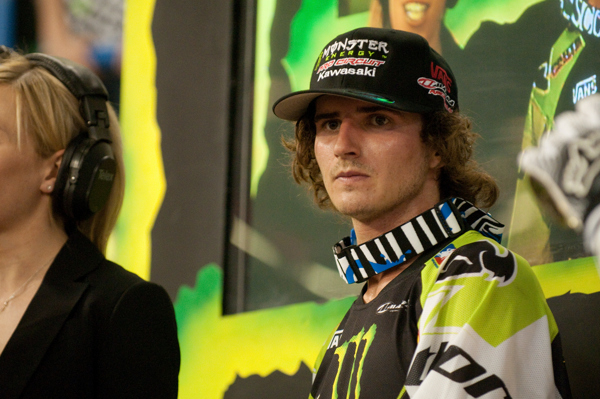 Come back Christophe, we'll let you ride ze Jet Ski.
On one of your next pod casts you should go into what the hell Pourcel has been doing over the last year. And I agree that the spark in Pourcel's tank is long gone as far as contending with the top 450 guys at this point in time. Good god James Stewart got out of the nationals for a couple years, did much less racing for a couple years combined with injury and he may never run better than top 5 in the nationals going forward.
James will have a hell of a time making a run for the supercross title and he has more raw talent and speed that Pourcel could ever dream of having. Thanks, Jeff
Yeah, I agree Jeff. CP's been gone too long. There were some talks with Pourcel and Motoconcepts and Valli Yamaha in regards to him coming back but I think those are dead. According to people close to him, Pourcel's desire is to race the 250MX class only and I'm not sure there are any teams that would want just that. Pourcel's certainly probably capable of winning that title more so than any others but I think the window's closed. What a fascinating waste of a career that CP has had. A major talent who's been a major pain on just about any team he's been on, Pourcel is lesson 101 on how to self-sabotage yourself. He was definitely robbed of one title, possibly two while he was here and I wonder how much things would've been different for him had he managed to win one of those 250MX titles.
I'd like to see him come back and try to get the magic back. I'm into interesting stories that there might not be a better one than that but I wouldn't hold out hope that it would turn out good.