The 1989 250 USGP at Unadilla had a ton of things going on
The 1989 250 USGP at Unadilla had a ton of things going on
Hi everyone, from the late 80s through the mid 90s I was a contributing photographer for Hi-Torque Publications (MXA and Dirt Bike magazine). The photos that you see here were never published and have been stored as 35mm slides for the last 15-20 years. A month or so ago, I finally got around to purchasing a quality scanner and the journey began, going through these images has been a revelation, as I haven't looked at any of them since I put them away and had only seen them as tiny little 35mm slides. Scanning them, then seeing the images on a computer screen has been like seeing them for the first time, they stir up lots of great memories, and bring back a great era for motocross, lots of bright color, big characters and of course, some true legends of the sport.I hope you enjoy viewing them as much as I have-Mike Sweeney
What a day for Johnson and his fans.
Sweeney- "RJ at the 1989 U.S.G.P. the first three things that come to mind when I look at this pic are
1. This is by far the best race I've been at, even after 24 years, it was that good, we had RJ on the comeback running down JMB for the win and almost as good, Jeff Stanton on the CR125. I can still hear that bike to this day, screaming along at about 10K RPM for the entire moto. I swear, Jeff locked that throttle and never shut it down, not even a bit. I really wish I had my photos of him on that bike still.
2. This was my first trip to Unadilla and the track was stunning, we've covered it before with the Cooper/Gravity Cavity photo, the long grass getting mowed by the riders during practice, but also, back then the track was more "natural" The big booter on the back side wasn't there and the long uphill on the "other side" was like a giant square edged stair case that just about every rider had a blooper on at some point during the race, it was that difficult. Also, I'll never forget walking to the edge of Screw U for the first time and looking down to the bottom, way steeper than it looks in photos and on TV.
3. The crowd was insane and I mean that in the most literal sense. My first trip there I drove out with my buddy Billy and his dad, we pulled into the parking lot across the street from the pits, noticing a bunch of dudes out partying but not really thinking anything of it. We pulled about half way up the hill got out and started watching the madness. Among the highlights were a growing crowd of drunk shirtless dudes demanding that any woman who arrived show off her assets, if she refused it got ugly. At one point a guy drove up in a little Mazda RX7 I think, he must have given the crowd lip because the next thing I know, he gets pulled out of the car, and someone jumps in, starts cranking donuts in it, then drives it into a little pond, much to the crowds delight, the driver jumped out to huge applause from the drunks. At that point we decided to go find a quieter place to set up camp so we went over to the field on the far side of the track. That night there was a huge fireworks battle over on the side by the pits, I remember watching it from afar and saying "it looks just like the bridge scene in Appocalypse Now", and it did, must've gone on for hours and the party didn't stop.
As to this photo, I have always loved the famous Dick Miller photo of Hannah with his feet off flying out of Gravity Cavity. I was definitely thinking about that when I shot this from across the way, except mine is not as exciting because RJ never got out of control like Hannah did.
It was a great day for American motocross and I'm glad to have not only witnessed it, but recorded it for history."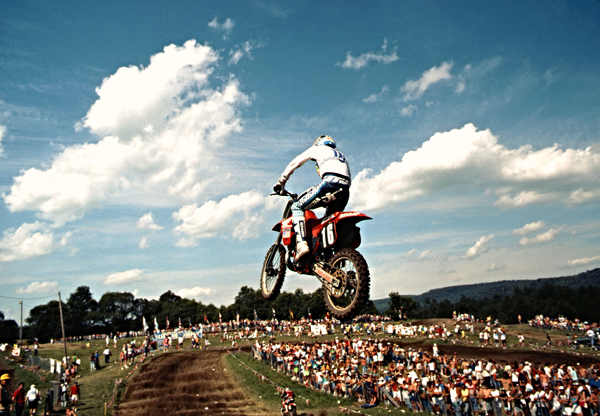 Johnson flies out of Gravity Cavity
Matthes: Weege, the photos we got from Sweeney from this 1989 250 USGP are pretty cool and this race was memorable for a few reasons and in a way, it's lost in the annuals of time when perhaps it shouldn't be. The mighty Rick Johnson came out and won this race by going 1-1 over Jean Michel Bayle, Jon Van de Berk, Broc Glover, Johnny O'Mara (who ran out of gas while third in the first moto and didn't race the next moto- what is it with Unadilla and running out of gas?), Mike Larocco, Ronnie Tichenor and the rest of the 250GP dudes.
It was RJ's second race back from his devastating wrist injury- he had gotten 3rd at Red Bud in his first race back- and by him dominating this race, it signaled that the new boss was the same as the old boss. Cycle News from this issue even quotes Team Honda manager Roger DeCoster as saying "The boss is back" so there you have it. Don't forget, JMB had earlier won the 250 national opener at Gainesville so we all knew he was legit.
So you had all that drama going on with Johnson coming back and winning against Bayle, Glover's return to the USA, O'Show running out of gas and also, it was Bob Hannah's last ever race at Unadilla (he went 9-12) and the fans were geeked out of their minds and if that's not all, you had Jeff Stanton, JEFF STANTON, racing the 125 support class against Mike Kiedrowski and Damon Bradshaw and going 1-1. Yes, you read that right.
Weege, there are so many subplots to this race, it's simply ridiculous.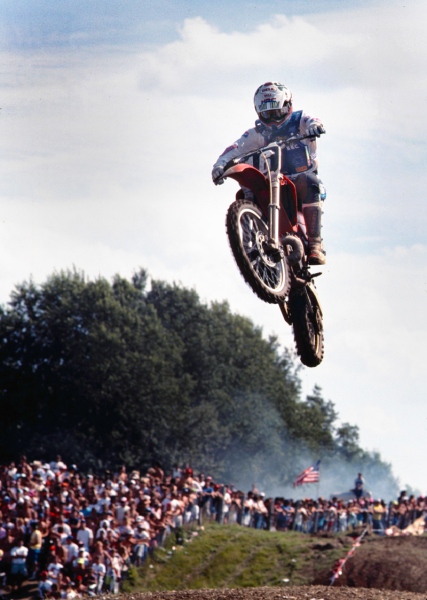 Too Hip flying high at Unadilla.
Weege: Yes but what's strange is, we didn't realize there were odd subplots at the time. RJ had been so dominant before his wrist injury that when he came back and won, I remember thinking "Yup, back to normal." See, I think like DeCoster! I do remember RJ mentioning that his hand still hurt, but you just figured that would get better and he would just hammer everyone again.
The fact that he didn't dominate after this made this race turn out so weird. Hey, what a strange collision of generations at this race. There's virtually no overlap in the RJ and JMB eras, except for a few races like this, and knowing JMB won that Gainesville National that year and won the 250 GP title pretty handily, it's crazy to think that RJ just smoked him. But it seemed normal, then. Euros would never beat Americans in America and RJ was the man. The freaking man. All seemed normal here.
And Hannah's last race? Are you kidding me? RJ was the next Hannah and yet he barely even outlasted him, retirement-wise.
I remember being kind of bummed at Hannah's result. The year before, in '88, he was second to RJ in both motos, and I remember reading some magazine early in '89 where Hannah said he was going to retire with a Unadilla win. Since RJ was hurt at that point, it looked totally likely! I think it was Dirt Bike Magazine, and they said "Anyone want to bet against him?" And I remember literally, out loud, saying in my kitchen, "I wouldn't!" and laughing like I was in on this convo even though I was like 10 years old and all by myself (without any friends, of course).
I guess time finally caught up to the Hurricane—and I think he also said the track was stinkin' junk that day, or something. Seriously, though, Hannah had a long career! Would you ever imagine the day he retired, RJ's day at the top were also actually numbered?
Matthes: Excellent point, Hannah started around 1975 and RJ's rookie season was 1981 but by this race, midway thru 1989 Hannah was done and Johnson was basically done (because of injury). Hannah had gone 3-33 at Southwick earlier this year so clearly he still had some speed (Denny Stephenson told me in a recent podcast that in 1990 Team Suzuki went to Southwick to test and Bob was faster than anyone else on the team, including 125 national points leader at that time Guy Cooper) but at this race it was bad starts and two charges from the back.
But back to Johnson, he told me in our podcast that outdoors is a pulling motion on his wrist while supercross was a pushing motion and that really hurt. And that's why he could win this race, the season opener at Gainesville in '90 and the ender at this same track in '90 but couldn't get the magic back for supercross. It doesn't make a lot of sense to me because of these things called braking bumps in outdoors but hey, it's RJ and I'm not going to argue with him. He's Rick EFFING Johnson.
Johnson also spoke about this race to me and basically said his stamina was better than Bayle's and he outlasted him. In reading CN, I'm not sure that's totally accurate as Johnson ran Bayle down from ten seconds back in the first moto and passed him just after halfway where one would think Bayle's fitness would still be ok. I hate to crap on RJ's own words but maybe he's not giving himself enough credit for the speed he still had. "I knew if I kept him in sight it would mess with his head because he's been running away with these GP's" said Rick to CN after the moto.
"I had problems with lappers, it broke my rhythm and I made mistakes" said JMB afterwards.
Second moto Johnson ran away from JMB and was in control until late in the race when he crashed and gave the lead up to Van de Berk. But this JVB character couldn't hold it and he crashed soon after giving the lead back to Johnson and he completed the 1-1 sweep.
Thanks to Sweeney's shots here, we can see that no matter how he did on the track, he still looked damm good in his JT gear.
So many What if's here, what if RJ hadn't gotten hurt? What if JMB stayed longer in America/didn't come over at all? What if Stanton raced 125's as a kid? What if O'Mara had bigger gas tanks at Unadilla? This race was so, so, so underrated.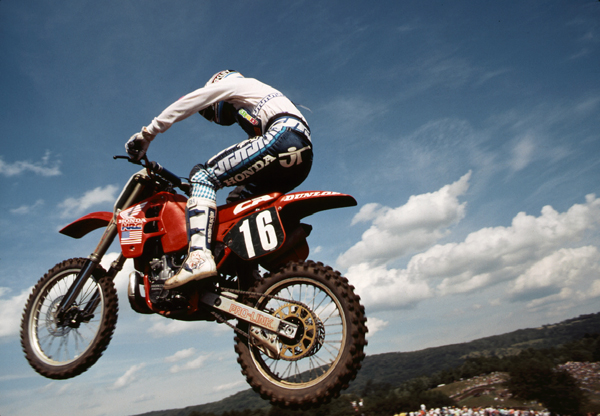 Johnson had a strong look going on at this race.
Weege: Okay yeah, now it's time to tackle the Stanton victory in the 125s that day. First off, all of these USGPs had support races but NO ONE remembers what happened in any of them except this one. Second, the fact that Stanton just smoked Bradshaw and Kiedrowski—who were battling for the 125 National Championship—is crazy. If you don't know, Stanton was only doing this to show he could ride a 125 at the Motocross des Nations, which shows how badly he wanted to be on the team. But it also shows you how good he was at that time—any bike, any place, anywhere. I was thinking about this the other day: Team Honda's 250 team was full for '88 with RJ and Jeff Leisk, so Micky Dymond was cut. Dymond went to Yamaha at Stanton's teammate and struggled. Then in '89 Stanton went from Yamaha to Honda (a spot that could have been Dymond's) and stepped up like perhaps no rider has ever stepped up in one season. That sound you're hearing is Dymond bashing his head on Tommy Lee's drum kit.
Anyway, quite the collision course was set between JMB, Stanton and RJ, as only one could be The Man on the most powerful team in the sport and each had a reason to think it would be them. You and I have both heard then Team Manager Dave Arnold say that's part of the reason Stanton and JMB retired so early—the mental battles were just too gnarly and it drained them. So between RJ's wrist and the burnout of Stanton, JMB AND Bradshaw for good measure, might be the biggest period of what ifs this sport has ever had. Consider 1989 the storm, and this GP the eye of it—there, I even get to throw in one more Hurricane reference. Poor Micky Dymond, and poor Johnny O's poor gas mileage!
Matthes: As far as Stanton riding the 125, I've heard the "prepping for the MXDN" story so many times that it's just assumed to be true. Yet in the Cycle News story they say Jeff rode the 125 because he wanted track time ahead of the upcoming national at the same track. They don't mention anything about the MXDN. Not saying it's NOT true, it's just weird that it wasn't mentioned, as you would definitely think Honda/Stanton/AMA people would have let people know that this is why Stanton was on a 125.
Anyways, what if you're Kiedrowski or Bradshaw and Stanton smokes you on the 125? Talk about massive blow to the ego. Bradshaw was probably so pissed he ran over a hobo on the way back to the hotel.
And oh yeah, speaking of Micky, Dymond was at this race, he went 5-4 for fourth overall. Maybe Tommy Lee helped out with the depression by sharing four or five of his chicks with Micky later this night.