Wardy is the subject of Sweeney's lens this week
Wardy is the subject of Sweeney's lens this week
Hi everyone, from the late 80s through the mid 90s I was a contributing photographer for Hi-Torque Publications (MXA and Dirt Bike magazine). The photos that you see here were never published and have been stored as 35mm slides for the last 15-20 years. A month or so ago, I finally got around to purchasing a quality scanner and the journey began, going through these images has been a revelation, as I haven't looked at any of them since I put them away and had only seen them as tiny little 35mm slides. Scanning them, then seeing the images on a computer screen has been like seeing them for the first time, they stir up lots of great memories, and bring back a great era for motocross, lots of bright color, big characters and of course, some true legends of the sport.I hope you enjoy viewing them as much as I have-Mike Sweeney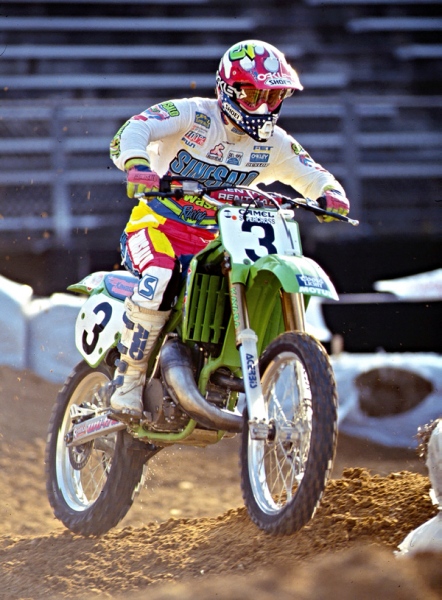 Sweeney: "Here's my shot of Jeff Ward at the Supercross season opener, 1991 season. This was taken during practice in the late afternoon using my long lens, the Nikon 300 f2.8. I always loved shooting late afternoon moto during the "golden hour" when the light is low and warm, I only wish they ran the race at that time, shooting the actual races with a flash was very limiting and the film technology didn't allow shooting anything printable using just available light. Much better nowadays with digital camera technology. Another bit of photo interest, this was the first race I shot using Fujichrome. I had been talking to Fran Kuhn and he recommended it so I gave it a try, it definitely popped the neon colors of the day much better than the Kodak films did, way more saturation.
Anyways, I am lucky to still have this photo, I sent a bunch to Sinisalo/Axo for catalog consideration and they sent everything back to me. As you guys probably know by now, the photos we are running here are my "out takes" all of the top tier stuff was sent to Hi – Torque, they ran what they ran and the rest disappeared. I can't tell you how much I'd love to find all of those old chromes, lots of great pix that will probably never be seen again.
As to Wardy, he always looked great on the bike, he was one of the early guys running the custom lids by Troy Lee Designs, and his Axo/Sinisalo gear was always on point. For you guys too young to know about the early years of Troy Lee, his helmet paint jobs were much sought after, the guys running his helmets at the time where the elite athletes of the MX/SX world. Getting the hookup from TLD was definitely a status symbol for a very select few. I really liked the helmet that Jeff was running here, looks awesome to this day which is a sign of how on point that paint job was."
Matthes: This is the season opener the year after what might have been the best supercross series in history, the 1990 series. Wardy was already one of the old guys but he could be counted on for wins and podiums all year long. I always thought that he never adapted to the 90's perimeter framed Kawi's as good as he should have. They were big, wide bikes and Jeff, although strong wasn't a big guy. I don't know, he just looked different really.
I loved this gear, I had three pairs of these pants in all those color combos (but not the ones pictured here) and man they fit good. And they lasted forever. Wardy was always dressed to impress out there every single year (save for 1987, I didn't like that stuff) of his career.
Anyways, great photo by Mike and although I know nothing about photography I can tell this one is special.