JT$ graces us with another inside story behind a great photo from the SX vaults.
JT$ graces us with another inside story behind a great photo from the SX vaults.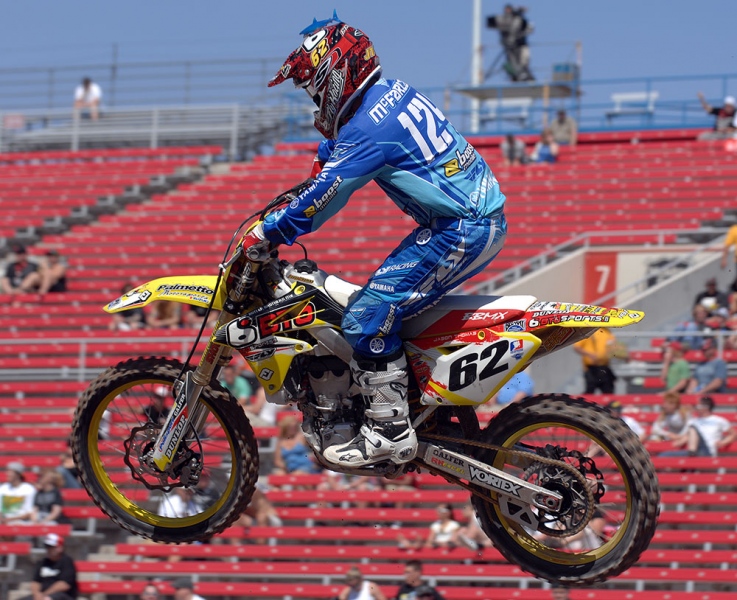 A C Stone photo
This picture is from the Las Vegas SX in 2010. It was in practice and at first glance, won't make much sense as I am wearing not only another team's gear, but another rider's gear. You see, the week before, a friend of mine and a very good friend of my riding buddies (Reed and Burner) passed away at a race in Australia. Andrew Macfarlane had spent a lot of time in Florida riding with us and had moved back home to Oz to chase the Australian championships. We were all in Salt Lake City the weekend before and once the race ended, we were all told about the loss of our friend. For me, it was tough to imagine him gone but for my friends, it was devastating. They had grown up with Andrew and raced him since they were kids. They had all represented their country many times together at the MXON and felt a bond as 3 Aussies who had gone out and succeeded abroad. Andrew was one of the nicest guys I have met in this sport and his loss was felt by anyone who had the joy of meeting him. He was one of the good guys. He was survived by his wife Natalie and his daughter Tayla. That next weekend was Las Vegas and everyone had Andrew on their minds all week. My mechanic Dan had a set of Andrew's gear and we thought it would be cool to pay tribute to him by wearing it in practice. Of course, my team BTO/BBMX Suzuki was cooperative about the conflict of a few sponsors on the Fly apparel but everyone understood the deeper purpose. Paying respect to a fallen friend trumps a few inconveniences. Wearing Andrew's gear was something that I was proud of. He was respected and liked throughout the pits and I was honored to carry his torch onto the track that morning.
As for the race itself, the day went fairly well. I didn't have a great practice but our bikes were really good that year and I was confident that I would be fine in the races. I got a decent start in my heat race and after battling with Tommy Hahn a bit, got into the main event with a 7th place finish. Those heat races were always stressful and getting in right away is a huge relief. Being the last race of the supercross season, I wanted to finish strong. I was in a points battle with a few guys, including Matt Boni, who was a bitter rival. In the main event, I was around 10th or so and Boni took a cheap shot on the first lap and bent my clutch lever pretty bad. I was lucky to not go down in reality. After a long season of takeout moves back and forth, I had finally had enough of it and was giving everything I had to catch him by the end of the main event. Unfortunately, I wasn't able to do it but I definitely had a few choice words for him after the race. We just didn't see eye to eye back then and it reached a boiling point. We again had a few words at the bar later and almost erupted into a brawl that would have ended in us all going to jail but luckily cooler heads prevailed. Looking back, we were both childish and took our shots at each other. Racing is just emotional like that, anger and passion run rampant at certain times during the season. It is what makes sport great, people actually care about what they are doing and put 100% of themselves into it.
Overall, this is a picture I am very fond of. I got to pay tribute to a great racer, husband, father and person. I know that Chad and Michael were thinking of him out there and it was something small I could do to show my thanks for the kindness he always showed me. The whole year of 2010 was great for me. I had just won the German SX championship and then capped it off with a strong supercross series here in the US. It was the first year on the Suzuki for me and I felt like it revitalized my career for a few years. Every year I look back at, I generally have a positive or negative overall feel for and this was definitely one of the good ones.