A quick interview with the #18 about his 2014 sx prep
A quick interview with the #18 about his 2014 sx prep
Me: You had a pretty gnarly surgery right after supercross and then broke your foot shortly after coming back from that, how is everything now?
Davi Millsaps: Yeah it was, I was off the bike for three and a half months. Recovery went good but it was miserable to start with. After that with my therapy it was just routine, I was back on the bike like I said about three and a half months after. My knee felt good and all that but getting hurt again obviously sucks and didn't help. It was my opposite leg from the repaired one and I was putting most of my weight and pressure on that one and wasn't really slow building, I had to build it fast. But so far, the couple of times I've ridden it's going ok.
How long were you back riding before you did your foot in?
About a month, that's it. I rolled my ankle and it blew my ligaments apart in my ankle and broke the foot. It was a freak accident for sure.
Are you getting worried that you're not going to have enough time to be fully ready for Anaheim?
No there's enough time. I want to say there's plenty of time to get ready but I've ridden a supercross track three times. So it's going to be tough and I'm going to give it the best shot I can. I've been training off the bike quite a bit but I've got to get on the bike. I have a good base built and I don't think I'll be that far off going into Anaheim but right now I'm taking it week by week. I'm not too worried about Anaheim, I'm worried about getting through the weeks right now (laughs).
Same program for you personally with your trainer and Ezra Lusk?
I changed my trainer but I'm still working with Yogi (Ezra Lusk). I'm confident that I can keep going with the new trainer, that's the goal- to keep the momentum going off what I did. Do I feel like I can? I do, I really do. We have a bunch of great guys working hard on the team and working on me and my new trainer Ryan and Ezra are great at what they do. I feel like I've surrounded myself with good people and I have a great team so we'll do what we can to get ready.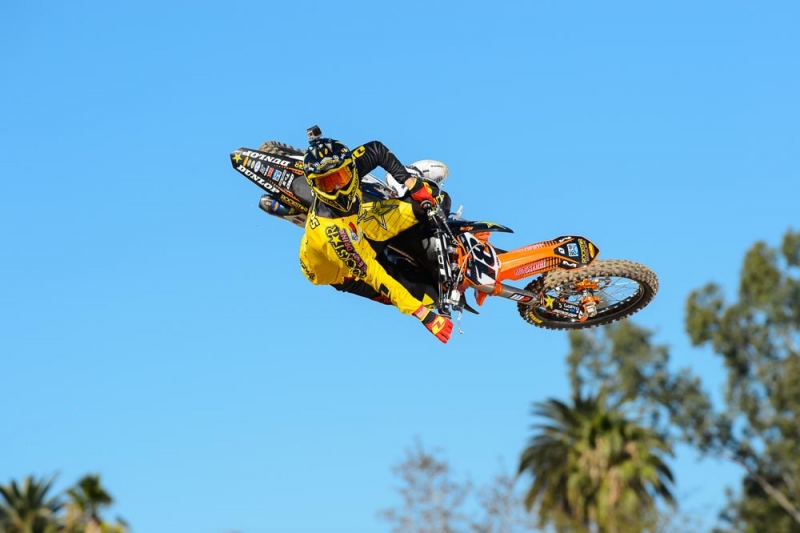 Davi Millsaps on the new KTM. Photo by The Simon Cudby
There's no doubt your team is built around you so I was confused by those rumors you were maybe trying to leave.
(Laughs) That's the rumor huh? I figured there would be rumors out there. I'm staying where I'm at and that's all I'm worried about.
You had a choice between a Yamaha and a KTM and you chose the KTM, what about the bike did you like and I know I asked you this before but you had barely ridden. So now that you've ridden just a little more, what do you like?
It's definitely different from my old bike. It's pretty different from anything I've ever ridden. The engine is fabulous and it's an awesome engine. I feel like we can work and test on the suspension some more and it's getting there when it comes to the chassis part. The best thing is the hydraulic clutch, the engine, the way it revs and the amount of power and we're working on the suspension to get it better.
Between WP and Jim Anderson, our suspension guy I'm confident that we can get it working better.
Getting gate drops is important and you haven't raced since Las Vegas so are you worried at all?
No, not really. I was going to do a couple of off-season races but there's no way with my foot and ankle injury. So I need to focus on getting better and be where I need to be and go from there.