The four-two talks last year, this year and the adaption to the pros
The four-two talks last year, this year and the adaption to the pros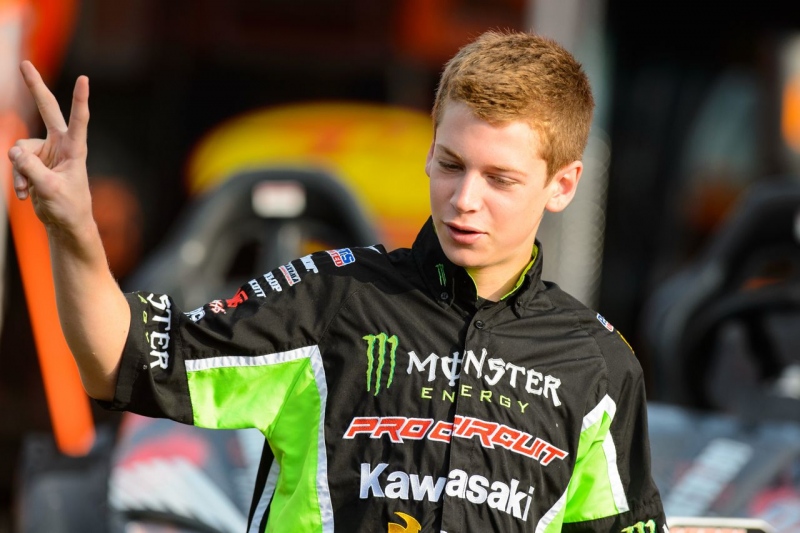 "Peace out homey" Cudby photo
Me: So…how is Supercross 2014 prep going?
Adam Cianciarulo: Supercross 2014 prep is going surprisingly really well so far. I got the hang of it a lot sooner than I thought I would. Whoops, just doing motos, kind of with the whoops and all that stuff. Usually leading up to doing Monster Cup and all those one-off races I didn't really want to risk it, going through the Monster whoops. I did some testing and stuff in California at first. That's what I first started Supercross on. I think that was good because the tracks in California compared to the farm are a little bit easier, kind of got me into it. About a month ago I came back to Florida and it's a whole different animal on Ryan's tracks. You've been to the farm. It's the real deal. Just been hammering out laps with Kenny and Ryan. It's been really good so far.
You rode a little bit of Supercross before the Monster Cup when you got ready for the amateur race at the Monster Cup. But you really don't have a lot of time on a Supercross track, do you?
No, it is a lot less than what people would think. I've had obviously access to a Supercross track for two years now just because I've been riding at Ryan's, but that doesn't mean that I've been on it. Every now and again I would go out there and do a few laps, but Bones (Bacon) doesn't like us out there with the outdoor suspension anyway and that wasn't my focus. I basically just had the time leading up pretty much '09 we had the US Open, so that's the first time I actually rode real Supercross, was leading up to that. That's always usually about a month prepping for those races. I mean really I've only been on Supercross probably a total of maybe 3 months ever, track time.
So it's definitely a big change because once you kind of start getting the hang of Supercross you pretty much go racing for those one-off races. So it's been nice to be able to put in a lot of laps and get super comfortable with it. I think it suits my style well and I've been having a blast.
Yeah, heart rate gets up there a little bit on a sx track. How are you able to go to Florida riding for Mitch Payton? You're still kind of a rookie, especially in Supercross, and he doesn't like any of you guys leaving his watch. Does he just trust Aldon Baker and his program that much or did you have to fight for it?
Mitch and Reid Nordin at Kawasaki have been very understanding. I think they trust Aldon a lot. Obviously the guys I get to ride with, Kenny, Ryan, those guys are coming off two Supercross championships. And I think they've seen the program out here works. I'm lucky to have those guys behind me and willing to let me go and do my program here. I think it's a big advantage for me to be able to ride obviously with two guys that are at the top of their game. Obviously Aldon's program is proven to work. I think they trust it. Obviously if they didn't trust it they wouldn't have me here. I've definitely been thankful to have them let me.
How's Kenny Roczen? I'm following you guys on social media. You really seem like a couple of buddies, like you guys may even take your comedy act on the road.
He's been super cool. He seems like just how you would think he would be, just super up beat and always joking around. It's cool. It's definitely different having… Ryan's kind of more the serious one, kind of harsh jokes. Kenny's kind of light-hearted. I definitely think it's good for the farm, having somebody come into the shop every day being just pumped to go out there and ride. We're filming each other riding and making Instagram edits for the social media. It's been fun to have somebody that kind of is on my same maturity level, somebody to kind of have fun with. He's been great so far.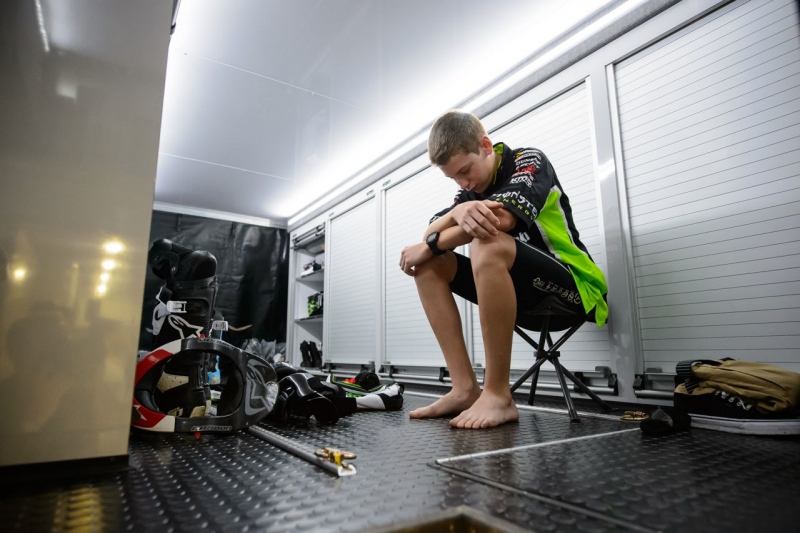 Adam stops to think about it all at Budds Creek. Cudby photo
Has RV made him cry yet?
No, I think Kenny learned pretty quick that he's got to have really thick skin right away. So he put that shield up, maybe a little bit sooner than I even did coming in. And RV still has me to pick on so all the attention usually is still focused on me, especially if it's a not-so-good day for me or maybe I forgot my heart rate monitor. "AC, what are you doing?" It's always going to be me with RV. So I've come to accept that.
I've got to admit, I'm surprised that RV allowed Kenny to join Aldon, because it's not going to be too long before Kenny, I think, is right up there. I guess it's just a confidence thing from RV to let Kenny be there. He's just confident that he's got this, and Kenny can push him.
It has been that way, definitely. At the farm we've all been pushing each other. I think it's good. RV, you know from hanging around him he's like hardened mentally. I don't think it really bothers him. I think it's good for them to kind of be two really of the top guys. They're always pretty close so they kind of know where the speed is. If Ryan gets faster Kenny is going to want to get faster, if Kenny gets faster Ryan's going to want to get faster. And that's also good for me. Maybe I'll throw a bungee board and ride the train up.
I've been around a lot of motocross racers and what you said about RV being strong mentally, that is really true. It's one of his biggest strengths. He doesn't worry if someone's faster than him in practice, or he loses a heat race. He does not care. If someone jumps something it doesn't matter to him. Have you tried to take some of that? How do you be like that?
I think honestly it's healthy not necessarily trying to mimic him, because that'd be super hard, but I think just more being around him you kind of almost have to be like that. He's got the tendency to kind of assume that everybody's like him. You'll be joking around and all that stuff. It doesn't bother him. So why should it bother anybody else? I think definitely being around him has made me tougher mentally for sure. If we're doing sprints and I go first he'll come in and knock me off the track or rev it at me, scream at me… He doesn't care. I think that's definitely good for me as well just being around him. Like I said it's not so much trying to, "okay, I'm going to be mentally tough," it's more just kind of being around him and having to have that thick skin. It kind of works on the motorcycle as well. But sometimes you got to keep it in check. When I go home to my sister and mom and dad I got to be nice again. You can't be that mean all the time.
The more you can get to be like that the more your bad days won't matter to you, or if someone's faster than you.
Exactly. When you have a bad practice, or you have a bad heat race, it's always either come out of it whether you don't want it to bother you.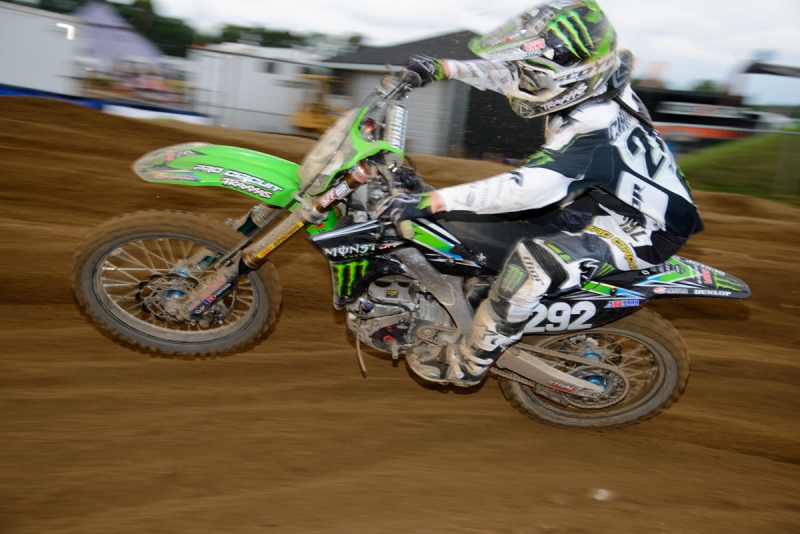 One of the most hyped amateurs ever, Cianciarulo looks to make a mark in 2014. Lissimore photo
So pros and cons: we don't know if you're riding East or West. I talked to Mitch the other day and he probably doesn't know at this point. In your eyes, what are the pros and cons of riding West to you and what are the pros and cons for riding East?
I think the pros of riding West would be I'm going to be in California anyway for the West Coast because that's where Ryan and Kenny will be. I think the pros would be testing for outdoors. Obviously with the West guys, when you go to the East Coast you get more time with that. I think the pros for the East Coast would be that you have more time to prepare if you need it. Maybe the West Coast guys go out there and race and find some things on the bike that can be better and you get to benefit from that. To be honest it really doesn't matter to me. Like I said, I'm going to be in California anyway. I feel pretty confident where I'm at right now, so West or East, it really doesn't matter to me.
Months after your rookie outdoor season, how do you feel about it now looking back on it?
I've told people this before… I don't regret it by any means. Do I wish I would have done better? Of course. But you know I've said a thousand time that salmonella really screwed me over in that aspect. But at the same time I'm happy I fought through it. I'm happy I fought through the tiredness. I would go and try to set a fast lap and I remember at Washougal, I qualified I think 12th in the first one. Went out for the second practice and just, screw it, I'm going to give it my all. One lap, super gnarly. I remember at the end of the lap I was so tired. I was just out of breath. I was in 6th. I was like, I don't even know how I'm going to race today. That aspect of it sucked but like we were talking about that mental toughness, it definitely played a big factor this summer. I think if I didn't have that I would have let it get to me. I would have started thinking those guys were just that much better than me, other than just "I'm sick, whatever," kind of blowing it off and knowing that I can be there when I'm healthy. Obviously at the end, Utah didn't show too much. Elsinore, other than in practice. I qualified 2nd in Utah and 5th at Elsinore.
I'm happy I had a decent result in Utah and kind of showed what I can do and showed my speed. But that's pretty much all I needed right then. After practice in Utah, after I got some things figured out with the iron, I knew that I belonged up there. I honestly thought I could win. I was so shocked when I was up there for that long. I was still used to being passed right away, kind of getting shuffled back. Being up there, it kind of puts you in a state of shock, but I'm glad I got that experience. I'm very confident I can be near the front the whole next year. In the end I'm glad that I raced outdoors, even though it doesn't look good on paper.
Do you find the media attention a lot? Is it a pain in the ass? Or is it weird? You're obviously a much-hyped kid and everyone is interested in the next great motocross racer. Did you find it at times surprising, or was it cool?
Personally to me, I didn't like it heading into Hangtown and all that stuff and everybody found out I was going pro. To me it's a little bit too much. You're looking at a 16 year old kid just going to the pros. I'm really just like anybody else. I don't think there was really justified hype around my debut. I hadn't really proven myself on the big bike yet. There wasn't anything that was saying that I was going to come in and dominate it, yet people were making 1-1 claims and all that stuff. And here I am hoping to be in the top ten to get my feet wet. That aspect of it isn't the best, but I kind of had that media kind of a hype-up ever since I started jumping jumps on 50s at amateur nationals. It's kind of always been there.
To me, the way I always look at it is if I never did anything, if I stopped right now, right as I was being talked about, right as the hype was at its fullest, and in five years, if I don't do anything from here to now, in five years will anybody remember? The answer is always no. I kind of find peace in that, that it's not that big of a deal. Even sometimes on the line when I get nervous I say, well, in two weeks will anybody care really what I do in this moto? Everybody's going to be already focused on the next race, the next season. It's not going to matter. I think that kind of keeps me going.
Do you end up doing a lot of stuff more than the amount you have to do? Is that a little bit much sometimes or a little overwhelming?
I don't mind. The way I look at it, it's a part of the job. We're not just paid to go out there and ride a motorcycle; it's a lot more than that. Public relations and selling motorcycles, selling the gear you're wearing, the helmet, having genuine fans that will carry you through your career. The way I've always looked at it is yes, your results get you fans without a doubt. If you're a guy that's winning every weekend you're going to have fans. But to me, I think the fans are what carry you through the bad years. Travis Pastrana, he went and got hurt three times in one season and the first race back he still had the biggest autograph line. I have fun with it. I have fun talking with the fans, even with the media. I enjoy it for the most part. It's actually been cool going to all the dealer signings and stuff before the races, and wearing the team shirt in there. I'm proud of it. It's been a cool experience. I don't mind it at all.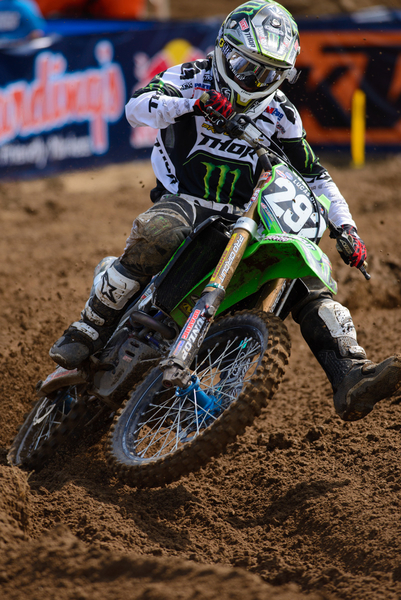 Adam's best moto in 2013 was a third at MMP in Utah. Photo by Lissimore
I asked you that because you have a lot of fans, a lot of people follow you, more so than probably some riders who beat you this summer. You interact with them and you talk to them, but at the same time you're just a kid. You're 16 years old and you're getting people on your Instagram saying you suck, you're terrible. It's just got to be a weird world you live in.
You're always going to have those people no matter what. I don't know what it is about them to make them do that. Sometimes I scroll down really anybody's photo, anybody with any type of success in their life there's always those guys that want to justify it and say they could have done it. "I could have done the same as you if I had" this or, "you only have this because your parents have money," or anything like that. It's a crapshoot on Instagram.
Including Jake Weimer who just left, all the guys your around have gone through parent drama with their dads or moms. How are you and your dad doing? He seems like he's a super cool dad yet he's not scared to tell you what he thinks. How is that relationship?
The relationship is really good. Obviously a lot of people that just go to the track or some media or whatever, they'll just see the part at the track. That part of it is him telling me the truth pretty much. Basically a short summary of it is I told him that I wanted to be the best and he basically told me that, okay, well, I'm going to tell you the truth… He knows we have a trust. He's not going anywhere. He's not ever afraid of my reaction to it. I think that makes it good. He's never going to BS me or sugarcoat it.
Obviously sometimes that's hard when you're out there busting your butt and you come back and some corners suck or whatever. Sometimes that sucks and sometimes I get frustrated, but I wouldn't have it any other way. I would never be as successful as I've been without him. You probably wouldn't know my name, honestly. I need my dad, and I need him to be a part of my program for me to be successful. We have a really good relationship, away from the bike as well. I think that helps. He's done a really good job at leaving the coach part at the track and just being my dad when we leave the track. I think that's been an instrumental part of our relationship and keeping it good and keeping it fun.
Also too he's a successful businessman in his real life and he's not looking at his kid like a meal ticket, like some dads are. He's not like, "I need you to win so we can make our mortgage," or whatever.
He's busted his ass. Since he was 14 years old he's been working. He did that so he could give his kids the best opportunity he could. I think that helps a lot. He's not a ginormous fan of the sport, he was never a racer or anything like that. He was going to support whoever his son wanted to be. He was going to support him in whatever he did. Mine just so happened to be motocross. It's definitely not one of those cases, maybe he raced and he didn't make it to the point he wanted to so now he wants to be successful though his kid. He already had a successful life. He's just helping me along in that area. It's really the best situation it can be. Obviously dads are hard and sometimes you guys are going to get into it, but that's with anything. I wouldn't trade him for the world.
Isn't it funny how you love number 92 and you'll probably pick 92 as your permanent number next year in 2015, but you got 46 which is half of 92?
That's super weird. Somebody told me on Instagram or something. I still cant' get used to it. In my mind when I'm on the bike it's still a 92 on my side plate. I can't even recognize my Instagram photos I sometimes second glance. I'm like 46… It's just weird. Sometimes in the shop I'm like, where's my bike? Where's the 92? It's weird having that number your whole career and then all of a sudden it gets changed on you.
Kenny hated 70. He was like, "I can't wait to get 94 back."
I'm definitely taking 92 as soon as possible.