The Flying Freckle wishes he could have a do-over
The Flying Freckle wishes he could have a do-over
Hi everyone, from the late 80s through the mid 90s I was a contributing photographer for Hi-Torque Publications (MXA and Dirt Bike magazine). The photos that you see here were never published and have been stored as 35mm slides for the last 15-20 years. A month or so ago, I finally got around to purchasing a quality scanner and the journey began, going through these images has been a revelation, as I haven't looked at any of them since I put them away and had only seen them as tiny little 35mm slides. Scanning them, then seeing the images on a computer screen has been like seeing them for the first time, they stir up lots of great memories, and bring back a great era for motocross, lots of bright color, big characters and of course, some true legends of the sport.I hope you enjoy viewing them as much as I have-Mike Sweeney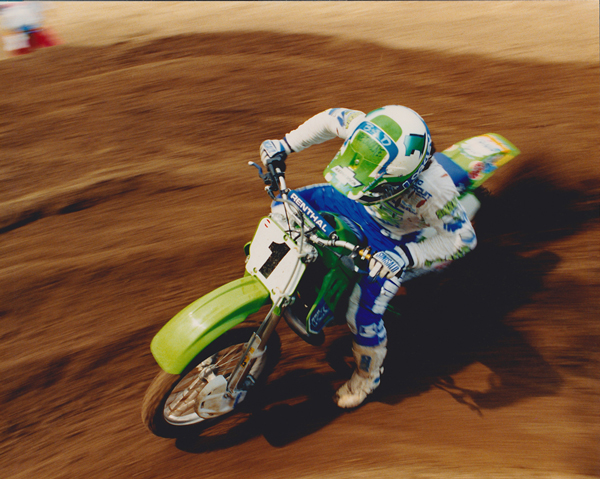 Sweeny running some sort of sweet set-up at the 'Wick. Ward went 6-2 for second overall on this day.
Mike Sweeney: Jeff Ward, Southwick, 1989. I think this was one of the first nationals I ever shot. Funny story about this, in the late 80s it wasn't super difficult to get a press pass, I had been shooting as a stringer for a local newspaper, to make things easier I had made my own press ID with a laminator, passport photo and some rub off letters (this was pre-word processor days). Anyways, I arrived on the morning of the race, bright and early, showed my homemade ID, somehow talked them into giving me a credential and the guy in charge, I think his name was Frank set me up. I was off like a kid in a candy story with dads platinum card, half out of excitement, and half out of fear they'd change their mind and pull the pass! The photos I shot at this race launched my MX photo career, I sent them to Hi-Tourque and the rest is history.
I had a ball shooting this race, I got filthy from roost and I shot a bunch of different angles and off the beaten path spots on the track including the Frog Pond launch photo of Dogger which we covered in MX Captured #5. At this time Southwick used to line the track with old car tires, they'd paint them yellow and stack them up, or half bury them in the sand. They made a great platform to stand on for high angle shots down into a corner so that's what I did here with this shot of Jeff. I wound up getting a bunch of cool photos, some corner battles etc… but I think I got the best angle with this one when Wardy squared off the corner and just about went right under me. You can clearly see Jeff's "Bad Attitude" paint job and of course the Chevrolet sponsorship which was pretty awesome for the time. Those original Troy Lee helmets that he had looked awesome, still do today which shows how solid Troy's design work is.
I'm sure Steve will take it from here but I think this is the last season that Wardy ran the #1 plate in the 250s.
Matthes: Jeff Ward should've, could've, would've been the 1989 250MX champion but for one stinking moto. Running the number 1 plate from 1988, Wardy was given a gift in the form of his archrival Rick Johnson breaking his wrist in practice at the first round of the outdoors. RJ had dominated the beginning of 1989 while Ward wasn't his usual strong self (I think he had hurt his foot) in supercross. Come the outdoors though he was on his game but this was the era of the seven-race series as the guys split with the 500's. Ward's overalls for this season were 3-2-2-2-4-2-2 and he lost the title by 16 points to Jeff Stanton. Yep, off the podium one time (at High Point) and he loses a championship. So yeah, Stanton was obviously just as stellar as Wardy. Oh how Jeff must lay awake at night at rue the 12th place in moto one at High Point (he won the second moto) because it really cost him the title. Stanton went 2-1-1-1-1-13 for the title and started his run to the top of the sport. Ward was solid, Stanton was more solid-er (I just made that word up).
By the way, Ward was perhaps the most plain-wrap boring looking rider out there for much of his career but in '88 Sinisalo started looking decent, he picked up AXO kidney belts and boots, he ditched the open face helmet and started looking stylish indeed. Wardy was also the king of cutting up his jerseys so that they looked like those mesh shirts chicks used to wear in the 80's. You know the ones they threw on overtop their shirts before going to the Duran Duran concert? Anyways '88, '89, '90 Wardy looked pretty sharp.