Multi-time SX & MX winner and former factory rider David Vuillemin shares his thoughts
Multi-time SX & MX winner and former factory rider David Vuillemin shares his thoughts
Me: What's going on with all these pre-season injuries? It's crazy. As a guy that raced at the highest level, is there any reason for it? Is there anything these guys are doing wrong? Is there anything they should do?
David Vuillemin: I think it's always been. December is crunch time. It's always been a lot of people are getting hurt before the season. But the thing is people get hurt all year. It's a dangerous sport, so people are going to get hurt. We notice it more now because it's the off-season and everybody's waiting for Anaheim, but all year long everybody gets hurt. It's a dangerous sport. It's not because it's December. I think it's also because it's crunch time where everybody's getting ready, everybody's pushing hard at the track. It's more like like what you're going to get in the race. In November it's more kind of riding and getting used to the new bikes and everything. But now they have the last month or the last few weeks before the race it's more intense. You have to push to get ready. Maybe you take more chances with it. But that's just the way it is I guess.
So when you were challenging for a Supercross title you ramped it up in December? You purposely went a little harder?
Yeah, it was actually hard training on your motorcycle. Also the team was testing with you. That's why you push yourself a little more at the track. That's why you try to ride hard the last month or you actually ride 100% more. I always started three months, like October 1st – I started getting ready. It is like a three-month preparation. It's testing, getting used to the bike, used to Supercross, doing some endurance training, long bike ride and everything. Then November it's a little more intense. Your Supercross training is really boring because you have to do long stuff. Then December you do like sprints or you do four times five laps with only a 30 or a minute rest between. That's why you push yourself. That's also the why you take more chances on the track, because you want to get ready for A1.
So with Anaheim around the corner, if he doesn't get hurt -can anybody beat Ryan Villopoto? Is he the heavy, heavy favorite or do you see somebody stepping up?
I think he's the favorite to win the whole thing, that's for sure. But A1 is different. Anaheim and all those tracks on the west coast- the class has always been good anyway. I think Stewart has a little edge on everybody else to beat Ryan because he's maybe a little better rider and a little faster rider than anybody else in my opinion. I was thinking about it because I knew you were going to say something about it, but it's difficult to change a rider in three months. Basically you're always the same rider. And I was the same. "Oh, I know what works for me, and I know this, and I know that, and I'm going to do my own thing." Pretty much riders stay the same. Like Villopoto, Stewart, they did so many of the same things in three months. Dungey's going to be consistent and he's going to be there every weekend. Anyone who is being consistent and being always on the podium and riding safe has a chance.
Barcia- he's going to take chances. He's going to lead the points or he's going to have a brain fart and crash at one point. You can't change a rider in three months. It's tough for the rider to go back to square one and start October in another state of mind and in another training regimen. I wasn't this rider, you have to say- I want this title more than anyone and I want to win. Ricky (Carmichael) did it. Even Villopoto did it a bit. But there are not too many guys are ready for a change and try something they don't know, it's something that's actually inside of them.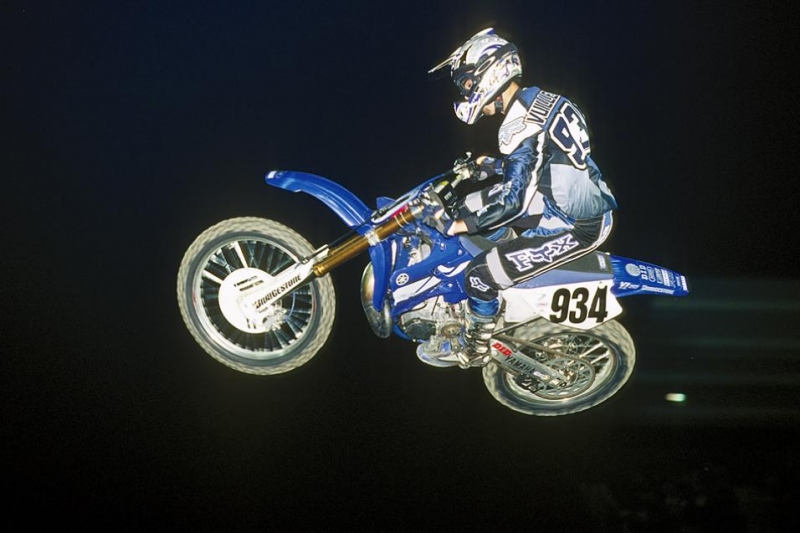 For many years, Vuillemin was one of the best riders in the world. Photo courtesy of Racer X
I think Barcia will be the guy to step up. I know you just finished telling me about how guys don't change, but I really feel like Barcia is going to challenge Villopoto more than anybody. Am I an idiot?
I was never really, not a fan, but I never really believed in Barcia's ability for some reason. He's a great rider. He gives 100%. For me it's actually a little technique and also sometimes maybe race intelligence. To be in a championship or there for the long haul. He was good in Bercy and stuff. It's almost too much on the edge already. Like there is like a grain of sand somewhere and it's too much on the edge and that little grain of sand is going to make everything explode. But obviously he's going to challenge anybody for a race win.
But like I said, he's one of the riders that I don't see changing where he can actually challenge RV. Basically Barcia needs a little Dungey and Dungey needs a little Barcia. If you could take from Villopoto's competitors, a little bit of everything, then you might be able to find a rider that could compete with Villopoto. But to find actually somebody that's ready to kind of change a few things and is smart enough to change those things and challenge one of the greatest of the sport, it's really difficult.
Do you think either Tomac or Roczen can win a race, rookie year?
Yeah, we'll see. How many people bet on Josh Grant winning his first race in the 450SX class a few years ago? It's something that is still unpredictable. We kind of know who's going to be top three but on a 20 lap race and on the start, anything can really happen. But it's good that young blood is coming in and mix it up a little bit. But I don't want to… Sometimes it's really hard to go from the small bikes to the big bikes, especially with injuries and stuff. But I think for us and for the fans it's going to be pretty awesome to have all those guys there every week. Hahn also…
What about our buddy Chad Reed switching to Kawi. Can he get the podiums? Can he be better on the Kawi? Or is it just a last grasp for a guy who's lost his elite skills?
It's surprising. I like that he's maybe not really using some of his own money to go racing now. He has paying for stuff and he's doing what he loves to do. I think that's already an achievement for him. Challenging for the win now, I don't really know. I know Chad, he kind of does his own thing and he has his own state of mind for what works and what doesn't.
But it's tough for anyone to beat one of the winningest Supercross rider of all time. I wouldn't bet against him. But on the other hand he's a champion, maybe a lot of people write him off and that's a bad thing. Maybe there's no way he can rebound after his horrible motocross season. We don't know what actually happened or what's wrong with him and he was hurt. But I love to see him out there. I think we need him out there. But every young guy is going to be there and they're going to be hungry.
Last question for you, Christophe Pourcel coming back for the Nationals, 250 class. What's your thoughts on that?
I want to say three to one betting on if he's actually going to show up. But I don't really know what's going on with him racing the 250 outdoors. The guy's unbelievable. I will always say it. I've seen with my eyes. I've seen him go out on the track, 2-3 seconds faster than Dungey before the first race. When he had a Yamaha with us (Motoconcepts), during testing and stuff. I've seen it. The guy was unbelievable. But the class- it's getting super competitive. But on the other hand there's a bunch of guys that actually moved up. I think it's competitive where a lot of guys can do good, but there's not too many guys that maybe stand out that much. But it's supposed to be good. But you got to change, you got to just show up and ride practice and I'm not sure he will be there to do that.