Pookie Matthes went to Anaheim 1 and this is what she saw and thought. Brace yourselves
Pookie Matthes went to Anaheim 1 and this is what she saw and thought. Brace yourselves
By: Pookie Matthes
Photos by James Lissimore
It's that time again. Time to get your hair did, squeeze into your skinniest skinny jeans and head out to the big A for the opening round of Monster Energy Supercross. This year Pookservations tells you everything you need to know about the things that really matter on a scale of 1 to Tim Ferry (15). The scale doesn't lie, bro.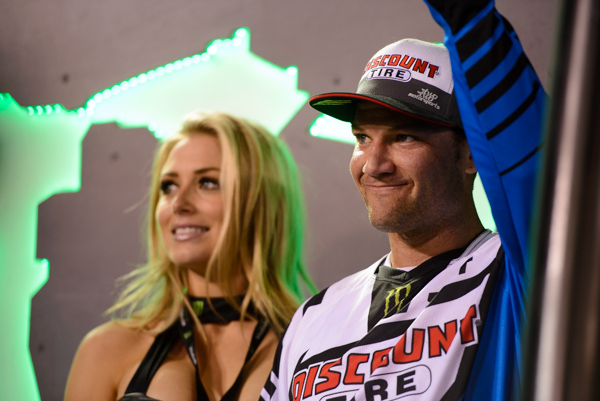 Chad Reed – 15. As a card carrying member of the CR22 fan club I was very happy to see Chad on the box. I'm looking forward to more podium finishes from Team TwoTwo this year. Bonus to Chad for giving me a hug at the end of the night while I was waiting for Steve. Hugs are my favorite.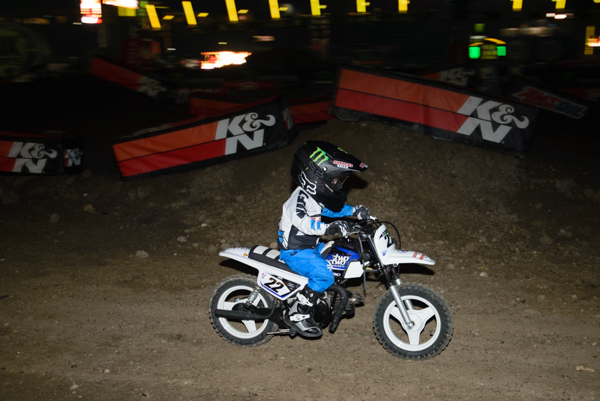 Tate Reed – 15. I'm loving the family feel from TwoTwo. Tate was his daddy's shadow the whole day and I would be lying if I said I didn't tear up when Tate came out to ride opening ceremonies. Precious family moment, for sure.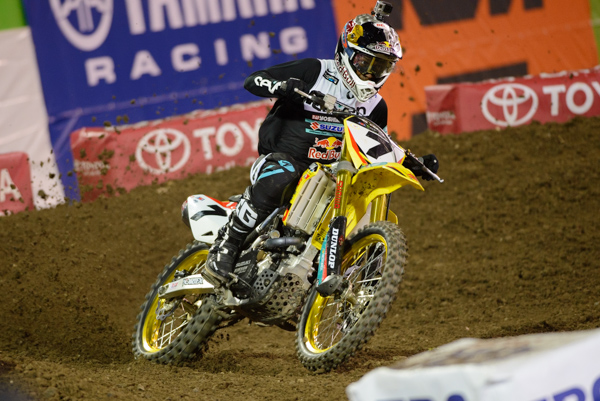 James "Bubba" Stewart – 12. Starting with the press conference I was loving the confidence coming from the number 7. If you don't believe in yourself, who will? I picked JS7 for the win, I was almost right. Someone get me a SevenMX shirt ASAP!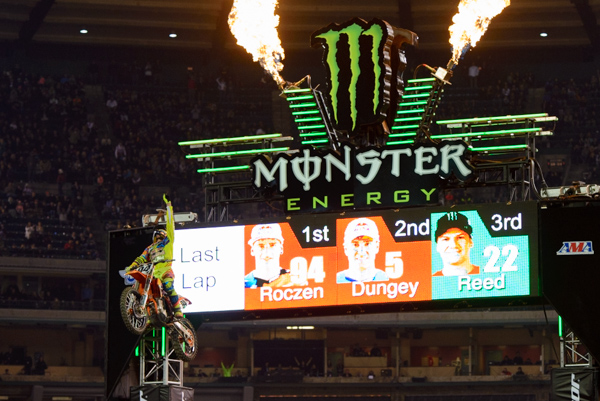 KRocz – 14. Someone new winning a race! Please say this isn't the only first time winner we will see this season. Take us back to the days BEFORE one guy won everything (yawn). One point deducted since he got to meet Pink before the race, super jealous!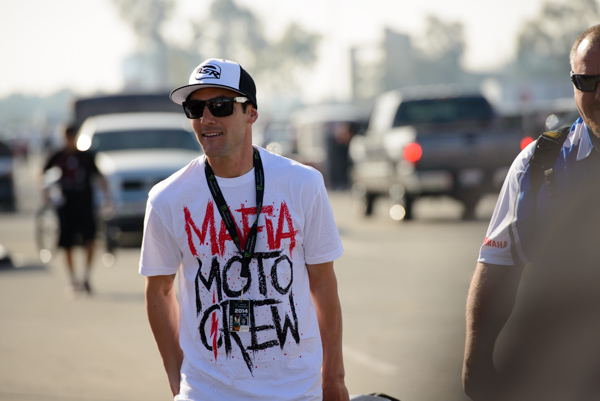 Nick Wey – 15. Not a stellar performance by the 27 but how can he score anything less that a 15 with a face like that!? I'm certain we will see the Mafia Moto Crew leader in the main for Phoenix, stamp it.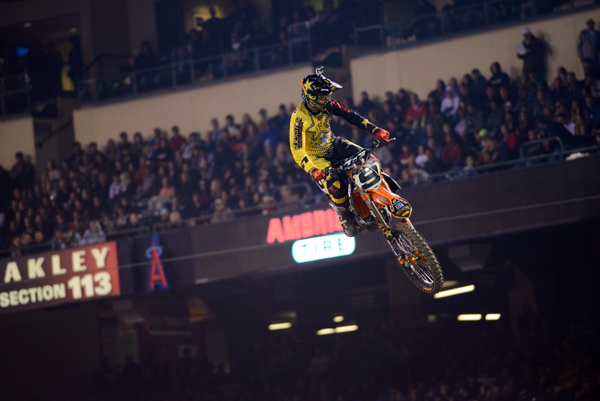 Hot Sauce – 7. Good practice sessions, good build of hype but a crash with Shorty would serve him a DNF. I like the battles going on throughout the pack. I like it a lot. Gimme gimme more, gimme more.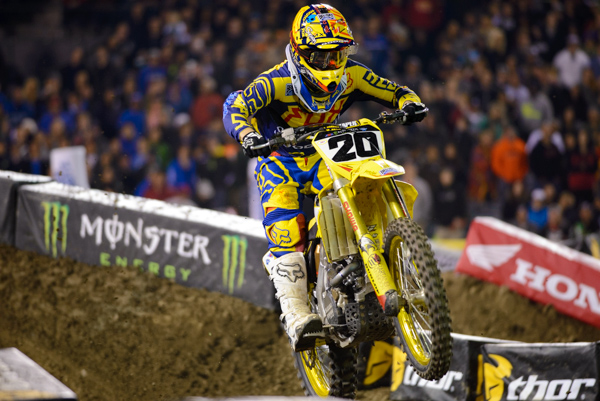 RCH team – 10. RCH has definitely "got it going on". The overall look of the team was good, real good. Love the updated retro feel of the yellow/blue. Tickle looked good on AND off the bike, if you know what I mean.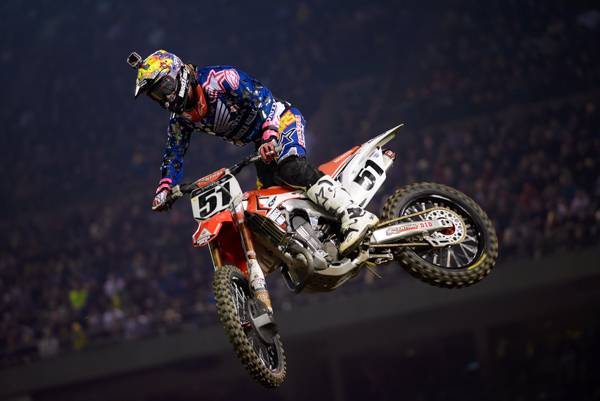 Barcia's gear – 2. Christmas tree tinsel on your jersey? I don't get it. Trying to blind your competition? Is this legal?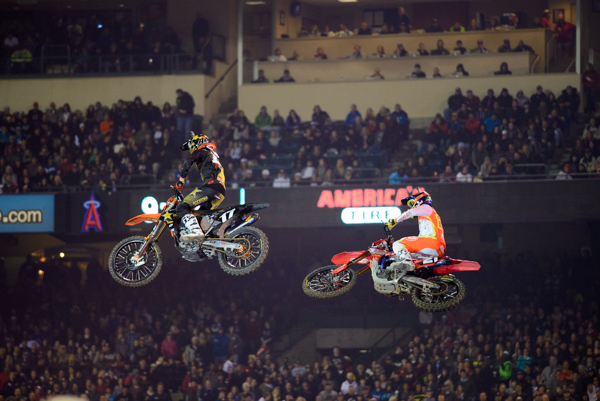 Cole Seely / Jason Anderson battle – 7.5. Seely had it! I'm surprised Ando didn't get arrested after the main for burglary because he STOLE it! A questionable move in my eyes, although the racers all say anything goes on the last lap when going for the W. I'm letting it slide this time but keeping my eye on JA for any future infractions against my guy Seely.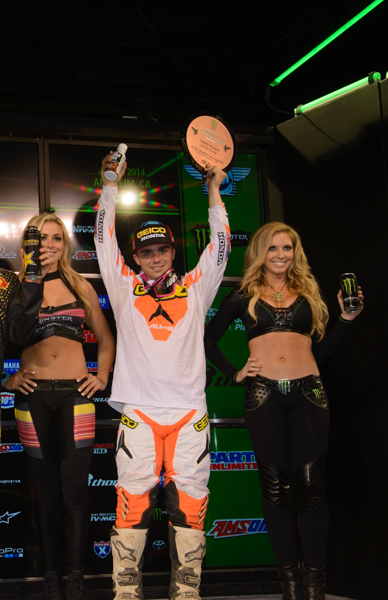 Zach Osborne – 13. Big "ups" to Zachy Poo for showing up with a shaved head! The ultimate sign of not giving a fuck. Way to follow it up with an appearance on the podium. Bonus point for complimenting my weight loss in the parking lot shortly after the 450 main. Two points lost for BEING in the parking lot right after the 450 main.
Sinjin – 6. We had lunch with PulpMX frequent caller and Jimmy Albertson superfan Sinjin. Some lowlights from the conversation: He said my bassets were fat and lazy and offered to gun them down when he comes to the Lion's Den. He told Steve and Weege they were useless at the race since all they do is tweet and everyone who isn't at the race can watch it live on TV. The only highlight was him calling Dirt Shark a f-ing a-hole while he walked by filming a video. Hopefully that little tid bit doesn't end up on Dirt Shark's cutting room floor. (Sorry I only have this old shot of Sinjin from 2 years ago)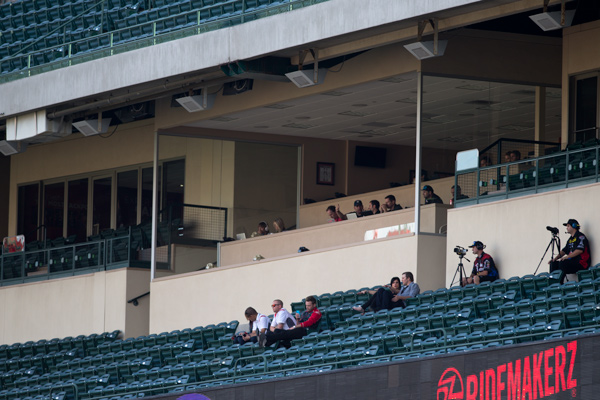 New press box – 15! Big thumbs up to Denny Hartwig for running such a tight ship and taking a stance agains press-box-bro-fests. Eventhough the new press box is quite small it really allows us journalists on Feld Motorsports approved deadlines to buckle down and get real work done. Kudos.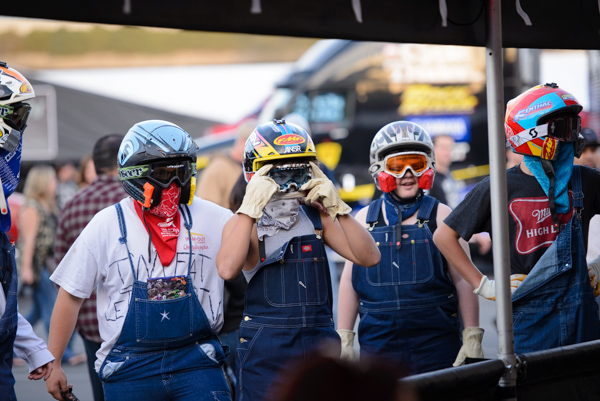 Ronnie Mac army – 10. What isn't hilarious about seeing 5 Ronnie Mac's running amok through the pits? 5 points lost because only 2 of them were wearing Beer Goggles. Super fandom at its best. Who IS the real Ronnie Mac?!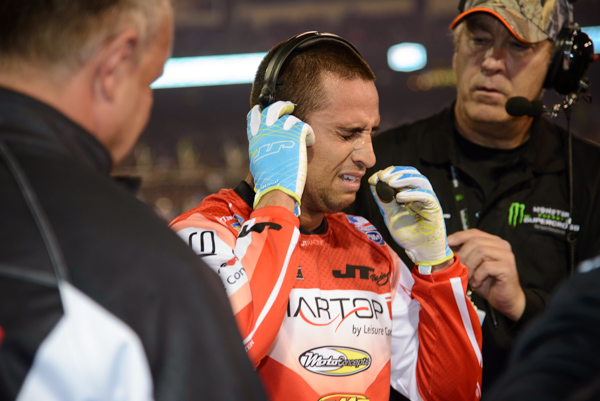 Mike Alessi crying – 4. Aside from producing some very funny memes the Alessi crying bit made me feel extremely uncomfortable. I understand where he's coming from and I really like Mike and I believed the hype, but crying? Real tears and everything? Yikes. Some points sacrificed for drive and determination and never giving up on yourself. I hope to see more of this from the 800 this season. The race wins, not the crying.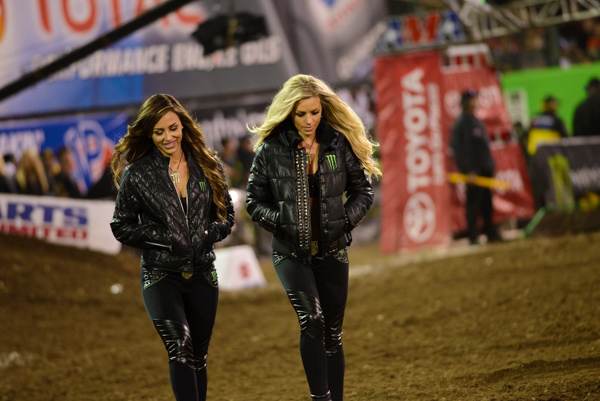 Monster Girls – 13. Damn what must it be like to look like that?! Do they ever hear the word "no"? Flat stomachs, round booties. What's not to love!? 2 points taken off solely because I'm jealous.
And there you have it. All of my opinions on the top 15 things that caught my eye at A1. 15 for life, ya heard? Please cc all compliments on this column to @dwiggg on twitter.