The gate holds all riders equal until it unleashes them onto what lies beyond.
The gate holds all riders equal until it unleashes them onto what lies beyond.
By: Isaac Scoggin
Photos by James Lissimore
With a pull of a simple lever they raised, settled into place, all the pieces in their rightful place. Together they hold in unity and with a certain strength that has enough respect not to be tested by an individual often. Then with the pressure of a man's gravity forcing down, a domino effect is triggered that allows all hell to break loose. The mechanisms involved are fairly simple minded and all do their respective jobs to ensure the machine itself functions properly. Aside from the bikes that circulate the tracks machinery is void of the actual racing environment. But the gate starts it all, and through the gate victory is envisioned, and eventually won or lost. The gate holds all riders equal until it unleashes them onto what lies beyond. A1 is the very first piece to the machine that is 2014 Monster Energy Supercross, and every round is a mechanism in the machine; each must play it's part correctly for the series to be as eventful and entertaining as us fans want it to be. The first gate drop did not disappoint.
If we are to have the SX machine running as smoothly as want we are going to need more weekends like this past one. If we use the riders as moving pieces in the machine they too are mechanisms or moving pieces that work together to keep it progressing. Surprises such as Roczen winning in his first race are surprises that wipe us into a frenzy of creative imaginations and expectations. Now Phoenix has unrealistic standards placed on it's shoulders and he is the one to blame. He did what we knew he would do but had a higher level of speed then we imagined. Roczen has been steady since his second full year in SX and he did the same at A1. He did what many dream of by putting himself into a great position and taking advantage of those mistakes made by seasoned veterans. At only 19 years old it is not too early to say his future is very much looking bright enough to wear shades at night. No matter what happens from here on out he will have lead the points in the 450 class in SX…something many wish they could say. Entering this weekends race with the red number plates on his orange machine will surely be a spark that ignites some slight jealousy from the other orange machine.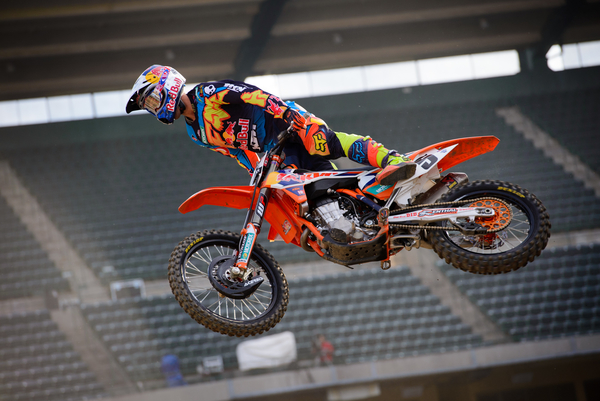 Yes, Dungey too, is a Mechanism.
Dungey is way too calm and cool for his own good sometimes, but he has been counted out of many of the predictions as they pile up. I like how he is left out of podiums and wins but somehow ends up in everyone's final podium standings. They like to talk how these younger guys are progressing and making big gains by figuring out what training works for them and finding the right settings on their machinery. Do they think Dungey isn't getting better too? Has he not proven throughout his entire career that if Dungey does one thing it is fight and claw forward constantly? Just look at where he came from to where he is; unknown school boy rider to a disappointment for not beating on of the best the sport has ever seen more often. I watched him catch and pass Villopoto at Minnesota last year, and it was Dungey's best ever SX race in my opinion, but whom else can claim that they were able to do that? At A1 we saw Ryan in all his flaws get second place, and as many would say by nights end, "he could have won that." He may be the most aggravating rider to route for because he understands how the machine works, and how he fits into it. Love him or hate him, in 2012 we saw what happens to the machine when this mechanism is not involved.
As I have said before, and in fact after A1 last year, James is smooth until he destructs. As much as I want to believe he is a different racer with the talent of "Bubba" and the poise of a "James", I just haven't seen any proof to indicate it. Not much can satisfy a fan like watching a winner get striped of all that made him more than a man, and then turn it all around to become a winner again. Respect has been earned by dropping down to "our level", which is actually much higher than our level, and finding perspective that accompanies him back to the top. I want James to be a constant player in this series, I want him to not throw it away by going wild, so I want him not to be him I guess. He was the piece out of time in the machine for a while, like a wrong gear had been placed in a wrong time, but alignment came in the form of whoops. He will be back this weekend to try and prove he is not himself and we shall see after 20. Either way he has my respect and a respective place in this series of cog and wheels as they turn towards Vegas.
When the 250s leave the track this weekend we will have a much more clear view of who is actually going to be there in the end. I feel as if Seely has the experience, speed, and hopefully "flow" to see this season through. It appeared as though he could have pushed harder down the stretch to maintain the lead, but Anderson rode a truly fantastic race. The determination to make a statement was evident in both of their races, as neither would let the other escape with the win. Lappers were an issue, but lappers are a part of every race. It will be a great season with these two pushing each other so hard. Seely will be 450 next year no matter what I assume, so it is now or never. Anderson is coming into his own with the bike and fitness all coming together, but he is overly aggressive at times. That may be the deciding factor in the end; the mistakes caused by wanting it to happen right now. Patience is a virtue not many 250 riders posses, but I believe Seely does.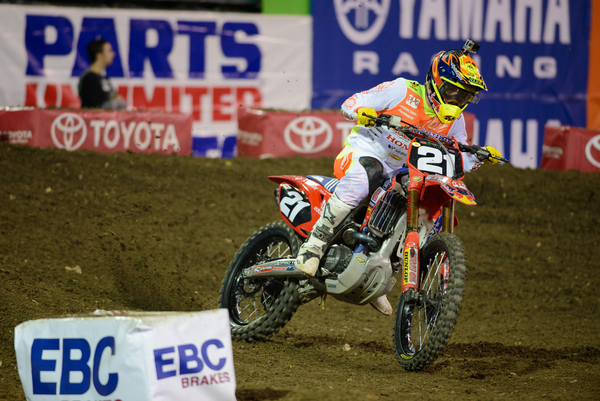 Seely, a veteran in the class, has experience, patience and now retribution on his side.
The battle for third was a great one to watch but further proof that Wilson is not matured much as a rider. He still wants to get caught up in playing games instead of focusing on himself. I was wondering if he would get a real flash back to Tomac from Salt Lake City a couple years ago, as Osborne strikes me as a no nonsense guy. Osborne made contact but gave Wilson the pass back in a way that suggested he acknowledged it might have been disrespectful. Wilson then continued to do cat and mouse games that make me question why he is a pick to win the championship by so many. He has talent, he looks great on the bike, but he continues to hurt himself and then make questionable choices on the track. I believe he will be a fourth guy for a couple more races and I honestly think he will only get some wins once the top guys feel the pressure of a championship on them. Ryno may be helping him with more than physical training. Take it with a grain of salt or a spoonful.
It is imperative every piece plays its part in the machine of Monster Energy Supercross to ensure a series worth the Energy put into it (literally). A1 proved to be the perfect start to a season we all hope ends as surprising as it began. Between now and Vegas many things can break in our precious machine. Just as the gate is rudely built, so are we in our desires for this series, and more specifically for our favorite riders. We raise together and fall together with every pass for the lead, every epic yard sale in the whoops, every mid-air collision, and as of recently every failure faced by the privateers we watch almost weekly-chronicled in various episodes littering social media. We are as much a part of this machine as the racers themselves. A mechanism is a system of parts working together in a machine. We are all mechanisms, as are the riders, and at this point all we hope is that everyone performs their specific role to perfection.