Villopoto, Brayton and Osborne post race interviews transcribed
Villopoto, Brayton and Osborne post race interviews transcribed
Zach Osborne
Zach Osborne: Zach Osborne here with Steve Matthes. Steve, how do you feel about my ride tonight?
Me: I thought it was good, although I thought your openings lap hurt you a little bad. And also I think that (Shane) McElrath, although he was riding good held up you and Deano from getting to the front.
Definitely. Tonight was a little bit of a struggle from the start for me. I would definitely agree with that. I think that's a great call from the stands. You could have probably done it better up there, couldn't you?
It's really easy in the press box.
Yeah, I thought so. It was a good night. I'm not unhappy with the podium. I'm thankful for a podium, but I want to win. I know I can do it. I just need to get up there in the beginning and make it happen.
There's no doubting that Seely and Anderson seem to be on a little bit of another level. Or are they? What do you think they're doing a little better?
Well, when you have 15-20 seconds by the time I get into 3rd there's nothing I can do with that. It's too close. They're in timed practice. The four of us, me, him, Dean and Jason, are all right there, three tenths, it's going to take you a week to make up 20 seconds at three-tenths of a second a lap. So definitely I need to get off the start better. My speed's there, my fitness is there. Just have to bring that into the equation.
Two races down, heat race and mains, haven't seen you get starts.
Heat race tonight was a decent start but I kind of made something of a not-so-good initial.
Well you know your bike is good to do it.
Yeah, my bike's good. I'm getting good jumps. If I wouldn't have let off tonight I would have been on the gun for sure. I was bar-locked with like three guys. I feel good about my podium. I feel good about everything we have going on. Just need to keep chugging along and the win will come.
Let's hope so. I picked you to challenge for title.
10 points out of the red plate and it's two rounds in. There's a lot of racing left to do. This is the best I've ever started any series period, GPs… Except GNCCs, last year I had two consecutive podiums. But just starts are the main thing. Like you said, my bike's good. All the pieces are there. Just keep practicing and using everything I need to make it happen.
You ran out of tear-offs tonight, you remarked on the podium. You felt like that maybe hurt you?
I don't feel like that hurt me.
Justin Brayton
Me: Yeah, cele-Brayton! What a night. Terrific ride in the main event. You were fighting back against the guys that were passing you. It was a great battle. You got to be stoked.
Justin Brayton: For sure. It's a huge step in the right direction. For me, the biggest thing is to be in the mix, racing with guys that I should be racing with. To not be in the mix at all last year, to know what we had ahead of us, and Yamaha came out with a new bike that's much better, and me being on the team for four years now… It's hard when you switch teams a lot, like some of the guys. It's hard to get to know the team and know the rider. So I feel like I've got an advantage there and it's been awesome. Get a good start like that, I think that shows confidence also that you feel like you believe you can run up there. And then working with Ramsey now has been a huge help. I feel like it's all coming together and I believe more it now than I ever have and that's huge.
I felt like you were really strong in the whoops and I know your team switched to KYB stuff this year which is new. I don't know if that had anything to do with it but I felt your whoops speed was probably in the top of the group.
Yeah, I've always kind of prided myself on being good in the whoops for some reason. I actually think it's back to my Arenacross days where I ran bone stock suspension; I had to get through them somehow. And now I have good suspension and it takes a lot less work. I knew I was good there all day and then they really went away though towards the end of the main event and got super slick. The whole track did, really. I just put in my consistent laps and I could sense some stuff was going on back there. Then RV got me and he kind of gapped me a little bit but then I made a push like the last three to catch back up. I actually at one point after the whoops I felt like, if it was a different scenario, I could have ran it in there. But it's way early. I have tons of respect for him. I feel like I need to be racing with him and Dungey and guys like that the rest of the year. Hopefully they respect me also and feel like I belong there with them.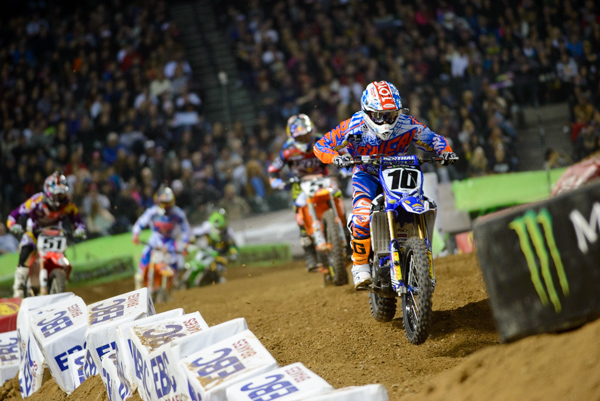 Brayton leads a pack of riders through the whoops.
We talked a little bit during track walk. I thought you were sneaky good at Anaheim. You were just off that lead pack but it was a good race for you and you got in through the heat race which is good racing. So really that's two good races in a row, something to hang your hat on.
For sure. Like I said earlier, just to be in the mix, to be top five and see your number on the board in practice, that does wonders. And for me to do a perfect lap last year, I would be like 8th. And it's really, really frustrating and it's hard to build and want to build off that. Now I feel like I'm in the mix. I think I was two tenths off of first today in practice. And then you get in the heat race and get a good gate pick and it just starts to snowball. That's what hopefully we can keep rolling. I feel good. It's motivating for sure.
You were equal to the three-time champ everywhere I thought except for one spot: the starting line sweeper. He was really good there. I'm going to look at the segment time but I wouldn't be surprised to see if he was the best there.
For sure. He's so good at that flat track and stuff and just way more aggressive than I was. I was kind of coasting a little bit and that's ultimately where he passed me. But he's got that number on his bike for a reason; like you said, three-time champ. For me to to be racing with him is good. I don't think a lot of people expected it except for me and the team. And to fight back like that is good too, and to have the fitness. It's all aligning good and keep putting myself in that position, I think we'll win one of these.
It's not like you got a holeshot, led for a few laps, when the carnage stopped they got you and you got dropped. You were fighting back against those guys. You were working with Bud Man for a few years. Now you're working with Nathan Ramsey. Talk a little bit about that.
Bud Man's been awesome. He works with a couple other guys and just didn't really have the time this year. Back in the day when Bud Man worked with Nathan I would ride with him every now and again. It's funny looking back now, I always said if Nathan ever was done riding and became available I would love to hire him. For one, the way he lives his life off the track, the way he carries himself. Really, really similar in our stories. He flew to North Carolina when we started working together and we were sharing our stories and it's crazy how similar we are. He just worked and worked and worked and tried to get better and that's what I feel like I've done. He was kind of always under the radar, which I feel like I am. And we can relate.
He really just holds me back. Today, my old mindset would be now nothing's good enough except for a win, where he kind of pulls me back and says "let's still put ourselves in the position, and if you get a 5th you get a 5th. It's okay," where I would start pushing it and you might get a DNF or something. So it's been awesome. It's just the little things between the top 5, 6, 7 guys, and that's what we're all trying to find is tenths and he's helping me find it.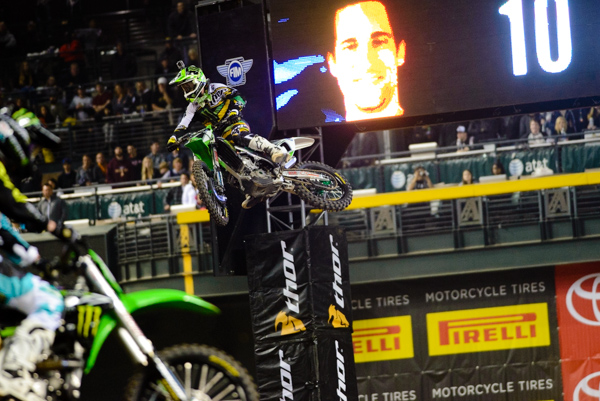 Villopoto rode a very strong race coming from the back.
Villopoto
Me: Nice ride. Took you a while to get to the front. Myself and Jason Weigandt were discussing like, "I don't know, he may not do it." But around lap 8 and 9, you really poured it on.
Villopoto: I felt good. I think bad starts in the heat race and the main. I felt like in the main event I was able to… the passes that I did make, I made them stick. It kind of seemed like I could pass, I wouldn't say anywhere on the track, but in multiple spots which was good. It also made it easy to pass guys, I wouldn't say multiple guys on one lap, but keep moving forward at a steady pace.
Yeah, any time you can pass Stew and Dungey and leave them behind it's a good night for you. You know where you were really killing it, and Brayton confirmed this to me, the start straight corner. Very good in that. I'm going to check the segments but I'm pretty sure you're probably fastest there.
Yeah, I felt pretty good. I think Justin was going more inside. I felt pretty good there. That weird sand section with that wall and the single made it hard to get onto the start straight. And then typical Phoenix, it was hard and slippery. Really had to be on your game and not just slide out or push the front end out.
Justin Brayton, great ride for him. He even caught up to you a little bit on th last couple laps.
He rode really well. Even in the heat race he rode well. He's always a little bit of a tougher guy to pass. He's always notorious for being pretty good in the whoops. So that was his strong point. Towards the end of the race there I was struggling a little bit in the whoops and that's where I think he was gaining on me for sure. So we'll go back, we'll work on some things. But I think we've already made a big improvement and a big gain from where we were least week.
Were you struggling in the whoops because you were one of the only guys taking the far left? Why were you going there?
I don't think so. I think maybe a little bit of tire fade. Just typical stuff, nothing that's out of the ordinary. Everybody knows that on a track that's hard-pack like this you got to to conserve the tire but be conscious of it and know that that could possibly happen. I think a little bit of it was me maybe trying to get back over to the left there.
The 3-3-3, a little sketchy for you it looked like. Or were you in control?
No, I think we made a little bit of a shock change just clicker-wise.
It was kind of going sideways on you every time. You had to like fight it back.
Did a little bit of a shock change, just clicker-wise that I think we might have been just a little hair soft.
Are you impressed that I saw that though from the press box?
Anybody that has any little bit of motorcycle knowledge would have seen that. But maybe just a little bit soft. So we need to go back and just work on that area a little bit. But making that change, it was better on the rest of the track. I maybe sacrificed there a little bit.
Early in the main event, did you lower your times? Did you pick up your pace? Or did those guys kind of fall back into your pace?
Lap time-wise I don't know. I felt like I rode pretty good. I don't know lap time-wise if it was quicker or what.